FCS FIRST ROUND PLAYOFF MATCHUP: NORTHERN IOWA AT EASTERN WASHINGTON
WHERE: ROOS FIELD, CHENEY, WASH.
WHEN: SATURDAY, NOVEMBER 27TH, 1:00 PM PST
TV/STREAMING: ESPN+
Two of the Division I FCS powerhouse program meet again in the playoffs when Northern Iowa travels to Eastern Washington. These two programs have been two of the most dominant FCS programs over the past two decades.
The two have also won nearly the same number of playoff games during the past 20 years – UNI's record is 17-12, EWU's is 16-10 – and each has reached the national title game. UNI lost there in 2005; Eastern won a national championship in 2010 and lost in 2018.
Overall, UNI is making its 22nd appearance in the NCAA Division IAA/Football Championship Subdivision playoffs, while Eastern Washington is making is 15th.
While UNI won the first four matchups in its all-time series with EWU, the most recent three – all of which Eagles head coach Aaron Best was a part of as an Eastern assistant – have been high-scoring and decided by key plays late.
In each, the margin of victory was four or three points.
Overall, UNI leads the series 7-1 but EWU won the most recent and only prior contest to be played in Cheney. UNI is 3-0 in prior playoff meetings, with the most recent being in 2005 in Cedar Falls.
The two teams though have won their games really through this past 20 years in different ways. The Eagles have been a offensive explosion and play in high scoring games. UNI has been a more defensive team and wins lower scoring games typically in relying on their defense to get its wins.
These two different team philosophies will clash in this game to see which will prevail.
Here is a look at how these two teams stack-up statistically this year:
NORTHERN IOWA PANTHERS (6-5, 4-4 MVFC)
Coach: Mark Farley – 21st Year at UNI – 21 Years Total as a Head Coach
Record at Northern Iowa: 168-92
Overall Record: 168-92
MVFC Championships: 7
The Panthers were just the third six-win team to make the Divsion I FCS Playoffs in its history. The Panthers in playing in possibly the strongest FCS league overall in the Missouri Valley Football Conference had five games this year against teams that made the playoffs. UNI won three of those games (vs. Sacramento State, South Dakota State, and Southern Illinois. It also played the Big 12's Iowa State to a close three-point loss.
A big reason for the Panthers playing in this game is its defense. UNI is 15th in total defense, allowing an average of 296 yards a game. UNI is tied for the lead the FCS in turnovers forced with 26, Another reason is the play of DE Jared Brinkman, who just garnered his second MVFC defensive Player of the year honors.
The Panther offense has been better this season than the one from this spring that at times struggled to move the ball. A big reason for the offensive resurgence is the play of QB Theo Day. The transfer from FBS Michigan State took over the starting job after Week 3 and has put up better numbers for the offense. Day is second in nation and first in
MVFC for passing yards per completion with 14.83. He's fifth in MVFC for passing efficiency. He's sixth in MVFC for number of passing touchdowns with 15 and seventh in MVFC for passing yards per game, with 212.
His top target is WR Isaiah Watson, who leads the nation in yards per reception with an average of 24 yards. He has had starts in all four years playing at UNI. He is, averaging 72 yards per game and has 792 receiving yards on the season. He's eighth in MVFC for receiving TDs with 5.
The running game is headed by RB Dom Williams, who had 678 yards on the ground with four scores.
Key Player: DE Jared Brinkman
Brinkman and the Panther defense is coming off a 12-sack performance in its last game at home against Western Illinois that ended in a 41-3 UNI victory. The Panthers also forced five turnovers. This will be the type of game that Brinkman and the defense will need to try to put up against the strong EWU offense.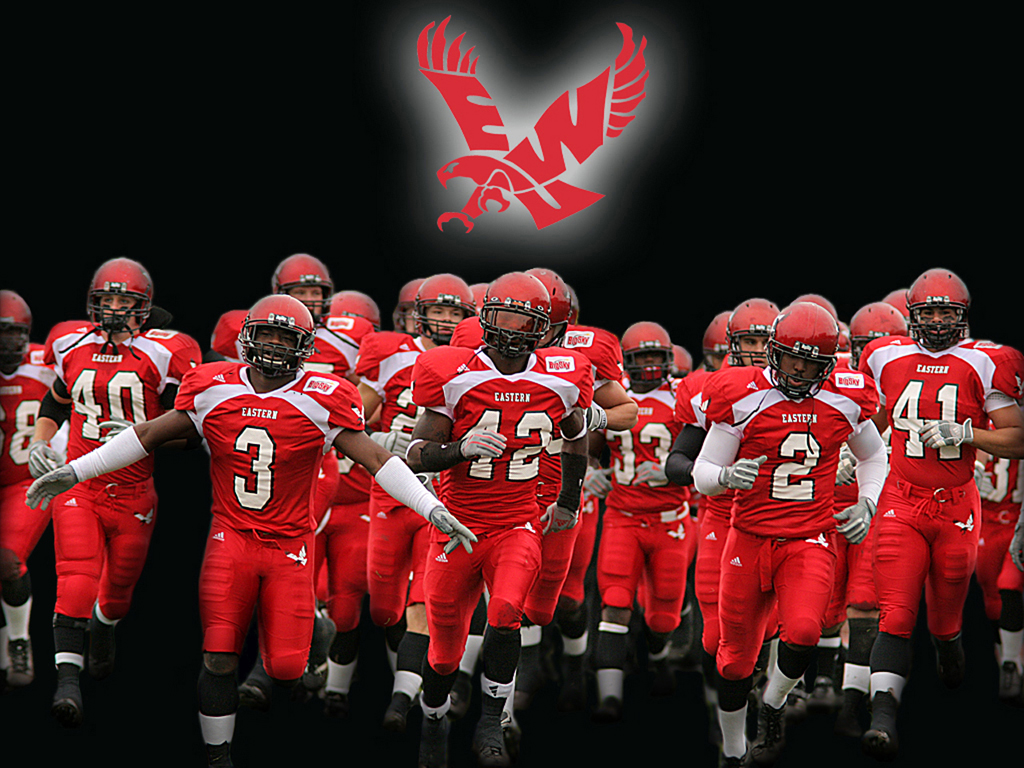 EASTERN WASHINGTON EAGLES (9-2, 6-2 BSC)
Coach: Aaron Best – 5th Year at EWU – 5 Years Total as a Head Coach
Record at Eastern Washington: 40-16
Overall Record: 40-16
BSC Championships: 1
The Eagles has had one of the most prolific offenses historically in the country and this year is no different. Eastern Washington is 2nd in FCS in total offense (564.4 per game) and scoring (46.5), as well as third in passing offense (399.6).
The Eagles are also third nationally in third down conversions (52 percent) and sixth in turnover margin (+1.1 per game with 21 takeaways and just nine giveaways).
Leading the offense is QB Eric Barriere, who is the two-time Big Sky Offensive Player of the Year. This season, he ranks first in the FCS in touchdown passes (40), and second in passing efficiency (176.0), total offense (406.0 per game, passing yards (385.6) and points responsible for (266).
He has plenty of help around him including his leading target in WR Talolo Limu-Jones, WR Andrew Boston, and RB Dennis Merritt.
The defense for the Eagles has given up its share of yardage and points but has played well when needed. In 44 total quarters thus far, EWU has recorded nine shutout quarters, including the first quarter against Weber State on Oct. 23 and the third quarter versus Idaho on Oct. 16. Only five times has the defense surrendered more than a single touchdown in a quarter, and three of those came against Western Illinois in EWU's high-scoring 62-56 victory.
Key Player: QB Eric Barriere
In what looks like a high scoring game, Barriere will need to be on and avoid any turnovers to give life to the UNI offense. He will likely get his share of plays but UNI's defense might be the best one the Eagles have played this season so he will need to be ready. The spring playoff game earlier this year for the Eagles against North Dakota State showed a formula how to defend the Eagles so I expect UNI to look at this game film and tailor its defense in a similar way.
Barriere will need to make the right reads and find the open men, while also trying to avoid the UNI pressure.
Fearless Forecast:
One key stat for Eastern Washington is that of the last ten playoff games it has played, it has gone undefeated against every conference team not from the Missouri Valley Football Conference. The Eagles have lost four games against the MVFC including the one mentioned earlier in the last season at NDSU.
The Eagles were four points away from an unblemished record (including an FBS win over UNLV) so this team may have expected to not have to play this Thanksgiving weekend but the playoff committee did not give four seeds to the Big Sky teams and the Eagles are playing this Saturday.
This might be somewhat of a letdown for a team that had championship aspirations to begin this season. This might lead to a much closer game than others might expect. I think this game will go into the fourth quarter very close but EWU's offense and the fact it gets to play at the Infernio in Cheney, will lead them to this victory. Eastern Washington 38 Northern Iowa 31
Originally from LaMoure, North Dakota, Kent is a 1996 graduate of North Dakota State University. His prior writing experience is over 15 years having previously worked with D2football.com, I-AA.org, and College Sporting News before coming to College Sports Journal in 2016. His main focus is college football is the Missouri Valley Football Conference within the Division I FCS. And in 2017, he began also to look at the FBS Group of Five conferences of the American Athletic, Conference USA, Mid-American, Mountain West, and Sun Belt.
Reach him at this email or click below: