Seventy student-athletes in the NCAA Division I Football's Group of Five FBS Conferences have been named to the 2022 College Sports Journal Group of Five All-America Team. As a reminder, the Group of Five (G5) FBS conferences include the American Athletic Conference (AAC), Conference USA (C-USA), Mid-American Conference (MAC), Mountain West Conference (MWC), and the Sun Belt Conference (SBC). The Group of Five schools also includes all FBS independents with the exception of Notre Dame.
Unlike other All-American teams, the CSJ's honor's squad is designed to be like a real team, capable of taking the field and competing in a game possibly against a Top 5 Power Five School such as Ohio State or Alabama. It includes everything from quarterbacks who can run or pass, to long snappers and other special teams performers. The Super Seventy team also emphasizes players who have exhibited character and other team-oriented traits, not just lofty statistics, or talent.
Seventy players were selected as this is typically the travel roster for a traveling team.
Three players were selected as CSJ's Preseason Players of the Year on Offense, Defense, and Special Teams. These awards went to Central Michigan RB Lew Nichols as the Offense Player, Army West Point LB Andre Carter as the Defensive Player, and South Florida kick returner Brian Battie as the Special Team Player.
Nichols led Football Bowl Subdivision in rushing yards in 2021 with 1,848 yards as well as yards per game with 142.2. He led the FBS in carries with 341, as well tied for ninth nationally in rushing touchdowns (16) and tied for 11th in total touchdowns (18). Nichols was not just a rusher as he showed he was very capable in the passing game as well. He caught 40 passes for 338 yards and two touchdowns. He ranked first in all-purpose yards with 2,186; and all-purpose yards per game with 168.2. He was named Mid-American Conference Offensive Player of the Year and First Team All-MAC honors in 2021.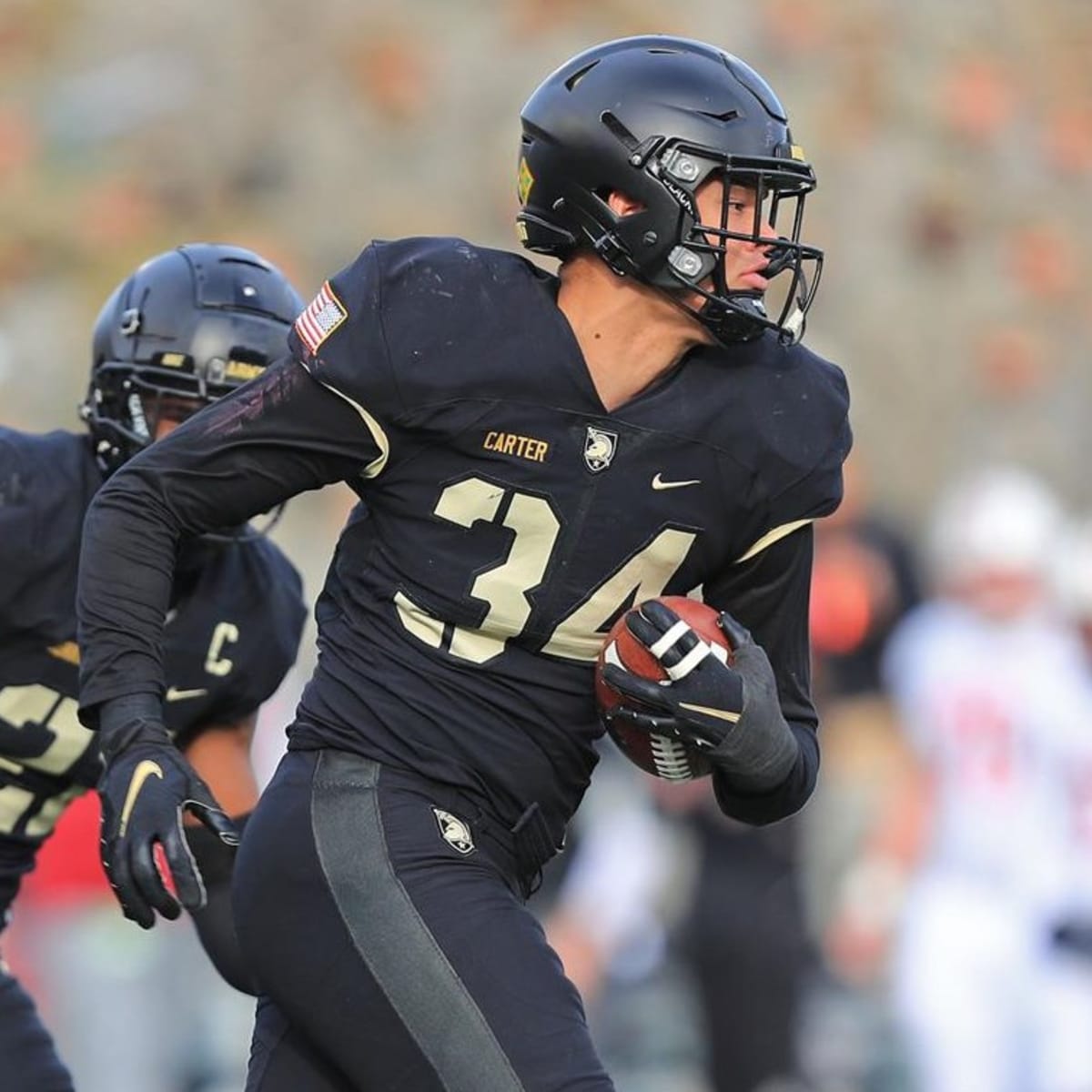 Carter had a breakout 2021 campaign where he set the program single-season sack record with 15.5 which was second in all of the FBS. He added 44 total tackles, 18.5 tackles-for-loss, forced four fumbles, blocked one kick, and tallied one interception in 13 games played. He was also the recipient of the Thruston Hughes Memorial Award which is presented to the most valuable player on the team as voted on by his Black Knight teammates.
Battie posted a record-setting season that saw him lead the nation with three kickoff returns for touchdowns. He also tied an NCAA game record with two 100-yard returns in the same game and break the Bulls' season return average record. Battie currently stands fourth nationally with a 33.9 yards per return average on 19 returns.
Cincinnati led the team with seven selections, while BYU had the second most with five selections.
Conference-wise, the AAC led the team with 19 selections. The Sun Belt was second with 16 selections.
Offensive Player of the Year: Lew Nichols, RB, Central Michigan, Jr.
Defensive Player of the Year: Andre Carter, LB, Army West Point, Jr.
Special Teams Player of the Year: Brian Battie, KR, South Florida, Soph.
See the full team below:
| | | | | | | |
| --- | --- | --- | --- | --- | --- | --- |
| Pos. | Player | School | Conference | Class | Ht. | Wt. |
| QB | Jake Haener | Fresno State | MWC | Sr. | 6'1″ | 210 |
| QB | Grayson McCall | Coastal Carolina | Sun Belt | Jr. | 6'3″ | 210 |
| QB | Logan Bonner | Utah State | MWC | Gr. | 6'1″ | 230 |
| QB | Jaren Hall | BYU | Independent | Jr. | 6'1″ | 205 |
| RB | Lew Nicholls III | Central Michigan | MAC | Jr. | 5'10″ | 220 |
| RB | Alton McCaskill | Houston | AAC | Soph. | 6'1" | 210 |
| RB | Isaiah Bowser | UCF | AAC | Sr. | 6'1" | 225 |
| RB | DeWayne McBride | UAB | C-USA | Jr. | 5'11″ | 215 |
| RB | Camerun Peoples | Appalachian State | Sun Belt | R-Jr. | 6'2″ | 225 |
| RB | Javyon Ducker | Memphis | AAC | R-Soph. | 5'10" | 185 |
| AP | Rasheen Ali | Marshall | Sun Belt | R-Soph. | 6'0″ | 201 |
| WR | Tank Dell | Houston | AAC | Jr. | 5'10" | 155 |
| WR | Jalen Cropper | Fresno State | MWC | Sr. | 6'0″ | 172 |
| WR | Puka Nacua | BYU | Independent | Jr. | 6'2″ | 205 |
| WR | Zakhari Franklin | UTSA | C-USA | Sr. | 6'1″ | 185 |
| WR | Ryan O'Keefe | UCF | AAC | Sr. | 5'10″ | 175 |
| WR | Dante Cephas | Kent State | MAC | R-Jr. | 6'1″ | 178 |
| TE | Aubry Payne | Georgia State | Sun Belt | R-Sr. | 6'4″ | 235 |
| TE | Zach Kuntz | Old Dominion | Sun Belt | R-Jr. | 6'8″ | 245 |
| TE | Josh Whyle | Cincinnati | AAC | Sr. | 6'6″ | 245 |
| OC | Jake Renfro | Cincinnati | AAC | Jr. | 6'3″ | 310 |
| OC | Rusty Staats | Western Kentucky | C-USA | R-Jr. | 6'4″ | 310 |
| OG | Clark Barrington | BYU | Independent | Jr. | 6'6″ | 302 |
| OG | Lorenz Metz | Cincinnati | AAC | Sr. | 6'9″ | 326 |
| OT | Cooper Hodges | Appalachian State | Sun Belt | R-Jr. | 6'4″ | 305 |
| OT | Kaleb Holcomb | Air Force | MWC | Jr. | 6'4″ | 265 |
| OL | Dylan O'Quinn | Cincinnati | AAC | Sr. | 6'4″ | 305 |
| OL | Sidy Sow | Eastern Michigan | MAC | Sr. | 6'5″ | 335 |
| OL | Cade Zimmerly | Bowling Green | MAC | Soph. | 6'1″ | 285 |
| OL | John Ojukwu | Boise State | MWC | Sr. | 6'6″ | 300 |
| OL | Patrick Paul | Houston | AAC | Soph. | 6'7″ | 315 |
| | | | | | | |
| DE | Josaiah Stewart | Coastal Carolina | Sun Belt | Soph. | 6'2″ | 245 |
| DE | Javon Solomon | Troy | Sun Belt | Soph. | 6'2″ | 245 |
| DT | Dom Peterson | Nevada | MWC | Sr. | 6'0″ | 285 |
| DT | Cole Godbout | Wyoming | MWC | Jr. | 6'4″ | 285 |
| DL | Markees Watts | Charlotte | C-USA | R-Sr. | 6'1″ | 235 |
| DL | David Perales | Fresno State | MWC | Sr. | 6'3″ | 246 |
| DL | Thomas Gore | Georgia State | Sun Belt | R-Jr. | 6'0″ | 270 |
| DL | Scott Matlock | Boise State | MWC | R-Sr. | 6'4″ | 300 |
| DL | Jonah Tavai | San Diego State | MWC | Sr. | 6'0″ | 295 |
| LB | Andre Carter II | Army West Point | Independent | Jr. | 6'7″ | 260 |
| LB | Deshawn Pace | Cincinnati | AAC | Sr. | 6'2″ | 218 |
| LB | Carlton Martial | Troy | Sun Belt | Sr. | 5'9″ | 210 |
| LB | KD Davis | North Texas | C-USA | R-Jr. | 6'0″ | 229 |
| LB | Vince Sanford | Air Force | MWC | Sr. | 6'1″ | 210 |
| LB | Darren Anders | Bowling Green | MAC | Sr. | 6'0" | 230 |
| LB | Kyle Harmon | San Jose State | MWC | Gr. | 6'0″ | 225 |
| LB | Eli Neal | Marshall | Sun Belt | Jr. | 6'2″ | 223 |
| LB | Jamal Hines | Toledo | MAC | Sr. | 6'3″ | 250 |
| LB | Nick Hampton | Appalachian State | Sun Belt | R-Jr. | 6'3″ | 235 |
| CB | Steven Jones, Jr. | Appalachian State | Sun Belt | R-sr. | 5'10" | 185 |
| CB | D'Jordan Strong | Coastal Carolina | Sun Belt | Gr. | 5'11" | 175 |
| S | Quindell Johnson | Memphis | AAC | R-Sr. | 6'1″ | 195 |
| S | Evan Willams | Fresno State | MWC | Sr. | 6'1″ | 198 |
| DB | Darrell Luter, Jr. | South Alabama | Sun Belt | Sr. | 6'0″ | 186 |
| DB | Davonte Brown | UCF | AAC | Jr. | 6'2″ | 185 |
| DB | Teja Young | Florida Atlantic | C-USA | R-Jr. | 5'11" | 192 |
| DB | Patrick McMorris | San Diego State | MWC | Sr. | 6'0″ | 210 |
| DB | Arquon Bush | Cincinnati | AAC | Sr. | 6'0″ | 190 |
| DB | CJ Brown | Northern Illinois | MAC | Soph. | 5'11" | 192 |
| | | | | | | |
| K | Zack Long | Tulsa | AAC | Gr. | 6'2″ | 177 |
| K | Jonah Dalmas | Boise State | MWC | Jr. | 5'8″ | 165 |
| P | Ryan Rehkow | BYU | Independent | Soph. | 6'6″ | 232 |
| P | Rhys Byrns | Louisiana | Sun Belt | Sr. | 6'0" | 186 |
| PR | Jaylin Lane | Middle Tennessee | C-USA | Soph. | 5'8″ | 182 |
| PR | Ryan Montgomery | Cincinnati | AAC | Sr. | 5'10" | 205 |
| KR | Brian Battie | USF | AAC | Soph. | 5'8″ | 165 |
| KR | Bryan Massey | SMU | AAC | Jr. | 5'11" | 198 |
| LS | Alex Ward | UCF | AAC | Sr. | 6'4″ | 240 |
| LS | Austin Riggs | BYU | Independent | Soph. | 6'5″ | 225 |
Originally from LaMoure, North Dakota, Kent is a 1996 graduate of North Dakota State University. His prior writing experience is over 15 years having previously worked with D2football.com, I-AA.org, and College Sporting News before coming to College Sports Journal in 2016. His main focus is college football is the Missouri Valley Football Conference within the Division I FCS. And in 2017, he began also to look at the FBS Group of Five conferences of the American Athletic, Conference USA, Mid-American, Mountain West, and Sun Belt.
Reach him at this email or click below: