It has been a wacky 2020, hasn't it? The year started out like most years. The Group of Five played four bowl games in this calendar year, as did the FCS national title game. All played with fans in the stands and played without any idea of what was to come.
Cincinnati easily won the Birmingham Bowl over a Power Five in Boston College on January 2nd. Ohio narrowly beat Nevada in the Famous Idaho Potato Bowl. Tulane easily defeated Southern Miss in the Armed Forces Bowl. And the last bowl game involving the G5 had Louisiana getting by Miami of Ohio.
A few days later, the FCS title game had North Dakota State defeating James Madison.
Stepping forward seven months as in past years, we would be getting ready for the 2020 season this fall as the calendar hits August with schools starting fall practices now with Week 0 games schedule to start the last weekend of this month.
Well, in early March of this year, we all hit the pause button because of the COVID-19 pandemic.
Over the past month, we have seen many Division I FCS conferences cancel their seasons this fall. So far, the Colonial Athletic Association (CAA), Ivy League, Mid-Eastern Athletic (MEAC), Patriot League, Northeast Conference, and the Southwest Athletic Conference (SWAC) say no to the 2020 fall football season.
The Pioneer League also announced it would only play conference games.
But the Big Sky, Big South (although Hampton and Monmouth canceled their schedules), Missouri Valley Football, Ohio Valley, Southern, and Southland Conferences still remain committed.
On the FBS side, we have now heard from all of five Power Five Conferences with the Big 10, Pac 12, and SEC stating they would only play games within their own conferences. The ACC also announced it would play conference only but with an addition of one non-conference game to be played in the home state of their school and also took Notre Dame out of the independent ranks for this season to be within their league at least this season. The Big 12 was the last to announce just yesterday to play conference games plus one out-of-conference opponent at the Big 12 school's home.
So far, none of the Group of Five conferences (American Athletic Conference (AAC), Conference USA (C-USA), Mid-American (MAC), Mountain West Conference (MWC) and the Sun Belt Conference (SBC) have made any kind of official announcements. Nor has any of the G5 independents of BYU, New Mexico State, Liberty, UMass, UConn, and Army made any kind of announcement.
But we have heard rumblings that the G5 would play just as their P5 FBS brethren a full conference slate as is already scheduled and allow schools for as many non-conference games as possible to fill a full 12-game schedule to go with their conference slate.
The scheduled start times now for the P5 schools have different start dates and end dates. The Big 10 is planning a Sept. 5 start. The ACC the week of Sept. 7. The Pac 12 is Sept. 19 and the SEC is Sept. 26. The Big 12 is still slated to play some Week 0 non-conference games on Aug. 29 but this could shortly change.
As we have seen with Major League baseball over its first two weeks of play, there already have been outbreaks; namely from the Miami Marlins and St. Louis Cardinals that have caused disruptions in the schedule, but they are still going on with the remainder of their schedule. The MLB is right now the closest example of what we might see in college football as that league is playing games in each of the team's home cities (outside of Toronto, who will be playing its home games in its Triple A team's home of Buffalo, NY because the Canadian government deemed it too risky to bring in American squads to their home city).
As has been in the College Football Playoff (and even before that in the Bowl Championship Series (BCS)), the Group of Five teams have had little chance at the Top Four spots in the College Football playoff and not getting a chance to play any or very few non-conference games against the Power Five teams, this year is guaranteed to be the same.
A good example was an undefeated UCF team that was the only FBS team to go undefeated in 2018, even beating Auburn in the Peach Bowl. Auburn was a team that defeated the College Football Playoff champion team of Alabama in the regular season, yet there was no respect for a G5 team to even really being considered for a Top Four spot in that so-called playoff.
Likely, all of the Power Five schools will put in two bye weeks in their schedules that have overlap with the other schools in their conference in their plans in case a game can not be played during its scheduled time, that they could move the game to one of the bye weeks when a team has an outbreak of COVID-19.
What would my plan for the remainder of FCS and G5 in terms of scheduling?
I think using the Power Five example is the best to limit the exposure of the virus within its own conference for the regular season. But I would like to see a plus-one where a G5 or FCS school could play another near-by G5 or FCS school or even possibly a P5 squad. Examples, FCS Weber State or Idaho State to play Utah State or BYU, Idaho to play Boise State, UC Davis to play San Diego State, Sam Houston State, Incarnate Word, or Lamar or to play Houston or Rice or Texas State.
The conference schedule would be nine or ten games with a plus one or two for a non-conference games, very similar to what the ACC and Big 12 announced but would open it up to bordering states to the conference to limit travel.
So that scheduling does not sound too wacky so what is my wacky idea?
With over half of the FCS teams no longer in play for any kind of fall season, my idea for the 2020 season is to combine the remainder of the FCS and G5 that are playing and have a combined Division I playoff.
There would be five G5 conferences and seven FCS conferences that as of now plan to play a 2020 fall schedule. I would suggest that this group combine with each of the 12 conference champions. Give each of those conference champions an automatic bid to a 24-team playoff (just like the FCS has done before). And then give 12 at-large bids to the next best teams using a similar playoff committee's determination, very much like how the FCS playoffs work today.
I would seed the top 16 teams and the bottom eight would be home teams in the in first round and the Top eight would be given byes and home field advantage in the second round.
Last year would have looked like with this kind of scenario:
Champions (listed with the final 2019 Sagarin rankings):
Group of Five
AAC: Memphis (21)
C-USA: Florida Atlantic (42)
MAC: Miami (OH) (93)
MWC: Boise State (32)
SBC: Appalachian State (25)
FCS (of those conferences still committed to play in 2020):
Big Sky: Weber State (88)
Big South: (was Monmouth but choose not to play this year, 2nd place was Kennesaw State so using them) (136)
Missouri Valley: North Dakota State (31)
Ohio Valley: Austin Peay (121)
Pioneer: San Diego (161)
Southern: Wofford (132)
Southland: Nicholls (138)
Now using the Sagarin rankings to find the next 12 best teams to fill out the field of the non-conference winners but still using the FCS requirement of at least six-Division I wins (this would eliminate Houston that finished with just 4-wins but would have finished in the Top 24 rankings as UH was #72).
Also, note FCS James Madison would have been in this tournament also with a ranking of #50 but excluded them since their conference of the CAA will not have a conference schedule this year).
#23: UCF
#24: Navy
#29: Air Force
#30: Cincinnati
#43: Louisiana
#45: SMU
#51: San Diego State
#59: Tulane
#64 Wyoming
#67 BYU
#68 Hawai'i
#74 Western Kentucky
The first round would be paired regionally with the bottom eight teams. With COVID-19, the NCAA would provide testing every other day and if there are positive cases, that player would not be allowed to move forward with this team that week but could rejoin later after a 10-day quarantine period and two negative tests.
Again, using last year's final Sagarin rankings as an example, the following would have been the Top 8 seeds:
1. Memphis
2. UCF
3. Navy
4. Appalachian State
5. Air Force
6. Cincinnati
7. North Dakota State
8. Boise State
The next eight teams would be seeded in my scenario but would be placed against the best regional opponent but not against a conference-mate, just as the FCS playoffs normally does.
9. Florida Atlantic:
10. Louisiana
11. SMU
12. San Diego State
13. Tulane
14. Wyoming
15. BYU
16. Hawai'i
The eight schools at the bottom of these rankings were as follows:
17. Western Kentucky
18. Weber State
19. Miami (OH)
20. Austin Peay
21. Wofford
22. Kennesaw State
23. Nicholls
24. San Diego
The First Round Matchups based on based geographic locations would be the following in my estimation where there would still be three flights using the FCS criteria of 400 miles and under for travel by bus and over by flights:
Kennesaw State @ #9 Florida Atlantic
Nicholls @ #10 Louisiana
Austin Peay @ #11 SMU
San Diego @ #12 San Diego State
Wofford @ #13 Tulane
Miami (OH) @ #14 Wyoming
Weber State @ #15 BYU
Western Kentucky @ #16 Hawai'i
The full bracket would look like this:
Where and when would the playoffs be played?
As mentioned above, the first-round games would be played at the higher seeded school's home field. The second-round would also be at the higher seeded team's location. The quarterfinals would also be at the higher seeded team's home.
The timing of the first round would be to start the first weekend in December (Dec. 5th) (which is a week later than the FCS today). The second round would be the following week, Dec. 12th. And the quarterfinals would be Dec. 19th.
The semi-finals would be played New Year's Eve, Dec. 31st and these games would resemble the College Football Playoff for the Power Five with neutral site locations. The New Year's Eve date this year is selected as there are currently no playoff games for this date and would work well for whomever the broadcast partner might be to televise these two games.
Then the national title game would be Saturday, January 9th, like the planned FCS title game is already planned. The spacing between the semifinals and championship gives the same time frame as the College Football Playoff.
Where would the semi-finals and championship game be played?
Fans being in attendance will be up in the air given our current status with the COVID-19 virus but hypnotically speaking, we should at least plan for fans to be able to attend.
The Rose Bowl and Sugar Bowls host the CFP semi-finals are scheduled for New Year's Day.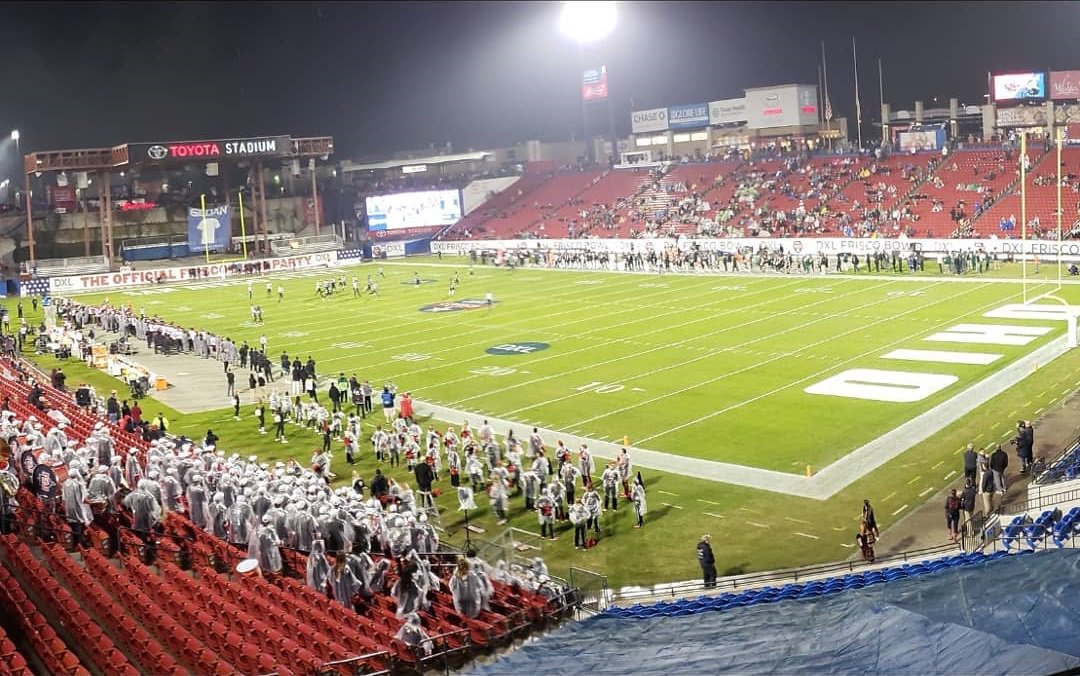 Frisco, Texas is the current home of the FCS national title game and also is the home for a Group of Five bowl game, so I think it makes sense to make this location at least a home for one of the semi-final games.
The other location might make sense to be in the southeastern part of the country.
Orlando is the host of the Cure Bowl but also hosts the New Year's Day Citrus Bowl, so this probably does not work. Miami is hosting the Orange Bowl Jan. 2nd and as week later hosts the CFP Championship game so it also does not seem to fit. Tampa hosts the Outback Bowl on New Year's Day so this does not work too well either. Traditionally, Jacksonville hosts the Gator Bowl around New Year's Day (although it is not on the schedule currently) so I am assuming this will not work.
Moving up to Georgia, Atlanta hosts the Peach Bowl on New Year's Day in Mercedes-Benz Stadium but possibly could be open for a national title game.
Or another idea might be to open these meaningful playoff games to all current bowl locations, as well as some other colder weather locations with indoor stadiums such as Minneapolis, Indianapolis, or Detroit to get the semi-finals and championship games.
Yet another idea for the full 24-team field is to use possibly four hub locations like this proposal for the NFL. With off-site learning being the norm in many schools, the student-athletes could be housed in hotel rooms for the 5-to-6 week window. This would then much like the NBA, NHL, and Major League Soccer with their bubble scenarios create a safe environment for the championship field. It would also have a similar feel as the NCAA basketball tournament if four sites were chosen to begin the field and also reduce broadcasting expenses not having to have different crews scattered around the country.
One prerequisite of this idea might be artificial turf fields being used, however, as with this many games being played over such a short amount of time, I am not sure a grass field would live through this scenario.
What about the top ranked Group of Five team getting a chance at a New Year's Day Bowl game?
The Power Five during the College Football Playoff era did throw the Group of Five a bone in giving the best ranked G5 team a spot in one of the New Year's Six bowl games (Rose, Sugar, Orange, Fiesta, Cotton, or Peach Bowl). That team can take the option to play in that bowl game if they so desire. The playoff committed than could select the second-place team as the automatic bid squad for this playoff system. This would then allow for a 25th G5 or FCS squad would get a postseason berth.
If a 25th team were to be added for example last year with Memphis going to the Peach Bowl, the 25th spot would have gone to Buffalo (ranked #75 in the Sagarin rankings) and all other schools would have moved up a spot.
What about the other bowl games?
As seen in my model from last year, there would be 17 G5 teams selected for this playoff with seven-coming from the FCS ranks. The bowls games could still happen for those teams not selected for the playoff or the team could completely opt out of the playoff to play in a bowl game.
If the opt-out selection were to happen, the playoff committee would need that school to be informed the week before the selection of the field, which would be the Sunday following Thanksgiving, so they would need to make their decision.
Who might want to televise this new Division I playoff format?
ESPN owns the current rights to the FCS playoff broadcasts. The first two rounds, however, are typically broadcast either on their online ESPN3 or ESPN+ formats. Then that network typically broadcasts two quarterfinal and both semi-final games on either ESPN or ESPN2 with remaining quarterfinals again on the ESPN3 or ESPN+ formats.
This playoff, however, given my timing would lend itself well to the major networks since it is pushed back a week from the traditional FCS playoffs.
I also believe viewers would want to watch this kind of meaningful playoff over some of the bowl games that ESPN currently broadcasts to see who might move on.
And possibly with the bubble playoff idea, one, two, or four bowl sites could be used as the playoff site instead of hosting just one bowl game.
But doesn't this playoff format hamper the FCS squads?
Yes, it might since FCS squads can only offer 63-scholarships, while FBS squads can offer 85-scholarships. But as can bee seen with North Dakota State, the winners of eight-of-the-last nine championships at that level, they can typically compete at a high level. NDSU has had two straight perfect seasons over the last two seasons. NDSU has also won six straight games against FBS opponents they have played included wins over the Power Five squads of Iowa, Iowa State, Kansas, and Kansas State.
There have been several FCS wins over their FBS squads that are highlighted here.
NDSU also may have another quarterback that will see a first-round draft pick by his name in Trey Lance next spring even though he is still just a redshirt-sophomore.
Lance follows the Philadelphia Eagles Carson Wentz and 6th round pick Easton Stick of the Los Angles Chargers in what has to be considered Quarterback U of all of college football. How fun it would be to see Lance perform against the Group of Five best squads in a playoff format.
James Madison, who is has one title in the last nine seasons and two other championship game appearances, would represent itself well too. It has three FBS wins in the last decade, most notably over at Top 15 ranked Virginia Tech in 2010.
We shall see today (or possibly later this month if pushed back again after several decisions have been pushed) if the NCAA governing committee will shut down all fall championships, which would include the FCS national title game. The FBS side of things does not use the NCAA to decide its College Football Playoff or the bowl games but all other sports played by these schools have NCAA championships. Most FBS schools have pushed to continue with the fall championships as it would look odd if football remained the only fall sport playing.
In this wacky year, why not throw out this wacky scenario where these so-called also rans of college football can showcase their talents? COVID-19 pandemic and soaring rates, as well as the health of these student-athletes in the US be damned, as can be seen with the Power Five schools' plans, college football should still be played at all costs.
Originally from LaMoure, North Dakota, Kent is a 1996 graduate of North Dakota State University. His prior writing experience is over 15 years having previously worked with D2football.com, I-AA.org, and College Sporting News before coming to College Sports Journal in 2016. His main focus is college football is the Missouri Valley Football Conference within the Division I FCS. And in 2017, he began also to look at the FBS Group of Five conferences of the American Athletic, Conference USA, Mid-American, Mountain West, and Sun Belt.
Reach him at this email or click below: