The Big Sky conference's season is coming to a close and some serious questions have yet to be answered before the playoffs. Weber State plays its final game of the regular season at home versus Idaho State since Cal Poly chose to opt-out of the rest of the season. Can the Wildcats beat the Bengals and go undefeated to close out the regular season title race?
If Weber State fails against Idaho State then the door is left open for Eastern Washington to attempt to secure a piece of the championship, despite avoiding Weber State on the schedule. The Eagles' problem is that they have to make it past an Idaho team that beat them by a touchdown in the first game of the year.
The last game of the Big Sky's week is Northern Arizona traveling to Southern Utah. While many teams are choosing to throw away their seasons due to a lack of healthy players, lack of playoff chances, or simply a lack of will to compete, the Thunderbirds and Lumberjacks are taking a classy move to finish out their seasons.
2020 Big Sky Conference Standings
Weber State is very close to securing the Big Sky Conference title and automatic playoff qualifying spot. The Bengals are all that stand in their way, but can ISU show they learned from their mistakes? Doubtful since Vander-Waal's favorite weekly routine is to make sure his touchdown and interception ratio are completely even.
Fearless Prediction: Weber State 49 Idaho State 13
There's no reason that the Bengals should be competitive or even remotely substantial compared to the Wildcats' prowess. Vander-wall will continue to throw interceptions as long as he tries too much to win the game on every play.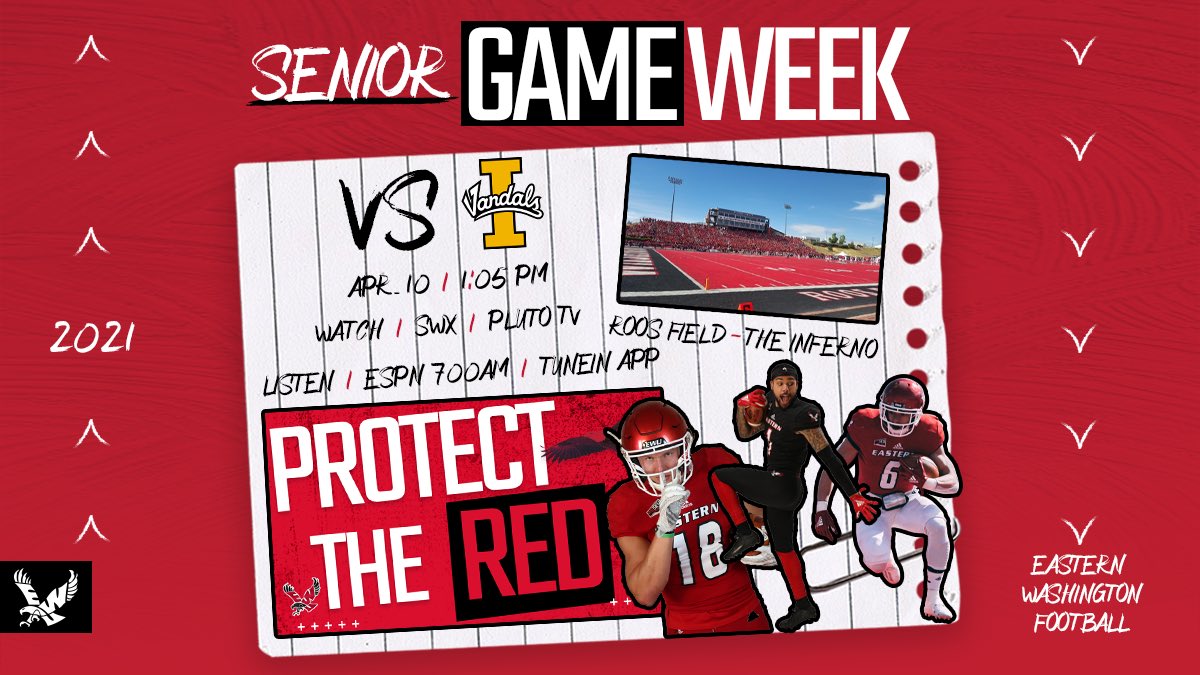 The rollercoaster of the Idaho Vandals makes its way to Cheney, WA in hopes of toppling the Eagles for a second time this season. Two problems present themselves very clearly before that can even remotely happen again. One, Idaho has gone on to be a total hodgepodge since their win against Eastern Washington. Two, the Eagles' offense has become explosive and dominating since game one of the season.
Fearless Prediction: EWU 38 Idaho 24
Idaho will battle and make it a competitive game for the first half, but Eric Barriere and company will turn up the heat on their inferno field and roast the Vandals in the second half. Idaho's consistency and ball control are just too low to expect a win again. A perfect storm of outstanding offense, formidable defense, and a special teams play or two would be needed for the Vandals to win.
This game is purely for a second chance at the Grand Canyon Trophy, scouting position battles, and for the seniors who may not join the fall campaign. Despite the lack of title relevance in this match-up it is great to see teams respecting the chance to compete rather than call it quits. Southern Utah and Northern Arizona had close calls, victory, and heartbreak in this tumultuous season. SUU is by far the best "worst" team in the Big Sky as all of their losses were three points or less, including a three-point loss to #2/3 ranked Weber State. NAU matches up well with Southern Utah in the fact that they also lost to a #2/3 ranked Weber State by one score (five points) and their lone win of the season was a walk-off touchdown in week one against SUU to win by one point. This should be a sufficient measuring stick for both teams as to whether they improved and learned from their mistakes.
Fearless Prediction: Southern Utah 31 Northern Arizona 30
For having such a rough team record SUU is a tough team that does a lot of things right, especially on offense and in their linebacker core. The problem for the Thunderbirds is the secondary on both sides of their game plan. SUU struggled to penetrate NAU's secondary effectively, yet they also face the opposite problem that their secondary allows too many big passes for big yards. NAU is a scrappy team that has many players with extremely versatile skills, but the problem is those skills have to mesh and be on the same page for a successful Lumberjack two-peat. Home field advantage or even overtime may be necessary to settle the Grand Canyon Rivalry Part Two.
Other Big Sky Action This Week and Next
Central Washington at Montana – 11 am MT – TV: ABC / SWX Stream (out-of-state viewers): GoGriz.com/watch
Radio: Montana Grizzly Radio Network
Portland State at Montana – April 17th 11 am MT – TV: ABC / SWX Stream (out-of-state viewers): GoGriz.com/watch
Radio: Montana Grizzly Radio Network
Idaho at Northern Arizona – 1 pm AZ – TV: Pluto TV (Channel 1058) Radio: Lumberjack Radio Network
My name is Ben Schleiger and I'm your representative for the Big Sky Conference. I have done work for multiple newspapers and sports blogs including The Johnstown Breeze, The University of Northern Colorado Mirror, and Mile High Maniac. I am a proud alumnus of the University of Northern Colorado with a degree in Psychology and a minor in Political Science. In my free time, I like watching sports, playing video games, and trying new foods.