Lehigh University and Lafayette College have been meeting to play football games since 1884. They've contested games in campus quads, concrete stadiums, and neutral sites like Yankee Stadium. They've played through the 1918 influenza epidemic, two World Wars, the Kennedy assassination, and 9/11. But the games were always played in the fall – sometimes twice, sometimes a week late, sometimes with limited spectators, but always in the fall.
This April, the same weekend as The Masters, Lehigh and Lafayette will be playing the first-ever Rivalry football game in the spring, a most atypical 156th meeting in the most-played college football game that's simply called "The Rivalry".
"A Tradition Unlike Any Other" doesn't only apply to the Masters this early weekend in April. It was never supposed to be this way, but the Masters and The Rivalry are going to be happening at the same time. It will end up being the last game of a strange spring football season for both teams. But the one theme that runs through everyone associated with these programs and this game is that they have a new sense of gratitude that the game is being played at all.
Challenges
Since 1884, there were only two years where The Rivalry was not played.
One was in 1896, when an eligibility dispute involving several star players became a national story and got so heated that both sides refused to play each other.
The other was 2020, thanks to COVID-19 and the suspension of the Patriot League football season.
Other Lehigh/Lafayette Rivalries throughout the years have almost been cancelled, but both sides managed to figure out how to contest the game, despite some very serious struggles.
During World War I, many college programs suspended their football programs in order to have young men available to fight in the Great War. In July of 1918, Secretary of War Newton Baker issued a "work or fight" order, which put pressure on professional sports to suspend operations, and many did so. Many colleges, already with thin rosters thanks to young men getting drafted to fight in the war, followed the professional and minor leagues in suspending their seasons, but some schools had short, modified seasons. Lehigh and Lafayette, who had pivoted to being quasi-military operations through ROTC, were two of those schools.
At Lehigh, even though the will was there, there was serious doubt that they would have enough eligible men to play in the 1917 and 1918 seasons. At both schools, most of the students who had experience playing football had been drafted. At Lafayette, only two players with prior experience returned to campus to play football – and one was drafted before the season began.
But both schools did manage to field enough players to field a team during both seasons.
Scheduling was a constant battle. Lehigh had scheduled to play Villanova and Fordham, but both suspended their programs, causing them to scramble to get other opponents.
In 1918, the "Spanish Flu", as it was colloquially called, came to campus and caused several deaths, causing the cancellation of their season-opening game against Ursinus. Lehigh would mange to quickly schedule two games against two local military teams (League Island Marines and Quantico Marines) before playing Rutgers on October 26th, another one of the few schools that kept their football programs going.
World War II saw similar issues arise with college football around the country. At Lehigh, many students were in basic training, and were not cleared by the War Department to practice football. Like during the Great War, rosters were limited as eligible young men were drafted. Again, some college football programs suspended operations, and the programs that remained had to get creative. Lehigh and Lafayette played each other twice during the 1943 and 1944 seasons to fill out modest 6 game schedules.
The spring 2021 season will stand as another chapter in the great history of the Rivalry where, despite challenges and reschedules, and a first-ever game contested in April, that the two schools have managed to figure out a way for the game to be played. There seem to be a lot of echoes of these cobbled-together wartime schedules and today's Patriot League spring schedule that ended up giving The Rivalry the weekend to itself, as it turns out.
Scheduling
The 156th edition of The Rivalry comes after being rescheduled twice – first being postponed from its original date of November 21st, 2020 due to the Patriot League's suspension of the fall season, then pushed up a week after April 3rd, 2021 when a COVID Tier 1 infection at Lafayette caused the game to be delayed.
It is not the first time The Rivalry has been rescheduled, but in this COVID spring season it still has been a challenge to navigate modern college football programs through it.
The Patriot League embarked on a hyper-shortened 4 week spring football schedule that only consisted of league opponents and a built-in week in case games needed to be postponed due to COVID infections. Almost immediately the six schools playing – Bucknell, Colgate, Fordham, Holy Cross, Lafayette and Lehigh – were rescheduling games in that window as different Tier 1 infections caused the need to reschedule and in several cases required two major schedule overhauls.
No true COVID "outbreak" seemed to devastate any of the schools in question, and the shutdowns seemed to be more of a contact tracing variety. And they do appear to have prevented any major outbreak from spreading widely.
But the enhanced protocols made it a big challenge week to week for the schools.
Two weeks ago, Lafayette head coach John Garrett went from expecting a bye week to playing Bucknell after an abrupt schedule shift. Lehigh head coach last week started the week by preparing for Lafayette, had the Rivalry game postponed, then late Wednesday had to pull out the Lafayette/Bucknell game again to scout the Bison instead.
"It's been more challenging and the roller coaster of it is that has occurred a lot more than I expected," coach Tom Gilmore said this week. "You're practicing specific things for their schemes and their personnel. Normally, you have 10 games to look at. We've evolved a little, they've evolved a little, and we both know that we did each other last time out, and what we've done so far this spring – those are the biggest things you're going to assess one way or another."
(It's not the first time both teams haven't known what to expect from each other. In 1943 and 1944, the last years where Lafayette and Lehigh played each other twice, the first meeting came in Week 1 and Week 2, respectively, though it was a very different time.)
In terms of this Rivalry, both teams had two opponent spring game films to look at. Garrett has an early Lehigh/Holy Cross game to look at while Gilmore has an early Lafayette win over Colgate to look at as well. And both have games against Bucknell to look at, too.
"We have to make sure we do a good job of controlling their defensive front, and then from an offensive standpoint, they've done a really nice job of mixing their run and pass," Gilmore said. "They're a definite threat if you look at their first and fourth quarters against Colgate. They really pounded the football….Once you start concentrating on stopping the run, then they're going to go over the top with their play-action game and their RPO (run-pass option) game, which has been very, very effective."
Lafayette's defense is anchored by preseason defensive player of the year DL Malik Hamm, whose 10 tackles and 2 1/2 tackles for loss in two games don't really tell the whole story on how dominating a force he his on the Leopards defensive front. Along with LB Major Jordan (2 tackles for loss), Lehigh might have a tough time on offense scoring points, seeing as they haven't scored a touchdown so far this spring.
But Lehigh's defense has been very solid, too, especially when you consider they only allowed 6 points to Bucknell to Lafayette's 38. Lehigh's fiery defensive front is led by senior LB Pete Haffner (19 tackles, 3 tackles for loss in 2 games) and an extremely young defensive backfield has been surprisingly solid, led by dynamic TyGee Leach (13 tackles, 1 INT).
"It's never one guy, but we need to handle the football better," Garrett said this week. "We need to do better offensively to help the quarterback thrive. We have a lot of respect for their defense, and they are big, strong, fast and tough with active linebackers who are effective blitzers. It's going to be a big challenge for us on Saturday."
Whether the limited amount of game film and the on-again, off-again nature of the game preparation will affect the game remains to be seen. It bears pointing out, however, that the biggest blowouts in Rivalry history occurred during these cobbled-together wartime schedules: Lehigh 78-0 in 1917, and Lafayette 64-0 in 1944 – all after fewer than 10 games of preparation.
Hello, Friends
Most sports fans – and for that matter Lafayette and Lehigh fans – have their attention squarely on things other than the Rivalry during the first week in April. They're usually watching the Final Four or the Masters – not a Rivalry football game.
Most Lafayette and Lehigh fans would tell you that The Rivalry is about a lot more than just the football game. It's about the buzz around campus – the Marching 97 crashing early lectures, Lafayette's Midnight Breakfast, concerts, parties, and a bunch of fun, group activities that are the polar opposite of social distancing.
In wartime, Rivalry football games – which were normally sellouts – were more lightly attended, partially due to the serious nature of their times, but also because the schools themselves were involved with keeping a lid on things.
"There is one type of campus activity that the administration is totally unwilling to condone during these war years," Wray Congdon, Dean of Undergraduates, wrote to The Brown and White. "I refer to any activity of the 'Joe College Boy' type which, even in normal years, reflects no credit upon either the University or the student body. In the present situation, there can be no justification for activities that subject the University to discredit, criticism, and unfavorable comment. In this category are included house-party weekends, pajama parades, and any activity that turns the public spotlight on the exaggerated frivolities of the less responsible sort. It is sincerely hoped that the entire student body will equally appreciate the importance of protecting the good name of the University by foregoing some of the more pretentious and more noisy demonstrations of youthful exuberance."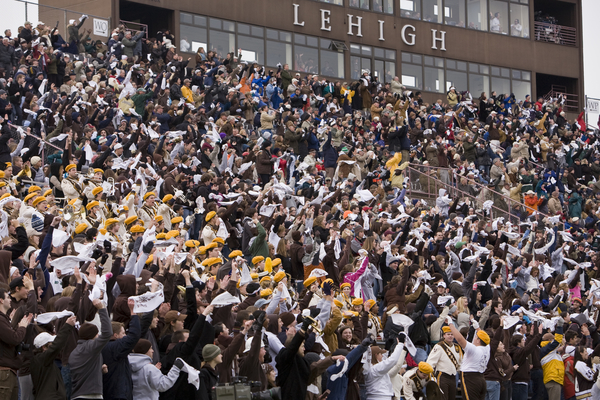 In 2021, in this spring season, thanks to mostly shut down campuses, the idea of bringing wind instruments into a crowded lecture hall hits very different in a world where social distancing and COVID infections are still, sadly, reality. Things like bed races, and regular pregame traditions, have gone by the wayside. Even the Twitter war that generally happens between the two schools is oddly subdued, a strange echo from that letter from the Lehigh Dean of Students in 1944. The more noisy demonstrations of "exaggerated frivolities" are most definitely more quiet.
Much of it may be due to the fact that not only was the game postponed twice – and many speculated for more than a year as to whether it would happen at all.
Most of the "youthful exuberance" between the two schools – who are playing for pride, an important win over the Rival, and an important positive direction towards a normal fall football season – has been subdued. Perhaps it is COVID, perhaps it is pandemic fatigue, or perhaps it's just relief that the game is happening at all – but it brings a different energy to the Rivalry than in years past.
Lafayette is allowing a limited number of socially-distanced fans to attend the game this weekend. They are allowing two guests per Leopard student-athlete, families of coaches and a limited number of Lafayette students and alumni to attend. In the spirit of the Rivalry, they are also permitting two guests for each member of Lehigh's football team as well as families of coaches and staff. All other unregistered guests are not permitted on campus.
That will definitely bring some strong competitive energy to the game.
For the players, though, this spring Rivalry game means a lot more due to what they've been through just to get to this point.
"We don't get to see the banners, or all of the spirit that the school usually shows around this time," senior Lehigh RB Rashawn Allen said this week. "But our standpoint going into this game, we still have the mindset of the big Rivalry, the 156th Meeting. We're playing with that sort of pride of the alumni that have all come before us. We're just trying to uphold the Lehigh culture and get the dub on Saturday."
"Everyone is going to be excited to get back to work and play football," said senior Lehigh LB Pete Haffner last week. "Any opportunity to play football is enormous, so to have that opportunity to play in the Rivalry, this whole school will be excited about it we're going to be excited about it."
"I think it's amazing, because you are building lifelong relationships with people throughout your four years here," Lafayette DL Malik Hamm said, " and the fact that this is going to be the last time that you play with [some of] them, that's something that hurts your heart."
"In the fall, when they cancelled the season, we thought maybe there's a chance that we could never play football again," Lafayette PK Jeffrey Kordenbrock said. "I know a lot of us kept working, kept practicing, hitting the weight room out of season, but in the back of our head there's always that scary thought. This definitely made me not take it for granted and just enjoy every single day I'm out there."
This Saturday, in a game that many thought might not ever happen, in a season that might not ever happen, played at an extraordinary time without much of the trappings of a regular Rivalry, Lafayette and Lehigh will be able to show the world what they can do. It will be in front of a smaller crowd than usual, but it will be no less meaningful. This Saturday, there is history to be made and football to be played. Nobody who watches any portion of this game will take any part of it for granted.
Where: Fisher Field, Easton PA
When: 12:30 PM
TV: LSN (RCN4, WBPH-60 Easton), NBC Sports Philadelphia (Lafayette Feed), Service Electric 2 (Lehigh Feed)
Streaming: ESPN+ (subscription required), (Lehigh Feed and Lafayette Feeds available)