Marquee: Montana Def. South Dakota 31-17
A Dalton Sneed-led Montana team went on the offensive and never looked back. It took a Coyote field goal in the second quarter for the Grizzlies to jump back from hibernation. That South Dakota field goal would be the only led Austin Simmons and company would enjoy all game long. While it was a shootout for the second quarter, the Grizzlies left the Coyotes behind starting in the early third quarter with a 43-yard touchdown pass from Sneed to Samuel Akem. On the day Sneed would find the endzone three times passing and one time running with 427 passing yards. Robby Hauck and Dante Olson did not have as much success as Sneed but kept the Coyotes quiet with a combined 17 tackles, 2 TFL, and a pass break up. Brandon Purdy was thankfully not the deciding factor as he needed two kicks to shake off the rust of the offseason. Overall, the Griz look poised to be a sturdy Big Sky foe.
San Jose State def. Northern Colorado 35-18
A scrappy UNC Bears team made their season debut as the first Big Sky team to play an FBS team this season. Unfortunately for the Bears, they could not claim the first FCS over FBS win as SJSU quarterback Josh Love put on a clinic against the Bears secondary. Love shined in picking apart the Bears defense with quick slant routes and leading passing. When the Bears were worried about the slant route a committee of running backs would gash the middle of the field. Defensively the Bears looked surprised and undisciplined enough to win against any decent quarterback. Despite the struggle, Knipp seemed calm and Milo Hall ran hard when called upon. The Bears are not down and out, but Washington State will be an endurance of will next week.
Northern Arizona def. Missouri State 37-23
NAU and Missouri St. share a few commonalties as they both have yet to establish the run, defensive front seven makes good tackles, and have very adequate kickers. What Missouri St. does not have is Case Cookus. Cookus may not have had a banner day, but the decision making is worth noting that he protects the ball. He also does not have the biggest arm in the Big Sky, but not allowing a sack is far more impressive. The offensive line will need to take in some serious game film to help Joe Logan and the running backs if they want to relieve pressure off the defense. While Emmanuel Butler chases his NFL dreams it looks like Brandon Porter may be the new Lumberjack threat. NAU did well this week but will see a true test next week against Arizona to gauge their true potential.
Cal Poly def. San Diego 52-34
One of the surprises of the week was the Mustangs defeating the Toreros. Duy Tran-Sampson and Jalen Hamler took the San Diego defense by surprise as they ran past them. Tran-Sampson had 172 yards on 15 rushes and Hamler had 96 yards on 17 rushes with both scoring 2 touchdowns each. Hamler also threw for 221 yards and 3 touchdowns. Cal Poly showed a bright future despite graduating Joe Protheroe. If the Mustangs can dismantle the Pioneer champs, who is next?
Penn State def. Idaho 79-7
Idaho was absolutely shellacked by the Nittany Lions. The stats alone should shock any Vandal fans. PSU had 35 first downs to IU 5. PSU had 331 rush yards to IU 4 yards. The total of offensive yards was 673 to 145. Idaho punted for 421 yards and made no progress on the field. Penn St. kicked off for 820 yards after scoring and gaining an insane amount of yards. Vandal fans knew it was going to be bad, but this was a whooping. Next week should be a better gauge of character against a sturdy D2 Central Washington.
Sacramento State def. Southern Oregon 77-19
The Hornets had a fun time dismantling NAIA opponent Southern Oregon. Sacramento State outgained the Raiders almost two-to-one in total yards. Kevin Thompson performed well with 303 yards through the air and 4 touchdowns on the day. Thompson also rushed 4 times for 90 yards and a touchdown. Pierre Williams had a banner day with 5 catches for 140 yards and 3 touchdowns. The defense also did their job on the day with 9 TFL and 4 interceptions. The Hornets did well against an NAIA opponent, but may not shine so bright against an FBS opponent.
Washington def. Eastern Washington 47-14
Jacob Eason showed up the EWU Eagles as he threw 4 touchdowns and 349 yards. Richard Newton also carved up the EWU defense as he carried the rock 12 times for 91 yards and a touchdown. Washington outgained EWU 570 to 274 in total yards. While Eric Barriere did get sacked four times he showed a lot of poise by not throwing an interception. The EWU nation should get a confidence boost next week against D2 Lindenwood at home.
Texas Tech def. Montana State 45-10
Casey Bauman did not have a stellar day but can say he threw a touchdown against an FBS opponent. The Red Raider defense swallowed up the run game from Montana State but did allow some limited success from the Bobcat receivers. Alan Bowman went off on the MSU defense with 436 yards, 2 touchdowns passing, and another touchdown rushing. Armand Shyne also took his shots at the Bobcat defense with 11 rushes, 125 yards, and 3 rushing touchdowns. Bryce Sterk did register the one and only sack on Bowman of the game which will help his resume. Montana State performed admirably and showed flashes of optimism leading into the season.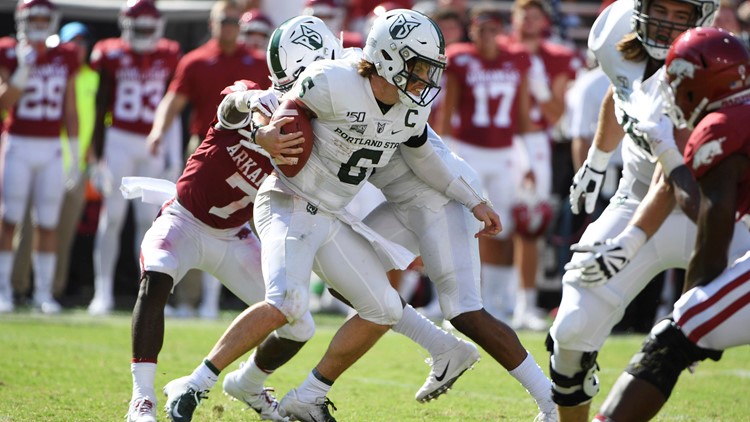 Arkansas def. Portland State 20-13
SEC cellar team Arkansas should have run away from the Vikings, but PSU stayed right on their heels all game long. Portland State now has its highly-touted recruiting class growing up into starting and productive roles. With these additions maturing the roster strength, it will make Portland State more of a wild card team rather than a bottom dweller. If the Viking offense had been able to be ignited and forced two fewer turnovers we may have been talking about a potential Big Sky over SEC win. The three interceptions from the PSU quarterbacks really stuck the nail in the coffin for the Vikings chances of winning. Despite a lack of offense, a presence of very hungry pass defense was present as the Razorbacks had to cut out yards through the run instead of passing. The Vikings even intercepted the Razorbacks once to cap off a fairly successful trip to Arkansas.
California def. UC Davis 27-13
UC Davis tried to play the role of giant-slayer for the second year in a row with an FBS win. This year consisted of a more competent competitor and UC Davis fell short. A strong showing in the first quarter was a burst of optimism for the Aggies until Cal countered in the second. A 10-0 run turned into a 13-10 deficit. Cal was a force on the ground running and defensively by allowing only a field goal after the first quarter. It was not a "bad" loss for the Aggies by only losing by two scores. A small sample of work, but a well-rounded performance can become even better with polish.
San Diego State def. Weber State 6-0
This was both a surprise and a snooze fest of a game. With a late start time, two West Coast teams, and not an explosive offense on either side brought a good bedtime story. Two field goals to none win a game, but there is a lot for both offenses to fix. If Weber State wants to make the playoffs again they will need quarterback Jake Constantine to settle in and dominate. While the defense is still sound and strong, the offense will have to show some fight against a confident Cal Poly team.
UNLV def. Southern Utah 56-23
When looking at the final score it seems like Southern Utah was out played, but maybe not scorched to a crisp by the opposing team. If you were not able to watch the game you can also tell by the box score giving indication 16 of their points were in "garbage time". In other words, Southern Utah made up the 56-7 deficit against players who were likely backups or further down the depth chart. This is a problematic start for the Thunderbirds "Odd Year Curse" that they only win big on odd-numbered years. The goal for the defense should be to in some way be a force of pressure whether that be by causing sacks or turnovers. One fumble simply will not make the cut in erasing a seven touchdown lead. The goal for the offense will be to inspire the run game so that the passing game can build off the flashes of success.
Week 1 How'd I do Results?
At College Sports Journal we take our craft very seriously by putting dedicated time and effort into creating high-quality content for a plethora of football fans across the country. We value integrity, dedication, and passion in each piece of writing we produce. I wanted to take it a step further with the Big Sky previews and introduce a sense of accountability in my preview/ review system. In the Big Sky we value competition to an outstandingly high degree and so I will review myself along with the teams.
Predicted: Montana 31, South Dakota 24 Actual: Montana 31, South Dakota 17
Predicted: SJSU 27, UNC 23 Actual: SJSU 35, UNC 18
Predicted: Washington 45, EWU 24 Actual: Washington 47, EWU 14
Predicted: San Diego 28, Cal Poly 20 Actual: Cal Poly 52, San Diego 34
Predicted: Arkansas 49, PSU 13 Actual: Arkansas 20, PSU 13
Predicted: TTU 48, MSU 23 Actual: TTU 45, MSU 10
Predicted: Penn St. 63, Idaho 13 Actual: Penn St. 79, Idaho 7
Predicted: Cal 35, UCD 27 Actual: Cal 27, UCD 13
Predicted: Sac St. 56, SOU 9 Actual: Sac St. 77, SOU 19
Predicted: SDSU 27, Weber St. 16 Actual: SDSU 6, Weber St. 0
Predicted: UNLV 34, SUU 13 Actual: UNLV 56, SUU 23
Predicted: NAU 31, Missouri St. 24 Actual: NAU 37, Missouri St. 23
Week 1 Record: 11-1
My name is Ben Schleiger and I'm your representative for the Big Sky Conference. I have done work for multiple newspapers and sports blogs including The Johnstown Breeze, The University of Northern Colorado Mirror, and Mile High Maniac. I am a proud alumnus of the University of Northern Colorado with a degree in Psychology and a minor in Political Science. In my free time, I like watching sports, playing video games, and trying new foods.