The CAA had a solid showing on opening weekend with all its teams combining to go 7-1 against FCS opponents. The lone loss was suffered by Elon to nationally-ranked North Carolina A&T, 24-21, on a 52 yard field goal as time expired. Against an FBS school, James Madison gave West Virginia all they could handle before ultimately falling to the Mountaineers. On to week two where the CAA faces four more FBS teams and a couple of strong non-conference games.
BYE: NONE
Conference Game of the Week:
Delaware (1-0) at Rhode Island (0-1)
When: Saturday September 7th, 7:00 pm EDT
Where: Meade Stadium, Kingston, RI
TV/Streaming: FLO Sports ($$/subscription req'd)
Delaware Blue Hens
The Blue Hens easily handled in state rival Delaware State in week one. QB Pat Kehoe did exactly what was asked of him and managed the game well. Delaware ran for 180 yards at a clip of 5.6 yards per carries. The offense was efficient, only turning the ball over once and taking just one sack. Kehoe had two scores through the air and added another on the ground. The Blue Hens have aspirations of a CAA title this year. The young, but always solid, defense did a fine job against a lesser opponent. If they can maintain that intensity throughout the conference schedule, Delaware will be in contention all season. This week they see a much stronger offense than they did last week. How will they handle Aaron Parker?
Key Player: QB Pat Kehoe earned the starting nod in 2018. He played ok, but turned the ball over more than Danny Rocco would like. His 49.5% completion percentage also hurt the Blue Hens. Delaware's season came to a close in a playoff loss to James Madison with Kehoe completing just 13 of 32 passes for 116 yards while throwing two interceptions and taking five sacks. He played a much cleaner game to open the 2019 season and will need more of the same for Delaware to be successful.
Rhode Island Rams
Rhode Island was one of the surprises of the CAA early in 2018. Last season, the Rams showcased an explosive offense behind JuJuan Lawson and Aaron Parker. However when Lawson went out, QB Vito Priore led the Ram offense admirably as well. Fast forward to this year and Priore is the guy under center for the Rams. In their loss to Ohio, Priore threw for 291 yards, 144 of which went to CAA first team receiver Aaron Parker. The Priore to Parker connection will drive the Rhody offense all year. They'll need the defense to get some key stops for them to take a step forward in the CAA
Key Player: WR Aaron Parker is the top receiver in the CAA. He picked up right where he left off in 2018 against Ohio with 9 catches for 144 yards and a touchdown. Parker is the focal point of the Ram offense and should put up huge numbers. Against a younger Delaware secondary, Parker should find plenty of open field to take the Rams toward the end zone,
Fearless Prediction: This is the opening game of the CAA slate and should be a good one. Can Delaware slow down the Rhode Island pass game? That may be the key to victory. If Kehoe plays a clean game, the Blue Hens should be in good shape. Delaware 27, Rhode Island 24
Fearless predictions for the rest of the slate
William & Mary (1-0) at FBS Virginia (1-0), Friday September 6th, 8:00pm, Scott Stadium, Charlottesville, VA, ACC Network, Watch ESPN App (subscription req'd)
The Tribe picked up a solid opening weekend win, but they travel to Charlottesville to play a much stronger UVA team. This one could get ugly early. This isn't 2009. Virginia 55, William & Mary 17
New Hampshire (0-0) at Holy Cross (0-1), Saturday September 7th, 1:00 pm, Fitton Field, Worcester, MA, Charter TV 3, Patriot League Network (free)
New Hampshire opens their season with former Wildcat standout Ricky Santos calling the shots from the sidelines in an interim basis. We wish Coach Sean McDonnell all the best in his recovery while he takes a leave of absence. His Wildcats make him proud and start 1-0. New Hampshire 31, Holy Cross 10
The Citadel (0-1) at Elon (0-1), Saturday September 7th, 2:00 pm, Rhodes Stadium, Elon, NC, FLO Sports ($$/subscription req'd)
This is a must win non-conference game for two teams who dropped openers against strong FCS opponents. The winner will have a shot to still gain an at large bid if needed while the loser would be relegated to winning their conference to make the playoffs. This game features two teams that like to be physical in the run game. Elon, playing at home, has enough in the pass game to gain the victory. Elon 21, The Citadel 20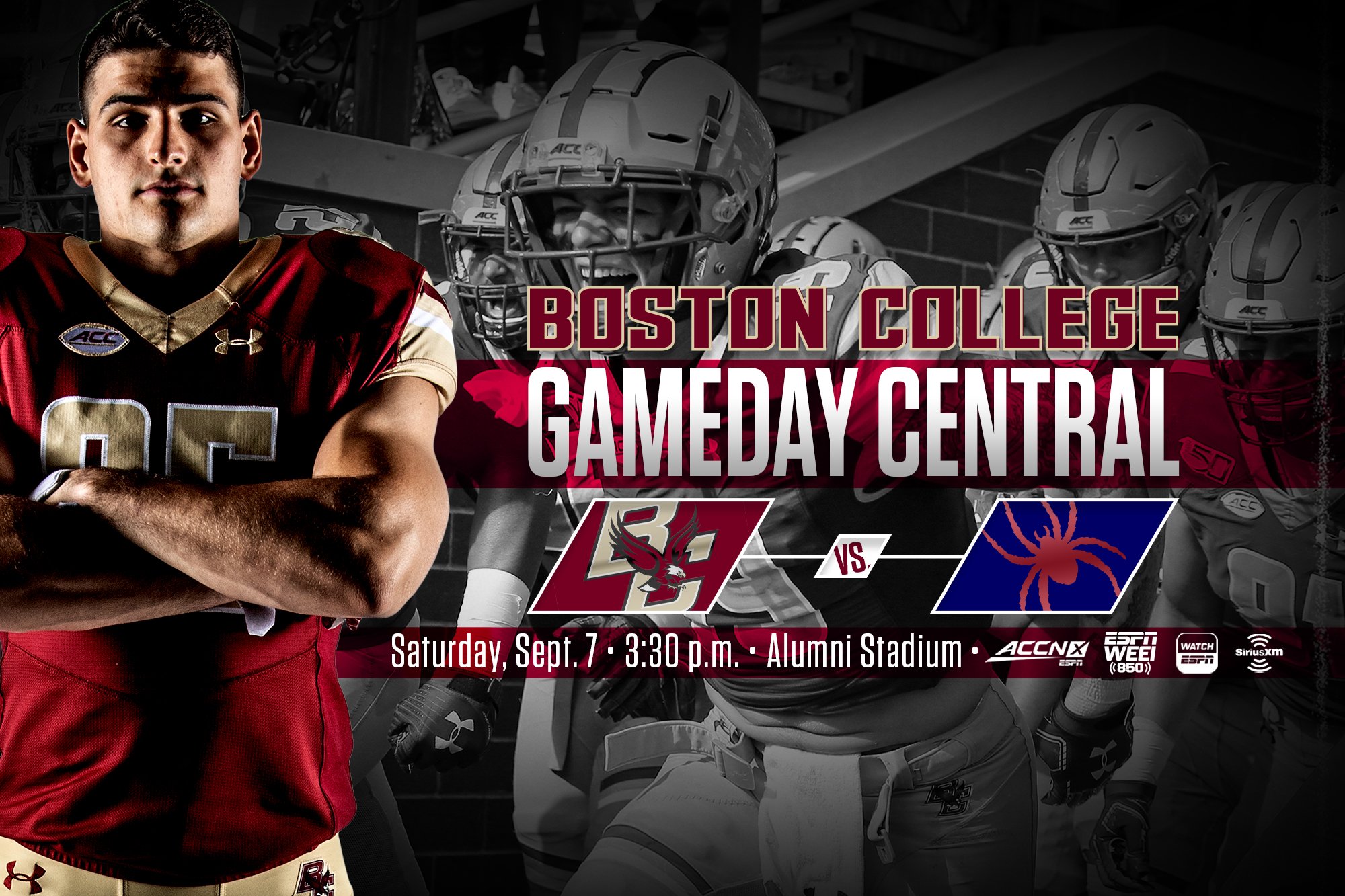 Richmond (1-0) at FBS Boston College, Saturday September 7th, 3:30pm, Alumni Stadium, Boston, MA, ACC Network X, Watch ESPN App (subscription req'd)
Richmond doesn't have much of a chance against a Boston College team that dispatched of Virginia Tech last weekend. Boston College 48, Richmond 10
Maine (1-0) at FBS Georgia Southern (0-1), Saturday September 7th, 2019, 6:00p m, Paulson Stadium, Statesboro, GA, ESPN+ (subscription req'd)
Maine picked up a win over an FBS opponent in 2018 and looks to do it again in 2019. They have a shot, especially if Chris Ferguson plays like he did on opening weekend where he threw for over 400 yards in just three quarters of work. Maine could pull the upset, but we wont call it here. Georgia Southern 34, Maine 28
Saint Francis (PA) (1-0) at James Madison (0-1), Saturday September 7th, 2019, 6:00 pm, Bridgeforth Stadium, Harrisonburg, VA, NBC Sports Washington, JMU Portal, FLO Sports ($$/subscription req'd)
Saint Francis picked up a gutty win over Lehigh last week. Unfortunately for the Red Flash, the only highlight anyone saw from the game was their punter getting obliterated on a dropped snap. This week, the whole team will get obliterated against a physical, talented James Madison team. James Madison 62, Saint Francis 6
Lehigh (0-1) at Villanova (1-0), Saturday September 7th, 6:00 pm, Villanova Stadium, Villanova, PA, FLO Sports ($$/subscription req'd)
Villanova started the season by easily dispatching the defending Patriot League champion, Colgate. This week they will run over another Patriot League team when Lehigh comes to town. Villanova 33, Lehigh 12
Bryant (0-1) at Albany (0-1), Saturday September 7th, 7:00pm, Casey Stadium, Albany, NY, FLO Sports ($$/subscription req'd)
Albany played respectfully against an FBS foe in week 1. This week, they play a Bryant team that is more on their level. The Great Danes should get out of this game with a victory. Albany 24, Bryant 19
Stony Brook (1-0) at FBS Utah State (0-1), Saturday September 7th, 7:30pm, Maverik Stadium, Logan, UT, Stadium on Facebook
Stony Brook will use its defense to keep itself in games this year. But against an FBS opponent, that wont be enough. The Seawolves will play this game and just move on. Utah State 45, Stony Brook 3
Jamie is a proud 2002 graduate of James Madison University. He's witnessed the growth of the program from no one in the stands in 1998, to the hiring of Mickey Matthews, to the 2004 National Championship, to the 2008 team, to the struggles in the early 2010s, and finally the rebuild under Mike Houston. He also allegedly really enjoys Washington, DC-based Stanley Cup winners.
Reach him at: