The Big Sky schedule in general switches from an uphill FBS heavy schedule to a now D2 and interesting FCS matches week. With the schedule almost evenly in thirds of D2 (or lower), FCS, and FBS games will show variety of strengths and weaknesses of the Big Sky teams. Considering the hodgepodge of games available the game of the week is centered on SEMO vs. Montana State. Both are last year playoff teams and have a strong depth of players. This could be hard hitting and high-intensity game that gets decided in the fourth quarter.
Conference Game of the Week:
Southeast Missouri State (1-0) at Montana State (0-1)
Where: Bobcat Stadium, Bozeman, MT
When: Saturday, August 7th 6:00 pm MT
TV/Streaming: FOX Western Montana, SWX Billings, Pluto TV (free)
Southeast Missouri State
The Redhawks are a strong OVC team that looks to challenge Jacksonville State for that top spot. To be the top of any conference SEMO will have to work at it one game at a time. Montana State is not a chump game as the Bobcats are sturdy competitors and big-time playmakers. As for the Redhawks, they will be relying on Zach Hall of their defense and the committee of running backs to churn out a similar performance as Week 1. LB Zach Hall registered 19 tackles, 2 TFL, and a sack last week at Southern Illinois. With him, at middle linebacker, he will have to direct traffic to slow down Isaiah Ifanse and company in the Bobcat running game. Likewise, SEMO will look for their running back community to shine as three players had at least 70 yards and a touchdown each last week.
Key Player: LB Zach Hall is an obvious choice for spectators to keep an eye on. 19 tackles in a game certainly could be a fluke, but if it is not this young man will have a banner season to tout. Depending on SEMO's plan of attack if he simply plays zone coverage in the middle of the field in front of the "A" gaps it could very well be another double-digit stat type game for him. I doubt the Bobcats will ignore him, but also may not be looking to run him over either.

Montana State
Another tough black and red themed team awaits the Bobcats, but this time in friendly territory. A home game atmosphere will help the Bobcats confidence as they will need to be precise and high intensity throughout the night. While the OVC may not be as crowded with wins as the Big Sky is there is still a strong threat of a playoff capable team being the home opener. MSU should be warry not to underestimate the Redhawks even if their gameplan is solid. Flashes of brilliance at Texas Tech will simply not cut it for this game against SEMO. The offensive side will be imperative to the win with big performances needed out of Casey Bauman at quarterback and Isaiah Ifanse at running back. The offense will be busy taking credit, but Troy Anderson and Bryce Sterk will need the biggest performance of simply slowing the run.
Key Player: DE Bryce Sterk will be a key part of the foundation in stopping the run and possibly the Redhawks all together. A running back community that had 70 yards and a touchdown each will be indefinitely a loss for the Bobcats if allowed. The dominance of Bryce Sterk is undeniable, but he will be needed more so now than in the majority of the other games of the season. A strong performance from him could lead the Redhawks to throw more than they want, including costly passes that become turnovers. If Sterk locks down the interior run, Troy Anderson can pick up the edge rushes, and Jahque Alleyne can pick up the receivers.
Fearless Prediction: Many things must go right for both sides to ensure victory, but a Bobcat win is what I see on the horizon. An underrated, but tough stadium to play at, in a climate SEMO is not used to, and on the road seems to be too many factors against the Redhawks for a victory. Casey Bauman did not have an inspiring first outing at quarterback, but one game against a Big 12 team is not enough to write his story with. A large part of the game may depend on how composed and well thought his passes turn out to be. Another key aspect will be who runs the ball better since that team will likely be calling on the backs at the goal line early and often. Montana State 35, SEMO 27

Other Fearless Predictions
Thursday, September 5th
This is Idaho State's first action of the year and it will be a warm-up if anything. Despite WCU having Austin Ekeler a few seasons ago, there has not been the same amount of talent to flow through for the Mountaineers. This is perfect for Idaho State who is still not confident which quarterback they want to "man the ship" for the rest of the season. Gunnar Amos is likely the favorite, but with a home opener against a D2 team, there is no need to rush the decision. Look for a four-score lead by ISU in the early third quarter or sooner. Idaho State 52, WCU 13
Friday, September 6th
Sac. The state is better than they were last year, but are they good enough to beat an FBS team? Not yet. The Hornets should celebrate their improvements and take this in as a learning game. Mistakes are bound to happen and it is expected that the FCS team will always lose, so play your best and see what comes of it. The Hornets can keep pace until about mid-second quarter where the Arizona State offense will break away from the competition. Once the mid-fourth quarter rolls around the backups will likely see the field and the Hornets may steal some "garbage time" points to lessen the gap. ASU 56, Sac St. 20
Saturday, September 7th
Lindenwood (D2) at Eastern Washington – Cheyey, WA – 1 pm. PT, TV: Pluto TV (free)
The EWU Eagles will relish the chance to have a "tune-up" game before a bitter road trip next week. Eric Barriere, Antonie Custer Jr., Andrew Boston, and company should have a dandy time just letting loose on Lindenwood. Last year Lindenwood was a 4-7 Division II team while EWU was a national runner-up in the FCS. This game could be as ugly for Lindenwood as it was for Idaho against Penn State. EWU 59, Lindenwood 6
Simon Fraser (D2 – Canada) at Portland State – Hillsboro, OR – 2 pm. PT: Pluto TV (free)
Portland State gets to play possibly the most interesting D2 school in the nation as Simon Fraser is the only NCAA accredited school outside of the United States. Another interesting fact is that the starting kicker for the team is number 88, Kristie Elliot. Despite how interesting they are the game will be whatever score Portland State wills it to be. Simon Fraser has won a total of three games since 2014. I hope we get to see Kristie Elliot attempt a field goal, but more than likely the team will never cross the 50-yard line. Portland St. 77, SFU 3
Central Washington (D2) at Idaho – Moscow, ID – 6 pm. PT: Pluto TV (free)
Central Washington is a top tier D2 team that has had a knack for keeping close or knocking off Big Sky teams. Idaho should tread carefully throughout this game, but nothing can be as bad as last week for the Vandals. Most recently, in 2017 new FCS team North Alabama fell victim to the Wildcats 17-10. Idaho will not be in serious danger of losing, but Central Washington is capable of such effort. Idaho 38, CWU 17
This will be the first real test of Big Sky versus Big Sky teams of 2019 to set the tone of what to start expecting. This will not be a conference game, but it will surely have ramifications for later games as all-conference eyes will be on the two opponents. Weber State had a tremendous defense and a tumultuous offense last week. It may have been an FBS opponent, but zero points will lose you a game in any conference. Meanwhile, Cal Poly spanked in-state foe San Diego last week with a great offense and acceptable defense. If Weber wants to win, their quarterback will need to find his mojo and fast. Weber 27, Cal Poly 24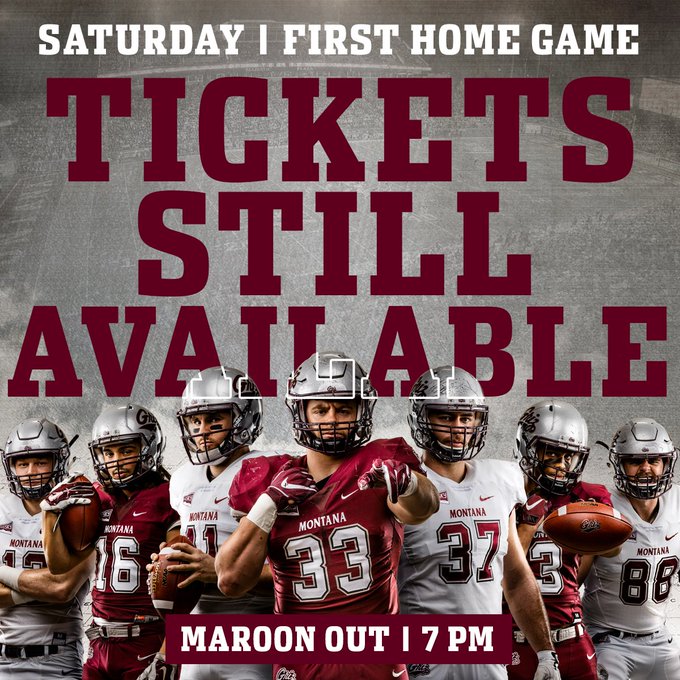 North Alabama at Montana – Missoula, MT – 6 pm. MT: TV: ABC Western Montana, NBC Billings, Altitude 2, GoGriz.com
North Alabama is trying to make their spot known in the FCS with bold scheduling and beating mid-level opponents. The Lions may find a rude awakening when they arrive in the Bear's Den they call Missoula, Montana. A brutal place to play and even tougher place to win is something that they may have only experienced once before with a trip to Fargo. Montana is rolling home hot after putting a sufficient beating on South Dakota. The Lions are trending upwards with a solid win to start the season too, but will likely leave Montana with their tails tucked. It will be a decent game for the first half but expect those bright faces of UNA to be dampened by the final score. Montana 42, UNA 23
Southern Utah fans talk of the "Odd Year is our year"! Well, the "Odd Year Curse" might be just a curse if they play like they did last week. UNLV was tough because they are an FBS school, but UNI is tough because they play hard. Losing by only a field goal to FBS Iowa State in overtime bodes well for the Panthers. Iowa State hierarchically is much better than UNLV so one can guess if those performances are transferable what kind of night Southern Utah is in for. No cylinders seemed to work on time last week for the Thunderbirds and this week is a bad time to start hoping they magically figure it out. UNI 41, Southern Utah 10
UC Davis at San Diego – San Diego, CA – 3 pm. PT – Radio: Sports 1140 KHTK, TV: WCC Network (free)
If Cal Poly can whoop on San Diego then this week will be way worse for the Toreros. Jake Maier and company are frustrated after a decent showing but ultimately lost at California. This week will not be easy per se, yet it will be a welcome challenge to outdo Cal Poly. San Diego is not a bad team at all as they are continually a top team in the Pioneer League. It is, however, a concern that losing the seniors they did set them back that much against Cal Poly and now maybe UC Davis too. The Aggies should be able to regain their confidence this week with a comfortable win over San Diego. UC Davis 50, San Diego 16
This game will not be a good representation of the Big Sky just to list as a disclaimer. Northern Colorado against a Top 25 team in the country will be undoubtedly brutal and may we all hope Mike Leach has an ounce of mercy. This is one of those games that is great for the athletic department budget but going to be ugly to watch. The Bears will have moments to shine here and there, but most likely every drive will end in a punt. The stamina and depth to keep pace with a team like this would be nearly impossible from an FCS team. The Bears should enjoy playing on national TV, getting exposure, and trying hard because losing by less will be the game plan. WSU 63, Northern Colorado 13

In-state FCS versus FBS rivalries can be some of the most fierce and disappointing. Case Cookus is a talented senior quarterback, although the weapons Arizona has compared to the Lumberjacks make for a considerably longer list. This should be a fun one for spectators looking for another #FearTheFCS moment, but will just barely miss the mark heading into the fourth quarter. If NAU wants to keep it close Joe Logan will have to get a distracting amount of yards to open up the field to Case Cookus. Arizona 38, NAU 28
My name is Ben Schleiger and I'm your representative for the Big Sky Conference. I have done work for multiple newspapers and sports blogs including The Johnstown Breeze, The University of Northern Colorado Mirror, and Mile High Maniac. I am a proud alumnus of the University of Northern Colorado with a degree in Psychology and a minor in Political Science. In my free time, I like watching sports, playing video games, and trying new foods.