Last year, the CAA was the conference of chaos, but the Big Sky is making its case for that title this year. Eastern Washington has been a rollercoaster team, the middle tier is growing with improvement, and even Northern Colorado made a triumphant return to the win column. For anyone who thinks they know it all I encourage y'all to try telling anyone how to predict the season. Very few people can adequately do so and this season even the analysts are struggling as chaos unfolds. The problem with chaos is it never knocks to announce its presence, any given Saturday.
Marquee: Montana def. UC Davis 45-20
Dalton Sneed and company embodied the word Chaos. The Griz came to Davis, CA as a slight underdog and left chaotically as a possible conference contender. At this point in time it seems as if 'The Griz are Back". This is not to say throw all concerns about Montana out the door, but they took their game up a notch by taking UC Davis down. With one of the harder conference schedules Montana is far from out of the woods, but stealing a game they should have lost counts for a lot. Jake Maier did his best although the passing lanes were easily shut down due to the lack of run game able to be established. Montana had success with running, throwing, and tackling all game long. Dalton Sneed had 268 passing yards, 66.7 percent completion rate, 5 passing touchdowns, and 81 rushing yards. The ever present Griz defense did not force many takeaways, but the tackle numbers were high and UC Davis first downs were limited.
Predicted:
UC Davis 34,
Montana 27
Northern Colorado def. Idaho 27-24
Northern Colorado shocks the Big Sky and FCS alike with a three-point victory over Idaho. I cannot think of anyone unrelated to the team who would have picked this upset, not even this Bear alum. It was truly a team effort for the Bears as they battled through adversity and inexperience to pull off a victory. Michael Walker's Player of the Week performance with two interceptions helped the offense have the necessary chances to score. Workhorse Milo Hall rushed 39 times for 135 yards and a touchdown plus 34 receiving yards. When Knipp struggled passing the ball Milo was right there to take over the work load and propel the Bears forward. Despite the win, the Vandals' run game was very strong. Nick Romano had 15 carries for 132 yards and a touchdown, while Vandal quarterback Mason Petrino was not far behind with 84 yards on 11 attempts.
Predicted:
Idaho 38,
Northern Colorado 17
Montana State def. Northern Arizona 49-31
No lead is ever a sure thing in the Big Sky and that was evident for NAU. The Lumberjacks were up 21-0 in the beginning of the second quarter and 31-14 at the beginning of the third quarter. That lead would quickly diminsh as the Bobcats found their way to scoring five unanswered touchdowns. Travis Jonsen and Shane Perry both tallied two touchdowns each in the comeback win. The Lumberjack offensive line was able to shutdown Bryce Sterk and allowed zero sacks on the day. The problem is super-kid Case Cookus just could not put together one of his sterling performances. Only one of the four NAU touchdowns came via air mail from Cookus. His talent is there, but the performances cannot sustain the needed consistency.
Predicted:
Montana State 42,
Northern Arizona 31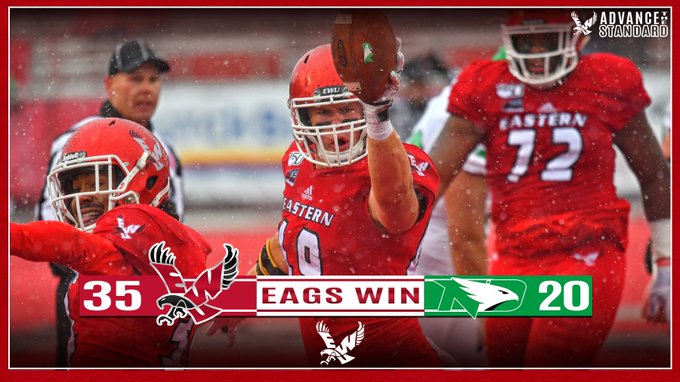 Eastern Washington def. North Dakota 35-20
This game was a lot like the movie Freaky Friday where the two characters switch places. EWU was the run heavy team and UND was the pass heavy team. While it was strange to not see Eric Barriere throwing darts to his receivers it did work very well for the Eagles. At the end of the day two EWU running backs, Antonie Custer Jr. and Silas Perreiah, had more than 100 rushing yards each. Custer Jr. also contributed with three rushing touchdowns, Perreiah one, and Barriere even had a rushing touchdown. Those five rushing touchdowns were all that was needed to shut the door on the Fightin' Hawks. UND quarterback Nate Ketteringham did all he could through the air with 211 passing yards and a touchdown. It was the passing game that sunk the Hawks flight plan as Ketteringham also threw three interceptions on the day, two of which Calin Criner was alert enough to snag.
Predicted:
Eastern Washington 34,
North Dakota 31
Idaho State def. Portland State 51-24
Matt Struck is the quarterback of the Bengal's future as long as he can stay healthy. The controversy of Gunnar Amos battling for the job is no more as he is reportedly "retiring from football for personal reasons", but plans to finish his degree with Idaho State. The team was not willing to comment further on what Amos reasons were, but wished him luck in his future endeavors. While this may have made things awkward in the locker room and it is always sad when players retire, it does bring stability to ISU. The poise and accuracy of Matt Struck was on full display against Portland State as he unloaded six touchdowns on the Vikings. Ty Flanagan contributed nicely to the run game with 119 yards on 21 carries and Tanner Connor had a banner day receiving with four catches for 117 yards and three touchdowns. Davis Alexander just could not navigate the Bengal defense well enough to get any significant traction besides 7 passes to Charlie Taumoepeau for 104 yards receiving.
Predicted:
Portland State 30,
Idaho State 24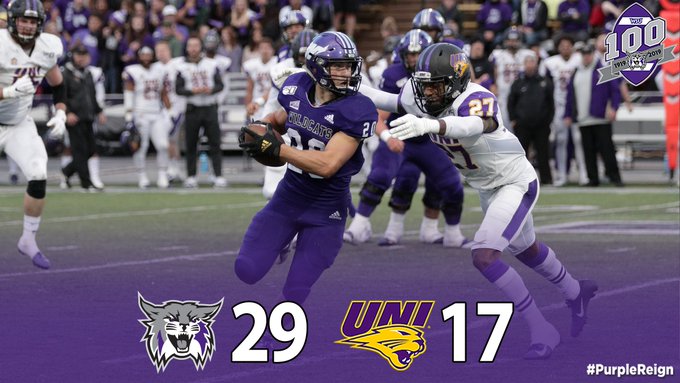 Weber State def. Northern Iowa 29-17
Weber State came out of the gates like a destruction (group) of Wildcats. Each of their first five drives came away with points to rack up a 27-10 lead going into halftime. The Wildcat defense would continue to keep the Panthers in check by only allowing one touchdown and scoring a safety. The UNI defense finally woke up from the first half hibernation to stiffle any progress from Weber. Josh Davis was not able to pound the rock for Weber very well as the Panthers swarmed every attempt. To Davis credit he is versatile enough to make six catches for 29 yards. Eriely enough these two teams are incredibly similar in play and performance. One place of unexpected similarity was at quarterback. Will McElvain went 16 for 29 to earn 219 yards, two touchdowns, and an interception while Kaden Jenks was 19 of 29 to earn 219 yards, two touchdowns, and no interception.
Predicted:
Weber State 24,
Northern Iowa 13
Cal Poly runs out the clock and earns a 24-21 victory over Southern Utah in the Big Sky Conference opener for both schools. Cal Poly hosts Montana State next Saturday at 5:05 p.m. #RideHigh pic.twitter.com/8Rved84u59

— Cal Poly Football (@calpolyfootball) September 29, 2019
Cal Poly def. Southern Utah 24-21
A battle of the running Mustangs and the passing Thunderbirds came to a conclusion with Cal Poly on top. A total of six pass attempts to 34 surprisingly did not make enough of a difference to stop the Mustangs. Southern Utah did have 125 yards rushing collectively to Cal Poly's 278, but no one runner for the Thunderbirds reached 50+ yards individually. Contrastly, Cal Poly had three runners over 50+ yards including Duy Tran-Sampson, Jalen Hamler, and Xaiver Moore. The Mustangs four catches all came from JJ Koski while the Thunderbirds 19 receptions were spread across seven players. In the end, the Cal Poly pass defense outlasted the Southern Utah balanced attack.
Predicted:
Cal Poly 35,
Southern Utah 23
Predicitons Reviewed
This week was close on half and off on the other half with a record of 3-3. The Montana and Northern Colorado games seem to be true upsets for this point in time. UC Davis was a second place team in the Big Sky last year so it is too soon to write them off as not being a serious contender, despite the loss. Northern Colorado has been a struggling Big Sky team for their entire existence in Division I other than the 2015 and 2016 seasons. For thier first ever meeting with Idaho, who has an impressive roster, to be a win is significant for the program. Idaho State can finally move forward with Matt Struck at quarterback and may be able to live up to some potential of last year. Not enough is known yet if they can sustain the offense and if Struck has the endurance for the season yet. Montana State and Weber State are exactly who people thought they would be as conference contenders. Montana is on the rise and potentially back with their upset win, but can Bobby Hauck keep the ball controlled and success constant? Cal Poly and Southern Utah seem to be back to their old selves of bottom tier teams with some exceptions for shining performances. EWU's rollercoaster season continues with an uncharacteristic run heavy win. As for Northern Arizona and Portland State they seem to be inexplicably hot and cold on their own schedule as both could have put on better performances this weekend.
My name is Ben Schleiger and I'm your representative for the Big Sky Conference. I have done work for multiple newspapers and sports blogs including The Johnstown Breeze, The University of Northern Colorado Mirror, and Mile High Maniac. I am a proud alumnus of the University of Northern Colorado with a degree in Psychology and a minor in Political Science. In my free time, I like watching sports, playing video games, and trying new foods.