UC Davis came ready to bring the Golden Horseshoe Trophy back home with them to Aggieland. The 73-24 domination of Cal Poly was unexpected and a huge red flag sent to the Aggies' remaining opponents of Idaho State, Eastern Washington, and Cal Poly, again. Hunter Rodrigues and company started hot against Weber State, but faltered in the end. This week they obliterated Beau Baldwin's rookies with three weeks to go. What can we expect to see from the Aggies down the stretch? At this point they are the most dangerous wild card type team in the West.
March 20th Review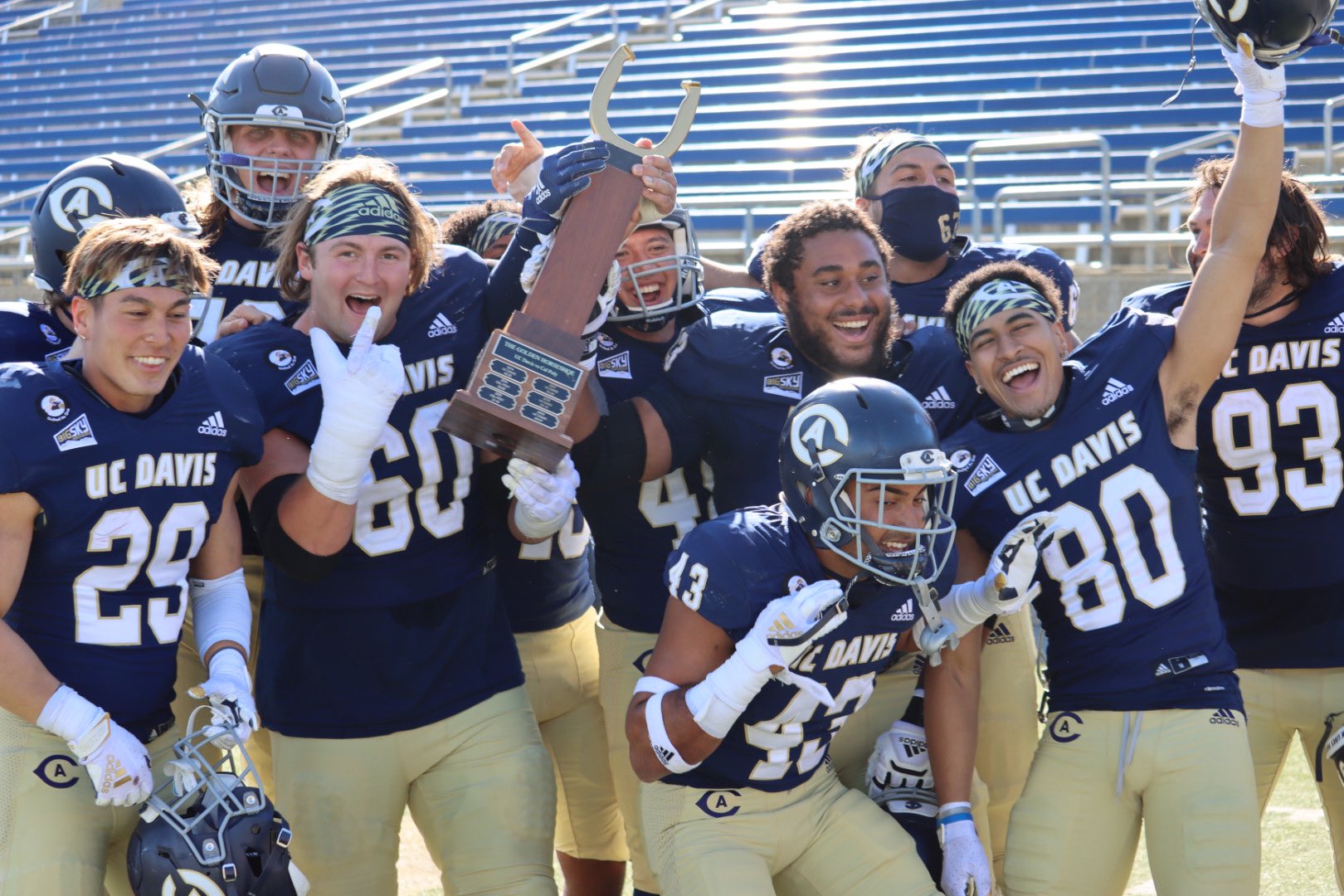 UC Davis had themselves a day with Cal Poly. The 73-24 rout of the Mustangs was a shock and embarrassment for the Cal Poly program. UCD was slated as a favorite anyways, but a 49 point difference is incredible. Many may ask where this offense was against Weber State, but a better question is where are the tackling, pass coverage, and awareness from Cal Poly? Baldwin is a top-tier FCS caliber coach and has the resume to prove it. The problem is this talented Cal Poly squad looks lost and out of position all too often. There better be some major adjustments from this San Luis Obispo squad come time for fall or they may fall behind.
March 27th Preview
Idaho State (1-2) at UC Davis (2-1) – MT – PlutoTV (free)
Saturday will be a defining moment for these two teams as Idaho State looks to prove itself to be more than just a hard-nosed bottom feeder and UC Davis looks to prove itself to be a damn good team lacking only a few pieces from being a contender. The Bengals and Vander-Waal have been explosive offensively which is a great step towards who they used to be, but sometimes those explosions appear as turnovers from overzealous throws or undisciplined ball control. Idaho State has the tools to become a middle of the pack conference team. The test is whether or not they can utilize discipline to hone in their skills. UC Davis has those elements already figured out and now their test is whether or not they can produce consistent quality. The Aggies Golden Horseshoe Trophy win was impressive, but Cal Poly is far from the toughest opponent out there to hang 70+ points on.
ISU Players to Watch: Tyler Vander-Waal, QB and Connor Wills, LB
UCD Players to Watch: Ulonzo Gilliam Jr., RB and Cole Hansen, LB
Fearless Prediction: UCD 49 ISU 27
UCD has the tools to blow through the Bengal defense, but this will be a step above Cal Poly in competitiveness. The Bengals are able to put up points and turnovers. Whichever they do best this Saturday will determine how close of a game they keep it. Comparatively, UCD beat Cal Poly by 20+ more points than Southern Utah did and Idaho State beat Southern Utah by two points.
Southern Utah (1-2) at Idaho (1-1) – 1pm MT – PlutoTV (free)
This will be another interesting game with a biased opinion on the outcome. Southern Utah looks to have more passion, ability, and chemistry than they did a season ago, although it does not appear that will be enough to overcome the gritty Vandals. The Thunderbirds will need to invest in their margin of victory strategy for the rest of this season as their last three games have been decided by an accumulative seven points (-1, -2, and +10). While Idaho is still developing their identity they are shaping out to be a tougher opponent in the conference. Idaho's two games is not much to judge off. This weekend will help mold their future if they are now a competitor in the Big Sky or if their roller coaster type adventure is going to continue on a leaderless path.
SUU Players to Watch: Justin Miller, QB and La'akea Kaho'ohanohano-Davis, LB
Idaho Players to Watch: Hayden Hatten, WR and Tre Walker, LB/RB
Fearless Prediction: Idaho 31 SUU 27
Idaho could easily take this game by the end of the third quarter or they could let the game slip away with 15 minutes left to play. That's the two sides we have seen from Idaho and after some time off will that help or hurt the Vandals? Southern Utah has three games of experience and two tense, down-to-the-wire type games. Does that make them battle-tested? Far from it. What it does give the Thunderbirds is the opportunity to learn from past mistakes and play a cleaner game against Idaho. The Vandals may need to shake off some rust and mental fatigue in order to shake off the Thunderbirds this weekend.
Northern Arizona (1-1) at Weber State (2-0) – 1pm MT – PlutoTV (free)
Weber State has been consistently ranked among the elite teams playing in the spring season. Meanwhile, NAU struggles to not be the bottom of the conference. A lack of consistent starters is devastating to NAU's production.
NAU Players to Watch: Stacy Chukwumezie, WR and Heath Beemiller, LB/QB
Weber Players to Watch: Josh Davis, RB and Conner Mortensen, LB
Fearless Prediction: Weber 27 NAU 13
Despite the Lumberjacks harmless demeanor they are able to match up players very well for their lack of depth. I think Weber still blatantly wins the game, but a slowed down offense will limit their ability to get as many points. Look for this to be a battle that is won and lost in the trenches.
Cal Poly (0-2) at Eastern Washington (2-1) – 2:05pm MT – PlutoTV (free)
The Beau Baldwin Bowl comes to Cheney, WA this weekend for a homecoming of sorts. While the friendly face will be in a familiar place he will be representing the Eagles' enemy for the first time at EWU. His first two games have not gone in the Mustangs' favor with a 10 point loss to Southern Utah and a 49 point loss to UC Davis. Despite Baldwin's slow start the Eagles and Eric Barriere have no reason to hold back against the EWU legend. This high octane offense and talented defense will be ready to give Coach a rude awakening in his first return to Cheney while wearing green.
CP Players to Watch: Jalen Hamler, QB and Lance Vecchio, LB
EWU Players to Watch: Eric Barriere, QB and Chris Ojoh, LB
Fearless Prediction: EWU 38 Cal Poly 24
Eastern Washington simply has too many tools and tricks to use against Beau Baldwin. The one advantage Baldwin has is his likability around campus, but that won't save his team on the gridiron. Unfortunately, the beloved coach will have to face reality that his new team is not as good as his old team in any of the meaningful categories. Barriere and company should be able to carve up the Mustangs for a hearty total.
My name is Ben Schleiger and I'm your representative for the Big Sky Conference. I have done work for multiple newspapers and sports blogs including The Johnstown Breeze, The University of Northern Colorado Mirror, and Mile High Maniac. I am a proud alumnus of the University of Northern Colorado with a degree in Psychology and a minor in Political Science. In my free time, I like watching sports, playing video games, and trying new foods.