College Sports Journal Big South Game Previews: Week of 8/31/2019
The PFL starts their 2019 journeys this week with the most diverse out-of-conference slate in all fo the FCS. Butler takes on the defending FCS National Champion North Dakota State Bison, and nearby D-II Union (KY) takes on Morehead State, but the most interesting matchup might involve two surprise teams that could be a big factor in their conference races.
BYE: None
Conference Game of the Week:
Charleston Southern (0-0) at Furman (0-0)
When: Saturday August 31st, 1:00pm
Where: Paladin Stadium, Greenville, SC
TV/Streaming: ESPN+ (subscription required)

Charleston Southern Buccaneers
Charleston Southern had its first losing season since 2012 last season. 2018 brought a 5-6 overall record, but a respectable 3-2 in conference play. The Bucs have a real challenge to replace LB Solomon Brown, one of the better Big South defensive players in the last few years. They'll have a great FCS stage to show what they can do this Saturday when they take on a SoCon title contender in Furman.
Key Player: RB Terrence Wilson led the Buccaneers with 6 touchdowns and 540 yards rushing on a team with an anemic offense. Wilson is only a junior, giving him two more years of eligibility to make an impact on the offense. If Charleston Southern is to spring the upset, he'll have to get going early and often.

Furman Paladins
A yearly competitor for an FCS playoff berth, Furman barely missed out in 2018 after a 6-4 season. The Paladins went 6-2 in conference play, but lost both of their non-conference games: one at Clemson and one at Elon. The biggest blow may have been the game they didn't play. The Paladins were scheduled to play Colgate, but the game was washed out due to Hurricane Florence that made landfall in the Carolinas. Had Furman played and won that game, they would most likely have been included in the 24 team field.
Key Player: This week, Furman figured out who their quarterback is going to be: redshirt freshman QB Darren Grainger finally was named the starter after a competition in camp with fellow redshirt freshman QB Hamp Sisson. How will Grainger do facing off against the Buc defense?
Fearless Prediction: This is a battle between two teams with some unknowns, but Furman has a lot more answers to their questions at this point than Charleston Southern. As long as Grainger is up to the challenge of running this offense, Furman should prevail. Furman 35, Charleston Southern 21.

Fearless predictions for the rest of the slate
Gardner-Webb (0-0) at FBS Charlotte (0-0), Thursday, August 31st, 7:30pm, Jerry Richardson Stadium, Charlotte, NC, ESPN+ (subscription required)
The improvin' 49ers should have no problem with the strugglin' Bulldogs. Charlotte 41, Gardner-Webb 0
Western Illinois (0-0) at North Alabama (0-0), Thursday August 29th, 8:00pm, Braly Stadium, Florence, AL, ESPN+ (subscription required)
The Leathernecks travel to the still D-I transitioning Lions. Though UNA will be better this season, this seems like too tall an order at this point. WIU 31, UNA 17
Campbell (0-0) at Troy (0-0), Saturday August 31th, 6:00pm, Veterans Memorial Stadium, Troy, AL, ESPN+ (subscription required)
The Troy game will be Campbell's second against a full FBS member, following last season's 58-21 defeat at the hands of Coastal Carolina (which was relocated to Campbell's home due to Hurricane Florence). Finally getting a chance to play an FBS team at their place, expect a similar outcome. Troy 63, Campbell 22
D-II Elizabeth City State (0-0) at Hampton (0-0), Saturday, August 31st, 6:00pm, Armstrong Stadium, Hampton, VA, ESPN+ (subscription required)
Hampton has very high expectations as they start their journey as a full Big South football member. Those expectations will not be dashed in their "border war" with Elizabeth City State this Saturday. Hampton 28, Elizabeth City State 17
Point (0-0) vs. Kennesaw State (0-0), Saturday, August 31st, 6:00pm, Fifth Third Bank Stadium, Kennesaw, GA, ESPN+ (subscription required)
Kennesaw State is better than this. There is zero reason for the Owls, who are a legitimate FCS title contender, to schedule an NAIA school such as Point as an out-of-conference scrimmage for the walk-ons on their roster. The result of this travesty will allow a lot of walk-on parents to be happy, but there's no reason for fans across FCS Nation to watch or care about this bloodbath. Kennesaw State 90, Point 2
Monmouth (0-0) at Western Michigan (0-0), Saturday, August 31st, 7:00 pm, Waldo Stadium, Kalamazoo, MI, ESPN3 (cable subscription req'd)
Back in the real football world, Monmouth heads to Michigan in a very intriguing matchup against a middle-of-the-pack MAC team. The Hawks, who were close to grabbing the Big South title from Kennesaw State last season, is likely to give the Mustangs a run for their money. They'll fade late, but they'll demonstrate that they're for real. Western Michigan 35, Monmouth 34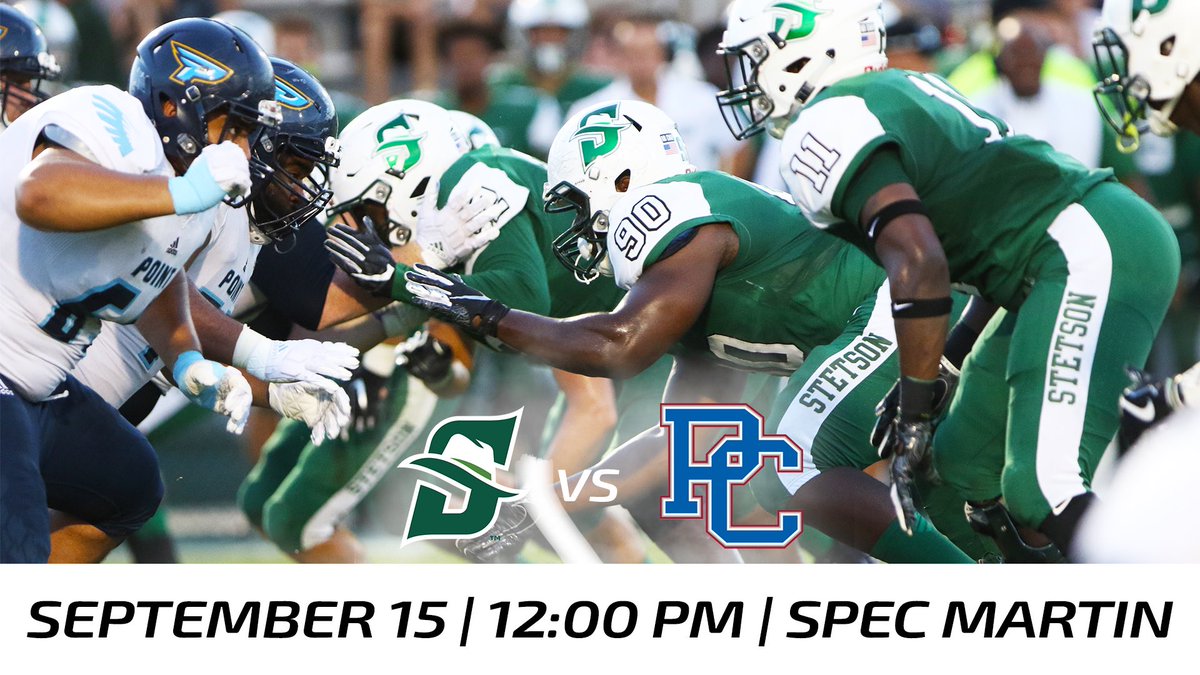 Presbyterian (0-0) at Stetson (0-0), Saturday August 31st, 7:00pm, Spec Martin Municipal Stadium, DeLand, FL, ESPN+ (cable subscription required)
Stetson will have a golden opportunity that they are for real when they welcome a Presbyterian squad that is transitioning from the scholarship Big South to the non-scholarship PFL. The Hatters will show that you don't need scholarships to get wins. Stetson 31, Presbyterian 9