The Ohio Valley Conference has been Jacksonville State's personal playground over the last five years. The Gamecocks actually lost a conference game last year, but still won the title. Can anyone continue to close the gap and knock JSU off of their perch? It doesn't look like it, but that's why they play the games.
BYE: None
Conference Game of the Week:
Jacksonville State (0-0) at Southeastern Louisiana (0-0)
When: Thursday August 29th, 8:00pm
Where: Strawberry Stadium, Hammond, LA
TV/Streaming: ESPN+ (subscription required)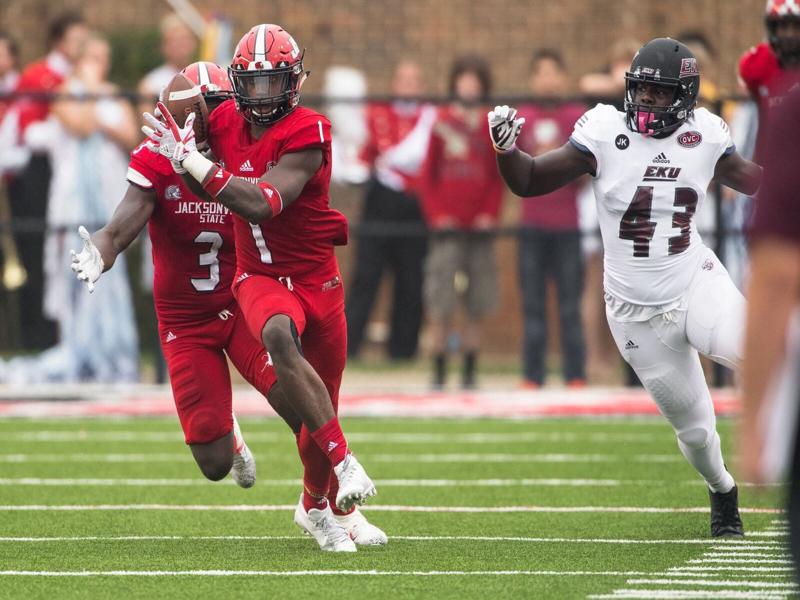 Jacksonville State Gamecocks
Jacksonville State enters the 2019 season loaded and ready to take their best shot at Frisco. The Gamecocks feature on of the best QB/WR combinations in the country – Zerrick Cooper and Josh Pearson. Both Cooper and Pearson are on the initial watch list of 25 names for the Walter Payton Award. Offense will not be a problem for Jacksonville State. Some questions around their defense. The last time we saw Jacksonville State on the field they were giving up five touchdown passes against Maine, so that is reason enough to question the secondary until we see better. Some of those questions can start to be answered this week in a game against a Southland opponent with a strong quarterback.
Key Player: We know what we are getting from the Gamecock offense- fast paced, and explosive. What we don't know is how the defense will perform. S Marlon Bridges will try to help clear everyone's mind about the state of the defense. Playing a team like Southeastern Louisiana early who likes to throw the ball could be just what the doctor ordered for the Gamecocks early in the year.
Southeastern Louisiana Lions
Moving the ball on offense was not too big of a problem for Southeastern Louisiana in 2018. Keeping the opponent from doing so, however, proved to be quite difficult for the Lions. SeLa also struggled with turnovers, throwing 13 interceptions. The Lions have the talent to beat playoff caliber teams as evidenced by their victory over Lamar. However, they lack the consistency to keep the momentum moving. Poor defense and turnovers on offense wont bode well against a team like Jacksonville State
Key Player: The Lions throw the ball a lot and like most teams in the Southland Conference have a good quarterback under center, QB Chason Virgil. He must play mistake free football to keep his team in the game. If he does that, the Lions may have a shot late to pull off the upset. If not, it could be a long night in front of the home crowds.
Fearless Prediction: Southeastern Louisiana has the ability to beat playoff teams. But this is not the week that happens for them this year. The Jacksonville State offense is just too powerful for them to keep pace with. Jacksonville State 54, Southeastern Louisiana 20

Fearless predictions for the rest of the slate
Eastern Illinois (0-0) at Chattanooga (0-0), Thursday August 29, 7:00pm, Finley Stadium, Chattanooga, TN, ESPN3 (subscription required)
Eastern Illinois has been a bit of a forgotten son in the OVC over the last few years. The Panthers think they have the skill to compete for a playoff spot this year and start with a tough non-conference opponent. Chattanooga and Nick Tiano will probably be a bit too much for the Panthers. Chattanooga 27, Eastern Illinois 17
Valparaiso (0-0) at Eastern Kentucky (0-0), Thursday August 29th, 7:00pm, Roy Kidd Stadium, Richmond, KY, ESPN+ (cable subscription required)
Eastern Kentucky was left out of the FCS Playoff party, but look like a team that could make some noise in 2019. They should start 2019 off with a bang against an underwhelming Valparaiso team. Eastern Kentucky 45, Valparaiso 10
D-II Pikeville (0-0) at Murray State (0-0), Thursday August 29th, 7:00pm, Roy Stewart Stadium, Murray, KY, ESPN+ (cable subscription required)
Murray State is easing into their 2019 with a game against a non division I opponent. Murray State 52, Pikeville 6
Southern Illinois (0-0) at Southeast Missouri State (0-0), Thursday August 29th, 7:30pm Houck Stadium, Cape Girardeau, MO, ESPN+ (cable subscription required)
The Redhawks were a playoff team and should challenge for the OVC title in 2019. Southern Illinois is a bottom tier Missouri Valley team. No upset here. Southeast Missouri State 34, Southern Illinois 21
Northwestern State (0-0) at Tennessee Martin (0-0), Thursday August 29th, 7:30pm, Graham Stadium, Martin, TN, ESPN+ (subscription required)
A matchup between two mid to bottom pack teams in their conference. Northwestern State looks to be just a touch better this year. This will be a close game. Northwestern State 23, Tennessee Martin 20
North Carolina Central (0-0) at Austin Peay (0-0), Thursday, August 29th , 8:00pm, Fortera Stadium, Clarksville, TN, ESPN+ (cable subscription required)
Will Healy turned the program around at Austin Peay. Now that he is gone, can the Governors keep that momentum going? It will for at least the first game. Austin Peay 27, North Carolina Central 13
Mississippi Valley State (0-0) at Tennessee State (0-0), Saturday, August 31st , 7:00pm, Nissan Stadium, Nashville, TN, ESPN+ (subscription required)
Tennessee State should get their season off to a good start against a poor Mississippi Valley State team in week one. THe Tigers don't look like a playoff team, but they will compete in most games. Tennessee State 31, Mississippi Valley State 17
Samford (0-1) at Tennessee Tech (0-0), Saturday August 31, 7:00pm, Tucker Stadium, Cookville, TN, ESPN+ (cable subscription required)
Tennessee Tech projects as a bottom tier team in the OVC this year. They take on a Samford team looking to avoid an 0-2 start. Even though Samford is going to be down this year, Tennessee Tech doesn't have enough horsepower to stay with Samford. Samford 31, Tennessee Tech, 13
Jamie is a proud 2002 graduate of James Madison University. He's witnessed the growth of the program from no one in the stands in 1998, to the hiring of Mickey Matthews, to the 2004 National Championship, to the 2008 team, to the struggles in the early 2010s, and finally the rebuild under Mike Houston. He also allegedly really enjoys Washington, DC-based Stanley Cup winners.
Reach him at: