As soon as you think you know whats happening in the CAA, you're wrong. Stony Brook looked to be pushing hard to get into the playoffs…until last week. The Seawolves went to Richmond and were thoroughly beaten by the Spiders. Elon needed to win out to make the playoffs, they lost at home in five overtimes to William & Mary. Villanova has now lost three straight games after turning a 20-7 halftime lead into a loss at New Hampshire. James Madison and New Hampshire meet for first place this weekend at Bridgeforth Stadium. At this point the CAA could have five teams get into the FCS Playoffs, or they could have two. Its going to be a tense last three weeks.
BYE: None
Conference Game of the Week:
New Hampshire (5-3, 4-1) at James Madison (8-1, 5-0)
Where: Bridgeforth Stadium, Harrisonburg, VA
WhenL Saturday November 9th, 3:30 PM
TV/Streaming: MASN, MadiZone (subscription req'd)
New Hampshire Wildcats
New Hampshire has won five of their last six games, with their only blemish a 16-10 loss at Delaware. The Wildcats are 4-1 in conference and control their own destiny to the CAA title. It wont be an easy road. The Wildcats travel to James Madison this weekend in what is sure to be a raucous atmosphere at Bridgeforth Stadium. After that UNH travel to Albany and hosts Maine to close out the year. The Wildcats should be in the playoffs, but they want more in a bounce back season that is a bit of a surprise.
Its clear watching the Wildcats play that they have bought in with interim head coach Ricky Santos. It was late in the summer when Coach Sean McDonnell stepped aside for medical reasons. In stepped Santos, the former star Wildcat quarterback. Santos has done a great job bringing along a freshman quarterback, Max Brosmer who was just named CAA Rookie of the week for the second time this season.
New Hampshire is winning with defense. The fact that they are still excelling on that side of the ball without their best player, Pop Lacey, is a testament to the rest of the players on that defense that took it upon themselves to step up as a unit.
Key Player: Its not easy to go into Bridgeforth as a visitor. Its even more difficult to do so as a freshman, but that is exactly what Max Brosmer is up against. The Dukes lead the FCS in rushing defense, but they can be beaten with the pass. Brosmer is going to have to play a clean game. New Hampshire is going to need all of their possessions, so turning the ball over will be disastrous. Brosmer has shown poise beyond his years and should be ready for the challend.
James Madison Dukes
James Madison finally got its bye week and it was much needed for the Dukes. The late bye allows the Dukes to rest up and get ready for what they hope is a long stretch run. Having won eight straight games, JMU is in line for a top two seed in the playoffs, provided they win out the rest of the way. They enter this week's game against New Hampshire with a bad taste in their mouths after they were easily beaten by the Wildcats in New Hampshire last year. The Dukes have this game at home and will look to continue their home field dominance where they've lost only two games in the last four years.
The Dukes are in the top 15 in many categories on both offense and defense. They are one of the most complete teams in the country; provided they do not shoot themselves in the foot with turnovers. That nearly cost the Dukes against Stony Brook and they cannot afford for it to happen again.
Key Player: In the last few games, the Dukes have leaned on RB Percy Agyei-Obese as the lead back in their offense. In the last four games, Agyei-Obese has scored six touchdowns. The Dukes have used him as the goal line back more than the rest of the backs on the roster. New Hampshire features a strong defense, so it will be imperative that the Dukes get the run game going. They need at least four yards per carry on average from Agyei-Obese this week.
Fearless Prediction: New Hampshire is probably going to make the playoffs, but the Dukes are home are a bit much for them to overcome this week. James Madison 31, New Hampshire 13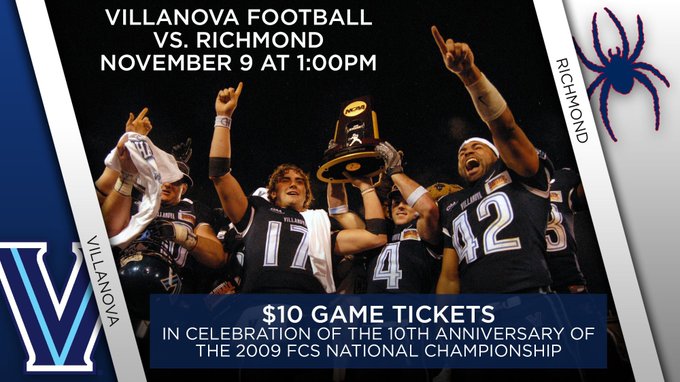 Fearless predictions for the rest of the slate
Albany (5-4, 3-2) at Delaware (4-5, 2-3), Saturday November 9th, 1:00 PM, Delaware Stadium, Newark, DE, FLO Sports ($$/subscription req'd)
Nolan Henderson is healthy and playing for Delaware. Both of these teams need a win. The Blue Hens will get one at home. Delaware 24, Albany 21
[Editors note: Last week in this article, we inadvertently referred to Delaware quarterback Nolan Henderson as "Neal." We apologize to Nolan and Delaware for the mistake, and thank Joe Gasz for pointing out the mistake]
Richmond (5-4, 4-1) at Villanova (6-3, 3-3), Saturday November 9th, 1:00 PM, Villanova Stadium, Villanova, PA, FLO Sports ($$/subscription req'd)
Richmond is looking to show they are not a fluke at second place in the CAA. Villanova is looking to end a three game losing streak. This is a great matchup of two good quarterbacks. Take the Wildcats in a fun, close game. Villanova 31, Richmond 30
Rhode Island (2-7, 0-5) at William & Mary (3-6, 1-4) Saturday November 9th, 1:00 PM, Zable Stadium, Williamsburg, VA, FLO Sports ($$/subscription req'd)
Both of these teams probably deserve better fates than their records show. The Tribe is just a bit ahead of the Rams right now. William & Mary 21, Rhode Island 18
Maine (4-5, 2-3) at Elon (4-5, 3-3), Saturday November 9th, 2:00 PM, Rhodes Stadium, Elon, NC, FLO Sports ($$/subscription req'd)
Unfortunately for both of these teams, they have underperformed to expectation and are out of the playoff picture. Neither team has been consistent enough throughout the season. Take the Phoenix at home. Elon 27, Maine 21
Towson (5-4, 2-3) at Stony Brook (5-4, 2-3) Saturday November 9th, 2:00 PM, LaValle Stadium, Stony Brook, NY, FLO Sports ($$/subscription req'd)
This game is shaping up to be a great matchup between two desperate teams. Both teams feature excellent offenses, but Stony Brook has a bit better defense. Take the Seawolves close. Stony Brook 35, Towson 33
Jamie is a proud 2002 graduate of James Madison University. He's witnessed the growth of the program from no one in the stands in 1998, to the hiring of Mickey Matthews, to the 2004 National Championship, to the 2008 team, to the struggles in the early 2010s, and finally the rebuild under Mike Houston. He also allegedly really enjoys Washington, DC-based Stanley Cup winners.
Reach him at: