Six players including Malcolm Perry from Navy, Tyree Jackson from Buffalo, Alexander Mattison from Boise State, Dameon Baber from Nevada, Jackson Abresch from Northern Illinois, and Marcus Jones from Troy have been selected as the College Sports Journal All-Stars for the week ending November 12th, 2017 from the NCAA Division I FBS Group of Five schools.
The honorees are listed here with their achievements and their school, position, class, and hometown.
Malcolm Perry, Navy, QB, So., Clarksville, Tenn.
Perry set an American Athletic Conference single-game rushing record in his first career start as a quarterback, helping Navy to a 43-40 win against SMU to help the Midshipmen gain bowl eligibility for the sixth straight season. Perry rushed for 282 yards and four touchdowns on 33 carries to break The American's previous single-game mark of 275 yards, set by USF's Marlon Mack against Western Carolina Aug. 31, 2014.
Tyree Jackson, Buffalo, QB, So., North Shores, Mich.
Jackson was 23-of-37 passing for a career-high 406 yards and three touchdowns in a 38-28 win over Bowling Green on Oct. 7. He had touchdown passes of 21, 69 and 37 yards. His 406 passing yards were the ninth most in school history for a single game and the fourth highest total in the Bulls' FBS era (since 1999).
Alexander Mattison, Boise State, RB, So., San Bernardino, Calif.
Mattison led Boise State to a come-from-behind 59-52 overtime victory over MW Mountain Division foe Colorado State. He rushed 23 times for 242 yards and three touchdowns. The 242 rushing yards and three TDs are both career highs, as well as the third-most in a single-game in program history. He scored the game-winner from four yards out in the first overtime. He also recorded 44 receiving yards, finishing with 286 yards of total offense, the single-game program record. His scores were on runs of 70, 26 and four yards.
Dameon Baber, Nevada, S, Jr., Palmdale, Calif.
Baber recorded three interceptions totaling 139 return yards and two touchdowns, including a 100-yard touchdown return, the longest in program history and the third 100-yard interception returned for a score in Mountain West history. He is the second FBS player this season to return two interceptions for touchdowns. He added a third touchdown on the day when he returned a blocked punt six yards for the go-ahead score in the first quarter, putting Nevada ahead 14-7. This was Baber's second career game with three interceptions, becoming the first player in Mountain West history to record multiple career outings with three picks. His three interceptions tied the Conference's single-game record. He is just the third player in NCAA history to score three touchdowns via return (joining Johnny Jackson in 1987 and Antonio Perkins in 2003). He is the second player this season to return two interceptions for touchdowns in the NCAA.
Jackson Abresch, Northern Illinois, S, Hartland, Wisc.
Abresch tied the NCAA record for most touchdowns scored on blocked punts in a game when he scored two touchdowns on blocked punt returns in a 63-17 win over Ball State on Nov. 9. Abresch is just the third player all-time to score two touchdowns in a game off of blocked punts, and the first to do so since Nov. 1, 1997 (by Frank Staine-Pyne of Air Force). With NIU leading 14-7 late in the first quarter, Abresch picked up a Trayshon Foster block at the 13-yard line and ran it in for his first career score. The touchdown turned momentum in the game permanently toward the Huskies. Abresch then scored the Huskies' final touchdown of the game in the fourth quarter when he fell on Jauan Wesley's block at the back of the end zone for his second score.
Marcus Jones, Troy, DB/RS. Fr., Enterprise, Ala.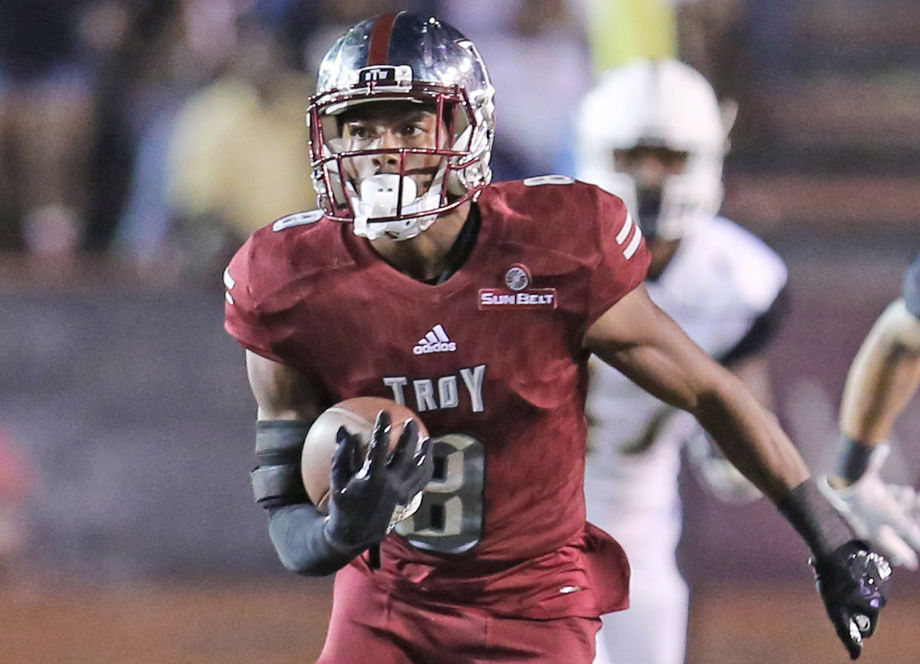 Marcus Jones tied an NCAA record with two kickoff returns for a touchdown in Troy's victory at Coastal Carolina. Jones, a true freshman, became just the 24th player in FBS history to ever return two kickoffs for a touchdown in a single game and he did so on the first two kickoffs of the game for the Trojans. He averaged 64.7 yards on his three kickoff returns in the game, which ranks as the second most in Sun Belt history (min. three attempts). Jones is the first player in Troy history and the fourth in Sun Belt history to return two kickoffs for a touchdown in a game.
Originally from LaMoure, North Dakota, Kent is a 1996 graduate of North Dakota State University. His prior writing experience is over 15 years having previously worked with D2football.com, I-AA.org, and College Sporting News before coming to College Sports Journal in 2016. His main focus is college football is the Missouri Valley Football Conference within the Division I FCS. And in 2017, he began also to look at the FBS Group of Five conferences of the American Athletic, Conference USA, Mid-American, Mountain West, and Sun Belt.
Reach him at this email or click below: