Six players including Sincere McCormick from UTSA, Davis Brin from Tulsa, Jaret Patterson from Buffalo, Dustin Crum from Kent State, Zaven Collins from Tulsa, and Tyler Snead from East Carolina have been selected as the College Sports Journal All-Stars for the week ending Nov. 22, 2020 from the NCAA Division I FBS Group of Five schools.
Sincere McCormick, UTSA, RB, Soph., Converse, Tex.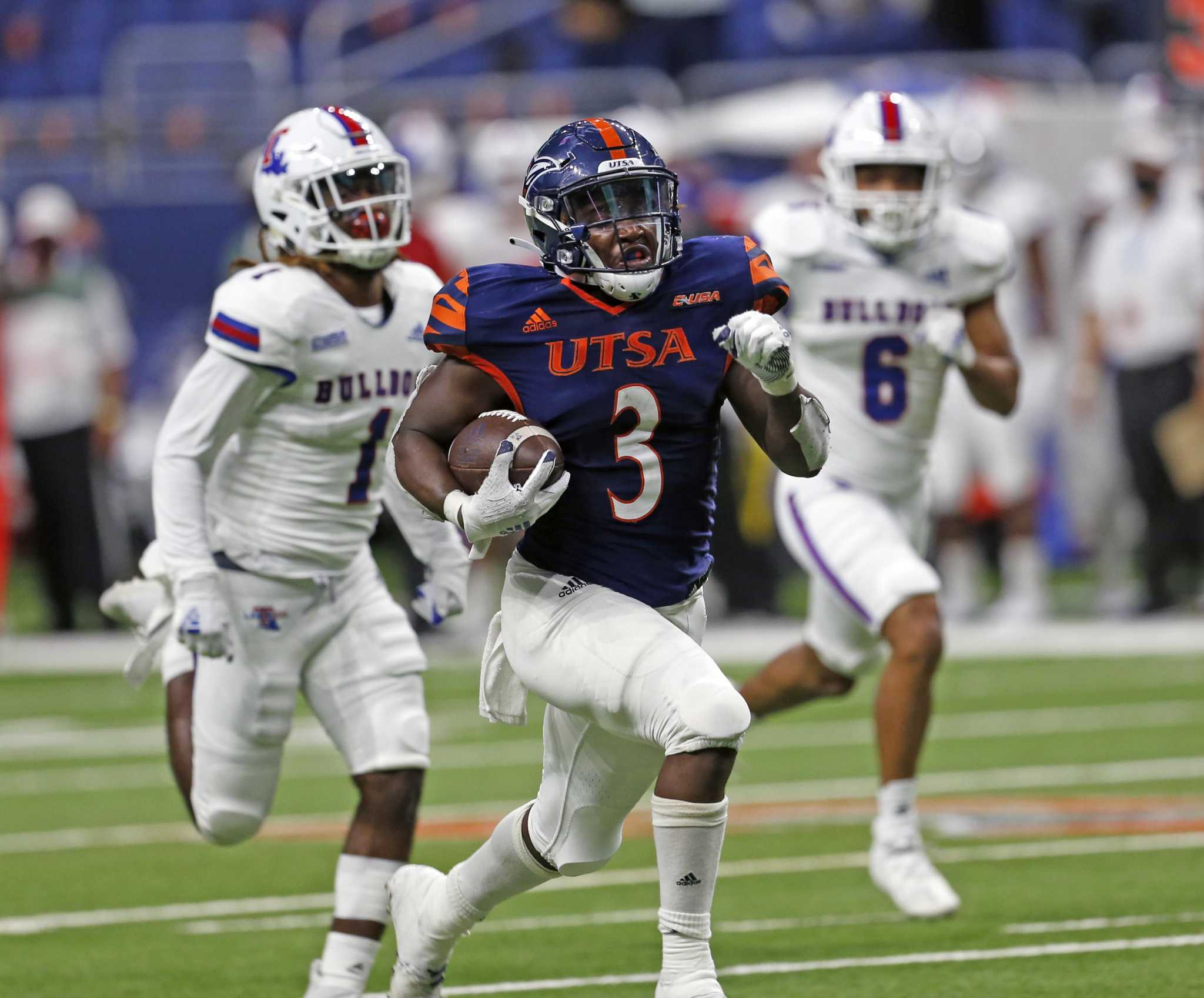 McCormick had a record-breaking day in UTSA's 23-20 victory at Southern Miss on Saturday, as he broke the school's single-season rushing yardage record after piling up 173 yards on the ground. McCormick carried 32 times and scored a pair of touchdowns to help the Roadrunners beat the Golden Eagles for the first time in Hattiesburg and reach six wins for the fifth time in the program's 10-year history. He broke loose for a 69-yard TD dash on the opening drive of the third quarter that gave UTSA the lead and pushed him over the 1,000-yard mark this season and the 2,000-yard barrier for his career. Later in the third, McCormick eclipsed the previous school standard of 1,042 yards set by Jarveon Williams in 2015 and he also matched the single-season rushing TDs mark of nine with his second score of the afternoon on a 1-yard plunge. The 173-yard output marked his fifth 100-yard game of the season and his eighth in only 21 career games, already matching Williams' school record. McCormick paces C-USA and ranks second nationally with 1,094 rushing yards.
Davis Brin, Tulsa, QB, Soph., Boerne, Tex.
Brin, who was Tulsa's third quarterback on the depth chart, entered last Thursday's game against Tulane on the final series of the third quarter and with the Golden Hurricane facing a 14-0 deficit Brin responded by completing 18 of 28 passes for 266 yards and two touchdowns, including the tying TD at the end of regulation, along with an 18-yard rushing touchdown as Tulsa rallied to win 30-24 in double overtime. After Tulsa was held scoreless through three quarters, Brin led Tulsa to four consecutive scoring drives in the win.

Jaret Patterson, Buffalo, RB, Jr, Glendale, Md.
Patterson rushed for a school-record 301 yards and added four touchdowns in Buffalo's 42-17 win at Bowling Green. Patterson carried the ball 31 times, averaging 9.7 yards per carry. He scored on touchdown runs of 17, 4, 15 and 57 yards. He added a season-long 67-yard run against the Falcons.
Dustin Crum, Kent State, QB, Sr., Grafton, Ohio
Crum was magnificent against Akron, securing the Wagon Wheel for the second-straight year. He started the game 17-17 for 300 yards in the first half. He finished 22-25 for 348 and three touchdowns. He added another 104 yards on the ground on 13 carries and two more scores. His 452 yards of total offense is second-most in program history.
Zaven Collins, Tulsa, LB, Jr., Hominy, Okla.
Collins had a great performance in Tulsa's 30-24 double-overtime win against Tulane, keeping the Golden Hurricane unbeaten in conference play. Collins ended the game with a 96-yard interception return for a touchdown in the second overtime period to cap a day in which he had a game-high 15 tackles. Collins, who registered the game-clinching interception for the second consecutive week, is tied for the American Athletic Conference lead with four picks in 2020.
Tyler Snead, East Carolina, WR/KR, Soph., Raleigh, N.C.
Snead had 169 yards on special teams as part of a day in which he had 244 all-purpose yards in a 28-3 win at Temple. He had a 95-yard kickoff return for a touchdown to answer Temple's only score of the game and finished with 111 yards on kickoff returns. He added 58 yards on five punt returns and had three receptions for 75 yards and a TD as well.
Originally from LaMoure, North Dakota, Kent is a 1996 graduate of North Dakota State University. His prior writing experience is over 15 years having previously worked with D2football.com, I-AA.org, and College Sporting News before coming to College Sports Journal in 2016. His main focus is college football is the Missouri Valley Football Conference within the Division I FCS. And in 2017, he began also to look at the FBS Group of Five conferences of the American Athletic, Conference USA, Mid-American, Mountain West, and Sun Belt.
Reach him at this email or click below: