Five players including Quinton Flower from USF, Jonathan Ward from Central Michigan, Rashaad Penny from San Diego State, Jalen Young from Florida Atlantic, and Marcus Green from ULM have been selected as the College Sports Journal All-Stars for the week ending November 5th, 2017 from the NCAA Division I FBS Group of Five schools.
The honorees are listed here with their achievements and their school, position, class, and hometown.
Quinton Flowers, USF, QB, Sr., Miami, Fla.
Flowers enjoyed the most productive day of his career to lead USF to a 37-20 win at UConn. He completed 24 of 37 passes for a career-high 385 yards and three touchdowns and rushed for a game-high 131 yards on 16 carries to finish with a school-record 516 yards of total offense. Flowers became the fourth player in American Athletic Conference history to surpass 500 yards of total offense in a game and he became the seventh player in NCAA FBS history to register 7,000 career passing yards and 3,000 career rushing yards.
Jonathan Ward, Central Michigan, RB, Kankakee, Ill.
Ward had 213 all-purpose yards in a 35-28 victory at Western Michigan on Nov. 1. Ward had 132 rushing yards on 17 carries and scored on a 29-yard run in the fourth quarter to lead a 21-point fourth-quarter comeback on the road. He also had four catches for 81 yards.
Rashaad Penny, San Diego State, RB, Sr., Norwalk, Calif.
Penny led the Aztecs to a dominating 52-7 victory over MW West Division foe San José State. He rushed 20 times for 34 yards and three touchdowns. Overall, Penny averaged 11.7 yards per carry and recorded 144 yards and two touchdowns in the first quarter alone. His scores were on runs of13, 82 and 64 yards.
Jalen Young, Florida Atlantic, S, Jr., Belle Glade, Fla.
Young is the leader on a secondary that ranks No. 1 nationally with 18 interceptions. He has five in 2017 and recorded three of those against Marshall on Friday night to tie the FAU single-game record as he became the first C-USA player since 2014 (and 11th all-time) to record three INTs in a game. Young's day of work included four tackles and the three interceptions, which he returned for 39 yards. Young's five picks rank No. 5 nationally and lead C-USA. His first interception Friday was on Marshall's first drive of the game and he returned it to the 19-yard line to it set up an Owls touchdown one play later. His final two interceptions came in the fourth quarter, with the first one setting up the game-winning TD and his second one ending a potential game-tying drive to seal the victory.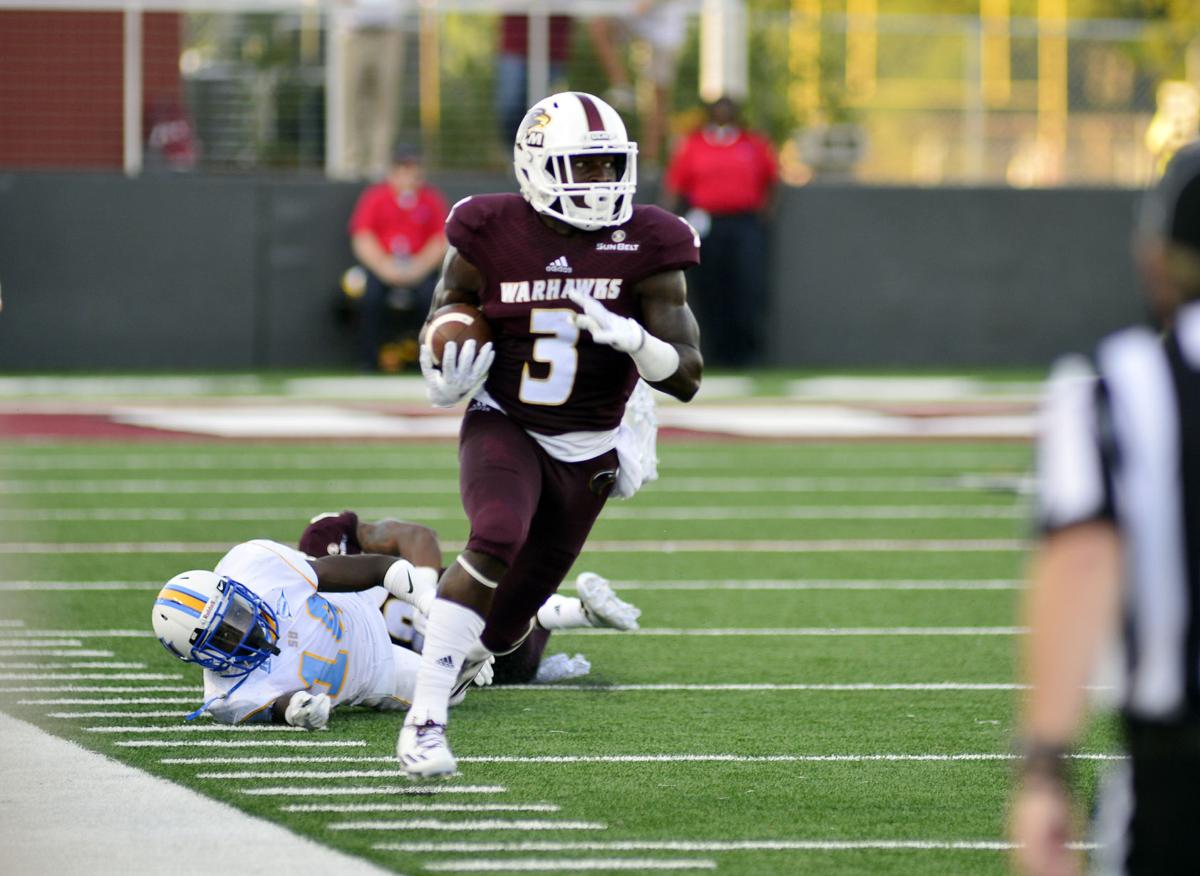 Marcus Green, ULM , RS/WR, Jr., Pontotoc, Miss.
Junior Marcus Green accounted for 191 all-purpose yards and two scores in helping ULM to a 52-45 victory over Appalachian State. He averaged 27.3 yards per touch against the Mountaineers (7 touches for 191 yards). Green returned two kickoffs for 117 yards, including a 95-yard run back for a touchdown early in the second quarter as the Warhawks jumped out to a 21-3 lead. It marked Green's third kickoff return for a TD this season, setting ULM's single-season record and tying him for the NCAA FBS lead. His 95-yard return is the fifth-longest in school history. He returned one punt for 12 yards. Green also had four receptions for 62 yards, including a 39-yard TD grab from Caleb Evans late in the first quarter.
Originally from LaMoure, North Dakota, Kent is a 1996 graduate of North Dakota State University. His prior writing experience is over 15 years having previously worked with D2football.com, I-AA.org, and College Sporting News before coming to College Sports Journal in 2016. His main focus is college football is the Missouri Valley Football Conference within the Division I FCS. And in 2017, he began also to look at the FBS Group of Five conferences of the American Athletic, Conference USA, Mid-American, Mountain West, and Sun Belt.
Reach him at this email or click below: