College Sports Journal FBS Group of Five National Players of the Week-Oct. 22
Five players including Isiah Sanders from Air Force, D'Eriq King and Austin Robinson from Houston, Spencer Brown from UAB, and Isiah Harper from Old Dominion have been selected as the College Sports Journal All-Stars for the week ending Oct. 22, 2018 from the NCAA Division I FBS Group of Five schools.
The honorees are listed here with their achievements and their school, position, class, and hometown.
Isaiah Sanders, QB, Air Force, Jr., Colorado Springs, Colo.
In Air Force's 41-35 road win at UNLV, Sanders recorded 390 yards of total offense and four touchdowns. The 390 yards of total offense were the second-most in program history. In the air, he completed 9-of-11 passes for a career high 217 yards and a touchdown. On the ground, he rushed for 173 yards and three touchdowns on 21 attempts. Sanders became just the sixth FBS player this season with at least 200 passing yards and 150 rushing yards in a single game.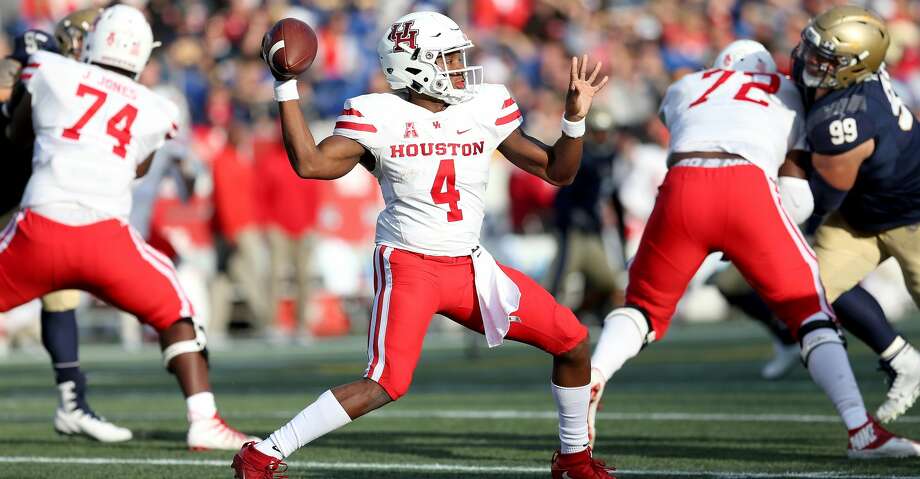 D'Eriq King, QB, Houston, Jr., QB • Manvel, Tex.
King completed 25 of 38 passes for 413 yards and three touchdowns and rushed for 56 yards and a touchdown to lead Houston to its fourth straight victory – a 49-36 win at Navy. King turned in the second 400-yard game of his career and threw touchdown passes to three different receivers while helping three players register 100 receiving yards each.
Spencer Brown, UAB, RB, Soph., Kimberly, Ala.
Brown led UAB to a 29-21 come-from-behind victory over North Texas by carrying the ball 25 times for 100 yards with three touchdowns. With the Blazers trailing in the fourth quarter, Brown tallied the game-winning score, a three-yard run early in the fourth quarter to put UAB up, 26-21. It was his third 100-yard rushing game this season and the ninth of his 20-game career. Brown's three touchdown performance was the second of his career and his first this season. He has scored eight touchdowns over the last four games and has 10 this season, matching his total from last year.
Austin Robinson, Houston, LB Sr., Pearland, Texas
Robinson, who was also named as the Walter Camp National Defensive Player of the Week, registered a career-high 21 tackles with 2.0 sacks and 4.5 tackles for loss in Houston's 49-36 win at Navy, keeping the Cougars atop The American's West Division standings. Robinson's tackles total ranks second on The American's single-game chart.
Isaiah Harper, KR, Old Dominion, Sr., Chesapeake, Va.
Harper returned a WKU missed field goal 83 yards to set up Old Dominion's game-winning field goal with no time left to give the Monarchs a 37-34 road victory. Harper returned six kickoffs for 136-yards (does not include 83-yard return on the missed field goal), including a 33-yard kick return that set up a 45-yard Nick Rice field goal. He finished the game with 300 all-purpose yards, the fourth-highest total in program history.
Originally from LaMoure, North Dakota, Kent is a 1996 graduate of North Dakota State University. His prior writing experience is over 15 years having previously worked with D2football.com, I-AA.org, and College Sporting News before coming to College Sports Journal in 2016. His main focus is college football is the Missouri Valley Football Conference within the Division I FCS. And in 2017, he began also to look at the FBS Group of Five conferences of the American Athletic, Conference USA, Mid-American, Mountain West, and Sun Belt.
Reach him at this email or click below: