College Sports Journal FBS Group of Five National Players of the Week-Oct. 7
Five players including James Proche from SMU, Jonahtan Ward from Central Michigan, Dan Ellington from Georgia Southern, Jarell White from Cincinnati, and Maurice Alexander from FIU have been selected as the College Sports Journal All-Stars for the week ending Oct. 7th, 2019 from the NCAA Division I FBS Group of Five schools.
The honorees are listed here with their achievements and their school, position, class, and hometown.
James Proche, WR, SMU, Sr., Dallas, Tex.
Proche had 11 receptions for 153 yards and two touchdowns, including the game-winning touchdown in the third overtime period, in SMU's 43-37 win against Tulsa. Proche's two touchdowns helped SMU rally from a 30-9 fourth-quarter deficit and kept the Mustangs unbeaten at 6-0 entering an open week.
Jonathan Ward, RB, Central Michigan, Sr., Kankakee, Ill.
Ward had 205 all-purpose yards in a 42-16 win over Eastern Michigan. Ward had 132 yards rushing on 12 carries, an average of 11.0 ypc, and scored a pair of touchdowns, including a three-yard touchdown in the first quarter and a 86-yard score in the third quarter. The 86-yard touchdown is the longest by a MAC player this year and the seventh-longest in FBS play. Ward also had 3 catches for 73 yards, highlighted by a 64-yard touchdown in the second quarter.
Dan Ellington, QB, Georgia State, Sr., Olive Branch, Miss.
Ellington recorded career highs with 382 yards passing and 451 yards of total offense while directing the most prolific offensive day in GSU history and one of the top games in Sun Belt Conference history in the Panthers' 52-38 victory over Arkansas State. Ellington completed 29 of 41 passes for 382 yards, including an 11-yard touchdown pass, while rushing for 69 yards with a 10-yard scoring run. He led Georgia State to a school-record 722 yards of total offense, which ranks among the top 10 single games in Sun Belt history.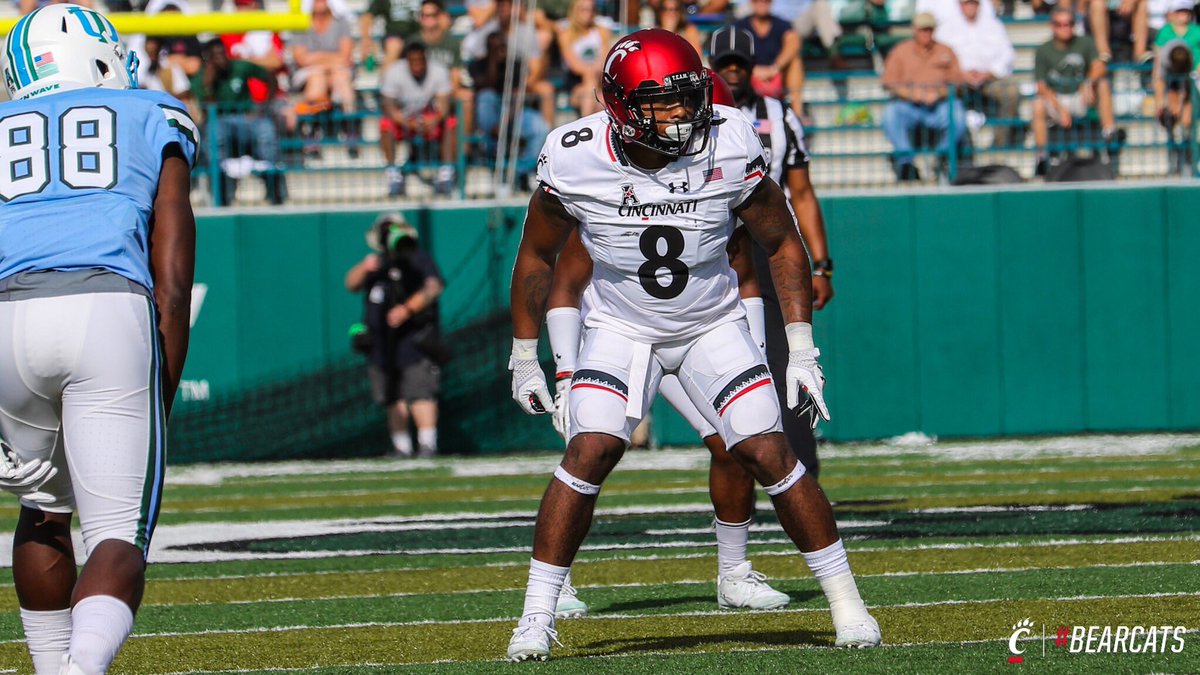 Jarell White, LB, Cincinnati, Jr., Cincinnati, Ohio
White had seven tackles with a tackle for loss, a forced fumble and a key fourth-quarter interception to help Cincinnati to a 27-24 win against UCF and end the Knights' 19-game winning streak against American Athletic Conference opponents. White's interception came at the Bearcat 6-yard line and with Cincinnati holding a 27-16 lead. He led a defense that held the Knights to one touchdown in six red-zone chances.
Maurice Alexander, PR, Sr., Florida City, Fla.
Alexander electrified FIU with a 90-yard punt return touchdown in the second quarter of the Panthers' 44-0 victory over Massachusetts. The 90-yard return ranks as the second-longest in program history, behind only T.Y. Hilton's 97-yard return in 2011 versus Florida Atlantic. He finished the game with 140 total punt return yards, as he also had a 50-yard return. With Alexander's career night, the senior now leads the nation with his 28.7 yards per punt return average. Additionally, the 90 yard return and 140 total punt return yards are the most by any player in the nation this season.
Originally from LaMoure, North Dakota, Kent is a 1996 graduate of North Dakota State University. His prior writing experience is over 15 years having previously worked with D2football.com, I-AA.org, and College Sporting News before coming to College Sports Journal in 2016. His main focus is college football is the Missouri Valley Football Conference within the Division I FCS. And in 2017, he began also to look at the FBS Group of Five conferences of the American Athletic, Conference USA, Mid-American, Mountain West, and Sun Belt.
Reach him at this email or click below: