College Sports Journal FCS Football Players of the Week-Oct 1st
Princeton QB John Lovett, Monmouth WR Reggie White, Jr., Jacksonville State QB Zerrick Cooper, Montana LB Dante Olson, and North Dakota State P Garret Wegner have been selected as the College Sports Journal FCS Football Players of the week ending Oct. 1st 2018.
The honorees are listed here with their achievements and their school, position, class, and hometown.
John Lovett, QB, Princeton, Sr., Wantaugh, NY
Lovett rushed for a career-high 174 yards on 17 carries (10.2 average), and added a pair of touchdowns on the ground to go along with two TD passes to Stephen Carlson in Princeton's 45-10 dismantling of Columbia on ESPNU Friday night. He would end his day with 135 yards passing, making him responsible for 309 all-purpose yards and 4 touchdowns before head coach Bob Surace took him out in the 3rd quarter.
Reggie White, Jr., WR, Monmouth, Sr., Reisterstown, MD
With 1:14 left in the fourth quarter and the game tied, Reggie White Jr. set a Monmouth school record with his 213th career catch and raced to the end zone off of a screen pass for an 84-yard touchdown that sent the Hawks past Wagner, 54-47. On the afternoon he had 7 catches for 161 yards, including Monmouth's first score to make the score 21-8.
Zerrick Cooper, QB, Jacksonville State, R-Soph., Jonesboro, GA
Cooper accounted for five touchdowns (3 passing, 2 rushing) as Jacksonville State topped Austin Peay 48-32 to win its 34th-straight OVC contest. The Clemson transfer completed 18-of-31 passes for 268 yards and carried the ball six times for 27 yards in the victory. He became the first Gamecocks to account for five touchdowns in a game since Eli Jenkins in 2015.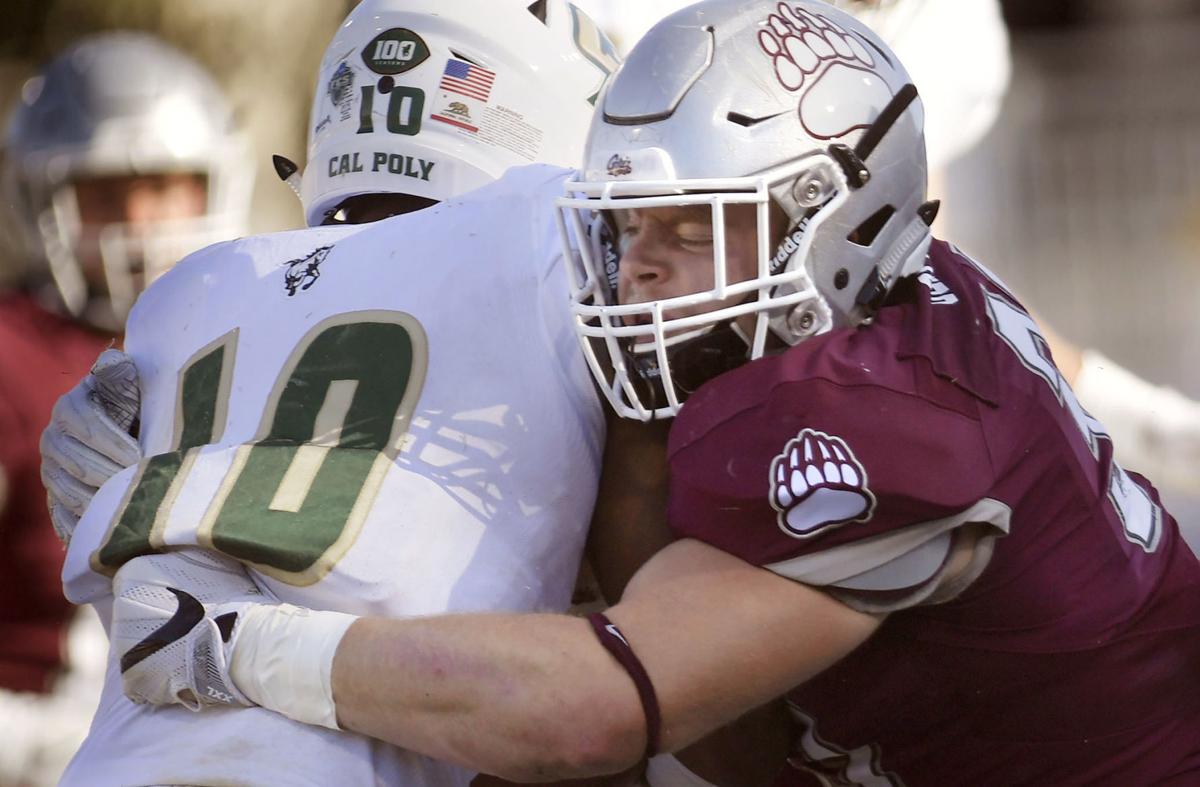 Dante Olson, LB, Montana, R-Jr., Medford, OR
With 24 total tackles against Cal Poly in the Grizzlies' 48-28 win over Cal Poly (12 solo, 12 assisted), Olson was one tackle shy last week of tying the Montana school record (held by his head coach, Bobby Hauck), and is one of just four players in Big Sky history to account for 24 or more takedowns in a game. Additionally, his 24 tackle game was the highest tackle total of any FCS player this season.
Garret Wegner, P, North Dakota State, Soph., Lodi, WI
Wegner averaged 47.4 yards on five punts with three inside the 20-yard-line to help North Dakota State to a 21-17 victory over South Dakota State in the annual Dakota Marker game. He booted a 49-yard punt out-of-bounds at the SDSU 2 with just 1:15 left before halftime and launched a key 54-yarder to the SDSU 7 that led to a three-and-out on SDSU's final offensive possession. Wegner ranks sixth in the FCS with a league-best 44.9 punting average, and the Bison are eighth in the FCS in net punting.