Towson QB Tom Flacco, North Dakota RB James Johanneson, VMI QB Reese Udinski, Dartmouth DL Rocco Di Leo, and North Dakota State WR/RS Darrius Shepard have been selected as the College Sports Journal FCS Football Players of the week ending October 22nd 2018.
The honorees are listed here with their achievements and their school, position, class, and hometown.
Tom Flacco, QB, Towson, R-Jr., Voorhees, NJ
Flacco accounted for 386 yards of total offense and four touchdowns as Towson won 56-28 at UAlbany to grab sole possession of first place in CAA Football. The junior completed 23-of-36 passes for 308 yards and two TD's and also ran for a team-high 80 yards and 2 TD's on 14 carries. It was the fourth 300-yard passing effort for Flacco, who ranks third in FCS in total offense.
James Johanneson, RB, North Dakota, Jr., Fargo, ND
Johannesson tallied his third straight 100-yard rushing game with a whopping 213-yard performance on just 11 carries, highlighted by a 90-yard scoring scamper late to punctuate UND's third straight blowout win. His 19.4 yards per carry average set a new single-game record that had been held since Dave Osborn's performance 55 years ago (12-for-202).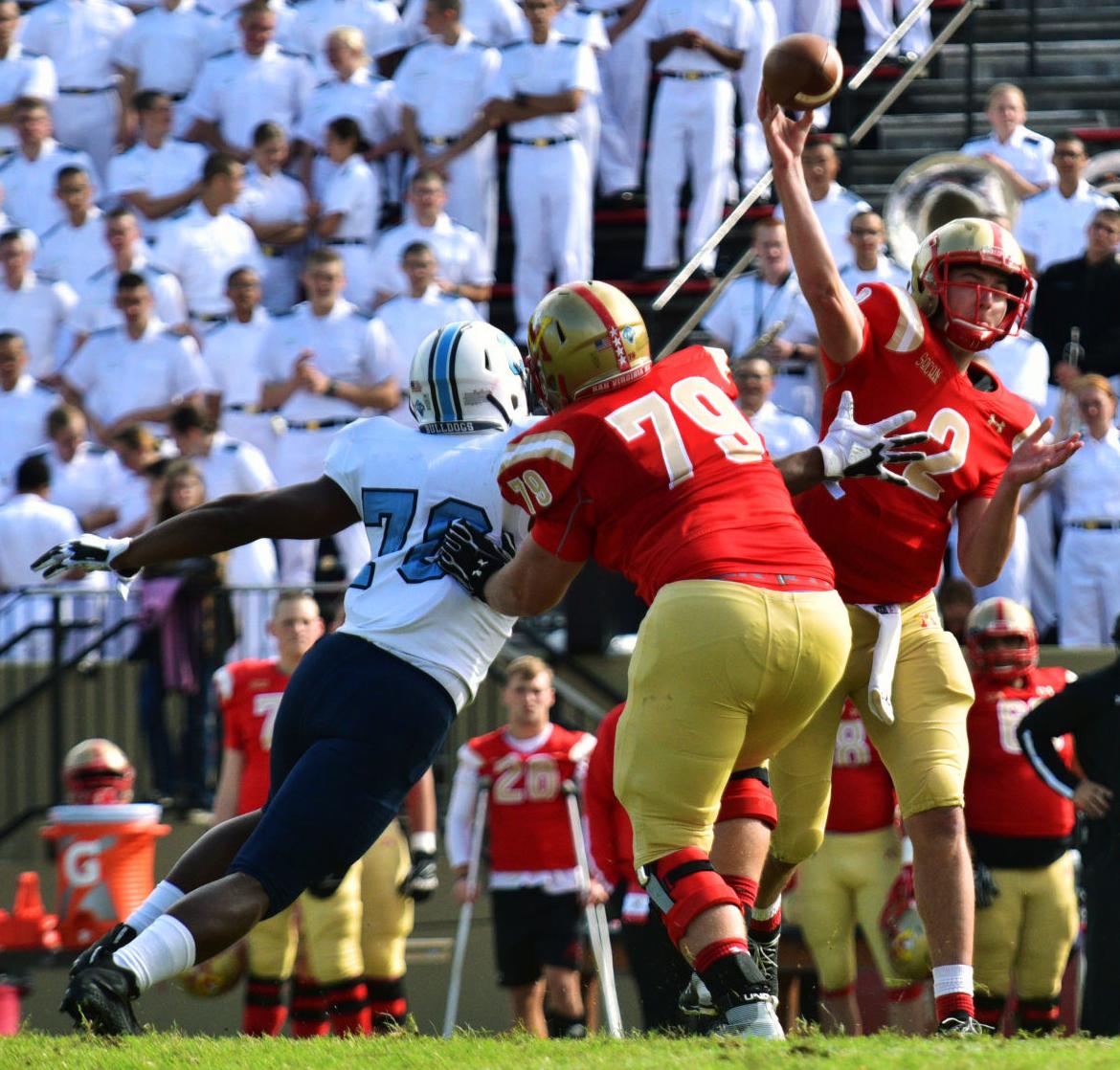 Reece Udinski, QB, VMI, Soph., North Penn, PA
Udinski set a single game program record with 456 yards of total offense. He also set a new program standard with 49 completions during the game in addition to throwing a career-best five touchdown passes. Down 31-20 to their bitter Rivals The Citadel with just over nine minutes to play in the game, the Keydets battled back with a quick 65-yard touchdown strike from Udinski to Kris Thornton to trim the Bulldog lead to 31-26. After a Citadel field goal with 2:30 to play to make the score 34-26, the Keydets marched down the field and scored on a 27-yard reception from Udinski to freshman Jakob Herres.
Rocco Di Leo, DE, Dartmouth, Grad., Elmhurst, IL
Di Leo registered a career-high three sacks against the Lions as part of his season- and team-high seven tackles, six of the solo variety. His first sack came on a Columbia third-down play during its first drive at the Big Green 4-yard line, forcing the Lions to settle for a 33-yard field goal. He collected his second on the next Columbia possession after Dartmouth had taken a 7-3 lead, while his third sack proved pivotal early in the third quarter with the Green holding a 14-6 lead. The Lions had pushed into Dartmouth territory but faced a 4th-and-3 only to be denied by Di Leo, who dropped the Columbia QB back 10 yards to allow the Big Green offense to take over.
Darrius Shepard, WR/RS, North Dakota State, R-Sr., Blue Springs, MO
Shepherd accounted for 236 all-purpose yards – tied for fourth most in the conference this year – in North Dakota State's 28-14 win over Illinois State. He returned two punts for 103 yards including a 69-yarder to set up a three-play touchdown drive that made it a 28-0 game. He caught six passes for a career-high 126 yards and became the first NDSU player in four years with multiple 100-yard receiving games in a season. Shepherd caught a 55-yard pass leading to a touchdown on NDSU's opening drive and added a 44-yard catch on the next possession.