North Dakota State QB Easton Stick, Elon RB Malcolm Summers, Idaho State QB Tanner Gueller, Samford LB Tre'Shun Floyd, and South Dakota State PK Chase Vinatieri have been selected as the College Sports Journal FCS Football Players of the week ending October 8th 2018.
The honorees are listed here with their achievements and their school, position, class, and hometown.
Easton Stick, QB, North Dakota State, Sr., Omaha, NE
Stick was responsible for six touchdowns in North Dakota State's 56-31 comeback win at No. 22 Northern Iowa. He completed nine passes for 179 yards and four TDs, and his touchdown runs of 1 and 31 yards in the fourth quarter put the game out of reach. The Omaha, Nebraska native threw a pair of TD passes to dig the Bison out of a 14-0 hole early in the first quarter, gave NDSU its first lead with a TD pass midway through the third, and put NDSU ahead for good with a 75-yard passing play on the first snap of the fourth quarter.
Malcolm Summers, RB, Elon, Sr., Mebane, NC
Summers rushed for a season-high 186 yards and a TD on 20 carries as No. 9 Elon defeated No. 2 James Madison, 27-24, ending the Dukes' 20-game conference win streak and 19-game home win streak. The senior running back broke loose for a career-long 59-yard scoring run early in the fourth quarter that gave the Phoenix a 20-12 lead. It was the third consecutive 100-yard rushing game for Summers and came against a Dukes' defense that was giving up only 78.6 ypg on the ground, which ranked 7th in FCS.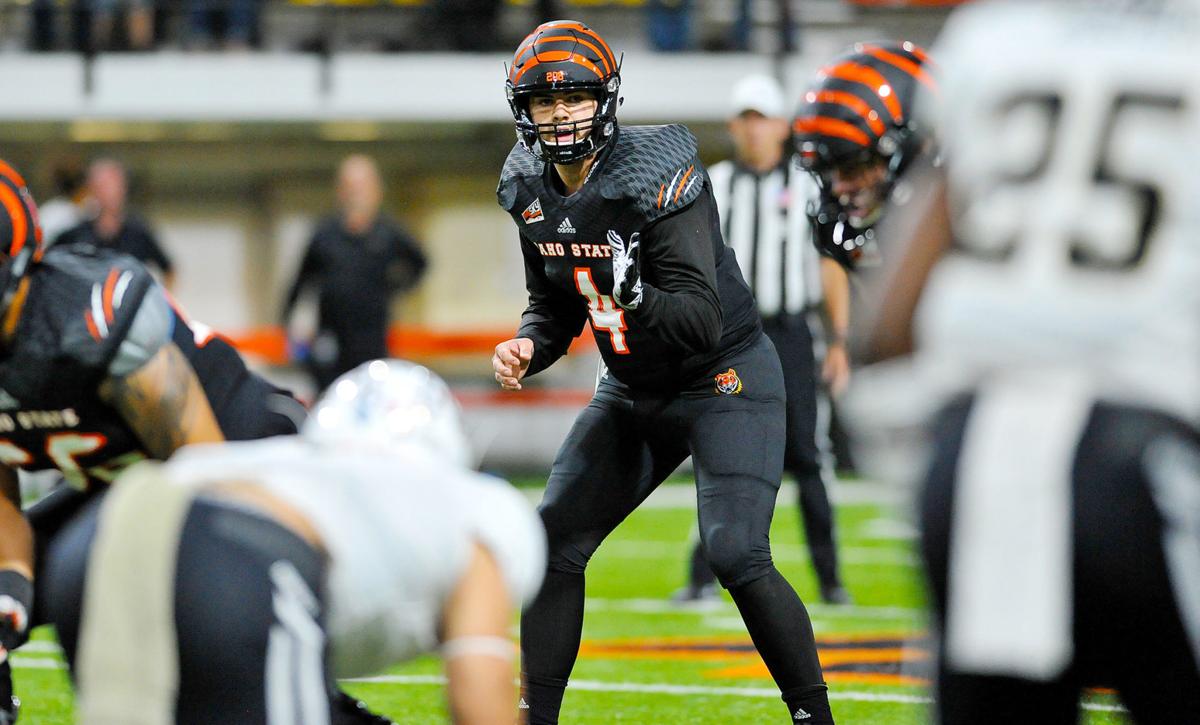 Tanner Gueller, QB, Idaho State, R-Soph., Jonesboro, GA
The Bengals' fifth-year QB passed for a career-high 492 yards with a school-record eight touchdowns in the Bengals's 62-28 win Saturday over Idaho. Gueller's eight touchdowns are a single-game high in the FCS this season and fell one shy of tying the single-game Big Sky record. Gueller threw four touchdowns to Michael Dean, two to Austin Campbell, one to DeMonte Horton, and one to his brother, Mitch Gueller. The QB added 81 yards rushing, giving him 573 yards of offense in total.
Tre'Shun Floyd, LB, Samford, So., Auburn, AL
Floyd had three takeaways and five total tackles, including a 6-yard sack, in the Bulldogs' 66-28 win over Western Carolina. The sophomore forced a fumble on the Catamounts' first play from scrimmage that Samford recovered at WCU's 24-yard line, and was cashed in for a touchdown two plays later. On the Catamounts' second drive, Floyd would recover another fumble at their 35, which Samford was again able to convert into a TD to take a 14-0 lead just three minutes into the game. Floyd picked up his sack in the second quarter, and added his first career interception in the third, which led to another Bulldog touchdown.
Chase Vinatieri, PK, South Dakota State, Jr., Sioux Falls, SD
Vinatieri kicked two field goals and scored his second career touchdown as part of the Jackrabbits' 54-51 overtime victory over Indiana State on October 6. Vinatieri scored on a 15-yard run on a fake field goal attempt in the third quarter, then kicked field goals of 30 and 27 yards later in the second half. His two field goals upped his career total to 28, passing his uncle, Adam (27 field goals from 1991-94), for fifth place in program history.