This week, the super spoiler FAMU has an bye week, and the conference has a lot of match ups that on paper should be easy wins for the top three teams in the title race. We do have an interesting batch up for a couple of teams looking to possibly go .500 on the season and as for the other lop sided games, and if we have learned anything from other conferences this year, it's no to take any game for granted.
Conference Game of the Week:
Norfolk State (3-6, 2-3) at North Carolina Central (4-5, 3-2)
Where: O'Kelly Riddick Stadium, Durham, North Carolina
When: Saturday, November 9th, 2:00 PM
TV/Streaming: ESPN3 (cable subscription req'd)
Norfolk State Spartans
This is going to sound like a cliché you'd hear coming from a coach, but Norfolk State is not as bad as their 3-6 record might lead you to believe. Their 3 blowout losses have come at the hands of 2 highly ranked FCS opponents and an FBS foe. At the beginning of the year, they almost shocked cross down FBS Rival Old Dominion only losing by 3 and gave both FAMU and BCU a run for their money in conference. Like the top 4 seeds in the MEAC they have won the games they were supposed to and been competitive when they should have. This could be a season defining win if the Spartans can pull this off.
Key Player: Junior QB Juwan Carter has been the key to what some might say has been an improved NSU football season. He is a legitimate dual threat, and capable of lighting up the scoreboard in quick succession. If he gets a little bit of help from his defense, the Spartans could get a crucial win on their quest to finishing 6-6.
North Carolina Central Eagles
The Eagles have been a bit of a disappointment this year. While they are 4-5 with a 3-2 record in conference, they were woeful in two of their OOC FCS games and lost to a very poor Gardner Webb team. But they have beaten the 3 worst teams in the MEAC as they should, and now they finish of the season with a very hard slate. Norfolk State at home might be their last legitimate shot at a win this year with SCSU and A&T looming on the horizon.
Key Player: For the Eagles to win this game they will have to spy Spartan Quarterback Juwan Carter on every play. As such, linebackers and secondary will be extremely important for this match up. Rushing a dual threat quarterback is no good if you can't catch him once he gets past the first line of defense.
Fearless Prediction: Both teams have had close losses to teams in the top tier of the conference while also looking bad at times as well. I see Norfolk State as being more consistent while also playing a much tougher schedule despite one more loss. I look for the Spartans to win on the road with this one, relying on Carter and the offense to carry them. Norfolk State 31, North Carolina Central 17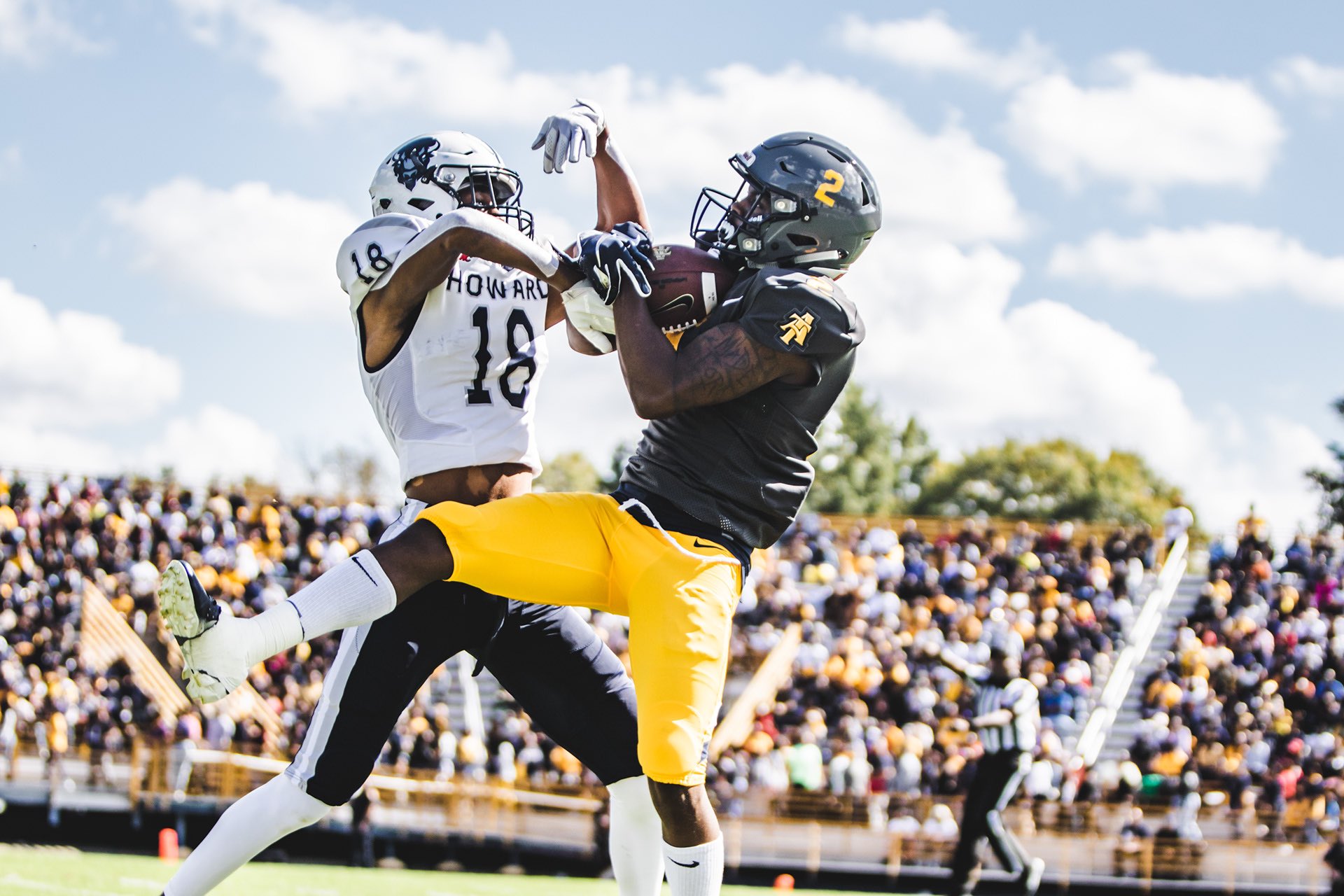 Fearless Predictions for the rest of the slate:
North Carolina A&T (6-2, 4-1) at Morgan State (1-8, 1-5) Saturday, November 9th, 1:00 PM, Hughes Stadium, Baltimore, Maryland, ESPN3 (cable subscription req'd)
I'm going to make this very quick. The Aggies have all of it in front of them for both the Celebration Bowl and a playoff berth if they lost to Bethune Cookman. Morgan State beat the Aggies last year at home and I'm sure the coach will be reminding them of that before they take the field. This game should be a blowout early, but I have seen stranger things in conference play this year. North Carolina A&T 56, Morgan State 10.
Howard (1-8 1-4) at South Carolina State (5-3, 3-2), Saturday, November 9th, 1:30 PM, Oliver C. Dawson Stadium, Oeangeburg, South Carolina, ESPN3 (cable subscription req'd)
After a heartbreaking loss at the hands of rival NC A&T, I expect the Bulldogs to come out with fire in their eyes against the Bison. They still are in the hunt for the Celebration Bowl and a possible playoff bid, but they would need a lot of help that isn't likely coming on both fronts. With all of that in front of them, SCSU is going to come out angry, and Howard is dealing with head coach Ron Prince being dismissed this week after a disastrous time at the helm of the Bison. This shouldn't be a contest. South Carolina State 45, Howard 7
Bethune-Cookman (6-2, 4-1) at Delaware State (1-8, 0-6) Saturday, November 9th, Alumni Stadium, Dover, Delaware, ESPN3 (cable subscription req'd)
This might be the most lop sided fixture of the weekend. Delaware State has been the biggest disappointment of the year for me, and Bethune Cookman still has everything to play for. While this is a long trip, I don't expect the Wildcats to come out slow against the Hornets. Bethune Cookman might be starting second string in the 3rd Quarter, if not sooner. Bethune-Cookman 56, Delaware State 10
Preston attended James Madison University where he majored in Vocal Performance. As a member of the Drumline and Marching Royal Dukes for 4 years, he's seen a lot of JMU football up close and personal and having grown up attending HBCU games, he has extensive knowledge of the history and pageantry that comes with attending a game in the MEAC and SWAC. When not talking college football or being musical, Preston is a fan of the game the world calls football, golf, and curling. (Curling? Curling!)