The logjam that exists in the Ohio Valley Conference standings figures to get some separation by the time night falls on Sunday.
Or, the muddle could become even worse.
Depending on what happens there could be as many as five teams with one loss by the end of the day and making the second half of the spring schedule even more critical with a smaller playoff field this spring.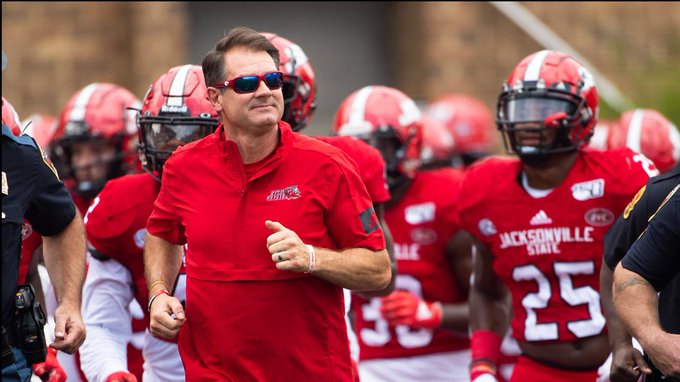 Jacksonville State (2-0 OVC/5-1 Overall) at UT Martin (1-1 OVC/1-1 Overall)
TV: ESPN+ (subscription required), Radio: JSU Radio Network (Jacksonville State), WCMY 1410 AM/100.5 FM (UT Martin)
JACKSONVILLE STATE: The Gamecocks share the top spot in the current conference standings and could take a huge step toward their final year in the OVC a memorable one with a win over UT Martin on Sunday.
And JSU is doing well in all phases of the game.
Josh Samuel (5-11, 215, RS, Jr, RB) and Uriah West (6-0, 225, Jr., RB) are in a neck-and-neck battle as the team's leading ground gainer. Samuel has a slight edge on the season with 359 yards on 72 carries (5,0 ypc) and three touchdowns through six games. West, meanwhile, is right behind with 344 yards on 64 carries (5.4 ypc) and a pair of TDs for JSU, which is on a five-game winning streak since opening the season last fall with a loss at Florida State. West has also caught 13 passes for 185 yards (14.2 ypc) and an additional score.
Zion Webb (6-0, 200, RS, Jr., QB) has completed 46 of his 70 passes for 520 yards and four touchdowns against just two interceptions.
Dave Russell (6-0, 203, RS, So., WR) leads the Gamecocks with 18 catches for 240 yards (13.3 ypc) and two touchdowns. Talented tight end Trae Berry (6-7, 245, Sr.) has added 17 receptions for 265 yards (15.6 ypc).
Nicario Harper (6-1, 205, RS, So., S) leads the Gamecocks on defense with 48 (19 solo) tackles and two interceptions while DJ Coleman (6-6, 265, JR, DE) and Kolbi Fiqua (6-3, 212, RS, So., LB) are also making noise on defense. Coleman has 32 (14 solo) tackles this season, including 6.0 tackles for loss and 3.5 of those have been sacks of the opposing quarterback.
UT MARTIN: Just three weeks into a season is normally too early to talk about a "must-win" game, but there is nothing normal about this season.
If UT Martin has any realistic expectations to advance to the postseason the Skyhawks will find that path bumpy if they came out on the short end of the scoreboard against visiting Jacksonville State.
Martin appears to have the tools in place to get a big win on Sunday against the Gamecocks.
John Bachus (6-2, 215, RS, So., QB) emerged as one of the top players in the OVC last season and has picked up where he left off. He has already completed 37 of 62 passes for 340 yards and three touchdowns for the Skyhawks this season. But he must be careful with the football against a talented JSU defense. Bachus has already been picked off three times this spring.
The UTM running game has averaged just 83.5 yards per game through the first two outings this season. Peyton Logan (5-8, 190, Sr., RB) leads that unit with 132 yards on 28 total carries (4.7 ypc). Production out of the backfield falls dramatically with Logan absent from the picture. The Skyhawks' next prolific ball carrier has been backup quarterback Dresser Winn (6-3, 215, RS, Jr.) who has just 17 yards and the team's only touchdown on the ground.
Bachus could test the JSU secondary with three quality receivers who could give the Gamecocks fits.
Colton Dowell (6-3, 215, RS, Jr.), Rodney Williams (6-4, 235, RS, Sr.) and Donnell Williams (6-3, 205, RS, Sr.) have combined for 26 receptions for nearly 300 yards already this season. Dowell and Donnell Williams are both wide receivers while Rodney Williams is listed as a wide receiver and has also seen time lining up as a tight end for the Skyhawks.
Dowell is the leader with 13 catches for 106 yards and Rodney Williams has hauled in nine passes for 95 yards and two touchdowns. Donnell Williams, meanwhile, has four catches for 66 yards and one score.
Deven Sims (6-2, 200, RS, Jr., S) has paced UTM on defense through the first two games. He has 16 (8 solo) tackles to lead the team. He also tops the team charts with four pass deflections.
Three other players are also having solid seasons already and have 12 total tackles heading into Sunday's clash.
JaQuez Akins (509, 185, Sr., S) had eight solo tackles and has broken up a pair of enemy pass attempts.
Linebacker John Ford (6-3, 230, RS, Jr.) and defensive back Chrishun Jackson (6-0, 180, RS, Jr.) both have 12 total tackles on the year,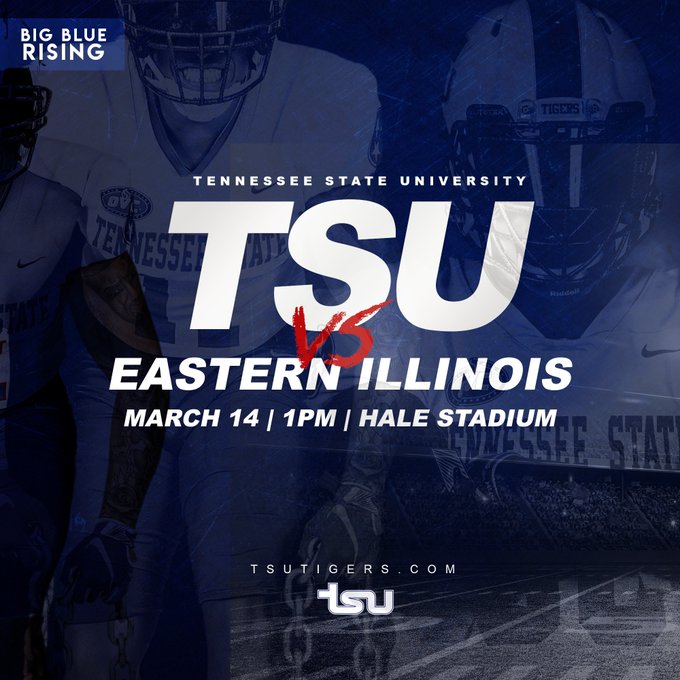 Eastern Illinois (0-2 OVC/0-2 Overall) at Tennessee State (0-2 OVC/0-2 Overall)
TV: ESPN+ (subscription required), Radio: Panther Radio Network (Eastern Illinois), Big Blue Network (Tennessee State)
EASTERN ILLINOIS: The Panthers find themselves in an unfamiliar situation as they prepare to tangle with Tennessee State.
EIU, which won just one game a year ago, should be favored, at least on paper, to break through and pick up its first win of the season on Sunday against the Tigers.
A big reason for that expectation has been the play of quarterback Harry Woodberry (6-2, 195, RS, Sr.). Despite his team's record this season, he has performed well and has completed 36 of his 75 pass attempts for 380 yards for the Panthers who are averaging 225 yards per game through the air.
The passing attack is in stark contrast to the running game. There EIU is managing just 91.5 yards per game through the first two contests.
Kendi Young (5-11, 185, Fr., RB) has emerged as the leader there in his first collegiate season. He has 88 yards on 11 carries (8.0 ypc), proving he is a threat each time the ball is in his hands. Jaelin Bennefield (5-10, 160, So. RB) has been held to just 46 yards on 19 carries (2.4 ypc) this season.
Dewayne Cooks (6-2, 155, RS, So.) and Matt Judd (6-2, 185, RS, Fr.) pace the wide receiver unit with some impressive numbers. Cooks has caught 10 passes for 129 yards and Judd has hauled in five passes for 73 yards already. Both have scored one touchdown.
The Eastern Illinois defense has shown to be active as three players have stepped up to lead that unit.
Anthony Shockey (6-1, 210, So., LB) leads the Panthers with 17 (5 solo) tackles while Ray Crittenden (6-1, 205, RS, Sr., S) and Jason Johnson (6-2, 200, So., LB) have both added 15 tackles. Crittenden has nine solo stops to his credit and seven of Johnson's tackles have been of the solo variety.
What is even more impressive as that the Panthers already have 16 tackles for loss through the first two games and that trio of defensive standouts have combined for 6.5 of those setbacks.
TENNESSEE STATE: Seldom does a game against winless teams hold as much intrigue as does this week's game between the visiting Panthers and the Tigers.
Whoever wins the game should get a shot of momentum that could prove important as the rest of the season unfolds. A loss, well, a loss will relegate that team to only wonder "what if."
Tennessee State has been struggling on offense this season. The Tigers have gained just 129 yards on the ground through the first two games. Their leading rusher, Devon Starling (6-0, 190, RS, Fr., RB) is the leading ground gainer with 59 yards on 15 carries this spring.
If there is one bright spot on the young spring season it has been the play of Isaiah Green (6-2, 207, RS, Jr., QB) who has shown an ability to lead the Tiger offense. He has completed 10 of 18 passes for 173 yards on one touchdown so far.
His favorite targets have been Dayron Johnson (5-9, 180, So., WR) and Vincent Perry 6-0, 180, RS, Sr., WR), who have both caught four passes. Johnson leads the team in receiving yardage with 95 yards (23.8 ypc) while Perry's receptions have gone for 60 yards.
TSU just might have an ace in the hole in the form of kicker Antonio Zito who has made two of three field goals this season, including a long of 35 yards. He has also been successful on both PAT kicks in 2021.
And when a game is an evenly matched as this one appears to be … well, any advantage can be a huge advantage.
The Tiger defense continues to be paced by Nyle Love (6-1, 230, RS, So., LB) and Justin Brown (6-2, 205, RS, Jr.), another linebacker. Love leads the team with 12 (6 solo) tackles on the year and Brown has chipped in with seven (3 solo) stops of his own.
Davoan Hawkins (6-3, 286, RS, So., DL) also has seven total tackles on the season for Tennessee State.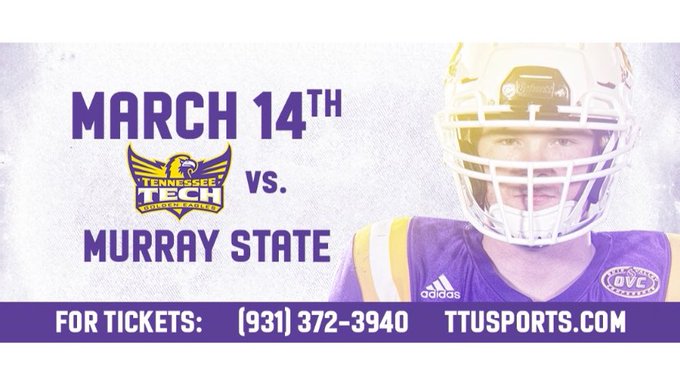 Murray State (2-0 OVC/2-0 Overall) at Tennessee Tech (1-1 OVC/1-1 Overall)
TV: ESPN+ (subscription required), Radio: Froggy 103.7 FM (Murray State)
MURRAY STATE: The Racers seem to be doing just enough to come away with the win in each of their two games so far this season.
But, in the end, that is the bottom line … winning.
Murray State is scoring 19 points per game while its defense is holding opponents to just 15.5 points per contest. Those numbers figure to be tested this week against a Tennessee Tech team that is looking to unleash itself on a worthy opponent.
Preston Rice (6-2, 227, RS, Sr.) is the leader of the MSU offense from his quarterback position. He has completed 17 of 42 passes for 234 yards and two touchdowns on the young season. He has also been intercepted twice.
Damonta Witherspoon (5-10, 206, Fr., RB) who was named the OVC Newcomer of the Week after rushing for 108 yards on 22 carries (4.9 ypc) in last week's upset of nationally ranked Southeast Missouri, leads MSU with 197 rushing yards this season on 36 carries (5.5 ypc). Rodney Castille (5-11, 200, Sr., RB) has just 49 yards on 22 carries (2.2 ypc) on the year. He has also three catches out of the backfield for 25 yards. His three catches are tied for second on the team in that department.
LaMartez Brooks (6-1, 192, RS, Jr., WR) leads the team in receiving with six (32 yards), and teammate DeQuan Dallas (5-10, 175, Sr., WR), is tied with Castille with three catches. He has made those catches count and he has racked up a team-high 123 yards through the air on the young season.
Marcis Floyd (6-0, 188, RS, So., CB) was the hero on defense in the win over SEMO last weekend. He picked off a pair of passes and finished the day with six total tackles, all of which were unassisted.
Floyd's first aerial theft was returned 22 yards for a touchdown that helped set the tone on the afternoon. He added his second interception as time expired to seal the win for the Racers. His performance was more than enough for him to be chosen as the OVC's defensive player of the week.
Floyd has 10 (7 solo) tackles this season to rank fourth on the team charts.
Alec Long (5-11, 218, RS., So., LB) and Eric Samuta (5-10, 215, RS, Jr., LB) lead the way in tackles with 15 and 13 stops, respectively, for the Racers. Nine of Long's 15 stops have been unassisted, while Samuta has tallied six solo stops on the year so far.
Tay Carothers (6-1, 231, RR, Sr., LB) and Don Parker (6-1, 173, Sr., S) have also been performing well through the first two contests. Carothers had tallied 12 (8 solo) tackles and Parker has added nine (4 solo) tackles of his own. He also leads the team with 2.5 tackles for loss so far.
TENNESSEE TECH: If the Golden Eagles are to advance to the FCS Playoffs for just the second time in school history, they can ill afford a loss on Sunday.
Tech's offense seems to be struggling to find an identity on the young season. The Golden Eagles are averaging just 62.5 yards rushing through the first two games of the season and just 129 yards via the pass.
Quarterback Bailey Fisher (5-11, 205, Jr.) has completed just 15 of 24 passes for 137 yards for the Golden Eagles. Fisher, who was injured in the loss to Jacksonville State last week, has been backed up by Willie Miller (6-0, 178, So.) who has completed 11 of 20 passes for 121 yards. He has thrown the only touchdown pass for Tech this season but, has already thrown three interceptions.
The Tech running game so far has been led by David Gist (5-11, 190, Jr. RB) who has rushed for 98 yards on 29 carries (3.4 ypc) and a pair of touchdowns. Justin Oden (6-3, 175, So., WR) and Metrius Fleming (6-0, 178, So. WR) have both caught six passes to pace the Golden Eagles receiving corps. Oden's receptions have yielded 105 yards and Fleming is right behind with 97 yards of his own.
While the Tech offense needs to find a suitable identity, the same can be said of the defense if the Golden Eagles are to remain in the hunt for a postseason berth for the first time since 2011. Tech is currently allowing 386 yards per game to the opposition.
But don't feel too bad for the Golden Eagles. They seem to have the tools in place to see the defense improve.
Seth Carlisle (6-0, 225, Jr. LB) currently leads the team with 20 (11 solo) tackles. He has also intercepted one pass.
Marcus McMeans (5-11, 186, Sr., DB) and Jack Warwick (6-0, 224, RS, So.), a linebacker, have each added 12 total tackles for the Golden Eagles. McMeans has seven unassisted tackles and Warwick has six solo stops.
Chris Tucker (6-2, 270, Sr., DL) anchors the defensive front with 11 (6 solo) tackles to lead that unit.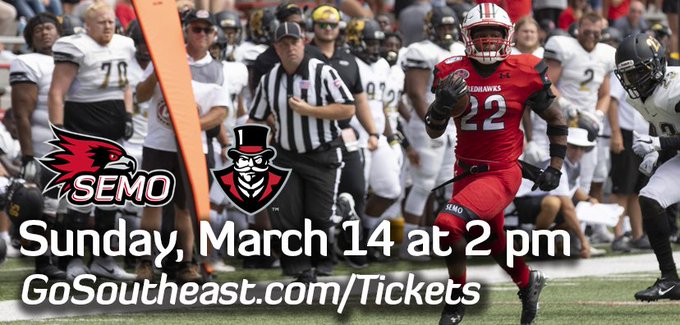 Austin Peay (1-1 OVC/1-4 Overall) at Southeast Missouri State (1-1 OVC/1-2 Overall)
TV: ESPN+ (subscription required), Radio: Govs Sports Net (Austin Peay), Real Rock 99.3 FM (SE Missouri)
AUSTIN PEAY: Like virtually every other team in the Ohio Valley Conference Austin Peay is looking to find an identity in hopes of advancing to the FCS Playoffs.
The Govs will perhaps have an added sense of urgency to find that persona when they tangle with SE Missouri on Sunday in a game that features last year's OVC co-champions.
Brian Snead (6-1, 203, RS, So., RB) and CJ Evans (5-9, 177, Fr., RB) are leading APSU on the ground. That tandem has combined for 106 carries and 610 yards through the first five games of the season. Snead leads the way with 70 carries for 384 yards (5.5 ypc) and three touchdowns. Evans, meanwhile, has added 226 yards on 36 carries (6.5 ypc) in his first collegiate campaign.
Draylen Ellis (6-1, 178, Fr.) has emerged as the starter at quarterback for the Govs. He has completed 16 of 40 passes for 265 yards and one touchdown. He will have to cut down on his three interceptions to aid in his team finding that necessary identity.
The one area APSU excels in comes on the outside with the presence of DeAngelo Wilson (5-9, 173, Sr.) and Baniko Hartley (6-1, 221, Sr.), two of the most electrifying receivers in the league. Wilson has already caught 20 passes for 295 yards while Hartley has added 14 receptions for 256 yards. Both standouts have one TD to their credit this season.
Linebacker Jack McDonald (6-0, 206, RS, Jr.) has been one of the most active defensive players in the OVC this season. He already has tallied 37 (23 solo) tackles for the Govs. Included in that total are 5.5 tackles for loss and 2.5 sacks. He has also intercepted one pass and broken up three others on the season.
SE MISSOURI: The Redhawks, like their Sunday counterparts, can ill afford another conference loss so early in the season. Thankfully, the contest is at home at Houck Field and that could prove to be critical in the outcome.
So will a balanced ground attack that SEMO has assembled this season with the presence of Geno Hess (5-8, 209, RS, So., RB) and Zion Custis (5-8, 190, Jr., RB) who have combined for nearly 300 yards through three games (SEMO played one game last fall).
Hess has 40 carries for 239 yards (6.0 ypc) and three touchdowns this season while Custis has chipped in with 137 yards on 44 carries (3.1 ypc) and one touchdown of his own.
The SEMO passing has struggled to establish an identity as Nebraska transfer Andrew Bunch (6-1, 215, RS, Sr.) has been largely inconsistent. He has completed more than half of his 79 pass attempts (44-79) for 467 yards and two touchdowns. But on the negative side he has been intercepted five times already this season.
Johnny King (6-4, 180, Jr.), Aaron Alston (6-4, 210, Jr.) and Zack Smith (5-9, 200, RS, Sr.) do provide Bunch and the Redhawks with weapons on the outside and if Bunch manages to get untracked and on target with his throws that could prove detrimental to opposing defenses. King has already caught 13 passes for 181 yards (13.9 ypc) and a pair of touchdowns. Alston and Smith have combined for 20 receptions for 214 yards. Smith has 11 catches for 104 yards (9.5 ypc) and Alston has hauled in nine passes for 110 yards (12.2 ypc) on the year.
SEMO has a wealth of talent on the defensive side of the ball and is being paced by Mike Matthews (6-1, 236, So., LB) and Bryant Pirtle (6-2, 227, Grad, LB), who have put up 17 (4 solo) and 16 (8 solo) tackles, respectively for the Redhawks. Matthews has added one interception and three pass deflections while Pirtle has a team-best 2.0 tackles for loss.
Brandon Mincey (6-0, 242, Jr, LB), Lawrence Johnson (6-0, 194, JR., DB) and Bryson Donnell (6-1, 293, Sr., DL) have all tallied 15 total tackles this season. Twelve of Johnson's stops have been unassisted.
A native of Bismarck, N.D., Ray is a graduate of North Dakota State University where he began studying athletic training and served as a student trainer for several Bison teams including swimming, wrestling and baseball and was a trainer at the 1979 NCAA national track and field championship meet at the University of Illinois. Ray later worked in the sports information office at NDSU. Following his graduation from NDSU he spent five years in the sports information office at Missouri Western State University and one year in the sports information at Georgia Tech. He has nearly 40 years of writing experience as a sports editor at several newspapers and has received numerous awards for his writing over the years. A noted sports historian, Ray is currently an assistant editor at Amateur Wrestling News.