OVC Title hopes and an autobid are on the line in Murray, KY this Sunday.
Jacksonville State (5-1 OVC/8-2 All) at Murray State (5-1 OVC/5-1 All)
TV: ESPN+ (subscription required), Radio: WLJS 91.9FM (Jacksonville State), Froggy 103.7FM (Murray State)
Overview: The series between Jacksonville State and Murray State has been one-sided, to say the least.
The Gamecocks, who are riding a six-game winning streak against the Racers, hold a 15-2 advantage in the 17 previous matchups.
And the stakes could not be much higher this time around and the atmosphere in and around Roy Stewart Stadium in Murray is sure to be electric.
After all it has been nearly two decades since a game of this magnitude has been played at the home of the Racers. The last time MSU played host to a game with the OVC title on the line came in 2002 when Murray State got a last-second field goal from Shane Andrus to slip past Eastern Illinois 37-35.
That gave the Racers the OVC championship and a win on Sunday will end a 17-year title drought. The only OVC member which has gone longer without winning the conference championship is Tennessee State. The Tigers have not finished atop the conference standings since 1999.
A win by the visiting Gamecocks would assure them the outright conference championship and would send JSU out on a high note. The school will leave the Ohio Valley Conference and become a member of the ASUN. While the new conference does not currently sponsor football, it has committed to doing so in the future. Until that happens JSU will compete in the Western Athletic Conference as part of an agreement between the ASUN and WAC.
Jacksonville State: No OVC team has played as many games this season than the Gamecocks. And no team has been more consistent.
After losing the season opener last fall on the road at Florida State JSU reeled off seven straight wins, including starting the spring season off 4-0 before a 13-10 loss to Austin Peay in a game that saw JSU turn the ball over an uncharacteristic six times.
The Gamecocks rebounded with a 44-23 win over Eastern Illinois last weekend to set the stage for this week's winner-take-all contest against the Racers.
Quarterback Zion Webb (6-0, 200, RS, Jr.) has emerged as one of the top signal callers in the nation this season after stepping in for the injured Zerrick Cooper. Webb has responded by completing 95 of 159 of his passes for 1,285 and has thrown for 10 touchdowns. Webb has been prone to throwing some costly interceptions at times. He has been picked off seven times this spring. Webb ranks third on the team in rushing with 251 yards on 57 carries (4.4 ypc) and has scored twice while running the football.
Josh Samuel (5-11, 215, RS, Jr.) and Uriah West (6-0, 225, Jr.) give JSU a potent 1-2 punch out of the backfield and have combined for more than 1,200 yards heading into the regular season finale on Sunday. Samuel leads that tandem with 677 yards on 123 carries (5.5 ypc) and West is not far behind with 107 carries for 533 yards (5.0 ypc). Samuel has six touchdowns to his credit while West has scored five times for the Gamecocks.
The JSU receiving leader all season has been Dave Russell (6-0, 203, RS, So., WR) who has caught 24 passes for 351 yards (14.6 ypc) and has scored three touchdowns.
JSU currently leads the OVC in both total and scoring offense and defense. The Gamecocks also boast the nation's ninth best rush defense, allowing just 86.3 yards rushing through 10 games this season.
Nicario Harper (6-1, 205, RS, So., safety) has been the leader on defense for the Gamecocks this season. The talented defensive back leads the team with 71 (33 solo) tackles and has a team-high three interceptions. He also has 1.5 tackles for loss, two pass breakups and one fumble recovery to his credit.
Harper's secondary mate Jacquez Payton (6-1, 176, RS, Jr. CB) is second on the team with two interceptions. Five other players all have one interception on the season.
Marshall Clark (6-0, 210, RS, So., LB) ranks second on the team with 59 (20 solo) tackles, including 7-0 TFLs and 1.5 sacks. His TFL total is second only two DJ Coleman (6-6, 265, JR, DL), who has 10 tackles for loss on the year. Coleman and Chris Harris (6-2, 260, RS, Fr. DL) are tied for the team lead with six sacks on the season.
Murray State: It has been a mix of talented veterans and exciting newcomers that have combined to put Murray State in a position to win the Ohio Valley Conference championship.
Preston Rice (6-2, 227, RS, Jr., QB) is the trigger man for the Racers. He has completed 66 of his 130 pass attempts this season for 947 yards and seven touchdowns. He has also proven to be a threat to run the football whenever the need arises. He has rushed 49 times for 223 yards (4.6 ypc) and six more touchdowns.
Damonta Witherspoon (5-10, 206, Fr., RB) has emerged as one of the best young running backs in the league this season. He has carried 100 times in the six previous games this spring and has racked up 474 yards (4.7 ypc) and has scored five touchdowns.
The MSU receiving corps has also proven to be consistent and talented as well. LaMartez Brooks (6-1, 192, RS, Jr., WR), Jacob Bell (6-3, 177, RS, So., WR) and DeQuan Dallas (5-10, 175, Sr., WR) have combined to catch 51 passes for the Racers this season.
Brooks leads that trio with 29 receptions for 334 yards (11.5 ypc) and a pair of touchdowns while Bell has caught 16 passes for 211 yards (13.2 ypc). Dallas, meanwhile, is averaging just one catch in each of the Racers' six games this season, but those six catches have gone for 203 yards, or 33.8 yards per catch and three touchdowns.
The Murray State defense is being led by the play of three linebackers who have combined to give the Racers one of the best units at that position in the OVC. Alec Long (5-11, 218, RS, So.) and Eric Samuta (5-10, 215, RS, Jr.) are in a virtual dead-heat for the team lead in tackles. Long currently has a slight edge with his 54 total tackles while Samuta is right behind with 52 total stops of his own. Both have recorded 22 solo tackles this season. Samuta also ranks second on the team with 4.0 tackles for loss among his 52 tackles.
Scotty Humpich (6-4, 252, Jr., LB) is a more prototypical linebacker than either Long or Samuta but, is as every bit as active. Humpich leads the Racers with 4.5 tackles for loss and has 19 (9 solo) tackles to his credit this spring.
Marcis Floyd (6-0, 188, RS, So., CB) leads the MSU secondary with three interceptions this season.
Austin Peay (4-2 OVC/4-5 All) at Eastern Illinois (1-5 OVC/1-5 All)
Overview: The Ohio Valley Conference announced on Friday morning, just over 48 hours ahead of the scheduled kickoff, that Sunday's game between Austin Peay and Eastern Illinois has been postponed.
The league office made the decision as part of the OVC's protocols that left Austin Peay with fewer than the required number of student-athletes able to compete in the game that was scheduled to be played in Charleton.
A decision as to whether the game will be played on April 17, one of the dates set aside as a possible makeup date, will be made at a later point. With Austin Peay's chances of making the postseason it appears unlikely the game will be played.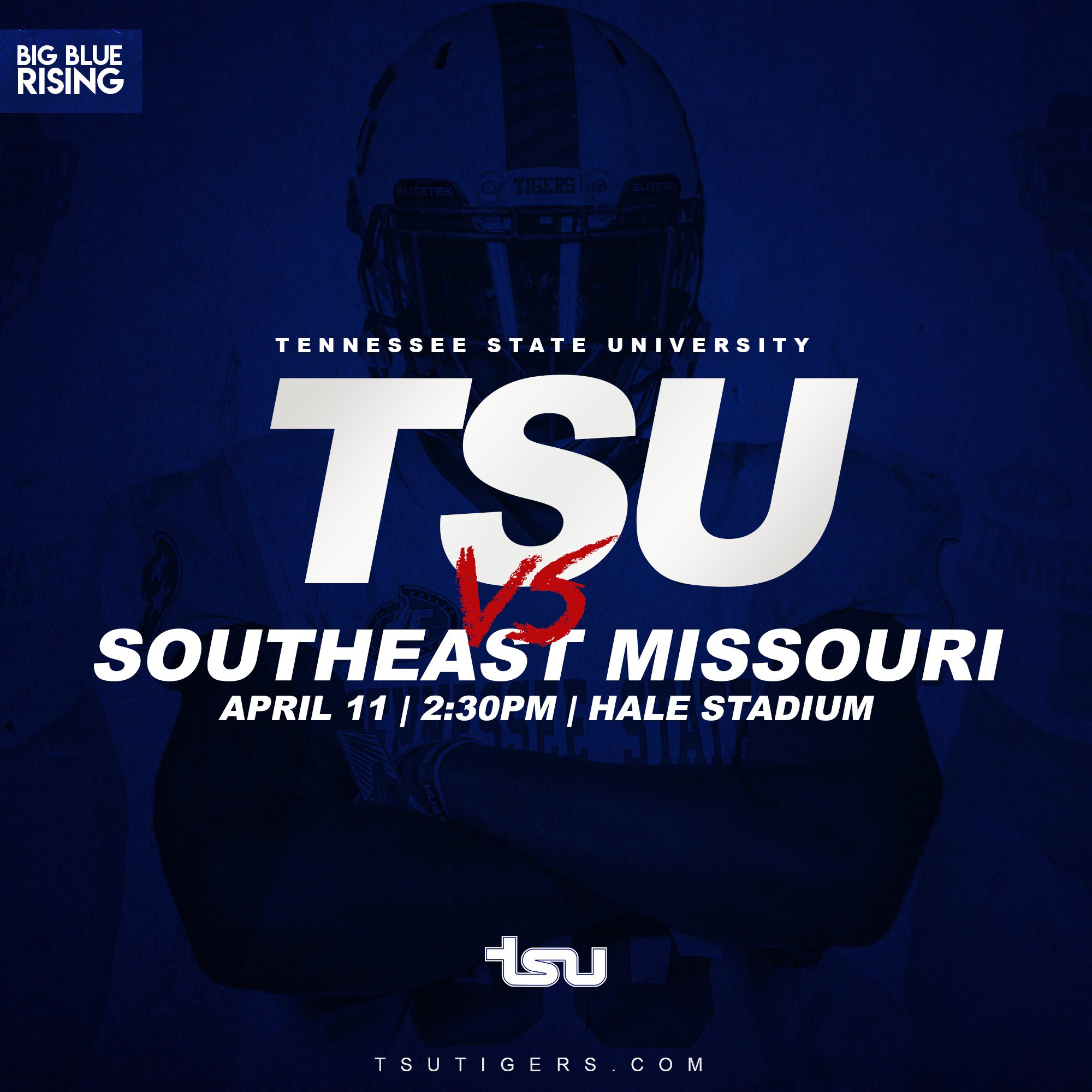 Southeast Missouri State (3-3 OVC/3-4 All) at Tennessee State (2-4 OVC/2-4 All)
TV: ESPN+ (subscription req'd), Radio: Real Rock 99.3FM (SE Missouri)
Overview: Nashville has not been friendly to Southeast Missouri over the years and Tennessee State is hoping to make the struggles continue by getting a measure of revenge in the season finale against the Redhawks on Sunday at Hale Stadium.
SE Missouri trails in the all-time series against the Tigers, which began in 1991, 14-13. And just one game has been won by the Redhawks in Music City as SEMO won 32-13 during the 2019 season on the way to sharing the OVC championship with Austin Peay. SEMO won the previous season in Cape Girardeau and is riding a two-game winning streak over the Tigers heading into Sunday's contest. It is SEMO's first two-game streak over TSU since 2002-03.
SE Missouri: Southeast Missouri opened the spring season on a winning note but things soured quickly as the Redhawks dropped three straight contests to fall out of contention for a repeat of the conference championship.
A pair of wins over the last two weeks has SEMO running with some optimism as the Redhawks hope to end on a winning note.
Geno Hess (5-8, 209, RS, So., RB) has been the most consistent player on offense all season for SEMO. He has rushed 126 times for 579 yards (4.6 ypc) and has scored nine touchdowns to lead the team.
Quarterback Andrew Bunch (6-1, 215, RS, Sr.), a transfer from Nebraska, has completed just over 50 percent (133-199) of his pass attempts this season for 1,188 yards and seven touchdowns. He has been picked off nine times.
The Redhawks top two receivers have been Zack Smith (5-9, 200, RS, Sr., WR) and Johnny King (6-4, 180, JR., WR) who have combined for 64 catches and 699 yards on the season. Smith leads that duo with 36 receptions for 378 yards (10.5 ypc) and three touchdowns while King has chipped in with 28 catches for 321 yards and a pair of scores.
Lawrence Johnson (6-0, 194, Jr., DB) and Brandon Mincey (6-0, 242, Sr., LB) lead the way on defense for the Redhawks. Johnson as recorded a team-best 49 (31 solo) tackles and has four pass breakups and one interception to his credit. Mincey, meanwhile, is not far behind with 42 (20 solo) stops on the year, including four tackles for loss and one sack.
Mike Matthews (6-1, 236, So., LB) and Bydarrius Knighten (6-0, 197, Sr., DB) have been steady performers on the defensive side of the ball this spring. Matthews has 39 (17 solo) tackles, including two TFLs, while Knighten has added 38 (26 solo) tackles and one stop for lost yardage.
Tennessee State: The Tigers have scored in 76 consecutive games heading into this season's finale. The last time TSU was shutout was on Nov. 2, 2013 in a 44-0 setback at Eastern Kentucky.
Kicker Antonio Zita (5-9, 170, P/K) has moved into the top-10 on the all-time scoring list at Tennessee State this season. The junior had eight points in the win over UT Martin and now has 196 career points and is perched at eighth place on the school's scoring list.
Zita has made 13 of his 19 field goal attempts, including a dramatic 35-yard game-winner on the final play of the game to defeat Eastern Illinois 21-20 earlier this season. He also booted a 62-yarder earlier in the game against the Panthers. The accurate Zita has also converted seven of nine PATs to give him 56 points on the season heading into Sunday's game against the Redhawks.
Devon Starling 6-0, 190, RS, Fr., RB) began the season as the No. 2 back on the depth chart. That lasted all of two weeks. Since then he has been among the best in the OVC at the position. The Memphis transfer has rushed 105 times for 544 yards (5.2 ypc) and scored two touchdowns on the year for TSU. His 90.7 yards per game rushing is the best in the Ohio Valley Conference this season and is 11th in the nation in total yards.
Starling had 134 yards against UT Martin and was named BOXTOROW's national player of the week and the OVC newcomer of the week for his efforts.
Quarterback Isaiah Green (6-2, 207, RS, Jr.) operates the Tiger offense. He has completed 76 of his 132 pass attempts for 916 yards and two touchdowns on the season and has been intercepted just twice.
Cam Wyche (6-0, 190, RS, Jr., WR) and Dayton Johnson (5-9, 180, So., WR) have combined for 37 catches and 587 yards on the year to lead the TSU receiving unit. Wyche has 20 of those receptions for 377 yards (18.9 ypc) and two TDs while Johnson has 17 catches to his credit for 210 yards (14.7 ypc).
The Tennessee State defense has been paced by five players all season who are in a close battle for the team lead in a number of different categories. Presently Nyle Love (6-1, 230, RS, So., LB) and Davoan Hawkins (6-3, 286, RS, Sr., DL) are battling it out for the team lead in tackles. Love has 36 (22 solo) stops this season, including 1.5 tackles for loss and Hawkins has recorded 31 (18 solo) tackles of his own. Hawkins also has a team-best nine TFLs and five sacks, which also leads the team.
Josh Green (6-0, 180, Rs, So., DB) and Nick Harper (5-11, 178, RS, Sr., DB) both have 29 total tackles on the season. Green, who has 21 solo stops to his credit, has a team-best three interceptions and Harper has tallied 20 solo tackles among his totals. James Green (6-1, 220, RS, Jr., LB) has 28 (15 solo) tackles for the Tigers.

Tennessee Tech (2-4 OVC/2-4 All) at UT Martin (2-4 OVC/2-4 All)
TV: ESPN+ (subscription req'd), Radio: KISS 98.5FM (Tennessee Tech), CMT 1410AM/100.5FM (UT Martin)
Overview: The Sgt. York Trophy will be on the line when Tennessee Tech and UT Martin take the field on Sunday in Martin.
The trophy is awarded each season to the winner of the series between the four OVC football-playing school in the state of Tennessee. The Skyhawks and Golden Eagles, along with Austin Peay and Tennessee State, all compete for the trophy and UT Martin is looking to win the trophy for the third straight season. UTM won at least a share of the trophy in 2010, 2012, 2014, 2015 and 2016 before winning in 2018 and 2019.
Sunday will mark the 42nd all-time meeting between the Golden Eagles and Skyhawks with Tech holding a 22-17-2 edge in the series which began back in 1926. But Martin has won each of the past seven games in the series dating back to 2013.
Tennessee Tech: Like Sunday's opponent, Tennessee Tech was sitting atop the OVC standings earlier this season. But four straight losses wiped away any hopes of a conference championship. Now, bragging rights are on the line as the 2020 season comes to a close for Tech when the final horn sounds on Sunday.
Tech is led by dual-threat quarterback Willie Miller (6-0, 178, So., QB), who is averaging 148.7 yards of total offense since stepping into the starting lineup earlier this season. He has completed 59 of 105 passes for 668 yards and has thrown four touchdown passes. The talented sophomore has also rushed for 224 yards on 55 carries (4.1 ypc) and scored four times.
Kurt Taylor (5-10, 205, Jr.) and Jordan Brown (5-10, 188, Fr.), both running backs, are also averaging the same 4.1 yards per carry this season. Taylor has 249 yards to his credit on 61 carries and Brown has rushed 34 times for 141 yards. Both have scored one touchdown for the Golden Eagles. Taylor has also proven to be capable of catching the football as he has 19 receptions for 92 yards (4.8 ypc) and one more touchdown.
Metrius Fleming (6-0, 178, So., WR) leads all Golden Eagle receivers with 187 yards on 12 receptions (15.6 ypc) and one touchdown this season.
Linebackers Seth Carlisle (6-0, 225, Jr., LB) and Jack Warwick (6-0, 224, RS, So.) have been the leaders on the defensive side of the ball for Tech this season. Carlisle has recorded 45 (22 solo) tackles, including 1.5 tackles for loss and one interception. Warwick, meanwhile, has tallied 33 (15 solo) tackles on the year.
Josh Reliford (5-10, 200, RS, Jr., DB) and Marcus McMeans (5-11, 186, Sr.), another standout in the secondary, both have 33 total tackles this season to provide Carlisle and Warwick with plenty of quality support.
Hayden Olsen (5-0, 160, P/K) leads the Golden Eagles in scoring this season. He been successful on seven of 11 field goal attempts, including two from at least 51 yards this season. His season-best was a 52 yarder against Tennessee State and was successful from 51 yards out against Eastern Illinois. Olsen has also punted 23 times and is averaging 35.1 yards per punt on the year.
UT Martin: A season of high expectations held some promise midway through the spring season. Now the best UT Martin can hope for is to salvage some momentum into what promises to be a shorter than normal off season as the Skyhawks and every other college football team in the country looks ahead to a return to normalcy when fall camps open in August.
UT Martin quarterback John Bachus (6-2, 215, RS, So., QB) is the OVC's passing leader this spring. He has completed 133 of 233 passes for 1,432 yards and 11 touchdowns.
A big reason for Bachus' success is the fact that three of the receivers he has entrusted to catch the football have done just that on a regular basis all season long. And all three rank among the top 10 receivers in the conference heading into this weekend's season finale.
Donnell Williams (6-3, 205, RS, Sr., WR), Colton Dowell (6-3, 215, RS, Jr., WR) and Rodney Williams (6-4, 235, RS, Sr., TE) have combined for 1,059 yards and 10 touchdowns this season to help Bachus and the Golden Eagles put together the league's top passing offense.
Donnell Williams leads that trio with 29 receptions for 445 yards (15.3 ypc) and three touchdowns for UT Martin. Dowell has added 354 yards on 34 catches (10.4 ypc) and three TDs of his own. Rodney Williams, meanwhile, has 24 catches for 260 yards and leads the receiving corps with four touchdown receptions.
The running game has been fueled by the play of Peyton Logan (5-8, 190, Sr.) all season. He has rushed 80 times for 327 yards (4.1 ypc) and scored two TDs. He has also caught 27 passes out of the backfield for an additional 170 yards (6.6 ypc).
Safety Deven Sims (6-2, 200, RS, Jr.) ranks third in the league with 52 tackles on the season. Linebacker John Ford (6-3, 230, RS, Jr.) is second on the team with 35 tackles and a team-high two interceptions while Jay Woods has eight pass breakups to lead the OVC in that department this spring.
A native of Bismarck, N.D., Ray is a graduate of North Dakota State University where he began studying athletic training and served as a student trainer for several Bison teams including swimming, wrestling and baseball and was a trainer at the 1979 NCAA national track and field championship meet at the University of Illinois. Ray later worked in the sports information office at NDSU. Following his graduation from NDSU he spent five years in the sports information office at Missouri Western State University and one year in the sports information at Georgia Tech. He has nearly 40 years of writing experience as a sports editor at several newspapers and has received numerous awards for his writing over the years. A noted sports historian, Ray is currently an assistant editor at Amateur Wrestling News.