It was already destined to be a strange spring schedule for football programs in the Patriot League.
The six schools of the Patriot League which elected to play a spring season – Bucknell, Colgate, Fordham, Holy Cross, Lafayette and Lehigh – had to wait longer than every other conference to find out what their spring schedule might look like.
The League decided on two conferences, North and South, and a four-game regular-season schedule, with the first-ever Patriot League Championship Game to be contested on April 17th between the two divisional winners.
But that was before the inevitable COVID pauses that have become a part of the fabric of college football over the past year. Games were paused, rescheduled, then hours later cancelled. Teams woke up Sunday thinking they were going to be playing one opponent, only to find out 24 hours later that they were playing someone else entirely.
In fact Bucknell and Fordham saw their first two games cancelled due to a COVID outbreak, meaning this weekend they will be playing their season openers in critical divisional games right off the get-go.
In a way it's fitting during this strange season that two of the teams playing this weekend are in their season openers, while their opponents are coming off of two weeks off after winning their openers. It is a byproduct of this crazy Patriot League spring, and results in two fascinating games that are basically playoff games. And with no game film on Bucknell or Fordham, it feels like anything can happen.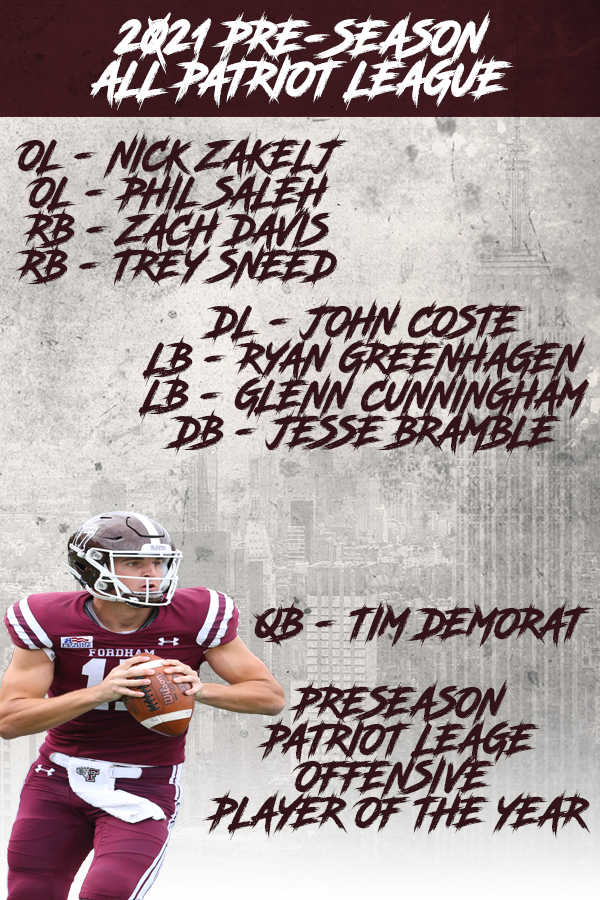 A few days after Holy Cross beat Lehigh 20-3 earlier in March, the Crusaders learned that their game against Fordham was going to be postponed due to a pause by Fordham Athletics. Midway through Monday this week, they learned that they were going to be contesting their game against the Rams this Saturday after the Patriot League shuffled their schedules around to make sure all their divisional games would be able to be contested.
Holy Cross and Fordham officially are playing in the "North Division" of the Patriot League this spring, but I like to call it the "1936 Division" as a way to honor Fordham, Colgate, and Holy Cross' legendary teams from that year. As it so happens, all three teams in 1936 were a big force as Eastern independents that year.
And this game is intriguing, where the defending champion Holy Cross will take on a talented, but inexperienced, Fordham team playing under 3rd year head coach Joe Conlin.
"You would like to get back out there this weekend," Holy Cross coach Bob Chesney told The Worcester Telegram-Gazette after learning of the postponement last week. "We're going to continue to take this day by day, and the only thing we know is what we know at this exact second."
Chesney had to really like where they were after their contest at Lehigh, a 20-3 win where they limited the Mountain Hawks to 8 first downs and 137 yards of total offense. The Crusaders notched 7 tackles for loss, including 2 1/2 by senior DL Jordan Jackson.
"From Week 1 to Week 2, the most significant changes are made on a team for the positive," Chesney said, "but now we actually have two weeks here before our second game. I actually kind of like that model at this exact moment because it gives us two weeks to really tighten up some of the situational football, tighten up some of the things we know we need to do, and figure out a way to get different guys into the games at different points in time. With all of that now, there isn't as much pressure that that has to be done by this weekend. It gives us time to make strides in corrections and putting players in some challenging situations and see how they react."
Against Lehigh, WR Ayir Asante and WR Dean Nagle stood out for the Crusaders with a touchdown apiese, whlie PK Derek Ng converted on both of his field goal attempts and a pair of extra points to round out the Crusaders' scoring, including a Murray Goodman Stadium-record 53 yarder.
With two weeks in between games, they will have done a lot of preparation, but they'll be facing a much tougher Fordham offense led by preseason offensive Player of the Year QB Tim Demorat (2,674 yards passing, 20 TDs/11 INTs). On paper, the return of Demorat and 1,000 yard rusher RB Zach Davis looks like a potent 1-2 combo to go with a veteran OL and a bunch of returning receivers. If they come out guns blazing, this could be a great offense.
Defensively Fordham's strength is junior LB Ryan Greenhagen (123 tackles, 18 1/2 tackles for loss) and LB Glenn Cunningham (79 tackles, 8 1/2 tackles for loss), but they will have to improve from a squad that gave up 32.3 points per game in 2019. If they do, they will contend for the division.
Fearless Prediction: This seems to be one of those situations where the experience, plus the two week layoff, might seriously work against the Rams. Asking them to beat a Holy Cross team that has been looking at two weeks of 2019 game film seems a tall order. Holy Cross 31, Fordham 13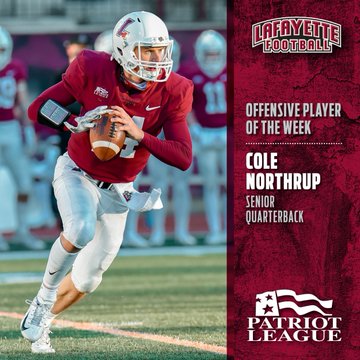 If the North Division could be called the "1936 Division", my name for the South Division of Lehigh, Lafayette and Bucknell would have to be the "Championship of Pennsylvania" division. Back in 1897, Lehigh, Lafayette and Penn created a series of home-and-home games against each other, and the winner would then crown themselves "Champions of Pennsylvania". Bucknell, finally, has their very long overdue chance to win this hypothetical banner this spring if they beat Lafayette and Lehigh and win the division.
Both Bucknell and Lafayette were preparing for each other two weeks ago before their game was called off, so it was easy for both teams to simply pull from the preparations they made a couple of weeks ago in preparation for this week.
"They've had their Week One already and we haven't, so that's a challenge," Bucknell head coach Dave Cecchini said a few weeks ago. "It's an obstacle we have to overcome, but we think we can do it."
Team captain OL P.J. Barr also mentioned another possible advantage Bucknell might have.
"They weren't able to practice during the fall like we were," he said. "Our freshman also got their feet wet with 15 Division I practices in the fall."
LB Simeon Page, who has 22 1/2 career sacks and 34 1/2 tackles for loss, is a player all Patriot League offenses hate to face and should headline Bucknell's greatest defensive strength, their linebackers. On offense, slinging senior QB Logan Bitkofer returns under center (2,736 career yards, 17 TDs) to lead the offense. "Logan has a great arm," Cecchini said in Bucknell's media guide. "He's a very accurate passer who does a great job of throwing deep. He's not a make-you-miss type of guy, but he does a good job of getting downhill on our quarterback runs. He can pick up positive yards like and old-school fullback."
Lafayette started their spring season by shedding an enormous monkey off their back. In a bit of a surprise, the Leopards jumped out to a lead against Colgate and did a great job of holding off the Raiders in a 24-10 upset. QB Cole Northrup had an efficient game, and was a part of the highlight reel play of the game when he found TE Steven Stillanos, who then hurdled the Colgate defender to get a valuable touchdown.
"Offensively, to run the ball the way we did, to stay ahead of the chains, to convert over 50% on third down, against that [Colgate] team, with their reputation of defense and sound play, was a real credit to our team," Lafayette head coach John Garrett said after the win. "The most impressive thing was the level of confidence our team played with, in every phase of the game – offense, defense, and special teams."
RB Jaden Sutton ran for 90 net yards and a touchdown – out-rushing all of the Raiders' read-option offense, who was held to 55 net yards behind stellar defensive play. DB DaRon Gilbert got a critical interception late in the 4th quarter to seal the deal.
"We want to take the fight to defenders, whether that's in the run game or pass game," Stillanos added. "We really pride ourselves in pancakes, putting people in the dirt."
Fearless Prediction: This Lafayette team seems different. The confidence they got from their win two weeks ago could be important, especially on defense. Lafayette 17, Bucknell 12