The big news this week in the Missouri Valley Football Conference was the Illinois State announcement of opting out of the remainder of the spring schedule. This was after the Redbirds picked up their first spring win versus Western Illinois. Illinois State joined Indiana State as the teams to opt out of the season. The Sycamores decided to forgo the spring season before the season began.
As of right now, the nine other MVFC are still in for the season. With Illinois State dropping out, South Dakota State will now have a bye this week because of it. The Jacks are coming off a huge road win at Southern Illinois. SDSU rushed for nearly 400 yards and turned four Southern Illinois turnovers into 24 points as the Jackrabbits steamrolled their way to a 44-3 victory. The Jacks surprisingly did this without All-MVFC RB Pierre Strong, Jr, who was nursing a foot injury.
Elsewhere, the biggest news in the MVFC last week may have been was the resurgence of North Dakota State. The Bison dominated previously undefeated and in-state rival North Dakota. FB Hunter Luepke accounted for 195 yards on the ground and three touchdowns in his first game of the spring to lead the Bison to a 34-13 victory.
Missouri State provided the shocker of the week in winning at Northern Iowa with massive defensive performance in the 13-6 victory. The Bears defense limited UNI to just just 11 first downs and 27 rushing yards. This was the Bears first win at the UNI-Dome since 1998 and snapped a 14-game win streak by the Panthers in the series.
Youngstown State picked up its first win of the spring with a home victory over South Dakota. Junior RB Jaleel McLaughlin rushed for over 100 yards for the third straight game. McLaughlin finished with 28 carries for 166 yards. And the Penguin defense was dominate as the Coyotes, which scored 56 points on YSU last season, managed just 226 total yards and 10 points in the 28-10 YSU victory.
This week with just three games as the North Dakota at Youngstown State game scheduled for this week was postponed to April 17th due to COVID-19 protocols within the UND side, the biggest appears to be Southern Illinois at Missouri State with the winner staying in the MVFC title and FCS playoff race and the loser likely will be on the outside. Here are all the previews and my predictions for the MVFC games this week.
2020 Missouri Valley Standings
Two teams that were on the discussion to possibly join Illinois State in dropping out were Northern Iowa and Western Illinois this spring but the two have stayed committed to finish out this season. With both having three or more losses, they are most likely out of the playoff discussion but would like to finish the season strong. The game was originally slated to be a night game in Macomb but the game time was moved to be a morning central time start instead. UNI was without QB Will McElvain out last week and will also be out in this game due to COVID-19 protocols. Redshirt freshman Justin Fomby will again start this game after he completed 18 of 29 passes for 215 yards and one interception in his debut in the loss to Missouri State. WIU had arguably its best game last week in the eight point defeat to Illinois State. The question in this game is who will rebound to get this win. The talent level on UNI is just too much I think for WIU to overcome and the Panthers get this win in a low scoring contest. Northern Iowa 17 Western Illinois 10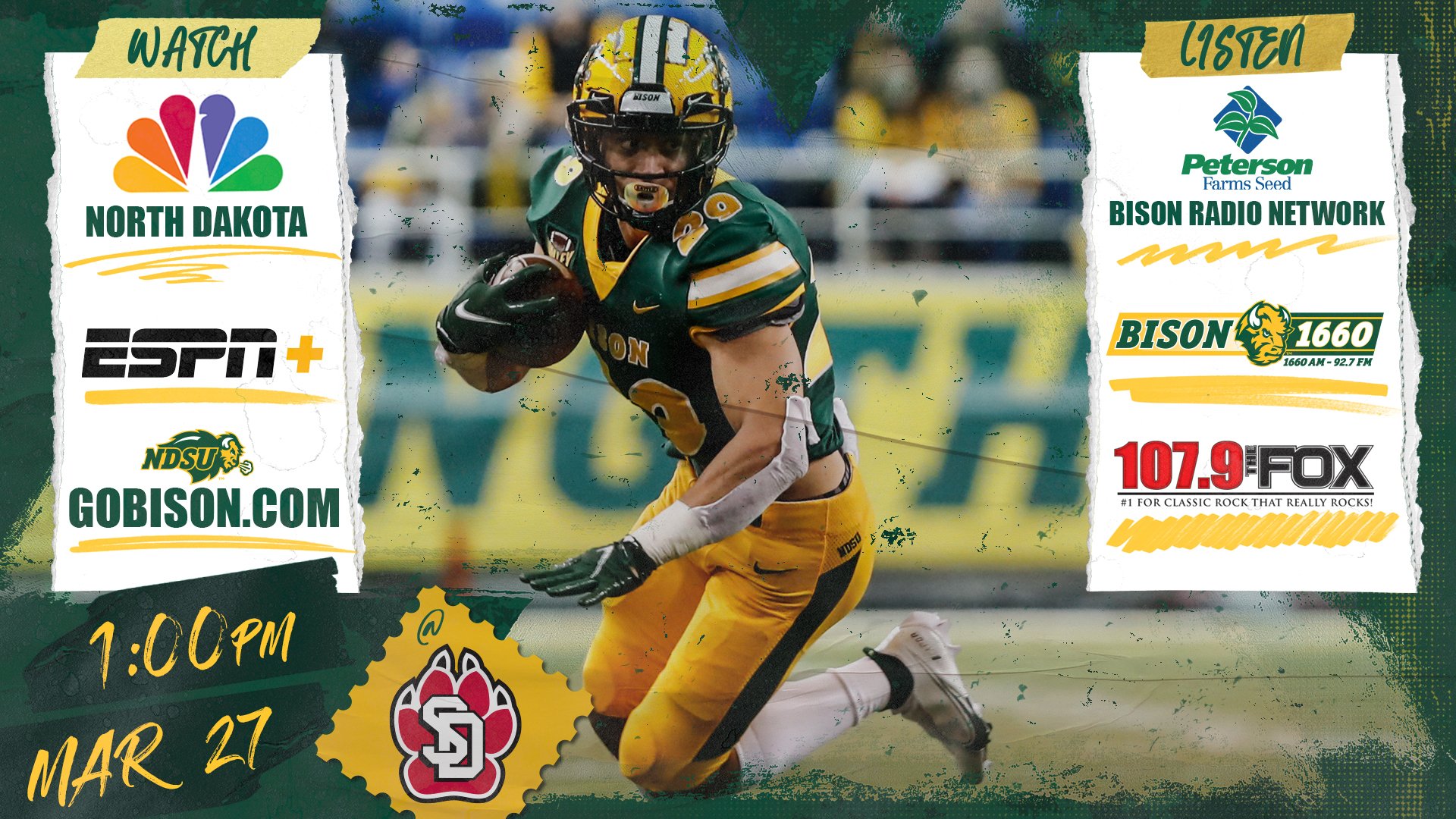 As mentioned above, North Dakota State really looked like it national championship level last week in a Top 5 win over North Dakota. South Dakota on the other hand has dropped three games in a row after picking up a suprising season opening win at Illinois State. Despite the Bison looking more "Bison-like" in last week's game, the quarterback play has not been what we have come accustomed to for NDSU. QB Zeb Noland still threw two interceptions in the win but the NDSU running game saved the day for the Bison. A similar game plan is likely instore for the NDSU offense to run the ball and continue to use its smothering defense to win games the rest of this spring schedule. NDSU will be able to continue that path this week and pick-up a fairly comfortable win in Vermillion. North Dakota State 31 South Dakota 17
Missouri State has kind of come out of nowhere to be a factor in the MVFC race this spring. The Bears have had three close victories (all seven points or less) against Western Illinois, South Dakota and UNI. The lone loss for MSU was at home to NDSU. SIU had its top win versus NDSU in Week 2 but injuries to their QB position have plagued the Salukis and showed greatly in the loss last week at home to SDSU. But SIU as shown an ability to run the ball all season but that is leading right into the strength of the MSU defense. I think similar to the Bears win over UNI, points will come at a premimum in this game with turnovers being the main driver to the winner here. I think MSU has grown since that NDSU loss and will keep it rolling at home in Springfield in a game that goes down to the wire. Missouri State 16 Southern Illinois 13
Originally from LaMoure, North Dakota, Kent is a 1996 graduate of North Dakota State University. His prior writing experience is over 15 years having previously worked with D2football.com, I-AA.org, and College Sporting News before coming to College Sports Journal in 2016. His main focus is college football is the Missouri Valley Football Conference within the Division I FCS. And in 2017, he began also to look at the FBS Group of Five conferences of the American Athletic, Conference USA, Mid-American, Mountain West, and Sun Belt.
Reach him at this email or click below: