College Sports Journal SoCon Preview Week of 4/10/2021
April 10, 2021
Last week, the Southern Conference picture muddied a little bit. Had VMI won, it would have been clear cut and the Keydets would already be in the field. However East Tennessee State had other ideas. The Buccaneers went into Lexington and picked up a big road win. In the other key conference game, Mercer stay slightly alive by beating Furma. The Citadel picked up its first win over Wofford.
Chattanooga and Wofford have opted out of the rest of the spring. The result of that also concludes the season for Western Carolina.
Before looking at the games this week, lets look at the playoff picture from a Southern Conference standpoint.
East Tennessee State – The Buccaneers got the win they needed. They have another must win this week against Mercer. A win there puts them at 5-1, but that still may not be enough. ETSU had 2 games cancelled and VMI had only one. That means that if VMI beats The Citadel next week, VMI gets the SoCOn title. ETSU would be on the bubble for an at large bid. I would hope that a 5-1 ETSU would get in the field. The easiest path for the Buccaneers would be for ETSU to beat Mercer and The Citadel to upset VMI.
Mercer – Slim as they may be, Mercer still has some playoff hope. A win this week would give the Bears a 5-2 conference record and a third straight win over a ranked opponent. They will then need to also root for The Citadel to beat VMI while they beat Samford. They would win the conference by half a game in that scenario. The Bears played three games in the fall, losing them all. The problem for Mercer is that 2 of them were to FCS opponents so even with the 3rd straight win, their FCS record is 5-4. A whole lot would have to happen, but the door is every so slightly open.
VMI – The path is simple for VMI. Beat The Citadel and they are the Southern Conference champions. Lose, and they are out of the playoffs. This is the only team controlling their own destiny. A Mercer win this weekend also gives VMI the SoCon Title.
East Tennessee State has been winning low scoring games all Spring. They did it again last week with a 24-20 win over VMI. The Buccaneers have ridden excellent defense and running back Quay Holmes to their current 4-1 record. Holmes has been the workhorse back for ETSU. Last week he carried the ball 29 times for 135 yards and two touchdowns. He also had five kick returns for 158 yards including a 51 yarder to open the second half. Holmes has to be in the discussion for the Payton Award this year with 551 yards and 8 touchdowns. ETSU is used to playing tight low scoring games. If they get to the playoffs that experience will help them.
Mercer keeps hanging around and is forcing us to pay attention. If they can finish with two wins, they'll put pressure on VMI. Carter Peavy, while not great, has generally done enough the last few weeks to keep the Bears in games. Even if Mercer doesn't make the playoffs this Spring they have gained some valuable experience to set them up for the Fall season.
Fearless Prediction: I keep doubting both of these teams yet they both keep winning. Quay Holmes is a special player and he will carry his team to victory. East Tennessee State 23, Mercer 18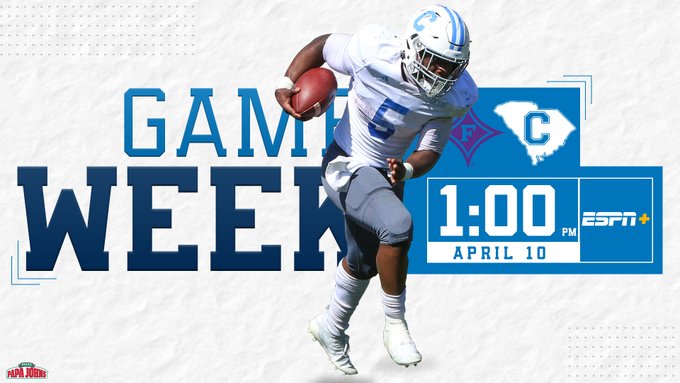 Furman lost its second straight game last week, losing 26-14 to Mercer. Furman just has not been able to get their offense going this Spring. They have a very good running back, Devin Wynn. But with the inconsistency at quarterback, Wynn only has 480 yards and five touchdowns this spring. The use of "only" shows how good a back he is. Hamp Sisson has been the quarterback all spring. He has struggled with interceptions, having thrown 7. One bright spot is wide receiver Ryan Miller. He has 13 catches, but five of them are touchdowns. The defense has been pretty good, keeping them in games. The Paladins only allow 19.5 points per game.
Say what you want about The Citadel, but they don't quit. The Bulldogs were able to pick up a gutty 28-24 win last week against Wofford. They were down 24-7 early in the third and scored 20 straight points including a Clay Harris eight yard run (his second of the day) with 26 second left to pick up the win. The Citadel does not play good defense at all. It has been their Achilles heel all season. Without improvement things will not get better for El Cid.
Fearless Prediction: Neither team really has anything to play for but pride. Furman is the better team though. Furman 30, The Citadel 27