The Southern Conference promises to be one of the most tightly contested races in 2019. While the conference champion won't be determined in week one, there are a couple of matchups that may be remembered in November when the playoff bracket is released.
BYE: none
Conference Game of the Week:
Towson (0-0) at The Citadel (0-0)
When: Saturday August 31st 2:00pm
Where: Johnson Hagood Stadium, Charleston, SC
TV/Streaming: ESPN+ (cable subscription required)
Towson Tigers
Towson had an excellent 2018 before being shockingly upset at home in the first round of the FCS playoffs by Duquesne. The loss left a bad taste in the Tigers' mouths and many of those same players return in 2019. Towson looks to be one of the top teams in the CAA. With a quarterback as good as Tom Flacco, the Tigers will have a potent offense. Because of the strength of the offense, the defense gets overlooked. But Towson has an above average defense. All of those ingredients mix to a team that looks like a top 10 team in the FCS.
Key Player: Tom Flacco is the top quarterback in the CAA and can make a case as the best in all of the FCS. He isn't just a drop back and sling it quarterback either. Flacco can hurt you with his legs as well, having run for over 700 yards in 2018. Combined with RB Shane Simpson who is a weapon in the run and pass game Towson has a formidable offense that will be hard to slow down in 2019.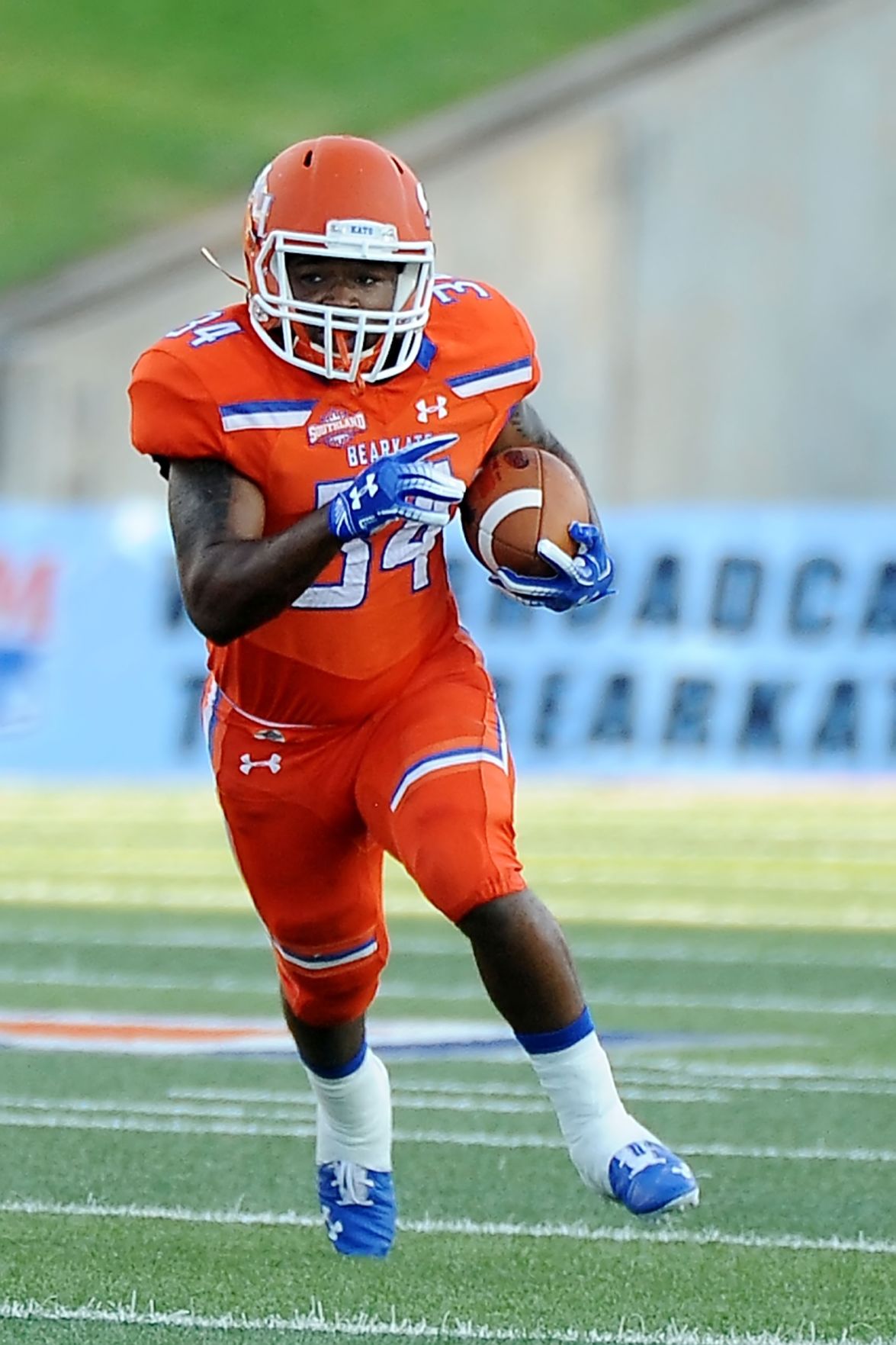 The Citadel Bulldogs
The Citadel is looking to return to playoff form in 2019. It wont take long to figure out of the Bulldogs have what it takes to compete for the spot they want. After the season opener against Towson, The Citadel plays another tough CAA opponent, Elon in week two. The key for The Citadel against Towson this week will be to control the clock with their triple option offense and make Tom Flacco more of a spectator than a participant.
Key Player: In a triple option offense, a team uses a large number of running backs. While The Citadel has multiple backs returning, the intriguing name in the 2 deep depth chart is Remus Bulmer, a transfer from Sam Houston State. Bulmer had a strong freshman year with Sam Houston, but saw less and less action in his sophomore and junior years, prompting him to transfer for his senior season as a graduate student. Bulmer is a smart back who can take advantage of gaps, which is just what The Citadel will need from him.
Fearless Prediction: The Citadel will put up a strong fight at home with its running game. In the end, Flacco will be too much and the Tigers will leave Charleston with the win. Towson 27, The Citadel 24

Fearless predictions for the rest of the slate
Eastern Illinois (0-0) at Chattanooga (0-0), Thursday August 29, 7:00pm, Finley Stadium, Chattanooga, TN, ESPN3 (subscription required)
Chattanooga has one of the toughest non conference schedules in the country this year. With less winnable games in the next three weeks, the Mocs have to have this game. Eastern Illinois is a mid-pack team in the OVC and will make a game of this, but Nick Tiano is good enough to guide the Mocs to victory. Chattanooga 27, Eastern Illinois 17
Charleston Southern (0-0) at Furman (0-0), Saturday August 31, 1:00pm, Paladin Stadium, Greenville, SC, ESPN+ (cable subscription required)
Furman should compete for the Southern Conference title, while Charleston Southern is hoping to return to relevance in the Big South. Furman is clearly the better team and will leave with a comfortable victory. Furman 37, Charleston Southern 10
East Tennessee State (0-0) at FBS Appalachian State (0-0), Saturday August 31, 3:30pm, Kidd Brewer Stadium, Boone, NC, ESPN+ (cable subscription required)
If East Tennessee State figures out the quarterback position, they can win the Southern Conference. The team is that good. But this week, they play an Appalachian State team who is harkening back on its memories as a SoCon member but as a top 25 FBS team. THe Buccaneers will fight valiantly, but will eventually fall short. Appalachian State 34, East Tennessee State 21
Wofford (0-0) at South Carolina State (0-0), Saturday August 31, 6:00pm, Oliver C. Dawson Stadium, Orangeburg, SC, ESPN College Extra, ESPN3 (subscription required)
Wofford is the favorite in the Southern Conference yet again this year. They are going to use their triple option offense to grind South Carolina State into the ground. This doesn't look like a very competitive game. Wofford should have well in advance of 40 minutes in time of possession. Wofford 42, South Carolina State 7
Mercer (0-0) at Western Carolina (0-0), Saturday August 31, 6:00pm E.J. Whitmire Stadium, Cullowhee, NC, ESPN+ (cable subscription required)
A conference matchup in week one is always tough. Mercer is looking to elevate themselves into a playoff contender. Western Carolina has the best offensive player in the conference, Tyrie Adams, but they have little defense to speak of. Mercer takes this one, but not before the Catamounts scare them for a while. Mercer 31, Western Carolina 27
VMI (0-0) at Marshall (0-0), Saturday August 31, 6:30pm, Joan Edwards Stadium, Marshall, WV, Stadium
VMI is one of the worst teams in the FCS while Marshall is one of the top teams in Conference USA. It doesn't take much to realize that this one will get ugly early. Marshall 70, VMI 14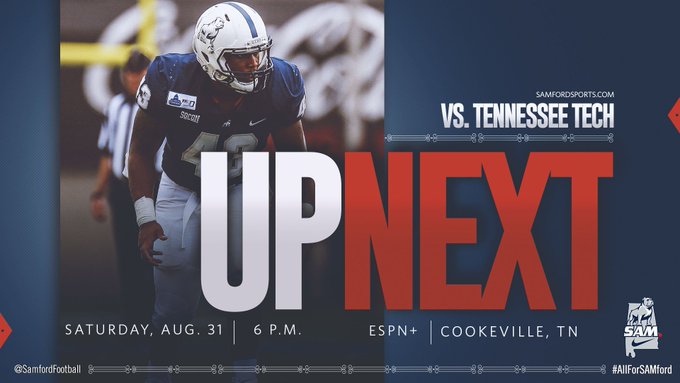 Samford (0-1) at Tennessee Tech (0-0), Saturday August 31, 7:00pm, Tucker Stadium, Cookville, TN, ESPN+ (cable subscription required)
Samford has already dropped a game, losing the FCS Kickoff Classic to Youngstown State. An 0-2 hole would be devastating for the Bulldogs. Luckily, they play a Tennessee Tech team near the bottom of the FCS barrel. Samford 31, Tennessee Tech, 13
Jamie is a proud 2002 graduate of James Madison University. He's witnessed the growth of the program from no one in the stands in 1998, to the hiring of Mickey Matthews, to the 2004 National Championship, to the 2008 team, to the struggles in the early 2010s, and finally the rebuild under Mike Houston. He also allegedly really enjoys Washington, DC-based Stanley Cup winners.
Reach him at: