It was a light week in the Southern Conference last week, but there was no shortage of fireworks. VMI hit a 56 yard field goal as time expired to send their game with Samford to overtime. In the extra frame, the Keydets were able to come away with their fourth win of the year. Everyone but Samford is in action this week.
BYE: Samford
Conference Game of the Week:
The Citadel (3-4, 1-2) at Furman (4-2, 3-0)
Where: Paladin Stadium, Greenville, SC
When: Saturday October 19th, 1:00 PM
TV/Streaming: ESPN College Sports Extra, ESPN3 (cable subscription req'd)
The Citadel Bulldogs
The Citadel looked to be cruising toward a playoff berth and potential SoCon title, but then they were upset by VMI at home. The Bulldogs bounced back last week and beat Western Carolina, but they can ill afford another slip up. The Citadel has the talent and physicality to win the rest of their games. But the team standing in their way this week is the most talented team in the conference. While they do have an FBS win under their belt, losses to Towson and Elon hurt their playoff resume.
Key Player: QB Brandon Rainey has done a great job leading The Citadel offense so far this year. He has accounted for 21 total touchdowns in the six games he has played. In an option offense, we always talk about ball protection and not giving away possessions. Rainey has excelled here as well, having thrown only three interceptions. He will have to play as well as he did before he was injured against Georgia Tech if the Bulldogs are going to beat a tough Furman team.
Furman Paladins
Furman looks to be heads and shoulders above the rest of the Southern Conference this year. With their only losses by a possession each to two FBS teams, the Paladins have been running through the FCS competition on their schedule. The Paladins have scored at least 45 points in four of their six games and have not allowed more than 14 points to an FCS opponent. Furman has the right balance to make a bit of a run in the playoffs if the matchups fall their way.
Key Player: Furman is having success on offense this year because of its quarterback, Darren Grainger. So far this year, Grainger has thrown 11 touchdowns against only 2 interceptions and added four rushing touchdowns. Generally Furman has been a straight option team. But with Grainger, they have been able to work in some true pass plays that make them even more dangerous to prepare for. As long as Grainger keeps playing at a high level, Furman should continue rolling.
Fearless Prediction: The Citadel have had a nice season so far, but Furman is the better team and appears to be rolling to a conference title. Furman 48, The Citadel 30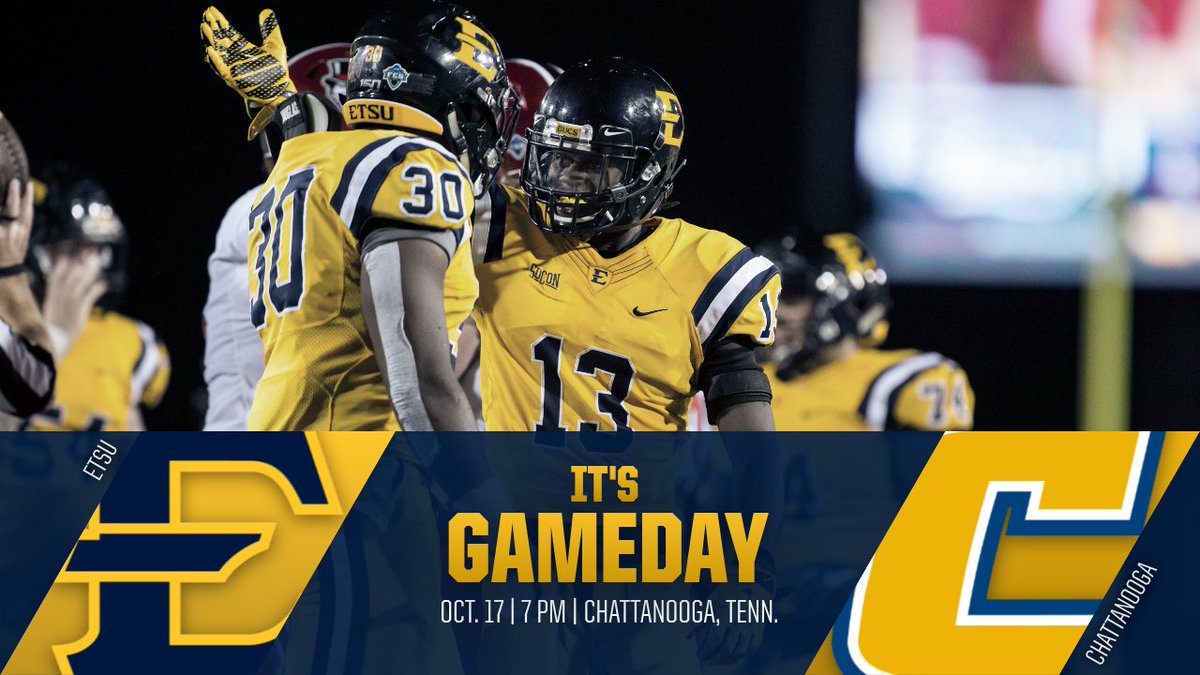 Fearless predictions for the rest of the slate
East Tennessee State (2-4, 0-3) at Chattanooga (3-3, 2-0), Thursday October 17th, 7:00 PM, Finley Stadium, Chattanooga, TN, ESPN+ ($$/subscription req'd)
These teams are heading in opposite directions. ETSU has started conference play 0-3 and Chattanooga has started 2-0 after challenging itself in the nonconference portion of their schedule. The trends continue this week. Chattanooga 30, East Tennessee State 16
Western Carolina (1-5, 0-3) at Wofford (3-2, 2-1), Saturday October 19th, 1:30 PM, Gibbs Stadium, Spartanburg, SC, ESPN+ ($$/subscription req'd)
Wofford has bounced back a bit from a tough start to win three straight games. They'll make it four fairly easily this weekend. Wofford 31, Western Carolina 10
VMI (4-3, 3-1) at Mercer (2-4, 1-2), Saturday October 19th, 3:00 PM, Five Star Stadium, Macon, GA, ESPN+ ($$/subscription req'd)
Surprised that this game has SoCon title implications? Us, too. I bet you didn't think you would be looking at VMI as a favorite in this game at the beginning of the season, too, but here they are. QB Reese Udinski will continue to pad his SoCon player of the year resume, and the Keydets will keep hanging around in the SoCon title race. VMI 44, Mercer 34
Jamie is a proud 2002 graduate of James Madison University. He's witnessed the growth of the program from no one in the stands in 1998, to the hiring of Mickey Matthews, to the 2004 National Championship, to the 2008 team, to the struggles in the early 2010s, and finally the rebuild under Mike Houston. He also allegedly really enjoys Washington, DC-based Stanley Cup winners.
Reach him at: