Everything has been decided in the Southern Conference with one week to go in the season. Wofford was able to clinch the conference title with its win over Furman coupled by a large blown fourth quarter lead by The Citadel against Chattanooga. Furman should also easily find its way into the field. The Citadel, with a win over Wofford this weekend could put themselves on the bubble, but even with their win over Georgia Tech, it may not be enough to get them in the field. A win by Wofford gives them an outside shot at the eight seed. Five of the seven Southern Conference games this weekend are against non-FCS opponents, so there wont me much to watch in the conference this weekend.
BYE: None
Conference Game of the Week:
Wofford (7-3, 6-1) at The Citadel (6-5, 4-3)
Where: Johnson Hagood Memorial Stadium, Charleston, SC
When: Saturday November 23rd, 12:00 PM
TV/Streaming: ESPN+ ($$/subscription req'd)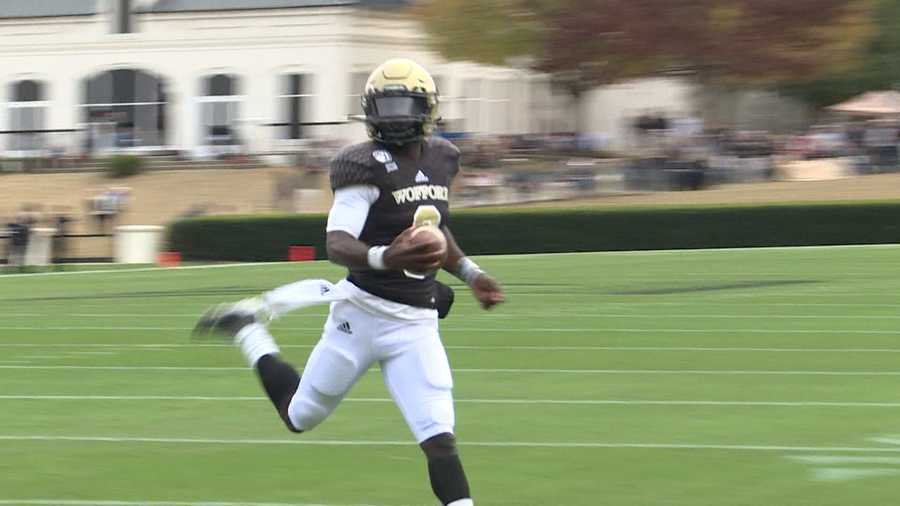 Wofford Terriers
After they started the season 0-2, many people wondered if this was going to be a down year for Wofford. At the time, it was a valid question. Joe Newman was not playing well. Since that time, Wofford has rattled off seven consecutive wins against FCS competition (their lone loss came against Clemson) to win the Southern Conference yet again. A win for the Terriers will keep them hopeful for a seed when the bracket is released Sunday.
Key Player: After a terrible start to the season, Joe Newman has been the offensive leader he was projected to be entering the season. In their seven wins, Newman has accounted for 19 touchdowns and only two interceptions. Those are the types of numbers that Wofford will need from Newman if they are going to make any noise in the playoffs.
The Citadel Bulldogs
The Citadel had everything in front of them to win the Southern Conference. All they needed to do was win their last two games. With 28 seconds remaining in the third quarter last week, the Bulldogs looked like they were easily on their way to securing that first win to set up the showdown with Wofford. In the fourth quarter, The Citadel was outscored by Chattanooga 22-7, turning a 26-12 lead into a 34-33 loss that all but ended their playoff hopes.
Key Player: For The Citadel to remain on the bubble, Brandon Rainey is going to have to have a great game against Wofford. The Bulldogs offensive style wont shock the Terriers – they run the same one. If Rainey can outplay Joe Newman, The Citadel can give themselves and opportunity to watch the Selection Show with a glimmer of hope.
Fearless Prediction: In the battle of dogs, Wofford will continue to roll on into the playoffs. Wofford 31, The Citadel 26
Fearless predictions for the rest of the slate
Western Carolina (3-8) at FBS Alabama (9-1), Saturday November 23rd, 12:00 PM, Bryant-Denney Stadium, Tuscaloosa, AL, ESPN, Watch ESPN App (subscription req'd)
Don't waste your time on this one. One of the best FBS teams against one of the worst FCS teams. Alabama 77, Western Carolina 7
Samford (5-6) at FBS Auburn (7-3), Saturday November 23rd, 12:00pm, Jordan-Hare Stadium, Auburn, AL, SEC Network, Watch ESPN App (subscription req'd)
Samford plays an in state FBS team. Unfortunately its one of the top teams in the country. Auburn 55, Samford 10
NAIA Point (5-6) at Furman (7-4), Saturday November 23rd, 1:00pm, Paladin Stadium, Greenville, SC, ESPN+ ($$/subscription req'd)
Furman closes with an NAIA opponent before the playoffs. their 7-2 FCS record should get them into the field. Furman 56, Point 0
Chattanooga (6-5, 5-2) at VMI (4-7, 3-4), Saturday November 23rd, 1:00 PM Alumni Memorial Stadium, Lexington, VA, Nexstar, ESPN College Extra, ESPN3 (cable subscription req'd)
VMI has had a nice year with something to build on. But Chattanooga will end their season with a win. Chattanooga 27, VMI 24
Mercer (4-7) at FBS North Carolina (4-6), Saturday November 23rd, 3:30 PM, Kenan Memorial Stadium, Chapel Hill, NC, ACC Networks (check local listings). ESPN College Extra
Mercer has been disappointing this season. They close with an FBS opponent. North Carolina 48, Mercer 13
East Tennessee State (3-8) at Vanderbilt (2-8), Saturday November 23rd, 3:30 PM, Vanderbilt Stadium, SEC Network Alternate, Watch ESPN App (subscription req'd)
The season mercifully comes to an end for East Tennessee State this weekend. They entered hoping to return to the playoffs but struggled all year. Vanderbilt 44, East Tennessee State 16
Jamie is a proud 2002 graduate of James Madison University. He's witnessed the growth of the program from no one in the stands in 1998, to the hiring of Mickey Matthews, to the 2004 National Championship, to the 2008 team, to the struggles in the early 2010s, and finally the rebuild under Mike Houston. He also allegedly really enjoys Washington, DC-based Stanley Cup winners.
Reach him at: