Spring 2021 Southland Standings
Sam Houston was the last team other than James Madison or North Dakota State to be top-ranked in the Stats Perform FCS Top 25 – at the end of an unbeaten 2016 regular season. The Bearkats are trying to put themselves back in the conversation during the spring season, moving up to a season-high No. 5 in the national media poll on Monday. They were even one of five schools to receive a first-place vote. The Northwestern State Demons are winless and struggling right now – their offense looked inept in their 31-23 loss to Lamar, a team Sam Houston completely manhandled by a score of 62-7 at Provost Umphrey Stadium in Beaumont.
Sam Houston Bearkats (3-0, 3-0 in Southland)
Eric Schmid accounted for six touchdowns, including a career-high four rushing, and passed for 343 yards in the blowout win against Lamar. Schmid was 19-of-29 passing, hitting Jequez Ezzard twice for scores as Sam Houston scored 31 points in the second quarter. Wide receiver Jequez Ezzard has been a reliable target for Eric Schmid – he has ten receptions for 366 yards and five touchdowns this season. Running back Ramon Jefferson is the Bearkats' leading rusher with 31 carries for 238 yards and a touchdown.
Northwestern State Demons (0-4, 0-4 in Southland)
Northwestern State produced its first 200-yard rusher in five years in the loss to Lamar. Scooter Adams rushed for 161 of his 212 yards in the first half, but Lamar forced three turnovers – all interceptions thrown by Demon quarterback Kaleb Fletcher – and scored the first 28 points. Fletcher finished with 58 passing yards on 8-of-19 passing with three interceptions. Linebackers Blake Stephenson (14 tackles) and Chandler Moncrief (11 tackles) reached double figures in tackles, and each recorded a sack in the Lamar game; Northwestern State logged five sacks against the Cardinals – linebacker Jared Pedraza led the way with 1.5 sacks.
Fearless Prediction: Sam Houston head coach K.C. Keeler feels like this could be his best team yet; Northwestern State head coach Brad Laird is in a rebuilding year and knows his team must start games better. The Demons should settle in on one quarterback and not two – Bryce Rivers has also seen time under center recently. The Demons will make it interesting for a quarter or two before the Bearkats eventually pull away. Sam Houston 45 Northwestern State 13
Nicholls demolished Incarnate Word 75-45 in a Top 25 matchup last Saturday – head coach Tim Rebowe had his team ready to play after their blowout loss to Sam Houston. Following their record-setting performance(s), quarterback Lindsey Scott Jr. and wide receiver Dontaze Costly were named Southland Conference Players of the Week. McNeese defeated Northwestern State by a score of 21-7 at Turpin Stadium in Natchitoches on March 20. Cowboys head coach Frank Wilson has dealt with a plethora of injuries on the offensive line – and many players entered the transfer portal after two hurricanes devastated the Southwest Louisiana region last fall.
Nicholls Colonels (4-1, 3-1 in Southland)
Lindsey Scott Jr. completed all but four passes and connected with four different receivers for five touchdowns in the Incarnate Word game, setting a Southland Conference record for points scored. Scott was 17-of-21 passing for 264 yards as the balanced No. 13-ranked Colonels rebounded from a 71-17 thrashing from Sam Houston on March 13. Wide receiver Dai'Jean Dixon has caught 23 passes for 353 yards and five touchdowns this season. Running back Julien Gums has been a workhorse as well.
McNeese Cowboys (2-3, 1-3 in Southland)
Cody Orgeron completed 17 of 22 passes for a season-high 306 yards, two touchdowns and no interceptions to help McNeese State end a three-game slide with the win over Northwestern State. Coach Frank Wilson earned his first Southland Conference win with the Cowboys. Wide Receiver Trevor Begue caught eight passes for 165 yards in the victory, including a 75-yard TD reception in the third quarter. Defensive end Isaiah Chambers dominated a trio of Northwestern State quarterbacks; the 6-foot-5, 250-pound defensive end picked up three sacks and two more tackles for loss while earning Southland Conference Player of the Week honors. Chambers leads the Cowboys with 4.5 sacks.
Fearless Prediction : Nicholls State cannot afford another loss if it wants to keep its FCS playoff hopes alive – McNeese is in a rebuilding year. The Colonels win this game, but the Cowboys keep it close. Nicholls 38 McNeese 27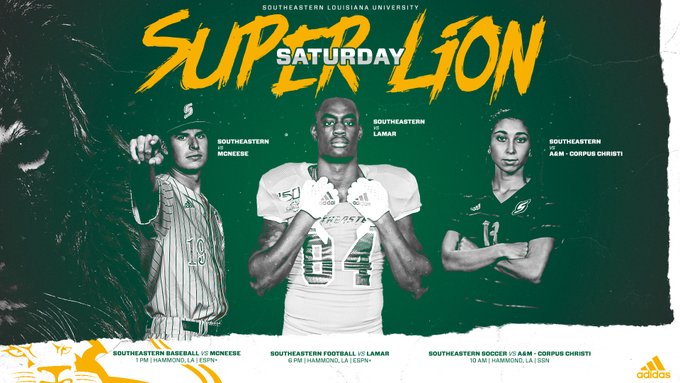 A week after getting embarrassed on its home field, the Lamar Cardinals bounced back last Saturday by taking advantage of turnovers. Aided by three first-half interceptions from their defense, the Cardinals built a big lead early and held on late for a 31-23 win over Northwestern State at Provost Umphrey Stadium in Beaumont. The Southeastern Louisiana Lions did not play last weekend – they are coming off a 56-45 loss to Incarnate Word at Benson Stadium in San Antonio on March 20.
Lamar Cardinals (2-3, 2-3 in Southland)
Anthony Ruffin, Steven Jones and Caimyn Layne each picked off passes in the win over Northwestern State. Quarterback Jalen Dummett and the Cardinals' offense did not let those opportunities go to waste either – Dummett is the Cardinals' best performer on an offense that completely controls time of possession. Running back Chaz Ward has been a workhorse for the Cardinals this season – he has 88 carries for 264 yards and two touchdowns. Senior Kirkland Banks leads the receiving corps with 11 receptions for 147 yards.
Southeastern Louisiana Lions (2-2, 2-2 in Southland)
Southeastern Louisiana could not overcome 28 unanswered UIW points in the 56-45 loss to Incarnate Word. The Lions scored the game's final 22 points and finished with 551 total yards, but it was not enough to avoid their third straight loss to UIW. Southeastern Louisiana quarterback Cole Kelley completed 38 of 60 passes for 431 yards, three touchdowns and one interception. Kelley's top targets were Marcus Cooper (nine catches, 60 yards) and Javon Conner (8 catches, 107 yards). Alex Ramos led the Lion defense with 12 tackles and a sack.
Fearless Prediction: Lamar appears to be ahead of schedule – many, including myself, did not think they would win a game this spring. They have one of the youngest rosters in college football with 51 freshmen – head coach Blane Morgan and staff put together the No.13th ranked recruiting class in FCS this February. A winning season in the fall is not far-fetched. The Southeastern Louisiana Lions are likely eliminated from postseason play this spring – barring some major upsets and shakeups in the Southland standings. Lions head coach Frank Scelfo will have his team ready to play this Saturday as they look forward to being a Southland contender this fall. Southeastern Louisiana 40 Lamar 21
Rob Butler is a lifelong Texas A&M football fan – his family is full of A&M graduates. He graduated from Lamar University in Beaumont, Texas with two degrees – a BBA in Finance and an MBA. His hobbies include jogging and reading books pertaining to college football.