Last week, Nicholls asserted itself as the team to beat by cruising over Central Arkansas. Sam Houston State currently leads the conference at 3-0 and is looking to return to the playoffs after a one year absence. Houston Baptist could not continue its winning ways, falling to Incarnate Word. Southeastern Louisiana also lost to in state rival McNeese. The Southland continues to be the conference with more questions than answers and should be a fun ride the rest of the way.
BYE: Stephen F Austin
Conference Game of the Week:
McNeese State (3-3, 1-2) at Central Arkansas (3-2, 1-1)
Where: Estes Stadium, Conway, AR
When:Saturday October 12, 5:00pm
TV/Streaming: ESPN+ (subscription req'd)
McNeese State Cowboys
McNeese State thought they were on the way to the playoffs half way through the season last year after a 5-1 start. The wheels fell off and the Cowboys went 1-4 the rest of the way. This season has started off differently for the Cowboys with a 3-3 mark including losing their first two conference games. Before they let their season slip away, McNeese defeated Southeastern Louisiana last week to stay on the fringes of the race. They face mostly must wins from here on, so it seems like a bit of an uphill climb.
Key Player: QB Cody Orgeron has to be better the rest of the way than he has been moving forward. So far he is only completing 53% of his passes with 11 touchdowns and five interceptions while barely throwing for 200 yards a game. Outside of his poor completion percentage, Orgeron needs more games like he had last week against Southeastern Louisiana where he threw for 248 yards and three touchdowns. Which version of Orgeron shows up each week could dictate the Cowboys' results.
Central Arkansas Bears
Central Arkansas couldn't find the horsepower to beat Nicholls. The Bears trailed from the start and were down 20 at half time. They never got back into the game, losing by 20. They will need to put that loss behind them and move on from it. The Bears still have a shot at the playoffs but they cannot afford many more hiccups on the way there. In Conference play they still have yet to face Sam Houston or Southeastern Louisiana. This week they face McNeese in a near must win for both programs.
Key Player: Central Arkansas only runs for an average of 77 yards per game. To have success late in the year, that number will have to come up. RB Carlos Blackmon is the team's lead back. Blackmon showed big sparks in the Bears game against Hawaii where he ran for 147 yards. Blackmon did not have a good game against Nicholls, running for only 42 yards, and it showed on the scoreboard. Blackmon will need to find more traction to help the Bears control more of the clock. Running the ball will be very important come playoff time
Fearless Prediction: Central Arkansas is back at home and is the better team .They should pick up the win here. Central Arkansas 30, McNeese 17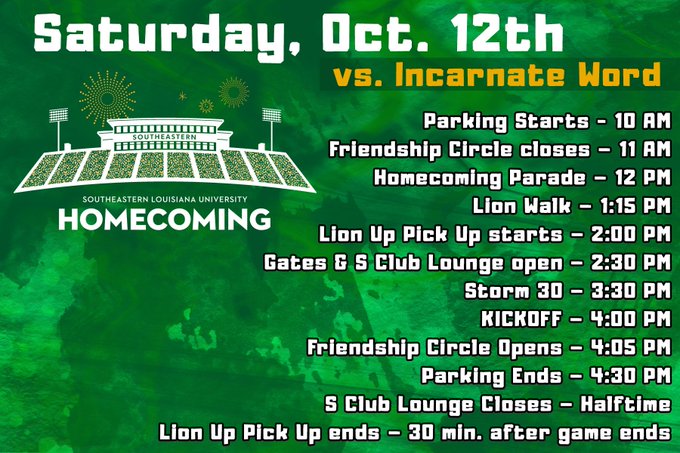 Fearless predictions for the rest of the slate
Lamar (3-3, 1-2) at Sam Houston State (4-2, 3-0), Saturday October 12th, 3:00 PM, Bowers Stadium, Huntsville, TX, ESPN+ (subscription req'd)
Sam Houston State looks to be rolling and should get by a Lamar team that has struggled this year. Sam Houston State 34, Lamar 20
Northwestern State (0-5, 0-2) at Nicholls (3-2, 2-0), Saturday October 12th, 4:00 PM, Guidry Stadium, Thibodeaux, LA, CST, ESPN+ (subscription req'd)
I will be surprised if this game is in doubt even halfway through the first quarter. Nicholls 50, Northwestern State 10
Incarnate Word (3-2, 2-1) at Southeastern Louisiana (3-2, 2-1), Saturday October 12th, 5:00 PM, Strawberry Stadium, Hammond, LA, ESPN+ (subscription req'd)
Incarnate Word needs this win to stay in the race while Southeastern Louisiana will be looking to bounce back from its first FCS loss of the year. Take the Lions in a close game. Southeastern Louisiana 24, Incarnate Word 21
Houston Baptist (4-2) at Abilene Christian (2-4) Saturday October 12th, 7:00 PM, Wildcat Stadium, Abilene, TX, ESPN College Extra, ESPN3 (subscription req'd)
Abilene Christian was hoping this would be the year they took a step forward. But its Houston Baptist who has been the surprise team. The Huskies will pick up a road win this week. Houston Baptist 37, Abilene Christian 31
Jamie is a proud 2002 graduate of James Madison University. He's witnessed the growth of the program from no one in the stands in 1998, to the hiring of Mickey Matthews, to the 2004 National Championship, to the 2008 team, to the struggles in the early 2010s, and finally the rebuild under Mike Houston. He also allegedly really enjoys Washington, DC-based Stanley Cup winners.
Reach him at: