College Sports Journal Missouri Valley Football Conference Game Previews: Week of 10/12/2019
The MVFC has two Top 25 clashes again this week with the biggest being Northern Iowa visiting North Dakota State. The other is Youngstown State hosting South Dakota State. Counting two games last weekend here have been 175 games in which two MVFC teams ranked in the top 25 played one another. Of those 175 games, 45 times the meeting involved teams that were both ranked in the Top 10 at the same time. Ten meetings have occurred in the playoffs. The home team is 102-72, while the higher-ranked team is 110-65.
North Dakota State is the lone undefeated team left in the MVFC after its opponent this week in UNI defeated Youngstown State last week. NDSU is just one of five undefeated teams in all of FCS with Villanova, Dartmouth, Princeton, and Yale being the other teams.
The NDSU-UNI series is tied at 26-26 all-time but the Bison have won the last five contests. The last win for UNI actually came when the Panthers stopped the FCS best 33 straight wins for the Bison in Cedar Falls in 2014 and will look to stop NDSU again have a long winning streak of 26 (tied for the second most with James Madison in 2016-17).
Conference Game of the Week:
Northern Iowa (3-2, 1-0) at North Dakota Statet (5-0, 1-0)
Where: Gate City Bank Field at the Fargodome, Fargo, N.D.
When: Saturday October 12th, 1:00 PM CDT
TV/Streaming: NBC North Dakota/ESPN+ (subscription req'd)
Northern Iowa Panthers
For the third consecutive game, the Panthers face a ranked team. UNI lost at Weber State two weeks ago and defeated Youngstown State last week. UNI's other wins also came at home over Southern Utah and Idaho State and the other loss was o the road to the FBS Big 12's Iowa State. That totals that UNI is 3-0 at home and 0-2 on the road so far.
The UNI defense is statistically one the best in the FCS so far this year. UNI is ninth in total defense, 14th in scoring defense, sixth in sacks and 20th in first down defense. This was true last week as it allowed just 55 yards on 36 carries en route to a 21-14 victory over YSU. The Panthers recorded six sacks against the Penguins as well.
The offense is young including redshirt freshman QB Will McElvain and the offense has not put up as big numbers. The Panthers are averaging just 22.2 points per game this year.
Last year, the two teams played in an offensive explosion game with NDSU coming from trailing after three quarters but the Bison scored four unanswered touchdowns in the fourth quater to win 56-31 .
Key Player: QB Will McElvain will be key to the Panther pulling off the upset. McElvain has thrown for 1075 yards so far this season in five games with eight touchdowns and an interception. He has also rushed for 111 yards. The key for the Panther offense will be to try to keep the ball and time of possession to keep the game close.
North Dakota State Bison
NDSU is playing its fourth straight ranked opponent in hosting UNI for its homecoming this week. NDSU last week may have had its best game of the year in its 37-3 win at Illinois State. The Bison outgained the Redbirds by a 482-200 margin in total yards and scored on its first four possessions in the route over the then Top 10 ranked Redbirds.
Like UNI, NDSU has a redshirt freshman QB in Trey Lance leading the offense. He is the FCS leader in passing efficiency with a 204.7 rating through five starts. Lance is 64 of 87 passing for 887 yards, 12 touchdowns, zero interceptions and ranks second in FCS with a 73.6 completion percentage and has yet to throw an interception.
The NDSU defense is also producing at a high level. The Bison are fifth in the FCS in total defense and third in scoring defense. NDSU has only allowed two of its five opponents to score more than 10 points in a game.
NDSU is playing UNI for the third time during homecoming with both prior times resulting in an NDSU victory. NDSU has won eight straight homecoming contests with the last loss coming in 2010 against Western Illinois.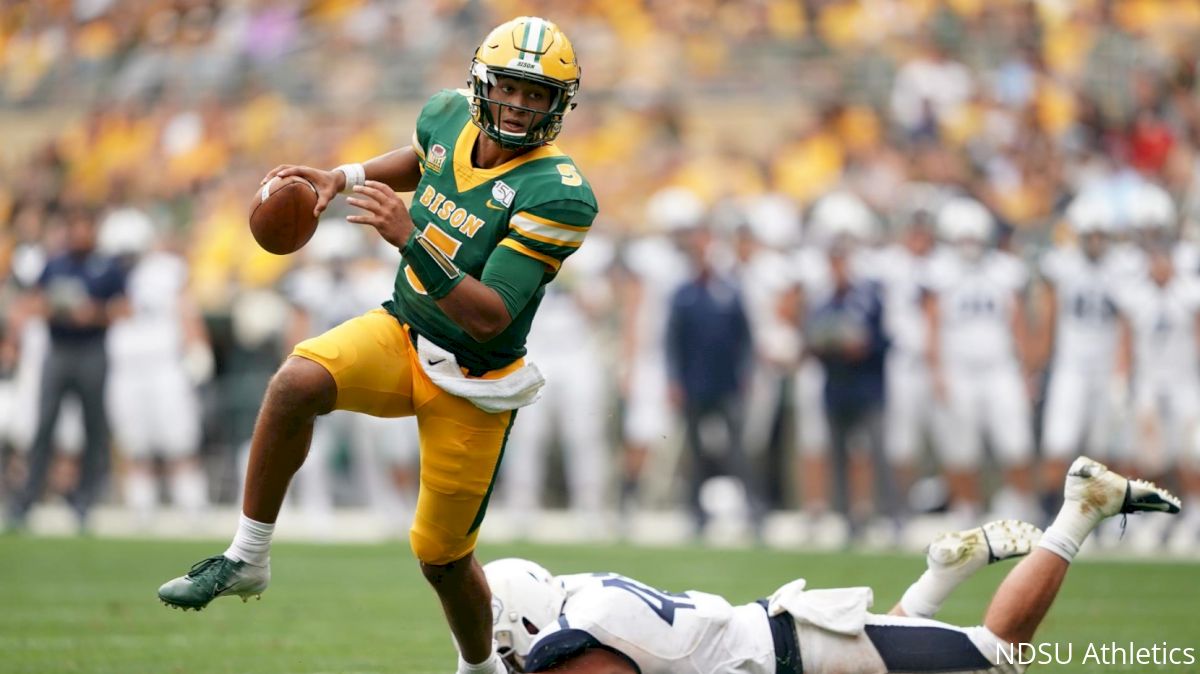 Key Player: QB Trey Lance has certainly not played like a freshman so far in his first season under center. He has found 16 different receivers and six of those for touchdowns. He also can use his legs well as he has 116 yards and two scores on the ground. He will be key as the UNI focus will be on him and he will need to overcome that to perform like he has so far this season.
Fearless Prediction: Getting turnovers will be key for Northern Iowa to pull off the upset in Fargo. The Panthers will also need to get more production out of its offense. This does not seem likely and NDSU will continue its current winning streak and will hold the top two FCS winning streaks all-time after this game. NDSU 38 UNI 24
Other Fearless Predictions
Western Illinois at Indiana State | Terre Haute, Ind. • 1 p.m. ET [ESPN+ (subscription req'd]
Indiana State was very lackluster in its road loss last week to South Dakota. That will turnaround this week against the winless Leathernecks ISUB 31 WIU 20

South Dakota at Missouri State | Springfield, Mo. • 2 p.m. CT [ESPN3 (subscription req'd]
The Coyotes are definitely improving as the season is going on and showed in its shutout win over Indiana State last week. USD goes on the road and gets is second win. USD 38 MSU 21

South Dakota State at Youngstown State | Youngstown, Ohio • 6 p.m. ET [MyTV/ESPN+ (subscription req'd]
In the second game involving Top 25 teams, this one could come down to the wire. Youngstown State wants to show last week was a fluke and gets it done this week with a last minute win. YSU 27 SDSU 24

Illinois State at Southern Illinois | Carbondale, Ill. • 6 p.m. CT [ESPN3 (subscription req'd]
Illinois State was embarrased last week at home and going on the road to in-state rival SIU might be just what it needs. The Redbirds right the ship and get the road win. ISUR 33 SIU 26
Originally from LaMoure, North Dakota, Kent is a 1996 graduate of North Dakota State University. His prior writing experience is over 15 years having previously worked with D2football.com, I-AA.org, and College Sporting News before coming to College Sports Journal in 2016. His main focus is college football is the Missouri Valley Football Conference within the Division I FCS. And in 2017, he began also to look at the FBS Group of Five conferences of the American Athletic, Conference USA, Mid-American, Mountain West, and Sun Belt.
Reach him at this email or click below: