McNeese State and Nicholls are the only two Southland schools that have already played spring football games, winning both. This weekend the Southland Conference opens with important conference games.
McNeese opened the season with a double-overtime, 40-37, win on the road against Tarleton. UIW head coach Eric Morris has been at the helm of the Cardinals for the last two seasons. In his first season (2018), the Cardinals won six games (tying a program record for single season wins), securing a share of the Southland Conference Championship and the program's first berth in the FCS Playoffs. During the 2019 season, UIW won five games, including two over top-25 ranked opponents. The 11 wins under Morris mark the best two-year stretch in UIW's 11-year history.
UIW Cardinals Preview
Quarterback Jon Copeland – the 2018 Southland Freshman of the Year – entered the transfer portal last December. Expect to see freshman Cameron Ward or sophomore Kevin Yeager under center. Running back Kevin Brown (720 yards in 2019) returns, along with a solid receiving group. Sophomore C.J. Hardy (411 yards in 2019) is expected to contribute. Redshirt junior Tre Wolf, formerly of UTEP, is expected to make an impact as well. Defensively, you do not have to look any further than defensive end for Incarnate Word's strengths on that side of the ball. Junior Chance Main, formerly of Independence Community College and Last Chance U, led the team in tackles for loss in 2019 and should anchor the defensive front. Third-Team All-Conference junior Kelechi Anyalebechi will be a utility player at linebacker and defensive end after leading the team in sacks in 2019.
McNeese State Cowboys Preview
Quarterback Cody Orgeron and kicker Jacob Abel earned Southland Player of the Week honors this past Monday. Orgeron accounted for all five of the Cowboys' touchdowns in a thrilling 40-37 overtime victory to pick up Offensive Player of the Week honors. Abel secured special teams honors after he connected on all four extra-point tries and both field goal attempts in his McNeese debut. The Cowboy secondary struggled against the Tarleton passing attack, and now it will be tested against a good-looking receiving corps. Earlier last week head coach Frank Wilson announced the hiring of veteran coach Willie Mack Garza, who will join the defensive side of the ball and coach the safeties.
Fearless Prediction: QB Cody Orgeron ran for two touchdowns and threw for three more in the season opener, and he led the team back with a huge fourth-quarter rally in the double overtime win over Tarleton State. Frank Wilson – the former UTSA head man – has a solid team in place with a defense that clamped down when it had to. McNeese did not turn the ball over either but there were 11 penalties – it took entirely too long to get things rolling. That should not be an issue this week.
McNeese State 34 Incarnate Word 30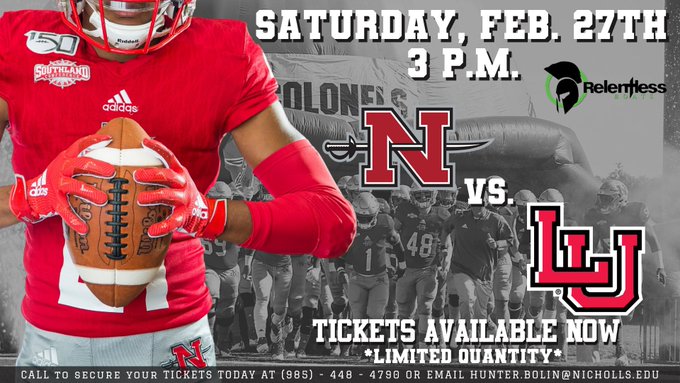 While Nicholls got a game in last week with an 87-3 victory over Division II Lincoln University of Missouri, Lamar was not as lucky after its season opener, an SLC game against Northwestern State, was postponed because of icy conditions in Beaumont, Texas. The Colonels, who are 5-6 all-time against the Cardinals and have won four in a row in the series, will look to use that win over Lincoln and the game experience that came with it as an advantage against Lamar.
Lamar Cardinals Preview
Blane Morgan, a Texas native and former QB coach at San Diego State and former Air Force quarterback and offensive coordinator, will be making his head coaching debut for the Cardinals. The Cardinals feature an extremely young roster and chose Morgan to rebuild the program. Morgan has plenty of experience running an option offense, but it is unclear exactly what Lamar will look like on offense. Running back Myles Wanza has entered the transfer portal, along with All-Southland defensive back Michael Lawson. One player to watch is tight end Jeremy Davis – he transferred to Lamar from Missouri Southern and he has been impressive in spring camp. Look for JUCO transfer Jalen Dummett to get the start at quarterback – he is considered a dual-threat QB that can hurt opposing defenses with his legs and his arm. Kicker Bailey Giffen was second team All-Southland Conference in 2019.
Nicholls State Colonels Preview
Quarterback Lindsey Scott Jr. earned Southland Conference honorable mention honors for his performance in his Colonel debut, completing 12 of 14 passes for 153 yards and three total touchdowns. Sophomore linebacker Dellary Oubre led the Nicholls defense with a team-high six tackles and added a 35-yard fumble recovery for a touchdown. He was named the Southland Conference Defensive Player of the Week. Nicholls running back Julien Gums led the Colonels with 11 carries and 61 yards last week to go with a score. Nicholls struggled in special teams last week – the Colonels were 9-of-13 on extra points and had a snap go over the punter's head.
Fearless Prediction: Nicholls State University head coach Tim Rebowe leads a program which has won two straight SLC titles – the Colonels claimed nine wins for the second year in a row in 2019 and made their third consecutive appearance in the FCS playoffs. Nicholls racked up 462 yards of total offense and 11 different players scored touchdowns in the season opener last week. The Colonels will contend for the SLC crown this spring; Lamar has 40 true freshmen on its roster – this rebuild will take time.
Nicholls 38 Lamar 17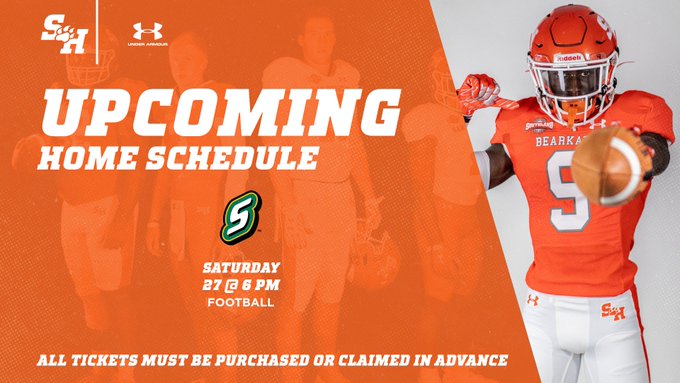 Southeastern Louisiana is coming off a 2019 season that saw the Lions earn a trip to the FCS playoffs and defeat No. 8 Villanova in a 45-44 first-round thriller. SLU finished 8-5 overall under Frank Scelfo, the Southland Conference Coach of the Year, and was ranked in both the final Stats Perform (No. 19) and AFCA Coaches (No. 18) national polls. Sam Houston was 7-5 in 2019, but all five of its losses came by a combined 22 points. The Bearkats seek a return to the FCS playoffs following seven straight NCAA trips from 2011-17 that began with two title game appearances. Head coach K.C. Keeler is excited about his offense this spring, and defensively his unit led the FCS in rush defense and the Southland in total defense in 2019.
Southeastern Louisiana Lions Preview
SLU featured one of the most prolific offices in the nation in 2019 and returns its top three wide receivers from last season's squad in CJ Turner, Austin Mitchell and Javon Conner, as well as a pair of senior starters on the offensive line in Rendon Miles-Character and Drew Jones. Senior Cole Kelley, who had 10 passing and 10 rushing touchdowns, in his debut season with the Lions, is also back at quarterback. The Lions return several key pieces on defense – All-American defensive back Ferlando Jordan, All-Southland Conference linebacker Alexis Ramos and defensive back Donniel Ward-Magee.
Sam Houston State Bearkats Preview
The Bearkats featured one of the most dominant defenses in all of FCS in 2019. Preseason All-American defensive tackle Trace Mascorro leads the way for SHSU. Defensive back Zyon McCollum was second team All-Southland Conference in 2019 as he ranked fifth in the SLC with 11 passes defended. Defensive lineman Joseph Wallace was preseason All-Southland Conference first team – during the 2019 season, he was part of a Bearkat defensive line that ranked No. 1 in FCS in rushing yards allowed per game for the year. Eric Schmid returns under center for the Bearkats to lead the Sam Houston offense. Schmid was Phil Steele preseason All-Southland Conference third team – he completed 58.8 % of his passes in 2019, throwing for 1,733 yards with 12 TDs and five interceptions.
Fearless Prediction: Southeastern is 6-13 all-time versus the Bearkats heading into the final meeting between the two teams as Southland Conference rivals. Sam Houston has won the last three meetings. Whoever wins this game could be declared the early favorite to win the SLC crown this spring. I feel like Sam Houston will win this game in a thriller.
Sam Houston 31 Southeastern Louisiana 30
Rob Butler is a lifelong Texas A&M football fan – his family is full of A&M graduates. He graduated from Lamar University in Beaumont, Texas with two degrees – a BBA in Finance and an MBA. His hobbies include jogging and reading books pertaining to college football.