The SWAC is still battling it out to see who can challenge the teams atop the East and West divisions. While it might look like Southern and Alcorn State have all but wrapped it up according to the eye test, there are still a couple of teams that could play spoiler so long as they keep winning and have games against the top teams later in the season.
Conference Game of the Week:
Jackson State (4-5, 3-1) at Alabama A&M (5-4, 2-2)
Where: Louis Crews Stadium, Normal, Alabama
When: Saturday, November 9th, 2:00 PM
TV/Streaming: No TV, Audio via Alabama A&M
Jackson State Tigers
This team was a long shot for me when I did my preseason predictions for the SWAC and it looks like they're coming in hot at just the right time. After rattling off 3 conference wins, including an overtime thriller against Arkansas-Pine Bluff, JSU is sitting in 2nd place in the SWAC East with only one loss. They're losing big and winning close, but that's not tallied in the overall win/loss column at the end of the day. And with Alcorn State being their final game of the season, if JSU can continue to win, we might see a winner take all scenario.
Key Player(s): The Jackson State defense hasn't been very good this season, but when they are, JSU usually comes out on top. They're not likely to hold teams under 27 points (even though they did against UAPB by a lot), but if they can keep teams in the mid-20s, that gives their offense a chance to win.
Alabama A&M Bulldogs
The Bulldogs are a pretty darn good team this year and have a chance to go well above .500. They are also a team that has yet to play Alcorn State, but with two losses already in conference it is not likely that they would be able to catch the Braves even if they beat them. This is a team with everything in front of them so long as they get some help from another team in conference. And after already winning the Magic City Classic in thrilling fashion this year, you know they are riding high.
Key Player: As QB Aqeel Glass goes, so go the Bulldogs. He's been able to keep them in all their games this year and winning a lot of one score games is the sign of a very good quarterback. IF his defense gives him a big lead though, it's all over.
Fearless Prediction: Jackson State has been hot as of late and even has some wins that one might consider surprising. That being said, I see a lot of their wins as fool's gold and having lost to a Division II opponent earlier this year, I'm skeptical of the Tigers. I think the Bulldogs have been more battle tested and have the more talented team. Expect a close game, but I see Alabama A&M keeping postseason hopes alive. Alabama A&M 35, Jackson State 31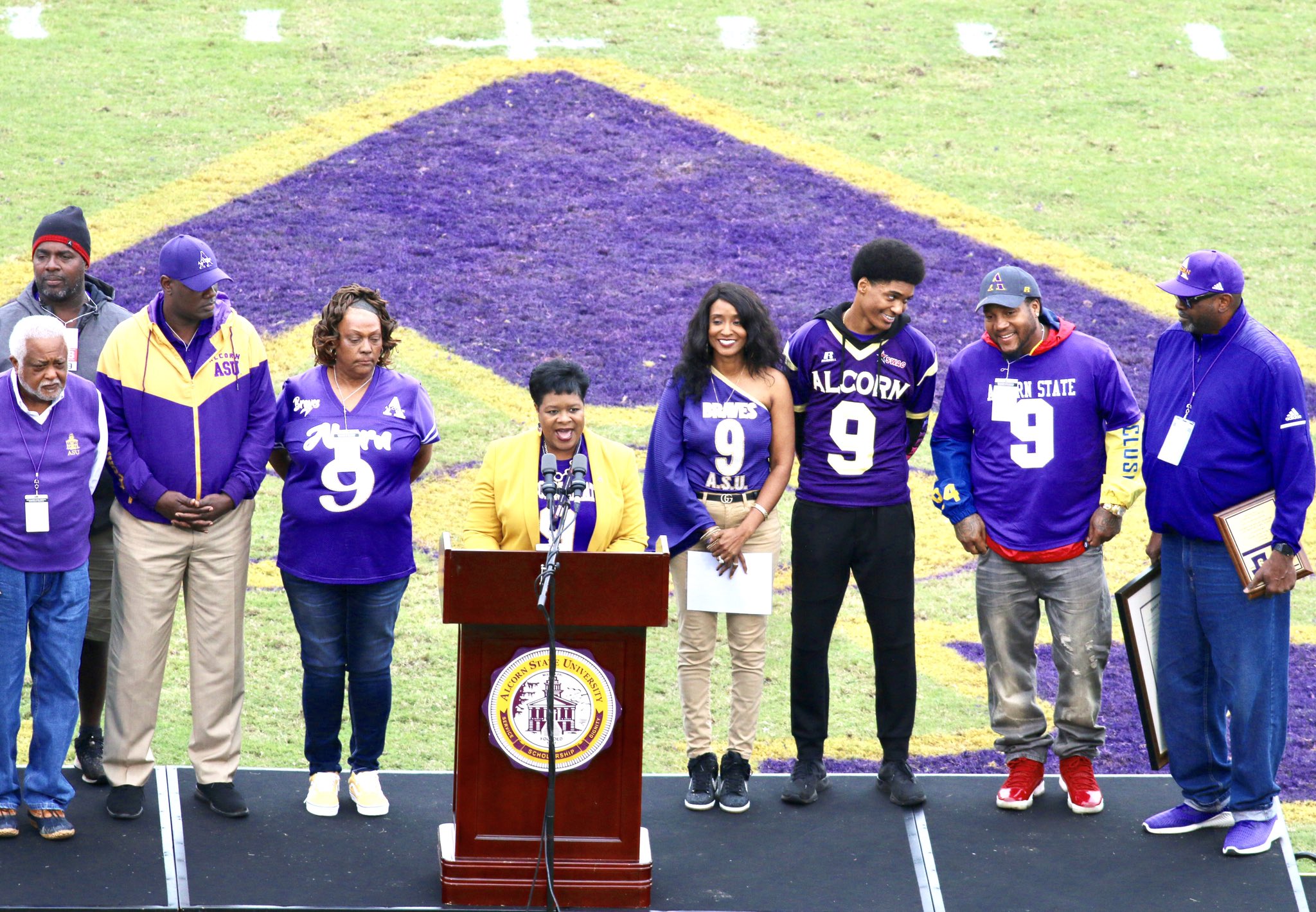 Fearless Predictions for the rest of the Slate:
Alabama State (4-4, 3-2) at Texas Southern (0-9, 0-5) Saturday, November 9th, 3:00 PM, BBVA Compass Stadium, Houston Texas, AT&T Sportsnet Southwest, Live Stream (cable subscription req'd)
Alabama State might not have much to play for but pride, and the same thing can be said of Texas Southern. And while Texas Southern has had a few close games this year, overall, they are very bad. Alabama State should win this running away. Alabama State 44, Texas Southern 21.
Alcorn State (6-2, 4-0) at Grambling State (4-4, 2-2) Saturday, November 9th, 3:00 PM, Eddie Robinson Stadium, Grambling, Louisiana, ESPN3 (cable subscription req'd)
Don't look now but the Grambling State Tigers are on a bit of a hot streak! After losing their first 4 games they are riding a 4 game winning streak and playing at home red hot. The problem is Alcorn State is coming to town and there are no signs of the Braves slowing down any time soon. If Grambling pulls off this upset, it could throw the entire SWAC into chaos. But I just don't see that happening. Alcorn State 38, Grambling State 28.
University of Arkansas-Pine Bluff (5-4, 2-3) at Prairie-View A&M (3-5, 2-3) Saturday, November 9th, 3:00 PM, Blackshear Stadium, Prairie-View, Texas, No TV, Audio via Stretch Internet
The Golden Lions are still the shock of the SWAC season winning 5 games but have cooled off as of late. The Panthers on the other hand need to win these last few games to salvage what has been a disappointing season for the most part. Expect PVAMU to get it done at home and give the crowd something to cheer about. Prairie-View A&M 37, University of Arkansas-Pine Bluff, 28
NAIA Virginia-Lynchburg (0-7) at Southern (5-4) Saturday, November 9th, 5:00p PM, Ace W. Mumford Stadium, Baton Rouge, Louisiana, No TV, 106.5 FM (KQXL)
The best thing Southern can do in this game is get a couple of first team reps in and get out with no injuries or suspensions. Starters should be out before halftime. Southern 66, Virginia-Lynchburg 3
Preston attended James Madison University where he majored in Vocal Performance. As a member of the Drumline and Marching Royal Dukes for 4 years, he's seen a lot of JMU football up close and personal and having grown up attending HBCU games, he has extensive knowledge of the history and pageantry that comes with attending a game in the MEAC and SWAC. When not talking college football or being musical, Preston is a fan of the game the world calls football, golf, and curling. (Curling? Curling!)