We went 11-0 in our picks or CAA teams last week. Most of that can be attributed to the drastic difference in talent between the teams playing. With several FBS opponents and then lower lever opponents, it was a smooth week in the CAA. The two big games lived up to their billing. As usual, before we look forward to this week, we will take a quick look back at last week.
James Madison travelled out west for a huge matchup with Weber State and came back with a 37-24 win that was 37-10 with six minutes left. Cole Johnson was efficient, and the defense dominated the Wildcat offense
In a marquee CAA match up it was a game of runs where Villanova stormed back to beat Richmond 34-27. The Wildcats took a 13-0 halftime lead. But the third quarter belonged to the Spiders with 24 points. After a field goal made it 27-13 Richmond, Villanova scored three touchdowns in the final five minutes to take the win.
Stony Brook hung with Oregon for a half before the Dukes stormed away in the second half.
Albany was never in their game against Syracuse. The Great Danes have really struggled since the spring.
Maine took a fight from Merrimack. The difference in the game was Rich Carr's 2 blocked PATs which both were returned for 2 points.
New Hampshire had a more difficult time with Lafayette than anticipated. The defense played well, but the offense sputtered a little bit.
Rhode Island continued its strong start with an easy win over Brown. Kasim Hill threw for 320 yards on just 13 completions.
William & Mary picked up a road win against Colgate. The Tribe defense continues to be aggressive turning over their opponents. Gage Herdman added two more interceptions to his pick six against Lafayette
Delaware was not as competitive as we thought they could have been against Rutgers. They'll look to bounce back during conference play.
Elon was blown out by Appalachian State as expected. Davis Cheek threw for 225 yards.
Towson welcomed FCS power North Dakota State and were pounded 35-7. The Tigers looked listless throughout the game
This week, there are another 5 CAA teams against FBS teams and one conference matchup. Albany, Delaware, James Madison, and Rhode Island take the week off.
Last Week: 11-0, Season: 28-2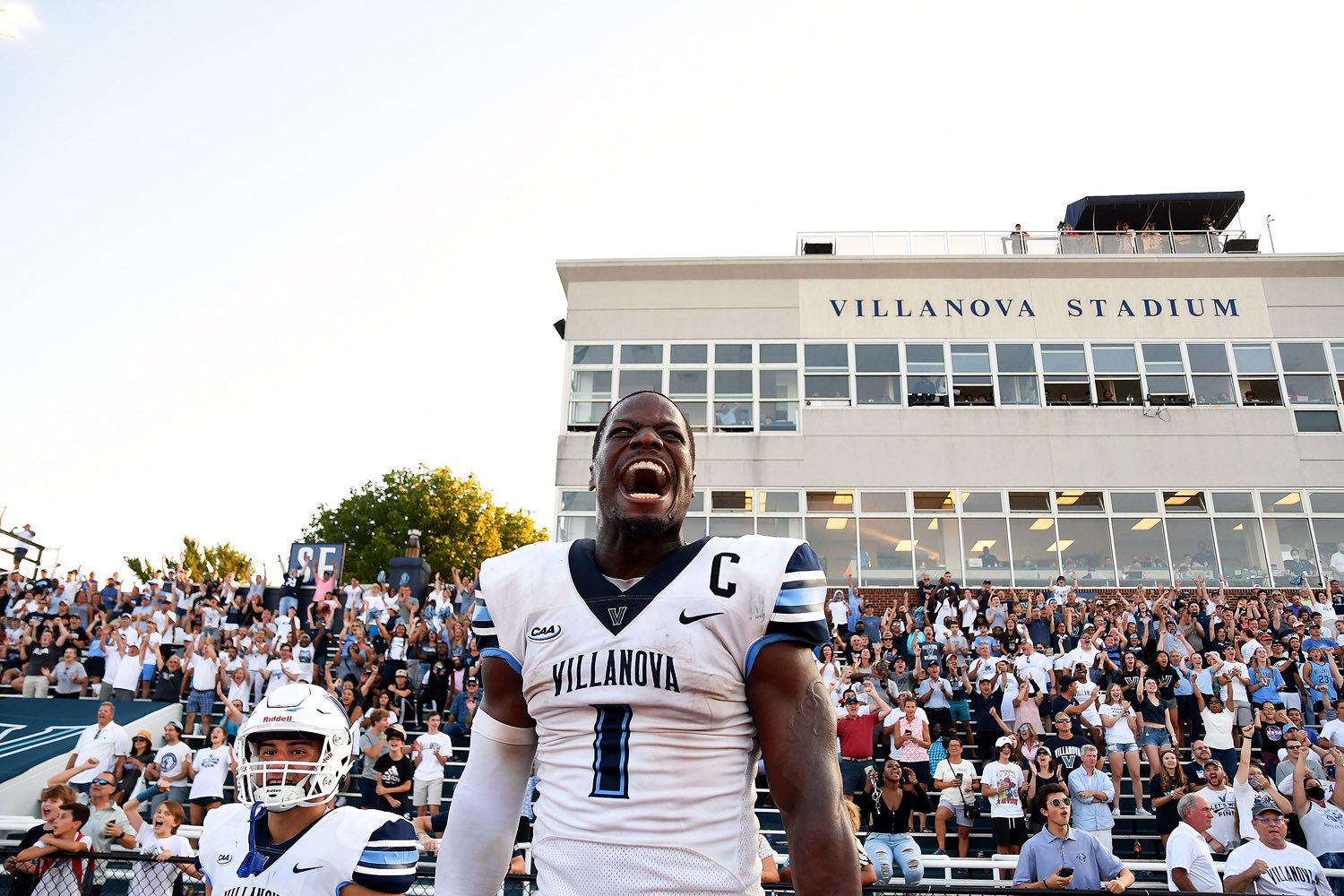 #11 Villanova at FBS #6 Penn State (Big 10) Saturday September 25 12:00pm B1G Network, Fox Sports Live
Villanova looked like they were about to fall to Richmond in their CAA opener at home last week before storming back with 21 points in the last five minutes. It was a step up in competition for the Wildcats who started the season against two Patriot League teams. Daniel Smith appears to have returned to form after an uneven spring. The Wildcat quarterback has thrown for just under 600 yards with eight touchdowns against only two interceptions. Smith has also found the end zone three times on the ground. A healthy Justin Covington has helped the offense as well. Covington is averaging over 100 yards per game on the ground, providing balance for a dangerous offense. On defense, the Wildcats are suffocating, especially against the run. They are only giving up 29 yards per game and 1.3 per carry. This Wildcat team is very balanced and can give other teams fits. This weekend won't be one of those, but they'll get a real test as they face a top 10 FBS opponent in Penn State. The goal will be to get experience and stay healthy and ready for the CAA grind.
Fearless Prediction: Penn State 41, Villanova 17
#21 New Hampshire at FBS Pittsburgh (ACC) Saturday September 25 12:00pm ESPN+/ACC Network
New Hampshire struggled with Lafayette more than they should have last week. The Wildcats played exception on defense, allowing only two touchdowns (the Lafayette touchdown was a kickoff return.) But the offense struggled to put the ball in the end zone. UNH is no stranger to close games. All three of their games so far have been one score games in the fourth quarter. To this point they have been able to pick up the victory each time. Bret Edwards has played admirably after being thrust into the starting quarterback role following the injury to Max Brosmer. Edwards is completing 67% of his passes and has thrown seven touchdowns and more importantly, zero interceptions. The two headed running back combo of Carlos Washington and Dylan Laube average nearly 120 yards on the ground. The lynchpin of the Wildcat team has been its defense. They have force 9 turnovers in three games led by DBs Pop Bush and Evan Horn who have two interceptions each. This week they'll test themselves against an FBS opponent before hosting CAA powerhouse James Madison. The Wildcats will be able to hang with Pitt for a while but will ultimately fall.
Fearless Prediction: Pittsburgh 37, New Hampshire 13
#24 Richmond at FBS Virginia Tech (ACC) Saturday September 25 12:00pm ACC Network, WatchESPN
Richmond looked like they were on their way to a win over Villanova last week when they held a 27-31 lead after and explosive 24 point third quarter. But the Spiders couldn't hold on and dropped their CAA opener. They may look at that missed opportunity at the end of the season and wonder what could have been if they miss the playoffs. Despite having a talented defense, the Spiders are giving up 350 yards per game. IN the CAA, that wont be good enough on most days. Joe Mancuso is coming into his own as a quarterback. He has 668 yards and six touchdowns. The most dangerous weapon is Aaron Dykes who can beat you in the run game, pass game and return game. He sparked the Spiders rally last week with a 98 yard return for touchdown of the second half kickoff. Dykes already has five touchdowns this season. The Spiders defense hasn't gotten into the backfield as much as expected, which explains the higher yardage total. This week they travel to Blacksburg to take on an in state FBS foe. This one wont go well for the Spiders, so they'll just need to get ready for CAA play
Fearless Prediction: Virginia Tech 52, Richmond 14
William & Mary at Elon Saturday September 25 2:00pm FloSports
This is the lone conference matchup on the CAA docket this week. William & Mary comes in on a two game winning streak against FCS teams, both from the Patriot league. The Tribe is really struggling on offense. They average 103 passing yards per game. The run game is better at 167 yards per game, but they are not finding the end zone frequently with only four touchdowns in three games on offense. On the flip side, the defense has taken the ball away via interception five times, two of which they returned for touchdowns in their win against Lafayette. Gage Herdman has three of the five picks. The secondary is helped by a front seven who has spent a lot of time in the opposing backfield. The Tribe already have 22 tackles for loss and 13 sacks.
With injuries and poor play, Elon has really struggled in recent times. Davis Cheek missed the entire spring but has returned this fall. But the Phoenix haven't been able to get any traction in their 1-2 start. The one win was by one point over Campbell, a team that most of the rest of the CAA would beat with ease. The Phoenix are getting gashed in the run game allowing 193 yards per game. On the flip side, they only run for 97 yards per game. Cheek has taken every snap under center which is a good thing based on his injury history. He has thrown for 806 yards with four touchdowns. The Phoenix will need to find some momentum to stay out of the bottom of the CAA
This game looks to be a close low scoring affair. I don't think either team gets into the 20s on the scoreboard. William & Mary should be able to grind this one out on the ground against a bad run defense.
Fearless Prediction: William & Mary 19, Elon 16
Maine at Northern Illinois (MAC) Saturday September 25 2:30pm ESPN3
If it wasn't for Rich Carr's two blocked PATs that both went back for two points, Maine would be 0-3. With Joe Fagnano out with an injury, things don't look good for the Black Bears. Its one thing to lose to Delaware and James Madison. But to nearly lose to NEC Merrimack, its time to sound the alarms. The Black Bears are staring a tough season in the face. The lone bright spot has been receiver Andre Miller who has 110 yards and a touchdown. That doesn't seem like much, but when you look at the full team stats, it is the only name that sticks out. Defensively, Maine is getting no pressure on the opponent with just six tackles for loss and a single sack. This week, Maine plays their first of two FBS games against Northern Illinois. While Northern Illinois doesn't look that good, they'll get by Maine without issue.
Fearless Prediction: Northern Illinois 40, Maine 10
Towson at FBS San Diego State (Mountain West) Saturday September 25 3:30pm Stadium
Towson is another team struggling early. Its part of the CAA have and have not theme where the top six teams are really good and the bottom six are really bad. Towson is in that bottom group. The Tigers offense is only averaging 17 points per game after scoring only 7 last week in a very lethargic showing against North Dakota State. Chris Ferguson and Jeff Miller have split the quarterback duties but their 3 to 5 touchdown to interception ration will not get it done. Towson does have balance in their offense, but they aren't putting together strong drives consistently. The defense has been ok outside of getting gashed on the ground by North Dakota State last week. This week they travel out west to face FBS San Diego State, a team looking for a 4-0 start. It wont go well for the Tigers.
Fearless Prediction: San Diego State 55, Towson 7
Fordham (Patriot) at Stony Brook Saturday September 25 3:30pm FloSports
Stony Brook have exceeded their expectations early despite the 1-2 record they currently own. Against New Hampshire the Seawolves were within a couple plays of pulling the upset. They handily beat Colgate and hung with a top 5 FBS team for a half. This Seawolves team looks like many previous iterations. They play solid defense but inconsistent offense. Quarterback Tyquell Fields has struggled, and it has shown on offense. He completes less than half his passes and has only two touchdowns against five interceptions. The offensive bright spot is running by Ty'Son Lawson who has 229 yards and three touchdowns so far. Stony Brook's defense is always aggressive under Chuck Priore. They have 20 tackles for loss and seven sacks so far with three fumble recoveries and two interceptions. The defense should keep them relevant in most games. This week is a game that Stony Brook should win against Fordham. The Rams are 0-3 but they have played two FBS teams and battled ranked Monmouth to just a three point loss. This should be a close game that goes either way. Ill give the slight nod to the home team.
Fearless Prediction: Stony Brook 23, Fordham 21
Jamie is a proud 2002 graduate of James Madison University. He's witnessed the growth of the program from no one in the stands in 1998, to the hiring of Mickey Matthews, to the 2004 National Championship, to the 2008 team, to the struggles in the early 2010s, and finally the rebuild under Mike Houston. He also allegedly really enjoys Washington, DC-based Stanley Cup winners.
Reach him at: