CSJ 2018 Fiesta Bowl Preview: UCF vs. LSU, How to Watch and Fearless Predictions
December 30, 2018
UCF vs. LSU (Fiesta Bowl)
When: Tuesday, January 1, 1:00 PM EST
Where: State Farm Stadium, Glendale, Ariz.
TV/Streaming: ESPN, WatchESPN (subscription req'd)
UCF Knights (1st AAC East, 12-0, 8-0)
Undefeated UCF is looking to beat another SEC team in a New Year's Six game. This season, the Knights play LSU in the Fiesta Bowl. Last year, the Knights defeated Auburn to also go undefeated.
Overall, UCF has won 25 straight games–the fourth longest such streak since 2000 (Miami, 34 – 2000-03; Florida State, 29 – 2012-14; Alabama, 26 – 2015-16).
The Knights are quite a different team this year as head coach Josh Heupel is new. He replaced Scott Frost, who went to his alma mater of Nebraska. And at least for this game, UCF will be without QB McKenzie Milton, who's recovering from a broken leg suffered in UCF's last regular season game against rival South Florida.
UCF still was able to win the AAC Championship without Milton over Memphis, who was the biggest opposition this year to the Knights. The two teams met twice and UCF had to come from behind in each game to win.
Freshman Darriel Mack Jr. has stepped in quite capably for Milton throwing for 522 yards and running for 360 more this season and he looked dominant in the second half of the AAC title game against Memphis.
UCF was ranked #8 in the final College Football Playoff rankings and like last year, missed out in final four. Last year, UCF made claim to a national title as it was the only undefeated team in all of FBS.
This year with Alabama playing Clemson, there will be an undefeated champion in the College Football Playoff so this claim likely can not be made by UCF but could be one of two undefeated teams if it beats LSU and also open up discussion further to be included in the future.
Overall, the Knight offense has been just as productive as last year. This game, however, might lean on the running game with Mack as the Knight signal caller. RB Greg McCrae (1,101 yards, 9 TDs) averaged 9.0 yards per carry for the Knights and will likely be the head running back to charge the Knight offense.
The Knight defense regressed this season from last year, but it was still a solid group. Their biggest struggle points came against the run as opponents averaged nearly 230 yards per game on 47 attempts this season. The Knights did do a good job of stopping opponents scoring opportunities however, giving up just 3.55 points per scoring chance.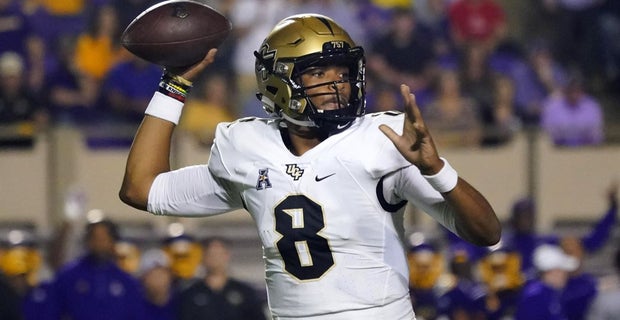 Key Player: QB Darriel Mack Jr. has made two starts in Milton's absence so he has some experience but going against a powerful LSU defense will be key for him to make the right calls. Mack improved considerably his second start, his showing much more noteworthy given the level of competition. That one came against Memphis on Dec. 1 in the conference championship game when he ran for 59 yards and four touchdowns and threw for 348 in leading the Knights to a 56-41 victory.
Fantasy Bonus Baby: RB Greg McCrae rushed for 1,101 yards and nine scores this year. He averaged 9.0 yards per carry for the Knights, and he will test the middle of LSU's defense with his speed and should be a great play from a fantasy sense as the Knights will likely run the ball more than pass without Milton.
LSU Tigers (T-2nd SEC West, 9-3, 5-3)
LSU limped down the stretch, going 2-2 in the month of November (including an epic seven-overtime loss at Texas A&M) to finish the regular season 9-3 for the second straight year. The other two losses for the Tigers were to undefeated Alabama and Florida.
While LSU did lose to those three Top 25 ranked teams, it also won four other contests against such teams. The Tigers defeated Miami (FL), Mississippi State, Georgia, and Auburn.
This LSU team does not show any flash but its strength is on both of its lines and the defense overall.
Offensively, the Tigers like to run the ball. The Knights allowed 196 yards or more on the ground in each of the last five games, and gave up 220 or more seven times on the season. The Tigers will look to exploit this stat and also keep the explosive UCF offense on the sidelines.
LSU will be without a handful of players due to skipping the game for the NFL draft and a few suspensions. But head coach Ed Orgeron claims his team will be "highly motivated" for this showdown.
LSU is making its first appearance in the Fiesta Bowl and enters the contest with a 9-3 record. This will also mark the 50th bowl game in school history for LSU with the Tigers sporting a 25-23-1 all-time record in those appearances.
Key Player: QB Joe Burrow is one win away from joining Zach Mettenberger (10-3 in 2012) as the only quarterbacks in school history to win 10 games in their first season as a starter. Burrow transferred to LSU from Ohio State. He finished the regular season running for 375 yards and seven scores and throwing for 2,500 yards and 12 touchdown with four picks. He is the ultimate game manager type signal caller and will be key for the Tigers to hold onto the ball and keep time of possession.
Fantasy Bonus Baby: RB Nick Brossette ranks second in the SEC in rushing touchdowns with 14 and he's eighth in rushing yards with 922 (76.8 per game). Against a UCF team that has been prone to giving up the rush game, look for Brossette to have a huge game from a fantasy area in this game.
Fearless Predictions:
Jamie: Its too bad McKenzie Milton got hurt before this game. They would have given LSU a tough game. The Tigers will be missing a couple players who are preserving their bodies for the draft. LSU 30, Central Florida 27
Kent: All the talent and being without Milton for UCF points to an LSU victory. However, I think the Knights will find away to win this one and prove that they really should have been included in the College Football Playoff. UCF 31, LSU 27
Chuck: Nothing would make me more thrilled to see UCF defend their national championship, but LSU will not sleep like Auburn did last year. LSU 44, UCF 24
Originally from LaMoure, North Dakota, Kent is a 1996 graduate of North Dakota State University. His prior writing experience is over 15 years having previously worked with D2football.com, I-AA.org, and College Sporting News before coming to College Sports Journal in 2016. His main focus is college football in the western half of the United States– the Big Sky Conference and Missouri Valley Football Conference within the Division I FCS. And in 2017, he began also to look at the FBS Group of Five conferences of the American Athletic, Conference USA, Mid-American, Mountain West, and Sun Belt.
Reach him at this email or click below: