Temple vs. Duke (Independence Bowl)
When: Thursday, December 27, 1:30 PM EST
Where: Independence Stadium, Shreveport, La.
TV/Streaming: ESPN, WatchESPN (subscription req'd)
Temple Owls (2nd, AAC East, 8-4, 7-1)
Temple recovered from a 2-3 start to finish its last seven games with a 6-1 mark. The only loss in that span came in a 52-40 game against UCF. The six wins included victories over Cincinnati, South Florida, and Houston.
With such a good finish, Coach Geoff Collins was hired away from Temple by Georgia Tech to replace the departing Paul Johnson. The Owls will be coached by Ed Foley, who is making his second appearance as the team's coach in a bowl game, which is the third such Group of Five versus a Power Five bowl match-up this year so far.
Foley also served as the interim coach in 2016 for the Military Bowl after that season's head coach Matt Rhule was announced to be the new head coach for Baylor. Following the Military Bowl, Foley was retained by Collins as Temple's tight ends coach. In 2018, Foley was promoted to assistant head coach of offense.
Foley previously served as the head football coach at Fordham from 2004 to 2005. Foley lost his other interim appearance 34-26 to Wake Forest in that Military Bowl two years ago.
Foley will not be the future head man after this game. Temple named Manny Diaz, the former Miami defensive coordinator, as its new head coach. He won't be at the Owls' bowl game, however, as his Miami team will play the same day in the Pinstripe Bowl against Wisconsin and Diaz wanted to finish out his obligation and coach the players in the bowl game.
The Temple offense lessened its reliability on a short passing attack and instead used the run game more in its later season upswing. The Temple defense is very disciplined against the pass game but has shown vulnerability to the run game. This will be the key to the game in stopping the Duke rushing attack.
Key Player: QB Frank Nutile is likely to get the nod over sophomore signal caller Anthony Russo, who injured his hand in the regular season finale at Connecticut. Nutile stared the first two games of the season–both losses to FCS Temple and the MAC's Buffalo–before being benched. Nutlile is a senior but threw for more interceptions (5) than touchdowns (4) this season so how well he controls the game will be key to this game.
Fantasy Bonus Baby: RB Ryquell Armstead has 210 carries for 1,098 yards and 13 touchdowns in 2018. Those stats were amassed in just 10 games too. He's been Temple's leading offensive attack in seven of those games too. He recorded 20 or more carries in seven games and broke 100 yards in five of them. His best performance came in that Houston game when he had 30 carries for 210 yards and six touchdowns. Look for him to have another big game in this one and be a great fantasy play against the suspect Duke run defense.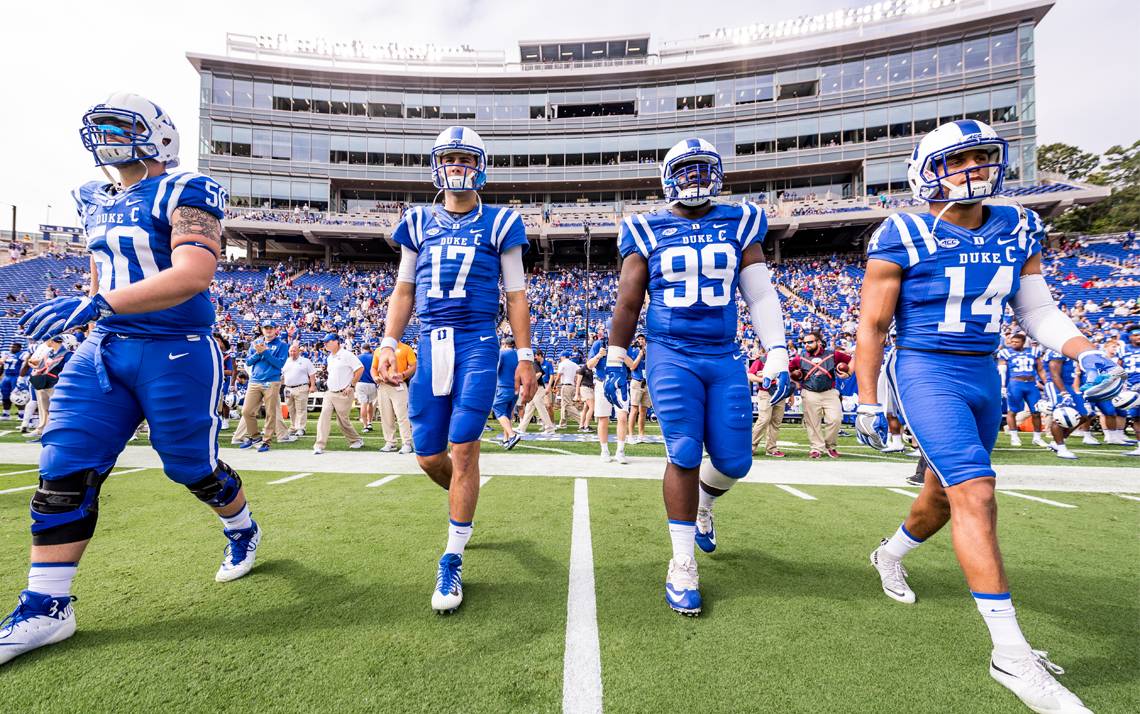 Duke Blue Devils (6th, ACC Coastal, 7-5, 3-5)
The 7-5 Devils come into this bowl after getting blasted in their final two games against Clemson and Wake Forest by a combined score of 94-13.
The Blue Devils got off to a hot 4-0 start that included a road victory at Big 10 West champion Northwestern. This is the opposite of their opponent as mentioned above.
While Duke and Temple have met up 22 times on the basketball court, the Independence Bowl will be their first-ever meeting on the gridiron.
The Duke offense has been a solid mix of pass an run to get to its seven win total. The defense has performed well against the pass but much like Temple, has shown to be vulnerable against the rushing game. That will be a key to the game for both teams–which ever can stop the running game the best likely will be the winner in this game.
The Blue Devils are looking for a third-straight bowl win. Duke has never won three-straight bowl games in school history.
Key Player: RB Deon Jackson topped the Blue Devils with 806 rushing yards and seven touchdowns. His elusiveness allows him to shake off would-be tacklers in the open field. The sophomore is also also a threat out of the backfield. How he performs against the stout rushing game Temple defense will go a long way in determining this game's outcome.
Fantasy Bonus Baby: QB Daniel Jones battled back from a broken collarbone suffered early in the season to put up solid numbers of 2,251 passing yards and 17 touchdowns with just seven interceptions. He added 325 yards and two more scores on the ground. The redshirt junior has another year of eligibility remaining, but many speculate he will enter the NFL draft after this game but should give one more fantasy rich college output before he does.
Fearless Prediction:
Jamie: Temple salvaged its season after losing to and FCS opponent early in the year. Duke started hot but finished inconsistently. This game may come down to the last play. Duke 21, Temple 20
Kent: Temple has been preparing much better this time under interim head coach Collins and are the team playing better coming into this game than its opponent of the Blue Devils. I like the Owls to take this one and give a win to Coach Collins. Temple 23, Duke 17
Chuck: Interim coach? Injured regular-starting QB? The Owls might be fired up, but Duke should take advantage of the instability, even though they ended the season blown out by two of the better teams of the ACC. Duke 28, Temple 13
Originally from LaMoure, North Dakota, Kent is a 1996 graduate of North Dakota State University. His prior writing experience is over 15 years having previously worked with D2football.com, I-AA.org, and College Sporting News before coming to College Sports Journal in 2016. His main focus is college football is the Missouri Valley Football Conference within the Division I FCS. And in 2017, he began also to look at the FBS Group of Five conferences of the American Athletic, Conference USA, Mid-American, Mountain West, and Sun Belt.
Reach him at this email or click below: