Boise State vs. Boston College (First Responder Bowl)
When: Wednesday, December 26, 1:30 PM EST
Where: Cotton Bowl, Dallas, Texas
TV/Streaming: ESPN, WatchESPN (subscription req'd)
Boise State Broncos (T-1st, Mountain West Mountain, 10-3, 7-1)
Boise State was on its way to a Mountain West championship with seven straight wins and home field advantage in the Mountain West title game against Fresno State, but a stunning loss to the Bulldogs spoiled the title run for the Broncos.
But Boise State does get a chance to close its season out in style with a game with the ACC's Boston College. This will be another Group of Five versus a Power Five match-up. Fresno State earlier won the Las Vegas Bowl over the Pac-12's Arizona State in showing how good the Mountain West is.
The Boise State defense is surprisingly the better half of the team this year. Yet the offensive side was as efficient and effective as it finished third in FBS on third downs, converting 53% of the time as it held on to the ball for well over 33 minutes per game.
The Broncos defense is very good against the run. Boise State defense only gave up more than 180 yards once all year, and that came against an Air Force team that employees the option game so it nearly runs every play.
Boston College is not quite the same as Air Force but likes to run the ball first. In fact, every Eagle win has resulted in the team rushing for over 200 yards. So with this game , something will have to give.
The Bronco defense has recovered 17 turnovers on the season–good enough for ninth in the nation in turnover margin. Late in the year, Boston College turned it over six times in the final two games. This state will be key in the game for this game's final result.
Key Player: LB Curtis Weaver is one of the nation's top outside linebackers this season. He has 43 tackles on the season with 9.5 sacks and 15 tackles for loss. He's not a pass rushing specialist, but he's a tough part of the rotation that's dominant at getting after the quarterback. He and the defense will be looking to force more turnovers in this game and will be a key reason for the defensive success against the Eagles.
Fantasy Bonus Baby: QB Brett Rypien has 13,578 career passing yards and has been a brilliant four-year starter for the Broncos. He is just 41 yards away from finishing 11th all-time college football history. He struggled in the Mountain West Championship loss to Fresno State with his worst game of the year, but he's been able to hit the 300-yard mark seven times with 30 touchdowns and just seven picks. Look for him to bounce back and have a terrific last collegiate game and to put up some great numbers in this one.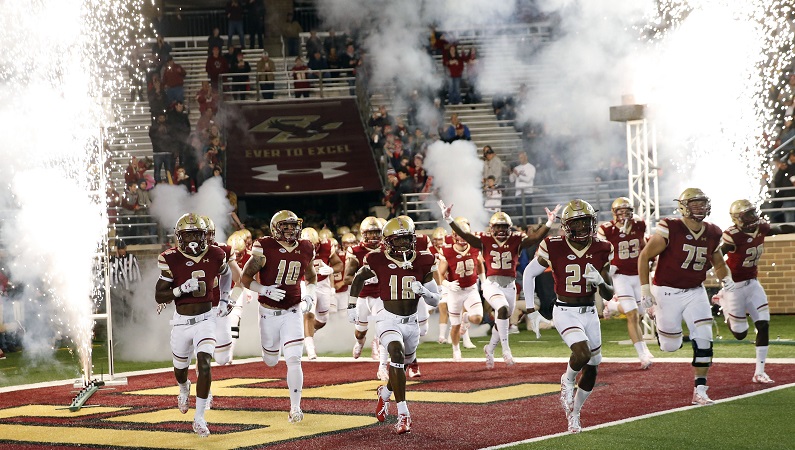 Boston College Eagles (4th, ACC Atlantic, 7-5, 4-4)
Under coach Steve Addazio, the Eagles gained a reputation for hard-nosed, physical defense, but were challenged to find consistent offensive production.
Boston College comes in here at 7-5 on the season. The Eagles have taken out UMass, Holy Cross, Wake, Temple, Louisville, Miami FL and Virginia Tech but fallen to Purdue, NC State, Clemson, Florida State and Syracuse.
The Eagles skids into this one with a three-game losing streak, which oddly enough follows a three-game winning streak. Aside from Purdue, Clemson and Syracuse, the Eagles have been competitive against everyone they've faced, even in their other pair of defeats.
The Eagles are a run first offense and play a good run defense. The pass offense and pass defense are where BC struggles. This area will be a key to this one in stopping one of the best quarterbacks in Brett Rypien for the Broncos and being able to throw the ball itself with QB Anthony Brown.
Key Player: DE Zach Allen will get much of the Broncos attention up front and how Allen does against double teams will be a key to this game. Wyatt Ray might have led the team in sacks on the other side, but its Allen that gets the opponents top blocking scheme to counteract his skills. Allen has still made 61 tackles with 6.5 sacks and a team-high 15 tackles for loss. He and Ray will need to get pressure on Bronco QB Brett Rypien to get the ball back to its offense.
Fantasy Bonus Baby: RB AJ Dillon has been the Eagle workhorse running back. When he is totally healthy, he's a 100-yard machine, but he suffered an ankle injury in the middle of the season and has been limited since. Even so, he ran for 1,108 yards and ten touchdowns, and with the bowl preparation time, he should be back closer to 100% and should be a very good fantasy play.
Fearless Predictions:
Jamie: This game would be much better if the Eagles hadn't lost their starting quarterback. But AJ Dillon will do some work for BC. Boise, however, is the better team and it will show. Boise State 34, Boston College 24
Kent: This is Brett Rypien's final game as the Boise State quarterback and with that, he will undoubtedly be back to his normal self after not showing well in his last game in the MW Championship but Boston College has enough talent to keep it close but in the end this game will go to the Broncos. Boise State 28, Boston College 21
Chuck: Despite the disappointment of the missed Mountain West Championship, Boise State lives for these games in the bowl spotlight, and add to that Boston College's MIA QB and that equals a rout. Boise State 42, Boston College 7
Originally from LaMoure, North Dakota, Kent is a 1996 graduate of North Dakota State University. His prior writing experience is over 15 years having previously worked with D2football.com, I-AA.org, and College Sporting News before coming to College Sports Journal in 2016. His main focus is college football is the Missouri Valley Football Conference within the Division I FCS. And in 2017, he began also to look at the FBS Group of Five conferences of the American Athletic, Conference USA, Mid-American, Mountain West, and Sun Belt.
Reach him at this email or click below: