(6) UC Davis at (3) Eastern Washington
When: Saturday, December 8, 2:00 PM PST
Where: Roos Field, Cheney, WA
TV/Streaming: ESPN College Extra, ESPN3
UC Davis Aggies
Davis, Calif.
Big Sky Conference
Enrollment: 30,066
FCS Sagarin Rating: 104 (9 in FCS)
Last Round
After its thrilling victory vs. Northern Iowa in last Saturday's Second Round home game, the program's first-ever FCS playoff event, No. 6 UC Davis will face No. 3 Eastern Washington in a postseason battle between Big Sky Conference teams.
During the regular season, both UC Davis and Eastern Washington finished with 9-2 overall and 7-1 league records to share this year's conference championship with Weber State, who also posted identical marks.
In a game that features two of the nation's top offenses — the Eagles and Aggies are ranked No. 4 and No. 7 nationally with their 44.9 and 40.6 ppg averages; at 326.6 yards per game, UC Davis' passing offense is No. 3 in the NCAA while Eastern Washington is ranked No. 20 at 272.0 ypg — Saturday's quarterfinal also features a couple unique factors.
Since these teams squared off in the regular season, just a few weeks ago, this is the first playoff rematch involving Big Sky teams since 2014 when EWU hosted Montana that season.
FCS Playoffs: Doss, Defensive Stand Send UC Davis By Northern Iowa, 23-16
DAVIS, Calif.—UC Davis quarterback Jake Maier threw for 310 yards while wide receiver Keelan Doss hauled in nine catches for 137 yards, helping the sixth playoff seeded UC Davis t to a 23-16 win over Northern Iowa in a Division I FCS second-round contest at Aggie Stadium with 8,306 in attendance. It was the first Division I playoff win for the Aggies.
Kicker Max O'Rourke kicked three field goals while tight end Wesley Preece and redshirt freshman running back Ulonzo Gilliam each added touchdowns for UC Davis (10-2) offensively.
Key Player This Week: At 326.6 yards per game, UC Davis' passing offense is No. 3 in the NCAA, and QB Jake Meier is the triggerman. Last week against a tough Northern Iowa defense, Meier had an uncharacteristic 28-42-310-1 TD line, with 2 interceptions. He'll need to return to the type of player he was against Sacramento State, where he threw for 478 yards, 4 TDs and 0 interceptions, in order to advance to the semifinals.
Fantasy Bonus Baby This Week: WR Keelan Doss is a guy that is destined to be playing on Sundays, with 109 receptions, 1,191 yards receiving this year and 9 TDs. Last time against Eastern Washington, a 59-20 loss, he was held to 5 catches for 70 yards. UC Davis will need to find ways for him to produce more than this if they are to beat the Eagles.
Eastern Washington Eagles
Cheney, Washington
Big Sky Conference
Enrollment: 10,761
FCS Sagarin Rating: 2
A rematch between Big Sky Conference teams will take place this Saturday when the Eastern Washington University football team hosts UC Davis in the quarterfinals of the NCAA Football Championship Subdivision Playoffs.
The Aggies and Eagles met less than a month ago on Nov. 10 at "The Inferno," and the Eagles won 59-20. Eastern trailed 10-0 early, then had scoring stretches of 21-straight, 14-straight and 24-straight to win by 39. The Eagles used a similar path toward its 42-21 victory over Nicholls in the second round of the playoffs on Dec. 1, falling behind 14-3 before scoring the next 39 for their fifth-straight victory.

"We won't take anything for granted and we'll prepare as if this is a new team with players we don't know," said Eastern head coach Aaron Best. "We don't want to prepare for this any differently even though we've already played them before. It's interesting and it's different, and the bracket is chalk right now as far as the top eight getting through to the next round. We'll put our best foot forward and we'll welcome all our home fans back to Cheney – it should be a good one."
Last Round
FCS Playoffs: Blocked Field Goal Returned for Touchdown Swings Momentum Eastern Washington's Way to Defeat Nicholls 42-21
CHENEY, Wash. – At the close of the first half, Nicholls, up 14-3, had just advanced the ball 68 yards on 11 plays behind the offensive direction of QB Chase Fourcade, and PK Lorran Fonseca was lining up for a field gol try to put the Colonels up two scores.
But Eastern Washington rover Kedrick Johnson eventually would scoop up returned a blocked field goal by nose tackle Dylan Ledbetter for a touchdown to instead have the Eagles enter the halftime locker room only down 14-10.
That play would start a barrage of 39 unanswered points by the Eagles that would ultimately lead to Eastern Washington prevailing over Nicholls 42-21 in the second round of the FCS Playoffs.
Key Player This Week: QB Eric Barriere continues to look more and more comfortable as Eastern Washington's triggerman. Last week, after a slow start, he and the offense exploded to surge past Nicholls 42-21, and the experience of playing from behind will certainly help him this week, too. Though his stat line was modest (162 yards passing and 1 TD), he engineered the offense well in the second half and critically avoided mistakes. Against UC Davis a few weeks ago, he went 16-30-285-1 TD. A repeat performance like that and Eastern Washington will be hosting a semifinal game.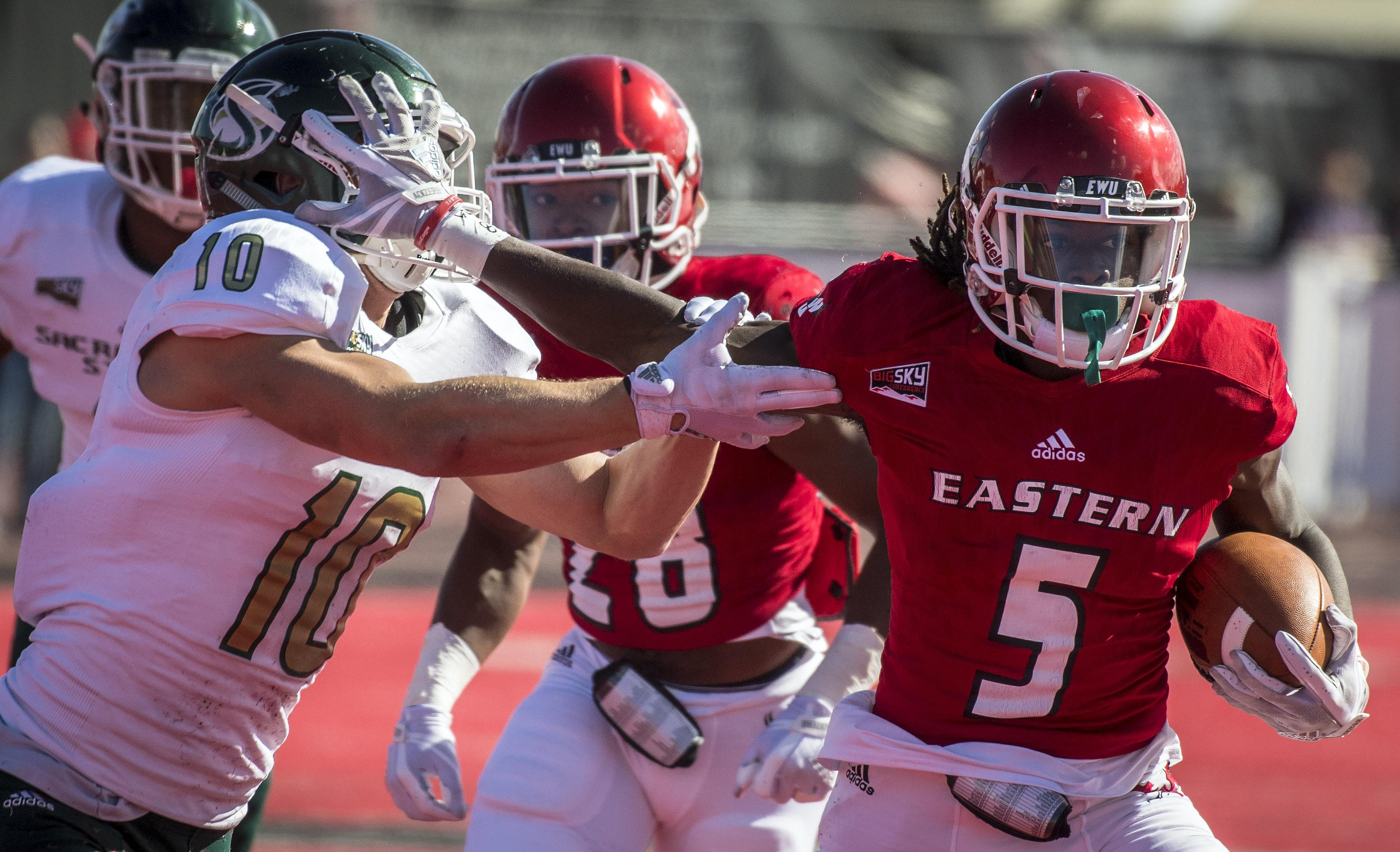 Fantasy Bonus Baby This Week: UC Davis' attempts to slow down EWU's passing game should open up some opportunities for the passing game, and that's where WR Nsimba Webster might be able to have a big impact in the outcome. Last time out against he Aggies, he had 3 catches for 103 yards. Can he repeat that performance?
Fearless Predictions:
Jamie:
The Eagles won by 39 points when the teams played in Cheney earlier this season. This game will not be a 39 point game, but the result will be the same. Eastern Washington 45, UC Davis 31
Kent: Eastern Washington has had a history of playing a conference opponent again in the playoffs–it has happened most recently in 2014 when the Eagles beat Montana both in the regular season and in the playoffs by similar scores. History repeats itself again with a big Eagle victory. Eastern Washington 48 UC Davis 21
Chuck: Last week, the Eagles defense held fast when it needed to in order to beat Nicholls. In what feels like will be a shootout, I think it happens again. Eastern Washington 49, UC Davis 41
Originally from LaMoure, North Dakota, Kent is a 1996 graduate of North Dakota State University. His prior writing experience is over 15 years having previously worked with D2football.com, I-AA.org, and College Sporting News before coming to College Sports Journal in 2016. His main focus is college football is the Missouri Valley Football Conference within the Division I FCS. And in 2017, he began also to look at the FBS Group of Five conferences of the American Athletic, Conference USA, Mid-American, Mountain West, and Sun Belt.
Reach him at this email or click below: