CSJ 2018 Second Round FCS Playoff Preview: Duquesne at South Dakota State, How To Watch and Fearless Predictions
December 1, 2018

Duquesne at (5) South Dakota State
When: Saturday, December 1, 3:00 PM
Where: Dana J. Dykhouse Stadium, Brookings, SD
TV/Streaming: ESPN College Extra, ESPN3
Duquesne Dukes
Pittsburgh, PA
Northeast Conference
Enrollment: 5943
FCS Sagarin Rating: 79
How They Got Here:
FCS Playoffs: In Maryland Downpour, Duquesne Grounds Towson, 31-10
TOWSON, Md. – Duquesne scored 31 unanswered points after falling behind 10-0, and held Towson scoreless in the second half, as the Dukes won their first FCS Playoff game in program history with a 31-10 victory over the host Tigers on Saturday in a steady downpour at Johnny Unitas Stadium.
Key Player This week: Against Towson, RB A.J. Hines finished with 246 yards from scrimmage with a pair of touchdowns to lead the Dukes in the triumph, including a 71 yard scamper that would eventually end up being the score that put Duquesne ahead for good. The Dukes will need another performance like that to put the fear of God in the Jackrabbits.
Fantasy Bonus Baby This Week: QB Daniel Parr had a quiet day last week in the downpour in Maryland, ceding mostly to Hines and RB Daquan Worley to do most of the heavy lifting. It's more likely he'll need to do more against South Dakota State and not just manage the game – he'll need to pass to keep the clock moving. He might be able to break a couple.
South Dakota State Jackrabbits (8-2)
Brookings, South Dakota
Missouri Valley Football Conference
Enrollment: 12,527
FCS Sagarin Rating: 58 (2 in FCS)
How They Got Here: The Jackrabbits finished second in the always tough Missouri Valley Football Conference. Its two losses, however, were to the other two MVFC playoff squads on the road in North Dakota State (21-17) and Northern Iowa (26-9).
The Jacks won win over a playoff team was early in the season when they blew out Montana State 45-7 at home.
After scoring only nine points in a road loss to Northern Iowa on Oct. 20, the Jackrabbits have lit up the scoreboard. SDSU has won four consecutive contests and scored at least 38 points in each of them. So SDSU is peaking at the right time of the year.
Best Win: vs. Montana State (45-7)
Worst Loss: at Northern Iowa (26-9)
Other Key Outcomes: at North Dakota State (21-17 L), vs. South Dakota (49-27 W)
Playoff Floor: The Jacks defeated this same Duquesne team last year easily (51-13) so SDSU should have no trouble this round but it very well could see it season end against Kennesaw State on the road in the quarterfinals.
Playoff Ceiling: SDSU has the talent to get by Kennesaw State but a semi-final contest at rival North Dakota State likely awaits the Jacks should they get by that one. SDSU has won in Fargo before–albeit in the regular season–so when two rivals meet, anything could happen and have SDSU make its first trip to Frisco for the national title game.
Key Player This Week: A big reason for this late-season resurgence is the play of redshirt freshman RB Pierre Strong Jr. Over the last three games of the season, Strong ran for 577 yards, averaged more than 14.4 yards a carry and found the end zone eight times. Now that it is the playoffs, how he performs against stiffer competition will be key to the Jacks game this week and for as long as they keep winning.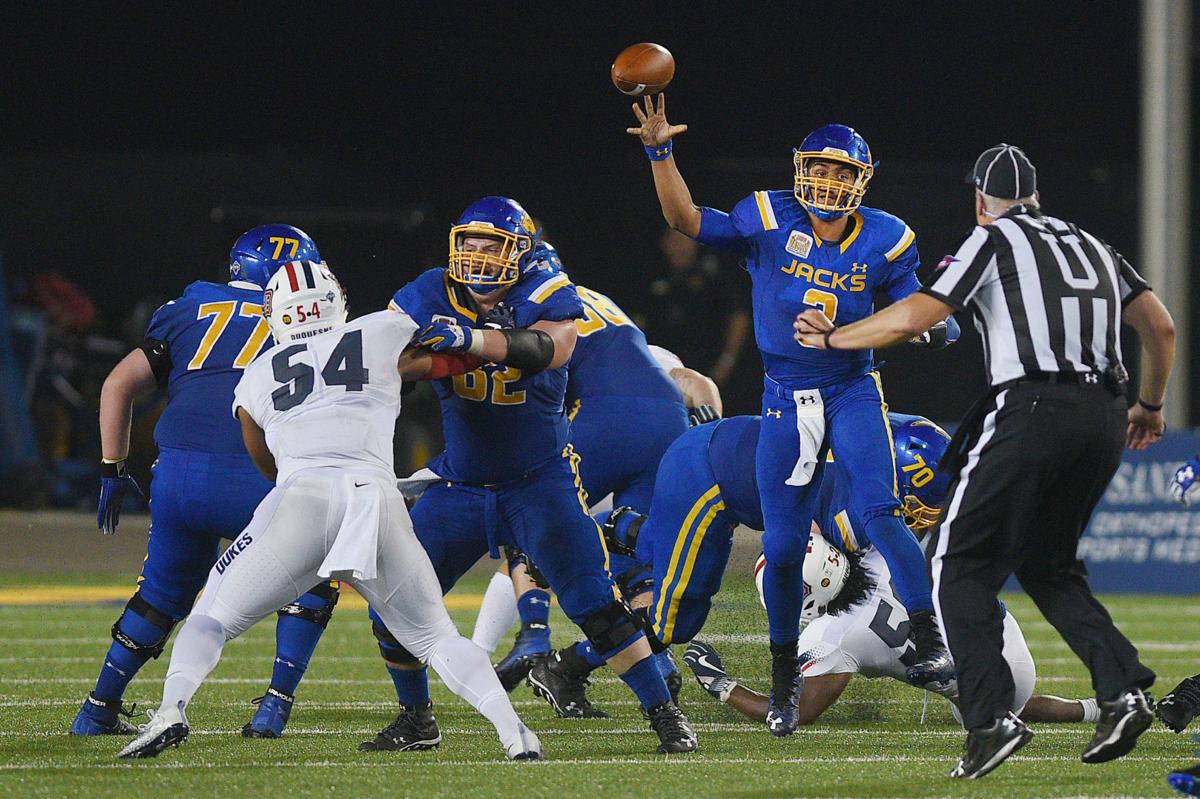 Fantasy Bonus Baby This Week: QB Taryn Christion shredded the Dukes' defense to the tune of 254 yards and five touchdowns through the air and 96 yards on the ground. Christion will be expected to lead the third-highest scoring offense in the FCS and extend his career by at least one more game. Expect him to put up some great numbers in what could be his final home game.
Fearless Predictions:
Jamie: The Dukes handled the elements much better than Towson in their surprising opening week win. Taryn Christion will not falter like Tom Flacco did. South Dakota State 47, Duquesne 24
Kent:The Dukes were the surprise winner of the opening round of the playoffs with its win at Towson. A longer road trip now awaits Duquesne in a trip to Bookings, SD where the weather could be even worse than last week. QB Taryn Christion will have his Jackrabbits ready to try to make another run in the playoffs and will get off to a great start. South Dakota State 47, Duquesne 17
Chuck: Duquesne's had a great fairy tale ride so far, but it ends in Brookings, where the Jackrabbits will advance to the next round. South Dakota State 34, Duquesne 10
Originally from LaMoure, North Dakota, Kent is a 1996 graduate of North Dakota State University. His prior writing experience is over 15 years having previously worked with D2football.com, I-AA.org, and College Sporting News before coming to College Sports Journal in 2016. His main focus is college football in the western half of the United States– the Big Sky Conference and Missouri Valley Football Conference within the Division I FCS. And in 2017, he began also to look at the FBS Group of Five conferences of the American Athletic, Conference USA, Mid-American, Mountain West, and Sun Belt.
Reach him at this email or click below: