Kennesaw State at Monmouth
When: Saturday, November 10, Noon
Where: Kessler Field, West Long Branch, NJ
TV/Streaming: ESPN College Extra, ESPN3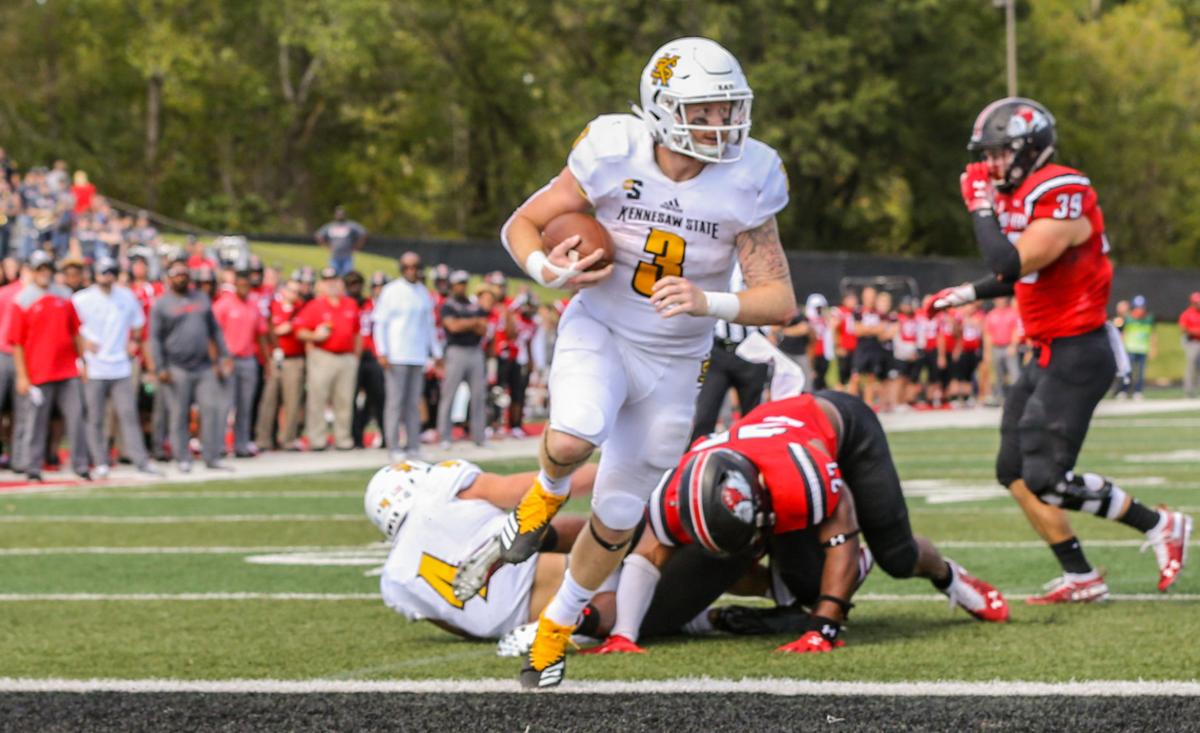 Kennesaw State Owls
The Kennesaw State football team goes for back-to-back conference championships on Saturday as it looks for its ninth straight victory overall. A win against Monmouth would make KSU the third team in Big South history and the first program in the last 10 years to win consecutive conference titles with an undefeated record in league play.
KSU boasts the No. 1 scoring offense in the nation, averaging 47.1 points per game. Kennesaw State and Princeton are the only FCS teams to rank in the top five in scoring offense and defense. The Owls enter Week 10 at No. 1 in offense and No. 3 in defense.
Kennesaw State is joined by Alabama, UCF and North Dakota State as the only Division I football teams with eight-game winning streaks in each of the last two years.
Key Player: With 23 rushing TD's this year, QB Chandler Burks needs just four rushing TD's to tie the all-time FCS record of 27 rushing TD's in a season by a quarterback. The Douglasville, Georgia native has 727 yards rushing on the year while adding 788 yards through the air with 8 TDs passing, and Monmouth's big challenge might not be to shut him down completely, but merely to slow him down.
Fantasy Bonus Baby: Junior S Dorian Walker, a speedy transfer from Georgia Tech, has been the missing piece in the Owl secondary that made a pretty good FCS defense into a really, really good one. With 3 interceptions and 22 tackles, he's a big force on this defense.
Monmouth Hawks
For the second straight season, the matchup between the Kennesaw State Owls and Monmouth Hawks will decide who wins the Big South Championship. With a Hawk win today, Monmouth would clinch at least a share of the 2018 Big South Title while the Owls could win their second consecutive outright BSC crown with a victory.
The Hawks come into today's game winners of five straight games, recently defeating Charleston Southern at home 37-3. The Hawks have won 10-straight at home, the second in the Big South only to Kennesaw's 14 consecutive home wins.
Key Player: The biggest star on the Hawks offense may be WR Reggie White, Jr., who leads the Hawks with 865 yards and 7 TDs. The Randallstown, MD product already set the school and conference record for career receptions (235), which is third among active FCS players. Earlier this season he set the MU record for reception yardage and needs just 66 yards in Monmouth's final two games to become the Big South's all-time leading receiver.
Fantasy Bonus Baby: RB Pete Guerriero's return to the Hawks backfield didn't come a moment too soon: he along with RB Juwon Farri are a potent 1-2 rushing combo out of the Hawk backfield and are a perennial threat to rush for 100 yards. Combined, they have 1,563 yards rushing and 12 TDs.
Fearless Prediction: The presence of Guerriero gives Monmouth a fighting chance in this game, but Kennesaw State's defense will likely be the difference in this Big South Championship game. Kennesaw State 27, Monmouth 14.