Houston vs. Hawai'i
When: Thursday, December 24th, 3:30 PM EST
Where: Toyota Stadium, Frisco, Tex.
TV/Streaming: ESPN, WatchESPN
This bowl game is a fitting story of the 2020 college football season. The bowl game that was originally slated to be in Frisco–the Frisco Bowl was canceled last Saturday, Dec. 21st but Frisco gets a second chance to host another game due to COVID-19 reasons.
The state of New Mexico has banned any sporting events at least through the end of December due to COVID-19 reasons and Albuquerque could not host this bowl. Instead, this game will be moved east to the Dallas area for this game.
The game is also fitting for Houston, who may have been the team affected the most of any team this fall due to COVID-19. The Cougars were scheduled to start their season Labor Day but wound up not having their first game until five weeks later. The Cougars also had a pause in mid-November until mid-December as well. In total, Houston played just seven games with six in AAC play.
Hawai'i from the Mountain West Conference, originally were not going to play at all this fall but the league decided to start play on Oct. 24th and the Rainbow Warriors were able to play all eight games. But one thing that happened after this regular season was finished was Aloha Stadium in Honolulu decieded to condemn the stadium so for the next two years and possibly three, Hawai'i will need to play elsewhere on the islands.
These two teams met in a very memorable bowl as the last time and only time these two schools met overall in 2003 in the Hawai'i Bowl that year. The two teams played an epic three overtime game that the Rainbow Warriors finally won 56-48.
Houston is 11-15-1 all-time in bowl games and is looking to snap a three game losing streak during the bowl season. Hawai'i is making just its third mainland bowl game with its other 11 coming basically at home in Honolulu. Overall, the Rainbow Warriors are 7-6 in their prior bowl match-ups.
Houston Cougars (6th AAC, 3-4 Overall, 3-3 AAC)
Junior QB Clayton Tune is the lead of the Cougar offense. He ranks 19th in the FBS in total offense, averaging 302.0 yards per game. The junior also ranks fourth in the league and 24th in the FBS in passing yards per game (261.7).
Houston head coach Dana Holgorsen has met Hawai'i coach Todd Graham twice prior with Holgorsen winning both match-ups, including the 2015 Cactus Bowl in which his West Virginia defeated Arizona State. The coaches also met in 2011 as WVU edged Graham's Pittsburgh squad.
The Cougars' defensive pass rush has increased their production this season. Houston's 22 sacks through seven games are a major improvement. UH logged 22 sacks in 12 games during the 2019 season. The Cougars rank first in the American and are 15th nationally with 3.14 sacks per game.
Junior Marcus Jones has made an impact in the punt return game, leads the American and ranks first in the FBS in punt return average (21.1). That average would rank as the second-best mark in UH single-season history if the season ended before this game. Jones picked up his first career punt return touchdown versus USF (72 yards). Jones also ranks No. 1 in the FBS in punt return yards (317).
Key Player: QB Clayton Tune
Tune enters the bowl game with 1,832 yards passing, 13 touchdowns and seven interceptions. He's also second on the team with 269 rushing yards on 62 carries and has scored five times on the ground. He will also need to continue to mix it up to keep the Hawai'i defense guessing.
Hawai'i Rainbow Warriors (T-4th MWC, 4-4 Overall, 3-3 MWC)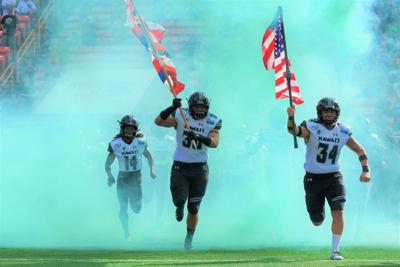 Head coach Todd Graham is in his first season at Hawai'i. The Rainbow Warriors went 4-4 in the regular season. Graham is looking for his 100th career head coaching victory and is 99-65 in 13 seasons.
In his first season as starting quarterback, redshirt sophomore Chevan Cordeiro has thrown for 1,997 yards with 11 touchdowns and six interceptions. He also has team highs in rushing yards (450) and rushing touchdowns (7).
Seven Hawai'i players were recognized by the Mountain West on the all-conference teams including first-team honoree Darius Muasau. The sophomore leads the team with 95 tackles, including 8.5 for loss and 3.5 sacks. He ranks first nationally in solo tackles per game (7.9) and fifth in total tackles per game (11.9).
Hawai'i has earned a bowl bid in four of the last five years, including each of the last three seasons and are coming off a win over BYU in the Hawai'i Bowl last season.
Hawai'i capped its regular season with a 38-21 win in the battle for the Island Showdown Trophy against UNLV. The Rainbow Warriors racked up 530 yards of total offense with 278 of them coming on the ground.
Key Player: QB Chevan Cordeiro
With 450 yards on the ground, he will become the first Hawai'i quarterback to lead the team in rushing since Michael Carter in 1991 (1,092 yards). He also leads the team with seven rushing touchdowns, including two each
against Fresno State and San José State. He has led the team in rushing in six of eight games. This is different than the pass happy offenses for the Warriors in the past but he can also do it with his arm as well. He will need to continue to mix it up for the Warrior to win this won in Frisco.
Fearless Forecast:
With Hawai'i consistently playing this season (with no games lost due to COVID-19 reasons), the Rainbow Warriors may have the edge in continuity of their team. Houston though is playing fairly close to home in Frisco, which is in the Dallas-Fort Worth area so they do not have to make a long trip like Hawai'i does to play this game. I think this leads to a fairly even match-up with the Cougars recovering from their rust to break their bowl losing streak. Houston 38 Hawai'i 31
Originally from LaMoure, North Dakota, Kent is a 1996 graduate of North Dakota State University. His prior writing experience is over 15 years having previously worked with D2football.com, I-AA.org, and College Sporting News before coming to College Sports Journal in 2016. His main focus is college football is the Missouri Valley Football Conference within the Division I FCS. And in 2017, he began also to look at the FBS Group of Five conferences of the American Athletic, Conference USA, Mid-American, Mountain West, and Sun Belt.
Reach him at this email or click below: