Louisiana at Coastal Carolina
When: Saturday, December 19th, 3:30 PM EST
Where: Brooks Stadium, Conway, S.C.
TV/Streaming: ESPN / WatchESPN
Undefeated Coastal Carolina hosts one-loss Louisiana in possibly the most anticipated Sun Belt football game in the history of the league.
This is the first trip to the SBC title game for the Chanticleers and the third straight for the Ragin' Cajuns and actually have appeared in all the SBC title games thus far.
This is only the fourth meeting between both teams with the last one coming back on October 14 when Coastal won, 30-27, to hand Louisiana that only loss so far. The two teams spit the prior two meetings. Below are some highlights of the trilling Coastal win at Louisiana:
Both these teams had wins against Power Five Big 12 opponents earlier in the season. Louisiana won at Iowa State (currently CFP ranked #6),while Coastal defeated Kansas also on the road. Coastal Carolina also handed BYU its only loss a couple of weeks ago as another top win. And both teams were able to defeat the two-time defending SBC champions Appalachian State this season.
Both teams could possibly be in the running for a New Year's Six Bowl game with a win in this title game. Both would need to have a Cincinnati loss in the American Athletic Conference title game versus Tulsa, however, to get the Group of Five's top spot most likely. Cincinnati is currently ranked #9 in the College Football Playoff rankings, while Coastal is #12 and Louisiana is #19. These three G5 conference teams are ranked as the top three in the CFP rankings (note that BYU is #14 but as an independent, they are not eligible for the G5 automatic spot).
Below is a statistical breakdown between these two teams that shows these teams are evenly matched (note rankings are the AP and Coaches polls respectively):
Louisiana Ragin' Cajuns (9-1 Overall, 7-1 SBC)
Location: Lafayette, La.
Head Coach: Billy Napier (27-11 @ UL & overall)
Season Recap:
As mentioned, Louisiana's only loss came against Coastal Carolina.
QB Levi Lewis leads the team with 2,128 passing yards and 17 touchdown passes. He does have seven interceptions this season, however.
Lewis will be making his third appearance in the SBC Championship Game with 375 total offense yards, including four passing touchdowns. In 2019, Lewis earned his first postseason start, completing 24-of-46 passes for 354 yards and 4 TDs – the second-most passing yards in Ragin' Cajun postseason history.
Elijah Mitchell and Trey Ragas have rushed for a combined 1,300 yards and 16 touchdowns this season as a good backfield duo with Mitchell being the lead.
Mitchell averaged 85 yards per game the previous two championship games for the Cajuns, including a touchdown in 2019. This season overall he is averaging 83.4 yards per game this year, while has tallied 751 total yards and seven touchdowns.
WR Peter LeBlanc is the top receiving threat and is making his second appearance in the SBC Championship Game after going off in last year's game when he posted 118 yards on three catches and two touchdowns.
The sophomore this year has appeared in nine games and has tallied 334 yards on 23 catches while averaging 17.5 yards per game this season.
LB Lorenzo McCaskill leads the defense with 72 tackles, while DE Zi'Yon Hill has a team-high 4.0 sacks and is second on the team with 5.0 TFL.
The Cajuns were tested in several games this year as seven of its ten games were decided by ten points or less but only had the one loss to Coastal so this team for the most part knows how to play in close games.
Best Win: at Iowa State, 31-14
Worst Loss: vs. Coastal Carolina, 30-27
Key Player: QB Levi Lewis
As mentioned above, Lewis has seven interceptions on the season and one of those came against the Chanticleers in their prior meeting this season. The senior does, however, have the experience in this game so he will need to use that past knowledge and also learn from what Coastal did in their prior meeting to make the adjustments. He will also need to make the right reads at the line as it is likely Coastal will be playing the run game first just as they did in the first meeting and will need to trust his arm to move the ball.
Coastal Carolina Chanticleers (11-0 Overall, 8-0 SBC)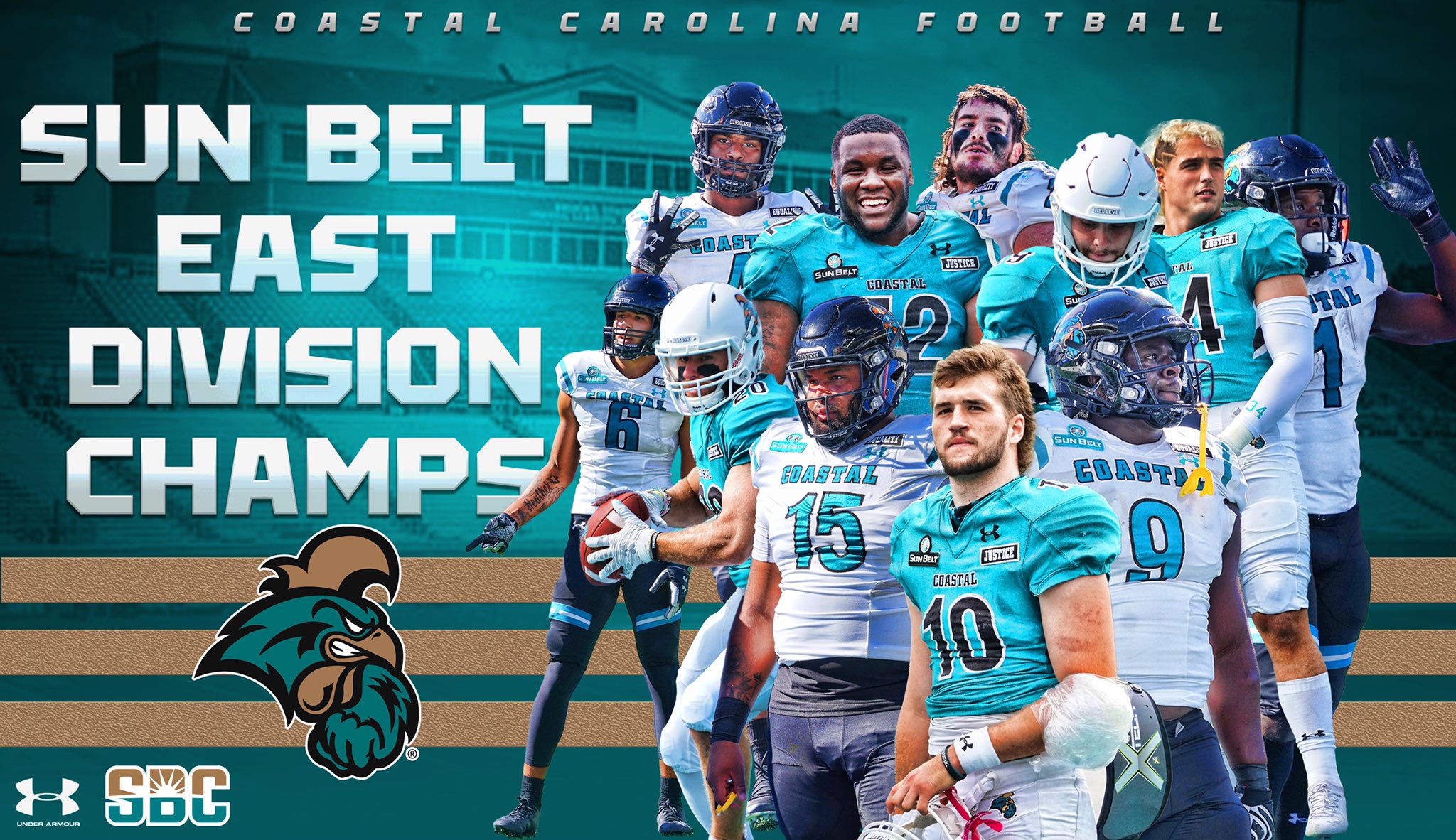 Location: Conway, S.C.
Head Coach: Jamey Chadwell (19-16 @ CCU, 79-51 overall)
Season Recap:
Coastal Carolina won the program's first-ever Sun Belt Eastern Division Championship in only in its fourth year as a full-time member of the Sun Belt Conference.
The 2020 Chants have matched the program's best start to a season at 11-0, which was only done back in 2014. The team's undefeated run through the regular-season slate is tied for the best regular-season in conference history.
The Chants were picked to finish last in the Eastern Division in the 2020 Sun Belt Preseason Coaches' Poll (as well as by myself) and have proved everyone wrong.
QB Grayson McCall has been the biggest reason for the complete turnaround from the preseason prognostications. He led the offense with 2,170 passing yards and 23 touchdown passes. He can also do it on the ground. He has 473 rushing yards and six rushing touchdowns.
RB C.J. Marable and WR Jaivon Heiligh have also been keys to the Chants offense.
Marable is averaging 76.7 yards per game this year and leads the conference in rushing touchdowns with 12. He has tallied 844 yards on 11 carries this year. Earlier this season he rushed for 73 yards and a touchdown against Louisiana back on October 14.
Heiligh has 820 receiving yards, 10 touchdowns on 52 receptions. He ranks third in the conference for yards, and second in touchdowns.
The defense for Coastal has also been dominant especially in getting to the quarterback. Four of the top 10 SBC sack leaders are from the Chants including Tarron Jackson (8.5), Jeffrey Gunter (6.5), C.J. Brewer (6.5), and Silas Kelly (4.5).
Coastal was a little more dominant than Louisiana as just three games were decided by ten points or less but two of those were the last two over BYU and Troy.
Best Win: vs. BYU 22-17
Worst Loss: None
Key Player: QB Grayson McCall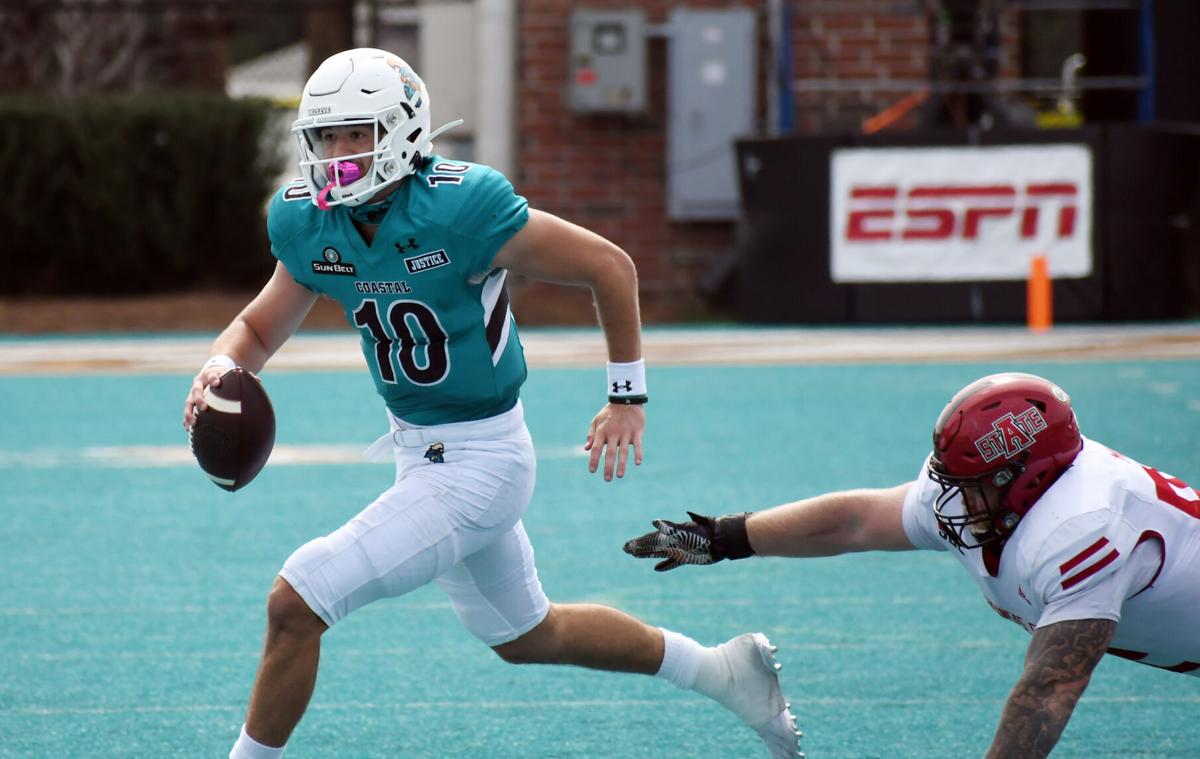 McCall threw for 202 yards and two scores in the prior meeting with Louisiana and also rushed for 45 yards and another score. In that game, he showed so much poise for a redshirt freshman and seemed to know what to call especially in the game winning field goal drive. He has shown that same kind of poise all season but has had a fumble and an interception in his last two games. He will need to avoid the turnovers like he did in the prior game with the Cajuns to keep the undefeated season going for the Chants.
Fearless Forecast:
I think this game will come down to who holds onto the ball in terms of time of possession and winning the turnover margin. These two teams are very equally matched and those areas will be a key to the winning team in this one. The home field along with a social distanced crowd should help the Chants in this one. Just like the prior meeting though, I think, this game will go down to the wire before being decided. But in the end, I like the Chants to stay undefeated in this magical season. Coastal Carolina 31 Louisiana 28
Originally from LaMoure, North Dakota, Kent is a 1996 graduate of North Dakota State University. His prior writing experience is over 15 years having previously worked with D2football.com, I-AA.org, and College Sporting News before coming to College Sports Journal in 2016. His main focus is college football is the Missouri Valley Football Conference within the Division I FCS. And in 2017, he began also to look at the FBS Group of Five conferences of the American Athletic, Conference USA, Mid-American, Mountain West, and Sun Belt.
Reach him at this email or click below: