Ball State vs. Buffalo
When: Friday, December 18th, 7:30 PM EST
Where: Ford Field, Detroit, Mich.
TV/Streaming: ESPN / WatchESPN
Two teams that have won five games in row meet to determine the Mid-American Conference title in Detroit in this COVID-19 shorten 2020 season.
Buffalo comes into this game undefeated with five straight wins and had one game canceled due to COVID-19 reasons, while Ball State had a loss to begin its season but then rattled off the five straight wins.
These two teams last met for the MAC crown in 2008 with Buffalo picking up a rather easy win, 42-24 and was the Bulls lone MAC title to date.
That game was the only time Ball State has made it to the MAC title game, while Buffalo has made it one other time in 2018 (30-29 loss to Northern Illinois).
Ball State has a veteran team after a nice building job done by head coach Mike Neu. This year, that group came togher
Three of Buffalo's five wins came against Northern Illinois, Akron and Bowling Green, who have one win between them and that was amogst the three–Akron over Bowling Green. The Bulls on the other hand gave handed Miami (OH) and Kent State their only losses.
Below are some statistical comparisons between the two teams:
Ball State leads the all-time series 9-2 but Buffalo picked up the last victory in the series in 2017, 42-24 in a game played at Ball State.
Ball State Cardinals (5-1 Overall & MAC)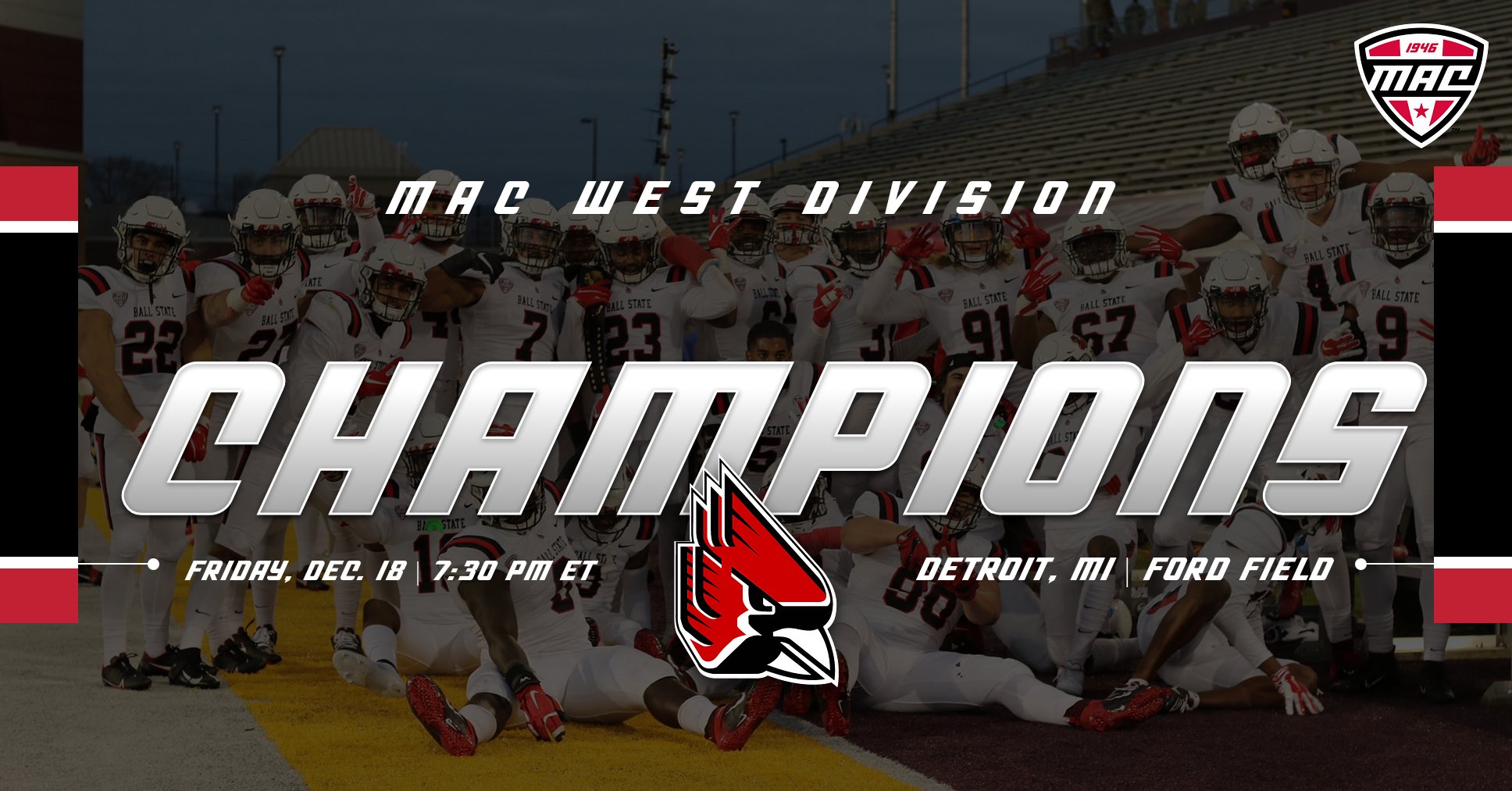 Location: Muncie, Ind.
Head Coach: Mike Neu (20-34 @ BSU & overall)
Season Recap:
In the shortened season, Ball State won its final five games of the regular season, sweeping its West Division opponents for the first time since 2008.
The Cardinals mounted a fourth-quarter comeback from 14 points down last week to beat Western Michigan in a de facto MAC West Division title game to book their ticket to Detroit.
The lone loss was to start the season against Miami (OH) on the road.
Ball State won both the MAC West Division offensive and defensive player of the week awards for the third time this season after the win division-clinching over WMU and have been two of the stars all season for the Cardinals. Senior WR Justin Hall (offense) caught 10 passes for a career-high 175 yards and two touchdowns. Redshirt senior ILB Jaylin Thomas (defense) had a career-high 16 tackles.
Senior WR Justin Hall is another star for the Cardinals on offense. He has the most career catches amongst current college players at 252 and he also broke the Ball State career receptions record last week, passing KeVonn Mabon (244 from 2012-16).
One player that likely would have helped Ball State is RB Caleb Huntley, who opted out of this title game to focus on the NFL Draft. Huntley rushed for 437 yards and six touchdowns in the Cardinals first three games and extended his streak of consecutive 100-yard games to seven. But he missed Ball State's final three games with an undisclosed injury.
Redshirt senior QB Drew Plitt has accounted for 11 total touchdowns over the past three games and has shown the transformation of BSU being more of a passing team without Huntley in the line-up.
Best Win: vs. Western Michigan, 30-27
Worst Loss: at Miami (OH), 38-31
Key Player: QB Drew Plitt
Without Huntley, the Cardinals have shown they can move its offense with the throwing of Plitt. But Buffalo gives him a much tougher test as it has given up just over 206 yards per game. The Bulls will likely be keying in after seeing how the BSU offense went without Huntley in the last three games and force the Cardinals to try to run the ball with the back-ups. How Plitt reads the Bulls defense, as well as keeping away from turnovers, will be the key for the Cardinals in this game.
Buffalo Bulls (5-0 Overall & MAC)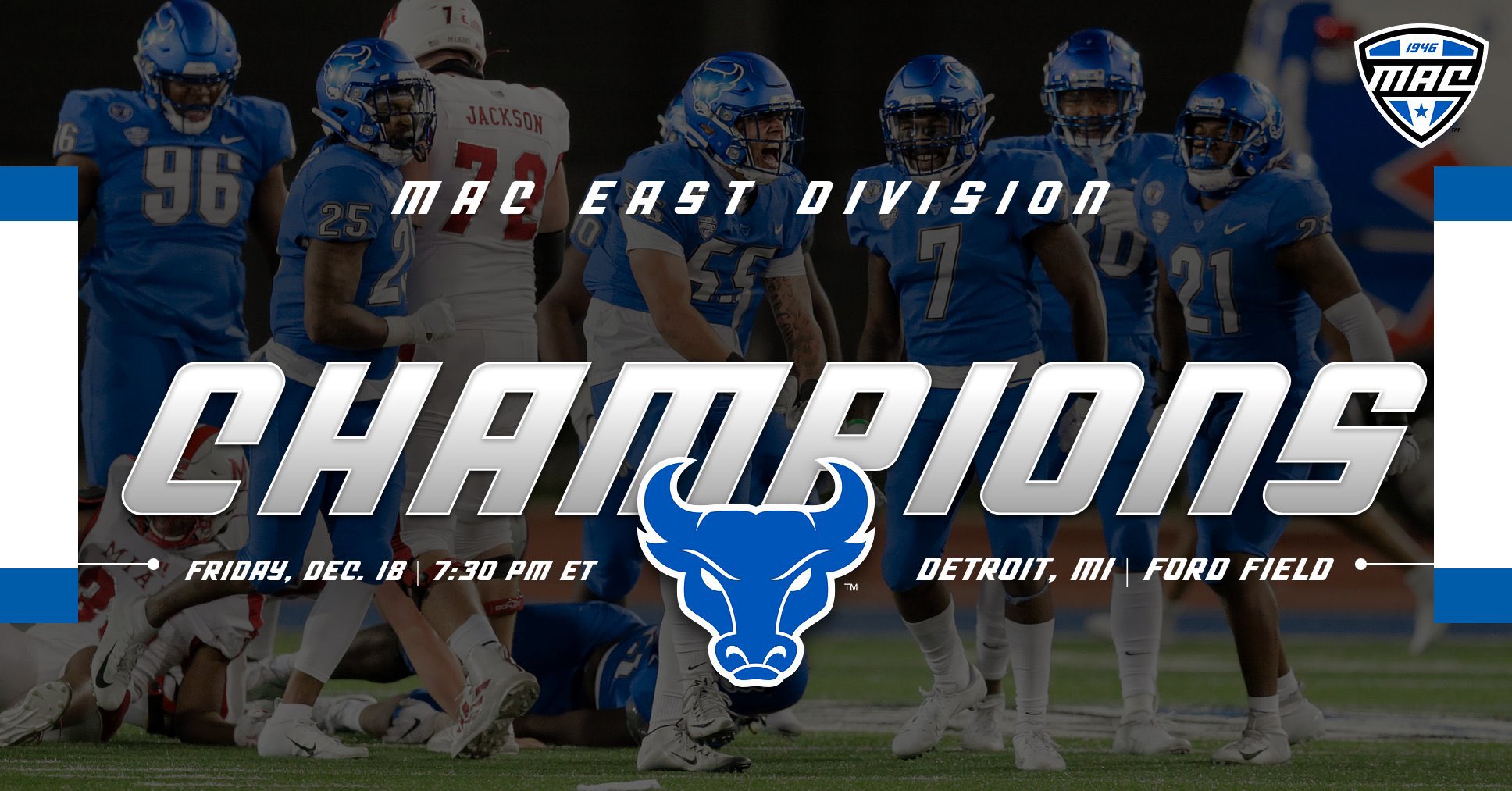 Location: Buffalo, N.Y.
Head Coach: Lance Leipold (36-32 @ UB, 146-38 overall)
Season Recap:
The Bulls finished the regular season undefeated as the first team in the MAC since Western Michigan did the same in 2016.
The five wins were in dominate fashion with the closest margin of victory being 19 points in its season opener at Northern Illinois.
The Bulls are averaging 51.8 points on the season to lead the nation in scoring average. They have scored 40+ points in nine of their last 10 games against conference opponents dating back to last season.
Buffalo has averaged 446 yards per game rushing over the last three games and now lead the nation in rushing (344.6 ypg).
The big reason for the dominant rushing game has been senior RB Jaret Patterson, who is 163 yards shy of 4,000 for his career. He would become just the second player in school history to rush for 4,000 yards. Branden Oliver holds the school record with 4,049, 212 yards more than Patterson's current total. And despite only playing five games, he is just one touchdown short of the UB record for touchdowns on the season, which he gained last year of 19.
Overall, UB leads the nation in rushing, averaging 344.6 yards per game. Their current average is by far the best in school history, besting their previous high of 250.5 set last season.
The Bulls have scored 27 rushing touchdowns in five games which is tied for third in school history for a season. UB also scored 27 rushing touchdowns over 14 games in 2008.
Patterson ranks second in the nation in yards per carry (8.33) and back-up Kevin Marks is sixth in the nation in yards per carry (7.50).
The Bulls have far from been an offensive only team as well. The defense is ranked #42 amongst all FBS squads. Senior DE Malcolm Koonce has 24 tackles, five tackles for loss and four sacks this season this season to lead the team.
Best Win: vs. Kent State, 70-41
Worst Loss: None
Key Player: RB Jaret Patterson
Patterson has been the force for the Bulls offense and again will be a key piece for the Bulls in this game. He has been the key focus for all MAC opponents this season and still has been able to perform outstandingly. Wild things have happened in the MAC championship game in the past and players that performed well during the season have not performed the same on Ford Field in Detroit. Patterson will need to overcome that "curse" and be the same players he has been in the five wins for the Bulls to help his stay undefeated going into their bowl game.
Fearless Forecast:
The favored team in the MAC title game has come up the loser at least in the last two seasons with Buffalo falling to Northern Illinois as one of those freaky results. The Bulls, who have five starters from that 2018 season on this year's team, will not let that happen again. Buffalo will win this game fairly easily and stay undefeated. Buffalo 41 Ball State 23
Originally from LaMoure, North Dakota, Kent is a 1996 graduate of North Dakota State University. His prior writing experience is over 15 years having previously worked with D2football.com, I-AA.org, and College Sporting News before coming to College Sports Journal in 2016. His main focus is college football is the Missouri Valley Football Conference within the Division I FCS. And in 2017, he began also to look at the FBS Group of Five conferences of the American Athletic, Conference USA, Mid-American, Mountain West, and Sun Belt.
Reach him at this email or click below: