UAB at Marshall
When: Friday, December 18, 7:00 PM EST
Where: Joan Edwards Stadium, Huntington, W.Va.
TV/Streaming: CBS Sports Network / CBS Sports App
Two teams that have rarely met recently will vie for the Conference USA championship game in this unique 2020 COVID-19 filled season this Friday.
Marshall hosts UAB in this game by virtue of its better conference record. These two schools have not played each other since 2014 surprisingly. UAB did have a two year absence and the two teams and with UAB's return three years ago to football, the divisional cross-overs have yet to yield a scheduled game.
Marshall holds a 8-2 record advantage in the history between the two teams and the Thundering Herd defeated the Blazers in the most recent 2014 game, 23-18–a game played in Birmingham. Marshall also won the most recent game played in Huntington played in 2013, 56-14.
Both teams most recently played Rice in conference play with UAB edging the Owls last week 21-16, while Marshall suffered its first loss of the season to Rice two weeks ago, 20-0.
Marshall has lost two games against Charlotte before and after the contest with Rice.
UAB lost four games due to COVID-19 reasons before this last contest against Rice.
Statistically, Marshall seems to have an edge on both offense and defense as seen below:
UAB Blazers (5-3, 3-1 C-USA)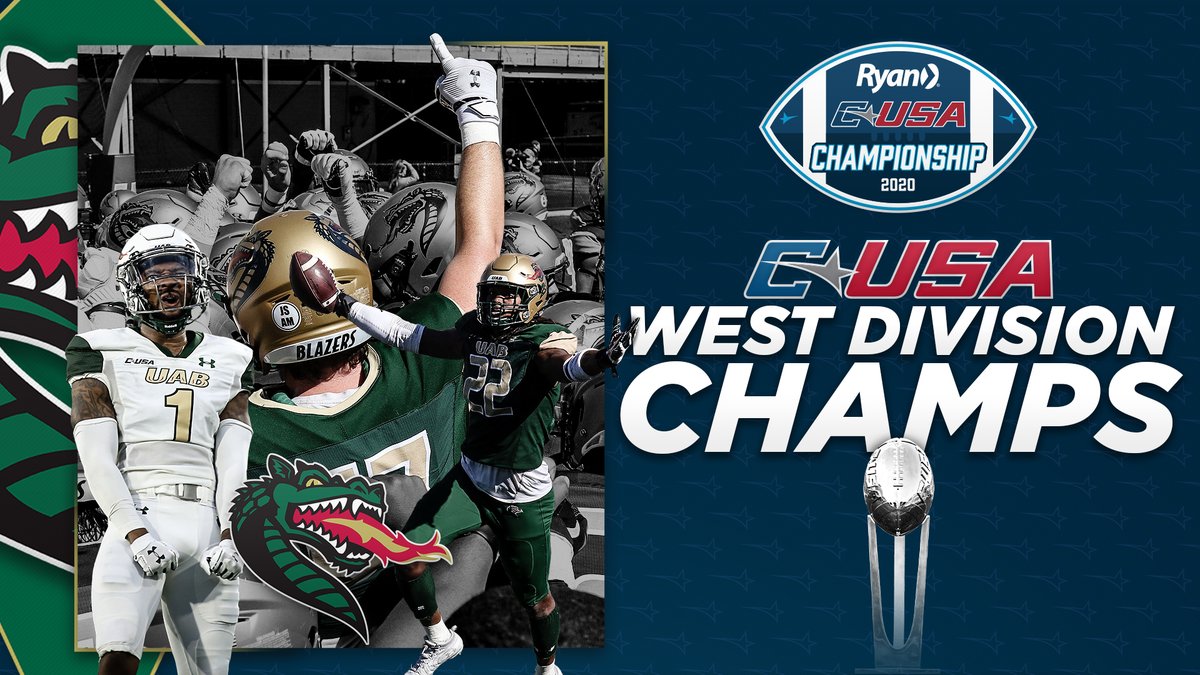 Location: Birmingham, Ala.
Head Coach: Bill Clark (39-22 @ UAB, 50-26 overall)
Season Recap:
UAB is now the reigning Conference USA West Division champions from now the last three years. The Blazers endured the longest drought between games of any college football team this year to end their season.
The game at Rice was its first in 42 days. Prior to that, the Blazers last game played was on Halloween after having four-consecutive games canceled due to COVID-19 reasons.
The Blazers traveled to Rice down 11 key contributors, including the nation's second active leading rusher Spencer Brown, and only had approximately 45 scholarship players available.
Despite that, UAB erased a 6-point halftime deficit and withstood a last second Hail Mary attempt from Rice to secure its third-straight C-USA West title.
Before the 42-day layoff, the Blazers had endured two straight losses at Louisiana Tech in double overtime and non-conference and Sun Belt West Division Champion Louisiana at home by a four points. The only other loss came in Week 2 at Miami (FL) and that game was the only "bad" loss of the season by 17 points.
The Blazers four other wins came against FCS Central Arkansas, South Alabama, UTSA, and Western Kentucky.
It lost games due to COVID-19 versus North Texas, UTEP, Southern Miss, and Middle Tennessee State.
Best Win: vs. UTSA, 21-13
Worst Loss: at Miami (FL), 31-14
Key Player: QB Tyler Johnston III
Against Rice, the redshirt junior made his first start since Week 2 at
Miami (FL) after being out due to an injury to his non-throwing shoulder, He led the second half comeback with two touchdown passes of 63 yards and 42 yards. Johnston finished the game with 217 passing yards and two touchdowns. At 12-5 as the UAB starter, Johnston III already has one C-USA Championship victory under his belt (two years ago) and looks for
another one on Friday. For his career, he ranks fifth all-time at UAB in passing yards (4,177) and fourth in touchdown passes (33). Johnson will be a key against a stingy Marshall defense and will need to avoid any turnovers for the Blazers to pick-up the road win.
Marshall Thundering Herd (7-1, 4-1 C-USA)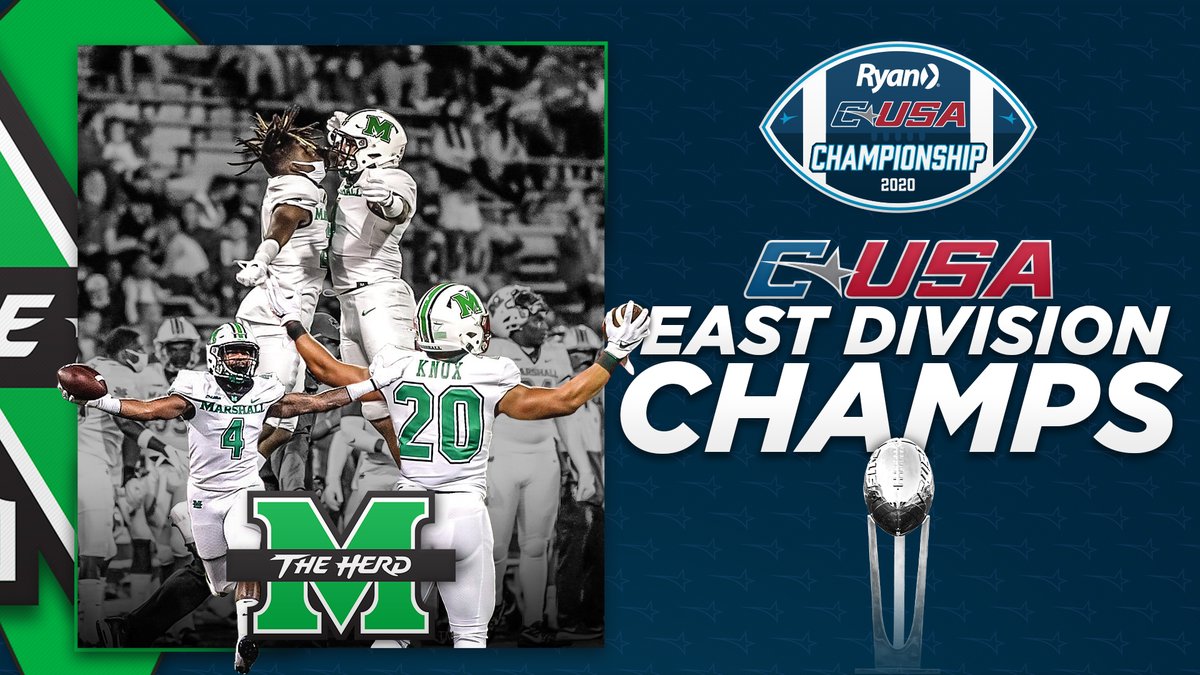 Location: Huntington, W.Va.
Head Coach: Doc Holliday (85-52 @ MU & overall)
Season Recap:
Marshall started the season with a magical run until its eighth game of the season. The Thundering Herd started the season 7-0 until its last game against Rice derailed the undefeated season possibility.
The big reason for Marshall to start the way it did was the play of redshirt freshman QB Grant Wells. The redshirt freshman's 7-0 start tied him for the second-longest FBS win streak to start a career as the starting QB in school history (Chase Litton, 2015). He has completed a 63.4% of his passes (144-
of-227) for 1,839 yards with a league-best 16 touchdown passes. The
16 TD passes are fourth in the FBS among freshmen quarterbacks,
trailing only Oklahoma's Spencer Rattler (24), Coastal Carolina's
Grayson McCall (20) and Tulane's Michael Pratt (18).
Another reason why the Thundering Herd started so good was its strong defense. Marshall is currently ranked in the top two nationally in scoring defense (1st, 11.4), rushing defense (2nd, 73.0) and total defense (253.9). The Thundering Herd is also tied for ninth nationally with nine fumble
recoveries.
For the season, Marshall picked up its best win at home against Sun Belt two-time champion Appalachian State in Week 2 of the season. The Thundering Herd also notched non-conference victories over FCS Eastern Kentucky and Massachusetts.
In conference play, the best win probably was against last year's C-USA champions Florida Atlantic at home, 20-9. Other wins for the Thundering Herd came against Western Kentucky and Middle Tennessee State.
Best Win: vs. Appalachian State, 17-7
Worst Loss: vs. Rice, 20-0
Key Player: RB Brendon Knox
Th Junior running back passed Herd great Glenn Pedro for #7 on the career rushing list. Knox currently has 2,785. This season, Know has notched 825 yards and nine touchdowns in the eight games this season for the Thundering Herd. He also has added seven catches for 86 yards and another score receiving. QB Grant Wells may be the focus for the UAB defense to start the game so Knox with his hard-nosed running will need to make the Blazers pay for that decision. He has the ability to take over a game with a strong offensive line in front of him. The key will be to use Knox and the running game to keep time of possession for Marshall just as the did in many of its wins this year.
Fearless Forecast:
With the Rice results as the most recent games for each team, the easy pick for this game would be UAB to pick-up the road victory but both teams showed their rust in lack of game play in their respective games versus Rice. UAB was able to knock it off in the second half and get the victory. Marshall was not able to do that in the shutout loss. Marshall had an extra week to prepare for this game and also has the home field. The Thundering Herd look also to have a weather advantage with temperatures at game time looking to be just above the freezing mark. I like the Thundering Herd to rebound and capture its second ever C-USA crown (first was in 2014) but think the Blazers will hang around until a late surge by Marshall. Marshall 31 UAB 20
Originally from LaMoure, North Dakota, Kent is a 1996 graduate of North Dakota State University. His prior writing experience is over 15 years having previously worked with D2football.com, I-AA.org, and College Sporting News before coming to College Sports Journal in 2016. His main focus is college football is the Missouri Valley Football Conference within the Division I FCS. And in 2017, he began also to look at the FBS Group of Five conferences of the American Athletic, Conference USA, Mid-American, Mountain West, and Sun Belt.
Reach him at this email or click below: