CSJ First Round Playoff Preview – Incarnate Word at Montana State, How To Watch and Fearless Predictions
Incarnate Word at Montana State
When: Saturday, November 24, 1:00 PM MST
Where: Bobcat Stadium, Bozeman, MT
TV/Streaming: ESPN3
Incarnate Word Cardinals (6-4, 6-2 Southland)
San Antonio, Tex.
Southland Conference
Enrollment: 10,389
FCS Sagarin Rating: 173 (47 in FCS)
Season Recap:In one season, UIW football Head Coach Eric Morris took the Cardinals from a 1-10 record (2017) to a 6-4 overall mark and a Southland Conference title.
The Cardinals finished conference play with a 6-2 record and were co-champions of the Southland Conference with Nicholls. This is the best league record in program history and ties the most wins by Cardinal football in a single season.
UIW will be making its first ever playoff game at any level.
The Cardinals ride a high-flying aerial attack, borne in the Air Raid system and standing fourth in the FCS in passing offense and eighth in total offense.
Best Win: at Central Arkansas (40-27)
Worst Loss: at Nicholls (48-21)
Other key outcomes: at Lamar (27-21 L), vs. McNeese State (45-17 W)
Playoff Floor: With this being the first playoff for UIW, the Cardinals get blown out in their first postseason game.
Playoff Ceiling: With the SLC's top turnover margin, UIW would narrowly defeat Montana State before falling at #1 seed North Dakota State.
Key Player This week: Freshman QB Jon Copeland became UIW's all-time leading passer for a single season (2,984 yards) while breaking the single-season passing touchdowns record (22) and setting the record for most pass completions in a campaign (208). He will need to throw well for the Cardinals to pull off the upset.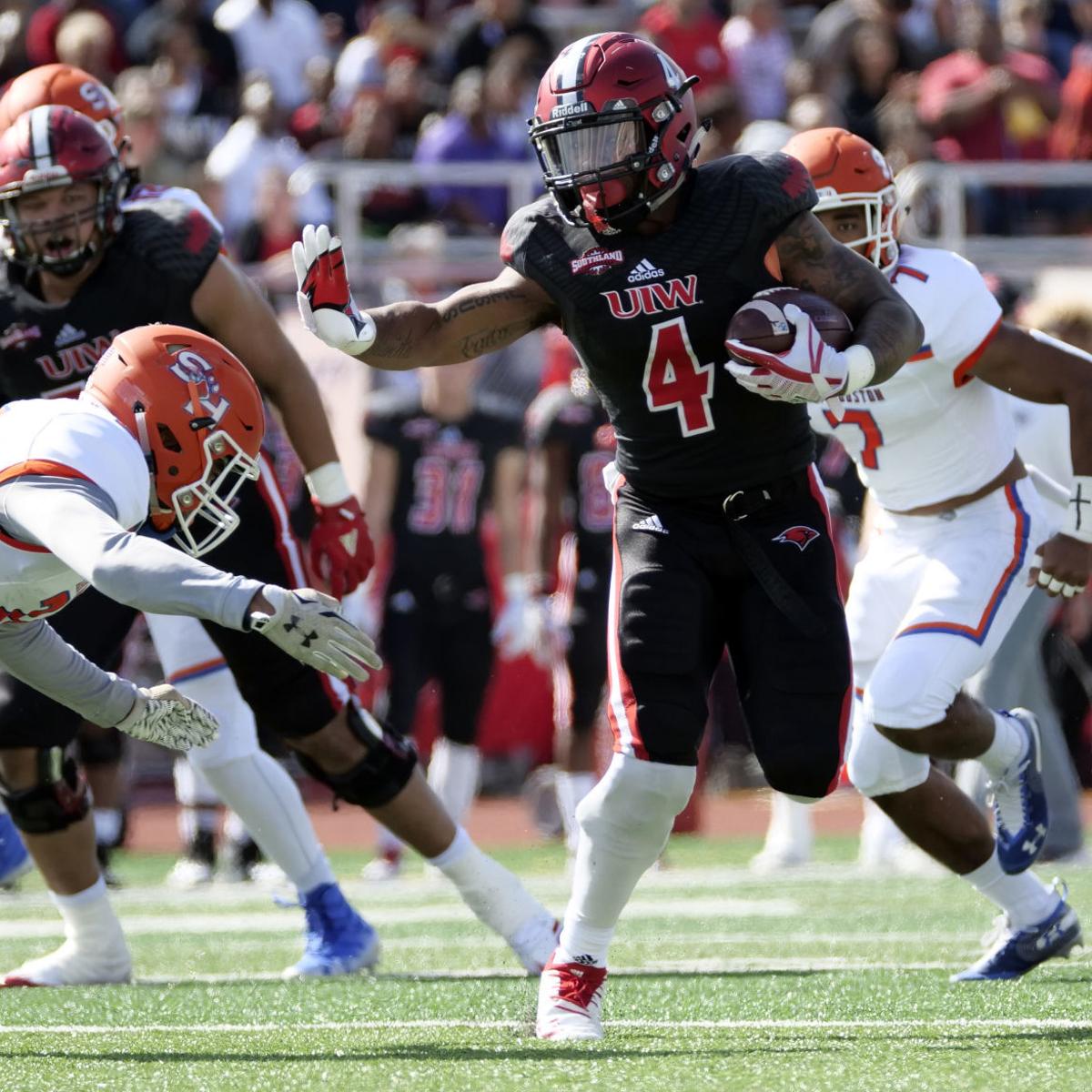 Fantasy Bonus Baby This Week: Senior RB Ra'Quanne Dickens became the first 1,000-yard rusher in UIW program history, setting the new record at 1,054 yards. He also set the record for most rushing touchdowns in a season (14). Look for him to get his share especially if Copeland can get the passing game going.
Montana State Bobcats (7-4, 5-3 Big Sky)
Bozeman, Mont.
Big Sky Conference
Enrollment: 16,902
FCS Sagarin Rating: 141 (26 FCS)
Season Recap: Montana State qualifies for the post-season for the 14th time in 2018, the first time since 2014. It finished winning its last three games to get to the seven win mark. The winning streak included its last game at rival Montana, winning for the third straight season against the Griz.
The Bobcats also won its season opener over MVFC foe Western Illinois, a team that just narrowly missed the playoffs themselves.
The Bobcats are not the typical Big Sky school in that it would prefer to run the ball first and also play a fairly stingy defense.
Best Win: at Montana (29-25)
Worst Loss: at Idaho State (24-17)
Other Key Outcomes: at South Dakota State (45-14 L); vs. Eastern Washington (34-17 L)
Playoff Floor: The running game and turnovers happen in its playoff opener and fall to UIW.
Playoff Ceiling: The Bobcats win easily over UIW before falling at #1 North Dakota State in round two.
Key Player This Week: RB Isaiah Ifanse's 843 yards is 2nd on MSU's freshman rushing list. How a freshman performs in the playoffs will be a key for the Bobcat success in this game.
Fantasy Bonus Baby This Week: QB Troy Andersen's 19 rushing TDs this
year is 2nd in MSU history and 2nd in the FCS this season, while his 1,714 career yards is 17th in school history. He has scored in nine straight games and look for it to be 10 after this game.
Fearless Predictions:
Jamie: Incarnate Word is making its first playoff appearance . Their reward is a trip to Bozeman, MT. Troy Anderson will be the difference here. Montana State 33, Incarnate Word 13
Kent: Montana State while it has been a while since its last playoff appearance still have some expereince in these types of games. UIW has no expereince. This will be the determining factor with a Bobcat win. Montana State 33 Incarnate Word 17
Chuck: I'm a bit concerned about a flawed Montana State team having a letdown against a team which was one of the last teams in the field. But if they are able to ride the adrenaline of their win over their bitter Rivals, they should be able to survive and advance. Montana State 31, Incarnate Word 24
Originally from LaMoure, North Dakota, Kent is a 1996 graduate of North Dakota State University. His prior writing experience is over 15 years having previously worked with D2football.com, I-AA.org, and College Sporting News before coming to College Sports Journal in 2016. His main focus is college football is the Missouri Valley Football Conference within the Division I FCS. And in 2017, he began also to look at the FBS Group of Five conferences of the American Athletic, Conference USA, Mid-American, Mountain West, and Sun Belt.
Reach him at this email or click below: