The CSJ writing staff answer the questions many of us have about the beginning of this unprecedented FCS season.
CSJ: The first question about this spring season revolves around the weather. The organizers of the spring FCS season unquestionably were hoping for reasonably mild weather, but in much of the country they've had anything but. For the teams that are starting and (in the case of Tarleton State) continuing to play, how does this weather affect the product on the field?
RAY MALONEY: Scheduling can always be a tricky proposition, no matter if it's the fall, winter, spring or summer, when it comes to Mother Nature as none of us have a crystal ball to gaze into. I think the schedulers did their best to provide for as level a playing field as they could under the unprecedented circumstances we were all thrust into. Heck, February in Texas is supposed to be a pleasant time of the year, right? Mother Nature, with her warped sense of humor, has proven that can change on a dime.
JAMIE WILLIAMS: I think we may start with some colder weather games and move in the warmer weather- sort of a reversal of what we generally see in a normal season. I'm not sure that the weather will make a huge impact on the play on the field unless there is a freak snowstorm that a couple of teams are forced to play in.
BEN SCHLEIGER: Weather may influence the production and statistics, but it will be a bigger reflection of the players ability to adequately prepare and have the mental toughness to play in conditions that they're not used to.
KENT SCHMIDT: I don't see this much different than November of the fall regular season or even December in the playoffs of a typical fall schedule. In reality, the bad weather will come at the beginning of the season instead of the end so come playoff time, we should see more September like weather in comparing to a typical fall season.
ROB BUTLER: The weather affects the product a great deal for teams without indoor practice facilities. I live in Orange, Texas – almost halfway between McNeese State University and Lamar University. Lamar and McNeese both have home games this Saturday, but they have been limited as far as practices go because of the ice storm which has impacted our area.
Neither school has an indoor practice facility – both squads could be adversely affected by cold weather conditions. The challenge is even greater for schools in the northern states, where the weather is usually harshest.
CHUCK BURTON: I've been paying attention to the situation at Patriot League schools. To me, there will definitely be an impact on preparation at schools in the Patriot League and NEC – and that's without COVID outbreaks. It definitely will test the organizational skills within each programs' coaching staffs and athletic departments.
PRESTON ADAMS: I think the only difference is that the weather will (at least for this weekend) affect more of the country than it usually would. Southern States are not used to the weather that they are getting, and it might affect team travel/preparation. But I would be surprised if we saw huge swaths of cancellations due specifically to weather. Otherwise, it's just another winter game for most of the country.
CSJ: What do you think preparation for a spring season's challenges are? It seems clear that there will be challenges: what's the biggest one?
ROB: Obviously, there is no precedent for this spring football season.
There is a reason why the college football season's in the fall and
not the winter. But the biggest challenge of all is the COVID-19
pandemic.
BEN: The biggest challenge of a spring season will be finding new ways to prepare. These players are definitely used to a system and structure, but pandemic has provided none of those. For example with a Big Sky some of the teams opted out might be playing if they had indoor facilities so they could adequately self separate on the rest of the athletes.
KENT: I still think the COVID-19 pandemic is still something looming over all schools and is the biggest challenge this season as we have seen in college basketball recently and with professional sports like the NBA and NHL having to postpone games. Even though the virus numbers are going in the right direction today and vaccinations are being submitted, I think there are still concerns over the next couple of months of the new strains of the virus giving another wave this spring.
PRESTON: Besides COVID? Routine. While most semiprofessional/pro athletes say they are ready to ball whenever, wherever, football players are creatures of habit to a fault, plus the game dictates that routine is paramount. Yes, there's offseason workouts and what not in the spring, but there's no travel, only one spring scrimmage, and otherwise you're prepping for your fall. This will throw off the timing for some programs. You'll see more experienced teams and better coaching staffs navigate this season with as little hiccup as possible.
JAIMIE: Its a very different routine. Usually in the spring there are a few practices and then a spring game. This time the teams are ramping up for actual game play in the spring. It will be interesting to see how practice time is handled between games with an eye on a fall season just 6 months later.
CHUCK: A normal football preseason for all FCS teams is to return to campus several weeks before the start of classes, with the facilities basically to themselves, with no schoolwork for most of the athletes. For this spring season, suddenly many fall and spring teams are competing for indoor facilities (especially since February has seen record snowfall in the northeast) while classes are in the thick of the meat of their schedules. It's not a minor change, and it will be challenging to manage.
There's also different coaching choices at play in regards to the athletes with the fall so close. For example, Elon QB Davis Cheek got hurt. Do the Phoenix try to rush him back for the spring, or simply have him heal up so he's fully healthy for a fall schedule? Today, Elon decided to put him on the shelf for the spring, but they might have tried to rehab him and get him back for the end of the season in a regular year.
RAY: At the end of the day football is a rather simple sport when it comes to fundamentals: you run the ball, you throw the ball, you catch the ball, and you tackle. I don't think the fact that playing in the spring is a big deal when it comes to the game itself. It's the outside concerns that will be the greatest challenges. The potential of starting the season only to have it interrupted by circumstances out of the control of the players and coaches is sure to creep into the minds of players. The teams who can best handle the uncertainties surrounding the outside noise caused by the pandemic will be those teams who will have the greatest success.
CSJ: One of the more interesting aspects of the spring schedule is the wide variety of schedules. The NEC are playing four game regional schedules; the Missouri Valley are playing eight game full round-robin schedules with a bye week. Which, in your estimation, is the better situation? The short NEC-type schedule, the long Missouri Valley-type schedule, or something in between?
KENT: I feel a full schedule will give a clear winner of a conference but there are also drawbacks in doing this as teams also will prepare for another season starting in September. A team like NDSU, who typically has gone to the national title game over the last decade very well could play 11 games this spring season and then 11 regular season games this fall with another four in the playoffs. That is 26 games in a 12-month period potentially. The only way this will work is to play this many games is to use the second and third team members throughout the season. For this reason, the four-game spring schedule is better, so those teams are more prepared to go this fall again.
PRESTON: I think having as many games as one can put on the resume for the playoffs is ideal. Each state has its own restrictions and population density has to be taken into consideration due to COVID and travel, so each conference did what was best for them. But if I'm a team vying for a seed or at large bid in the playoffs, I want as much tape and results out there as possible, especially if I believe my team is a legitimate contender.
ROB: I prefer the six-game conference schedule with the option to play up to two non-conference games. But I also like what the SWAC is doing – schools can play one SWAC opponent that does not count toward the conference standings.
BEN: I think any of the schedules that allow all of the conference teams to play each other is the most fair solution so that there's no co-champions.
JAIMIE: Fewer games is probably better for the spring. But I think the sweet spot may be six games. It will be hard for the committee to get a good read on two teams they are comparing based on schedule imbalance. The CAA and Big Sky are larger conferences, which sometimes makes it hard to determine who truly is the best team in the fall. Now with a shorter schedule in the Spring it may be even more difficult.
RAY: I am not going to fault any scheduling model and instead will simply be thankful that the game I love is being played and will take what I can get. I can see each conference postponing or even cancelling games as a result of the pandemic. And as much as some might want it not to, the 2020(21) season, along with whichever team emerges victorious in Frisco, will forever have an asterisk attached to it. But again, I am simply going to take whatever college football I can get.
CHUCK: I've got to say, the addition of championship games pitting divisional winners (for the Patriot League) or #1 vs. #2 (in the NEC) is a very exciting new wrinkle to the season. Although the spring football season is plenty unique, the championship games seem like they will be fun. I don't see them being a permanent feature when full competition schedules hopefully return in the fall, but they should be great games to finish the spring regular season.
CSJ: Are in-game cancellations inevitable? How prepared are conferences for cancellations or potential outbreaks? Have lessons been learned from the fall?
JAIMIE: There will be cancellations if this spring is anything like this past fall. The conferences and schools will need to remain extremely flexible, potentially having games rescheduled on a Thursday for a Saturday, or with bye weeks built in the schedule for postponed games. The SoCon playing 8 games in 9 weeks may be a little tougher, but there is flexibility in most conference schedules. I think the FCS watched the fall very closely and should have contingency plans in place to adapt as needed. The handling of the pandemic seems to be heading in the right direction, but COVID is still out there. These are still college students. How schools handle testing and tracing will be extremely important.
KENT: Having covered the Group of Five this past fall, every week there were multiple games canceled and happened throughout the season. There was not one week that went by that all the scheduled games were played. This is likely to happen at the FCS side this spring as well. I know the Missouri Valley Football Conference already has a postponement this first week with an outbreak at Western Illinois so its game with South Dakota was moved to the last week already–a week the conference added at the end before the playoffs for such make-up games. That will not be the last postponed game and most weeks we will likely see multiple cancelations/postponements each week.
BEN: I think for the most part the way to the big Sky has handled basketball with COVID has been an acceptable structure. Just a continuation of those with whatever specific regulations that they deem necessary for football.
PRESTON: Yes. The G5 was littered with them in the fall, and Power 5 conferences had to reshuffle as well. The pandemic has not gone away, but we are on the right track. That being said, I believe FCS teams will keep their teams more closely monitored and truly focus on the health and safety of their players than perhaps the larger schools. More money doesn't always mean more responsibility and access to care. FCS schools know they are walking a tightrope even more so than the FBS did. I expect them to conduct themselves accordingly.
ROB: Not all games will be played, although pandemic conditions are improving. Vaccines are rolling out and COVID-19 cases are dropping to their lowest level since mid-fall, but the most important lesson the FCS has learned from their FBS counterparts is to mask up! Take as many necessary precautions as possible to stop the spread of COVID-19. Practice social distancing and mask wearing when and wherever possible, including with coaches and staff on the sideline or at practices and meetings.
RAY: The postponements are already being announced and there will surely be more as the spring season moves forward. Monitoring was conducted throughout the FBS during the fall and continues throughout those athletic departments and the numbers being reported tell a story that leads me to think things are not as they are portrayed.
CHUCK: This week, we've already seen about half a dozen games be postponed or rescheduled, which shows how important it was to have that flexibility. I do have concerns as to whether some sort of "tipping point of pulling the plug" will be reached, though basketball seems to have proved that the schools don't see it that way. Basketball has suffered a mind-numbing number of postponements and cancellations, but the season is still a "go" and is likely to remain so.
CSJ: Some schools played games in the fall and are playing a full season in the spring, like Southern Illinois, Austin Peay and Jacksonville State. Does this offer any sort of advantage in competitiveness, do you think? Does it affect their poll position?
KENT: I think it does add some advantage as a team knows how it compares to another right now. Teams that have not played a game since the fall of 2019, do not know what type of team they are right now and typically that first game is big to determining this. I think those with wins (or close losses to FBS opponents) from this fall will help the poll position and ultimately help their playoff selection as well.
RAY: I don't think the playing of games during the fall was much of an advantage. The long layoff and uncertainties of the entire situation made sure of that.
ROB: Perhaps there is a competitive advantage – schools which played in the fall have film to review, and there is an opportunity to correct some
things. I do believe playing in the fall factors into determining poll position.
PRESTON: They will have the advantage of some game film, a couple games under their belt for familiarity among players, and in the case of a Jacksonville State for example, they have a quality FBS win on their resume. I think more weight will be put on spring results, but a nod to the fall has already been confirmed to be considered.
JAIMIE: Competitiveness? I don't think so. In terms of poll position, Jacksonville State probably helped their cause the most with an FBS win. They can probably afford to finish second in the OVC and still earn an at large bid. On the other side of the coin, The Citadel lost to Eastern Kentucky. They now will have to win the SoCon to get into the playoffs. Personally, I moved Jacksonville State up a bunch from their fall performance and The Citadel down so I definitely think the fall results had an impact on the polling and potential playoff selections.
BEN: I think the teams that played in the fall will be able to start out quicker on offense and defense. Chemistry will be far and above the other teams, but I don't think that'll be a game changer once they get two games in. As for positioning in the polls are for playoffs, I don't think it changes anything. A good resume is a good resume.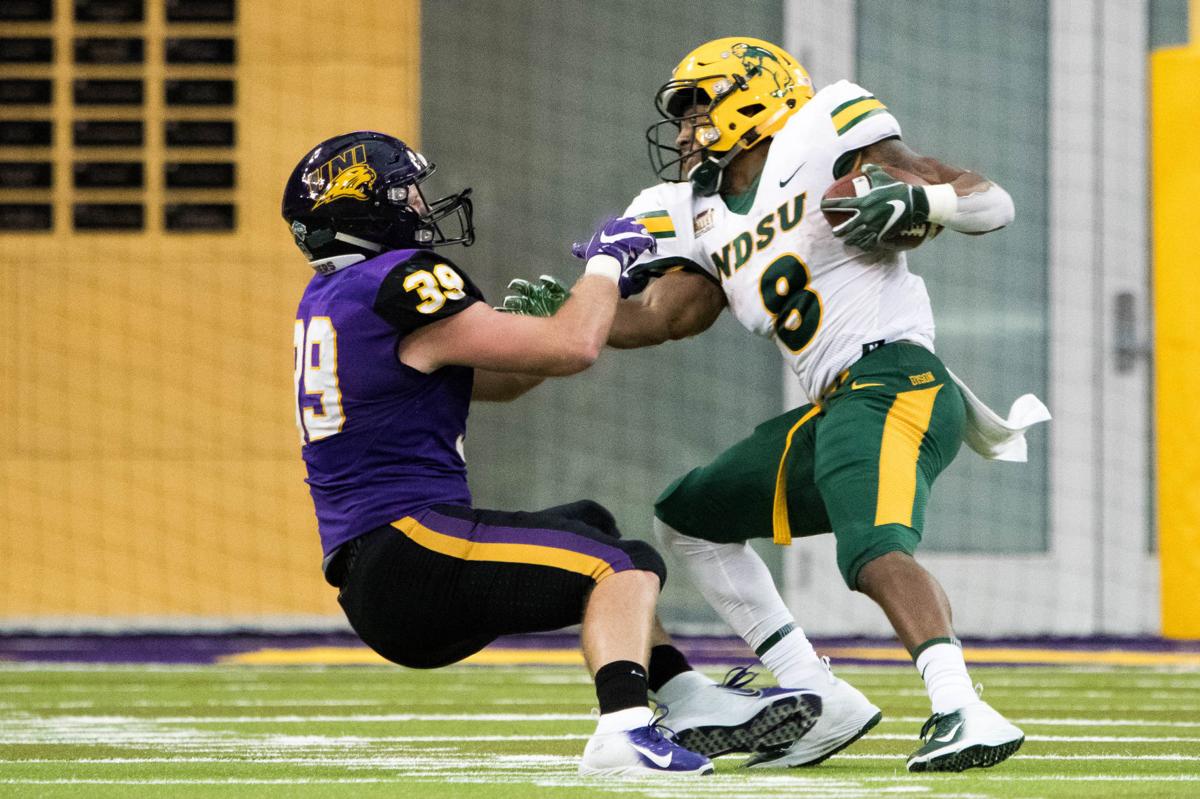 CSJ: Finally – pick a game that you're excited to see, and write a few sentences about it.
JAIMIE: Let's come right out of the chute with a big game. South Dakota State at Northern Iowa leads off this weekend's game play in a huge matchup of top five teams with title aspirations. However whichever team comes out on the wrong side of this game could find themselves in real danger. A loss on the record and North Dakota State still on the schedule in a year where the playoff field is 2/3 of what it usually is becomes a real nervous situation. Even if the loser of this game also loses to the Bison, they most likely still make the playoffs, but that bubble isn't a place I would want to sit if I could help it. Look for this to be a really competitive game as both teams try to assert themselves as true challengers to the crown.
BEN: One game I'm very interested in that I don't think it's been mentioned too much is the Southern Illinois at North Dakota game. Star wise I think these two matchup an interesting way, since I think this will be a dog fight for the first 3/4 before SIU uses her finesse to pull away. I think this will be one of the more exciting games this weekend.
KENT: I am not sure I can pick just one, but will look at two games involving the three-time defending national titlists NDSU. South Dakota State at North Dakota State happens April 3rd and then North Dakota State at Northern Iowa occurs on April 10th. The Jackrabbits and Panthers are the two teams I think will be the biggest challenge to NDSU in the Missouri Valley race and having those two games at the end of the season. Those back-to-back games at the end of the season will decide the MVFC race in my view.
PRESTON: I'm looking forward to New Hampshire at Villanova on March 27th, 2021. The CAA is split into North and South divisions this spring. While James Madison is expected to win the CAA South this season with four teams doing home and home match ups, the CAA North features seven teams in a round robin. Delaware and Albany could shake things up in the North, but Villanova and New Hampshire are probably going to be playing for a playoff spot in this game given the 16 team spring playoff format. Villanova are favorites according to most pundits, but lost a lot of talent due to transfers. The loser of this game is squarely on the bubble and might be on the outside looking in come playoff time. And it might be their only CAA loss of the season.
RAY: I am looking forward to the North Dakota State at Northern Iowa in Cedar Falls. It has been a rivalry steeped in history dating back to their battles in the old North Central Conference. UNI snapped the Bison winning streak a few years ago and I can see it happening this spring. If so, the Panthers will gain plenty of momentum heading into the postseason.
ROB: Southeastern Louisiana at Nicholls on Saturday, April 10. These should be the top two teams in what is left of the Southland, and they meet in the regular season finale. Both finished in the top 20 in 2019. Nicholls won 28-27 the last time these two met.
CHUCK: There are many, but two I've really got my eye on is UC Davis at Weber State on March 13th and Eastern Washington at UC Davis on April 3rd. The outcomes of these two games will almost certainly be determining who wins the Big Sky, and who might be qualifying to the FCS Playoffs as an at-large team.