CSJ's 2018 Week 3 Game Preview: North Dakota at Sam Houston State
North Dakota at Sam Houston State
When: Saturday, September 15, 7:00 PM
Where: Bowers Stadium, Huntsville, TX
TV/Streaming: ESPN3
North Dakota TV markets:
Bismarck – KXMB CBS 12
Minot – KXMC CBS 13
Dickinson – KXMA CBS 2.2
Williston – KXMD CBS 11
Fargo/Moorhead – WDAY Xtra 6.3
Grand Forks/Devils Lake — WDAZ Xtra 8.3
North Dakota Fighting Hawks
North Dakota enters this week's game 1-1, winning easily against Mississippi Valley State and losing handily to nationally ranked FBS Washington. The Fighting Hawks are in for a challenge when they travel to Huntsville to take on Sam Houston State. There is not much that North Dakota can take from their first two games and apply forward through the rest of the season since the matchups were so lopsided. The Fighting Hawks will need to have a good showing if they want to be considered playoff contenders.
Key Player: RB John Santiago has rushed for 230 yards averaging 6.6 yards per carry in the first two games of the season. Santiago rushed for 139 yards against Washington. At 7.7 yards per carry. He will be the focal point of the Fighting Hawks' offense this season. If he can find success, North Dakota will be able to win games and fight for a playoff spot this year
Fantasy Bonus Baby: RB Santiago. Sam Houston has not been known for its defensive performance the last couple of years. Santiago ran for 139 against a tough FBS opponent. If he gets going early this week, Santiago may crest the 200 yard mark. Keeping the Sam Houston offense off the field is key and UND will use Santiago early and often to control possession.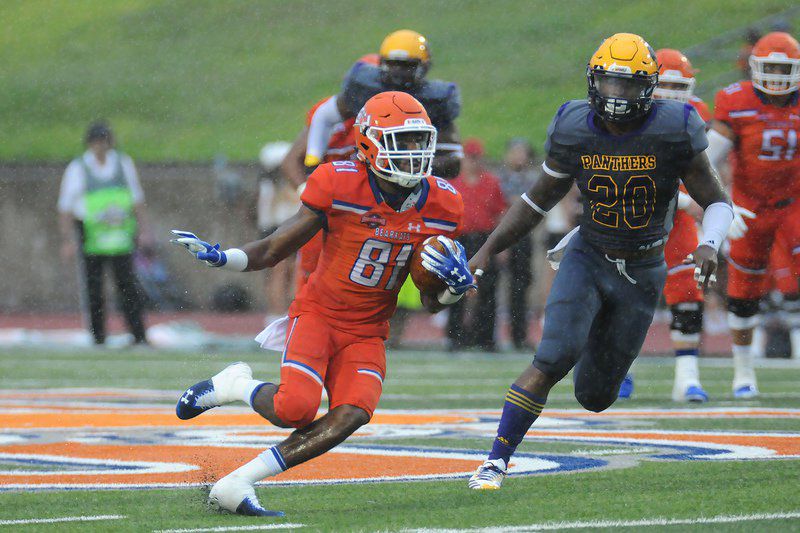 Sam Houston State Bearkats
Sam Houston let Prairie View stick around a little long than they would have liked, but ultimately got the win last week. The regular season is not what the Bearkats look to in determining the success or failure of a season. They are a perennial playoff contender and top seed. Their problem has been bowing out to blowout losses the last couple of years. There is no doubt that Sam Houston is one of the top 10 teams in the country, but they need to take hold of this game before jumping in to the tough Southland schedule they will play.
Key Player: QB Michael Dare is not going to make anyone forget about Jeremiah Briscoe, but he will have to be better than he was against Prairie View. Dare threw for only 169 yards with 2 touchdowns but added 2 interceptions. The Bearkats still have a talented backfield led by Remus Bulmer but Dare is going to have to perform in the pass game to keep the Bearkats in the top ten picture
Fantasy Bonus Baby: For at least one week, WR Nathan Stewart didn't miss Jeremiah Briscoe. Against Prairie View Stewart had seven catches for 120 yards. Its apparent that Stewart will continue to be the focus of the Bearkat passing game. Even with the team throwing for just 169 yards in week one , he was still able to put up good numbers. Expect more of the same this week from the best receiver in the Southland Conference
Fearless Prediction: If this game were played in Grand Forks, I would give North Dakota a better chance for the win. But, the game is in Huntsville where Sam Houston has won 21 straight game. Make it 22 this weekend, Sam Houston 38, North Dakota 33
Jamie is a proud 2002 graduate of James Madison University. He's witnessed the growth of the program from no one in the stands in 1998, to the hiring of Mickey Matthews, to the 2004 National Championship, to the 2008 team, to the struggles in the early 2010s, and finally the rebuild under Mike Houston. He also allegedly really enjoys Washington, DC-based Stanley Cup winners.
Reach him at: