CSJ's 2018 Week 4 Game Preview: Sam Houston State at Nicholls State
September 21, 2018
Sam Houston State at Nicholls State
When: Saturday, September 22, 4:00 PM
Where: John L. Guidry Stadium, Thibodaux, LA
TV/Streaming: ESPN+ (subscription required)
Sam Houston State Bearkats
Last week, Sam Houston had its 21 game home winning streak snapped by North Dakota. The Bearkats will need to put that loss behind them as they start Southland play on the road at Nicholls State. Sam Houston has been one of the most successful programs in the FCS in this decade. Their success has been overshadowed by some big defeats in the playoffs, but they success should not go under stated. That said, this is a must win and a de facto playoff elimination game for both teams. It will be hard to see both of these teams making the playoffs come November.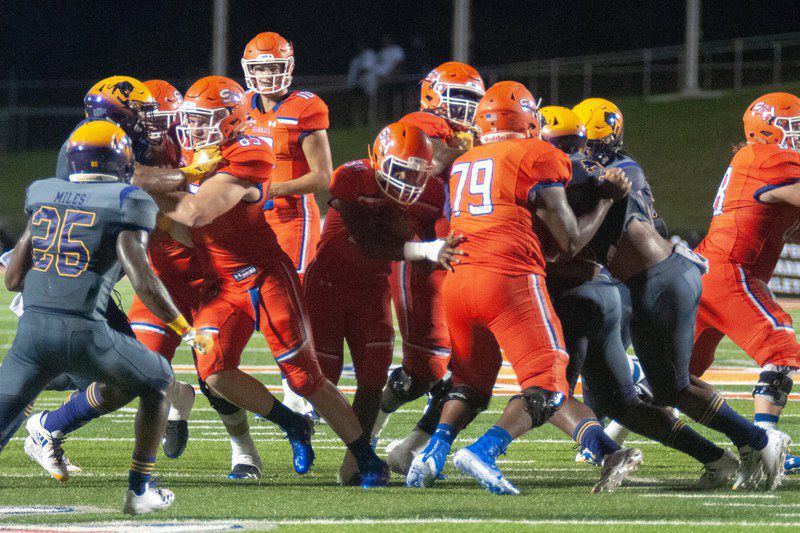 Key Player: QB Michael Dare has just been OK in taking over the reins of the Sam Houston offense. Through two games he is only averaging 185 yards per game and has only thrown two touchdowns. Dare does not add much in the run game. He will have to be much better if Sam Houston wants to return to the playoffs and be considered serious contenders.
Fantasy Bonus Baby: RB Kyran Jackson leads the Bearkats in rushing in 2018, averaging 67 yards per game. Jackson has also added two touchdowns. Sam Houston will need to lean on the run game much more than they have the past few seasons. Coach KC Keeler wants to have a more physical team this season, and that starts in the trenches. The offensive line has to open the holes and the Bearkats need to stick with the run game. That will benefit Jackson this week.
Nicholls State Colonels
Nicholls is on a two game losing streak after starting the year with a big FBS win over Kansas. THe Colonels have one of the most difficult opening schedules in the FCS with two FBS games and two tough in conference games. Nicholls needs a win this week on its home turf to keep from fall out of the playoff picture all together. They suffered a tough loss at McNeese State and now have to play perennial powerhouse Sam Houston.
Key Player: RB Kendall Bussey ran for 123 yards in the one game that Nicholls won. In the two losses, he combined for 102 yards with 50 of those yards coming on one run. Nicholls needs to establish the ground game to open up the offense for quarterback Chase Fourcade. Bussey is only averaging 4 yards per carry so far this year. He is going to have to break a few tackles and get up field more frequently for Nicholls to be successful on offense. Fourcade cannot win a game on his own, it must be a team effort.
Fantasy Bonus Baby: WR Damian Jeanpierre has been the Colonels best receiver to this point. He had 100 yards in last week's loss at McNeese. He should be able to eclipse the 100 yard mark again against a lesser defense in Sam Houston. The Colonels need to take advantage of Jeanpierre's big play ability – he is averaging 23 yards per catch so far this season – to stretch the field and open up the offense.
Fearless Prediction: Both of these teams have underperformed a bit to start the year. But both teams also know that this is a huge game on their schedule and will be a pivotal contest in the Southland conference. This game wont get out of the 20s and the team that can establish the run game with the most consistency will win the game. Sam Houston State 23, Nicholls State 21.
Jamie is a proud 2002 graduate of James Madison University. He's witnessed the growth of the program from no one in the stands in 1998, to the hiring of Mickey Matthews, to the 2004 National Championship, to the 2008 team, to the struggles in the early 2010s, and finally the rebuild under Mike Houston. He also allegedly really enjoys Washington, DC-based Stanley Cup winners.
Reach him at: